What are SUNY colleges?
What is SUNY?
What exactly is SUNY? The State University of New York also referred to as SUNY, is the institution that boasts the nation's most comprehensive university system. They have 64 SUNY colleges and universities, which include research universities, academic medical centers, liberal arts colleges, community colleges, colleges of technology, and an online learning network. Their influence extends far beyond the borders of New York State and the rest of the world.
Each year, SUNY serves nearly 1.3 million students in credit-bearing classes and programs, as well as through continuing education and community outreach initiatives. Nearly three million graduates of the State University of New York have spread out worldwide, each having its own distinctive influence.
SUNY was established due to a dedication to equality of opportunity and access, and it was planned to cater to the various requirements of a vast geographic area. They are a reflection of both the revitalized land grant mission and a reputation for welcoming innovative thought and higher aspirations.
Their teaching staff and students are always searching for new knowledge, creating it, analyzing it, and sending it out into the world through knowledgeable citizens, revitalized communities, and experts who bring about change across entire industries.
Since the establishment of SUNY over sixty-five years ago, SUNY's colleges and universities have received funding from the state. Our graduates have contributed to their communities and improved people's lives worldwide.
Every day, millions of people who graduated from SUNY go to work in their local communities, making extraordinary contributions that change and improve the world. These contributions can take the form of scientific or technological advancement, an innovative piece of art, the establishment of a new company, or the launch of a new venture.
History of SUNY
The history of SUNY started in 1948 when the State University of New York (SUNY), now the largest and most comprehensive public university system in the United States, was established. Since its inception, the SUNY system has evolved to adapt to the shifting educational, community, and employment requirements of the state of New York.
The State University of New York was initially formed by consolidating 29 separate institutions, 11 of which were teacher colleges. All of these colleges, each with its own distinct past and legacy, came together to pursue a common objective: to serve the state of New York.
These educational establishments provide instruction in fields as disparate as ceramic engineering, philosophy, fashion design, optometry, maritime studies, legal education, medical education, etc. In addition, the university owns and operates several hospitals and research institutes.
Remarkably, 93 percent of New Yorkers live within 15 miles of a SUNY campus, and nearly 100 percent live within 30 miles of a SUNY campus. SUNY is ingrained in virtually every community in the state of New York. They are the largest employer in many of the areas they serve.
The SUNY colleges enroll students from every one of New York State's 62 counties and students from every other state in the United States, the District of Columbia, four territories of the United States, and 160 countries worldwide.
SUNY is selected by one out of every three students who graduate from high school in the state of New York. Its total enrollment of nearly 445,000 full-time and part-time students accounts for 37 percent of the total student population in New York State's higher education institutions. In addition, 88,000 faculty and staff members are working for SUNY, and the university has more than 3 million living alumni living in New York and other countries.
SUNY is known for having nationally and internationally renowned faculty members in all major academic fields because it can recruit the most talented and accomplished students, scientists, artists, and professionals. The faculty members at this institution are frequently recognized with prestigious awards and honors.
The State University of New York is dedicated to serving as the state's most significant economic and quality-of-life driver and providing New Yorkers and students from across the country and the world with access to high-quality education at prices within their financial means.
Why study at SUNY Colleges?
Studying at a SUNY college can be a smart choice for students who want a high-quality education that is affordable and offers a diverse range of opportunities. There are several reasons why one might consider studying at a SUNY college:
Affordability: SUNY colleges are known for being affordable compared to many other colleges and universities in the United States. In-state tuition rates are especially competitive, making SUNY colleges a great option for students who want a high-quality education without breaking the bank.
Diversity: With over 60 campuses across New York State, they offer a wide range of student programs and opportunities. Each campus has its own unique culture and community, and many campuses have a diverse student body with students from all over the world.
High-Quality Education: SUNY colleges offer a high-quality education with rigorous academic programs, experienced faculty, and state-of-the-art facilities. Many programs at SUNY are nationally recognized, and students can participate in research, internships, and other hands-on learning experiences.
Transferability: Many colleges at SUNY have articulation agreements with other colleges and universities, which makes it easier for students to transfer credits if they decide to continue their education elsewhere.
Career Opportunities: SUNY colleges have strong connections with local and regional employers, which can provide students with valuable networking opportunities and access to internships and job opportunities.
Top SUNY colleges
Stony Brook University—SUNY
The State University of New York at Stony Brook was established in 1957. Stony Brook University is among the top SUNY colleges among the 64 colleges and universities. The university's location on the North Shore of Long Island makes it easily accessible by train, car, and ferry; consequently, most students commute. There is no requirement for first-year students to live on campus.
Students can access more than 300 student organizations, including more than 30 fraternities and sororities. The Stony Brook Seawolves participate in the National Collegiate Athletic Association's Division I America East Conference for their athletics.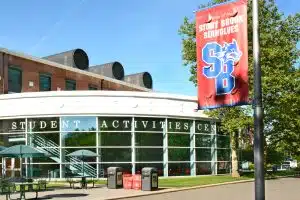 Students at Stony Brook University can get a good workout off the field by biking or hiking around the school's expansive, forested campus, which includes the Ashley Schiff Park Preserve. New York City is about 100 kilometers (about 60 miles) away and offers a truly urban experience.
Both the Stony Brook University Medical Center and the only undergraduate journalism school in the SUNY system are located on the Stony Brook campus. Both of these institutions are highly ranked. In addition to its main campus in New York City, the university also maintains a classroom building in Southampton. Notable graduates include Patricia S. Cowings, the first woman to be trained as an astronaut in the United States, and Craig Allen, a meteorologist for WCBS Newsradio 880 in New York City. These men have gone on to prominent careers in their respective fields.
Binghamton University—SUNY
The State University of New York at Binghamton is a public university established in 1946. Binghamton University's location in southeastern New York provides an abundance of opportunities for outdoor recreation. Although it goes by a different name, the university can be found in Vestal, New York, a suburb of Binghamton.
Students can go hiking, biking, and running around the nature preserve that is a part of the campus. The nature preserve features a forest as well as a pond. Students can either participate in pre-planned trips that include climbing, kayaking, and camping through the Adventure Resource Center and the Outdoor Pursuits program or plan their trips independently.
At Greek Peak, which is thirty miles from campus, winter sports fans can go skiing and snowboarding. University Fest and Spring Fling are two annual student events on campus. These outdoor celebrations feature live music, carnival rides, and food vendors. There are over 300 different student organizations, with nearly 60 different fraternities and sororities being officially recognized.
As one of the SUNY colleges, the Department of History, the Department of Public Administration, and the Department of Psychology are all home to highly regarded graduate degree programs at Binghamton University. In addition, the university is renowned for its sustainability efforts.
Madeleine Smithberg, the co-creator and former executive producer of "The Daily Show," Andrew Bergman, the screenwriter who wrote "Blazing Saddles," and Tony Kornheiser, a commentator for ESPN, are all notable alumni of the school.
SUNY College of Environmental Science and Forestry
The State University of New York (SUNY) College of Environmental Science and Forestry was established in 1911 as a public institution. The SUNY College of Environmental Science and Forestry offers students a niche education with the benefits of life at a large institution.
ESF, which stands for Environmental Science and Forestry and is the abbreviation for the name of the small school, provides roughly twenty different Bachelor of Science degree programs, ranging from aquatics and fisheries science to paper engineering, in addition to a program in landscape architecture.
On the other hand, students can broaden their horizons by attending Syracuse University, which is located nearby. There is a collaborative effort between the two educational establishments, both of which are found in Syracuse, New York.
At Syracuse University, ESF students can enroll in classes, live in campus residence halls, use campus facilities, and participate in student organizations. ESF and Syracuse University students participate in a joint commencement ceremony in May of each year.
Students at ESF, as one of the SUNY colleges, have the opportunity to study forest technology, land surveying technology, as well as environmental and natural resource conservation at an additional campus located in the Adirondack Mountains. This campus is known as the Ranger School.
The Ranger School provides programs leading to associate degrees and courses that can be applied toward a bachelor's degree. At the environmental college, the celebration of Earth Day lasts for an entire week. It includes activities such as yoga on the campus quad, student-wide barbecues, and volunteer clean-ups of nearby streams.
University at Albany—SUNY
University at Albany—SUNY was established as a public institution in 1844. More than fifty undergraduate majors and approximately one hundred and twenty master's programs are available to students at the University at Albany—SUNY. This institution is a part of the State University of New York (SUNY) system. These programs can be found in schools of education and business. The Rockefeller College of Public Affairs and Policy is home to many highly regarded graduate programs at the University at Albany—SUNY, including those in social work, criminal justice, and public policy specializations.
Since the beginning of the institution's history, students and faculty have adopted Minerva, the Roman goddess of wisdom, as the school's mascot and emblem. The goddess Minerva is depicted on the school crest, and a plaster statue of her measuring 7 feet tall and more than 100 years old can be found on campus.
Harvey Milk, who was the first openly gay man to be elected to a major political office in the United States and who served as the inspiration for the film "Milk," starring Sean Penn, is among the notable alumni of Albany.
Picking from the SUNY colleges can be difficult. For that reason, if you need guidance, you can get all the right information and guidance from experts at AdmissionSight. With experts in the field of admission, you can definitely get into the college of your dreams. Start your journey today with an initial consultation.