What are the Best Majors at Caltech?
What are the best Majors at Caltech? The California Institute of Technology (Caltech) is a research and education institution that is famous all over the globe for its work in the fields of science and engineering. It is situated in Pasadena, California, approximately 18 kilometers northeast of the center of Los Angeles.
In addition to having a significant amount of high-quality facilities, such as the Jet Propulsion Laboratory, which is owned by NASA, the Caltech Seismological Laboratory, and the International Observatory Network, Caltech has a significant amount of research that it produces each year. Though we're trying to know "What are the best Majors at Caltech?", Caltech is one of a select group of institutes of technology in the United States that is largely dedicated to teaching technical arts and applied sciences, and its admissions process is extremely tough, thus it only accepts a tiny number of the most outstanding students.
The basic curriculum at Caltech is the same for all students, regardless of the concentration or option they choose. Caltech's faculty conceived the core curriculum with one overarching goal in mind: to improve your scientific abilities. The following are some of the most popular majors at the California Institute of Technology:
Computer Sciences
Students who choose to major in Computer Science receive a solid foundation in the mathematical and algorithmic underpinnings of computing, an introduction to cutting-edge research in a variety of Computer Science subfields, and preparation to apply computational thinking to a wide range of applications in Computer Science and beyond.
Students and faculty at Caltech work hard to accomplish the following goals: 1) understand information and computation as intrinsic components of a broad array of natural and engineered systems; 2) tackle challenging and fundamental problems with the potential for long-term and real-world impact; 3) develop underlying theory; and 4) foster collaboration between traditionally separate fields of study.
Additional advanced coursework is structured according to a number of different "tracks," each of which allows students to delve more deeply into a specific topic area, including Physical Implementation of Computations, Robust Modeling of Physical Systems, Systematic Design, Theory, Networks, and Distributed Systems, Machine Learning, and Interdisciplinary Research. At Caltech, students also have the option of pursuing a minor in computer science.
Engineering and Applied Sciences
The Engineering and Applied Science (EAS) option focuses on design (synthesis) as an essential part of every engineer's capability and aims to prepare students for research and professional practice in an era of rapidly advancing interdisciplinary technology.
The EAS option emphasizes design (synthesis) as an essential part of every engineer's capability. Students have the ability to study in a broad number of scientific and technological fields if they choose the EAS option at their school. These fields of study can include specializations in material science, computation, and brain systems.
In addition, students who choose this option are given the opportunity to build their own individualized path of study, which can have breadth, depth, and rigor comparable to those of the specializations described earlier. The purpose of the option is to provide students with the opportunity to acquire a strong foundation in both the fundamental and engineering sciences, as well as laboratory and design experience, which will ultimately lead to the completion of a capstone design project. It seeks to foster the development of professional independence, creativity, and leadership, as well as the potential for ongoing intellectual and professional development.
History and Philosophy of Science
The History and Philosophy of Science (HPS) option is designed to develop student's knowledge and comprehension of the historical development of the physical and biological sciences, as well as the philosophical perspectives that inform them, as well as the dynamics between science, technology, and other human endeavors.
Students who take history classes for the HPS gain knowledge about the origins of theoretical and experimental practice, the social and institutional contexts of science, the origins of quantitative methods and their applications, and specific developments that have occurred since antiquity in the mathematical, physical, and life sciences, as well as in geography and cartography, and in space technology. Students get familiar with various approaches to the study of social and political issues, as well as biographical and comparative analytic topics.
The issues of cause and explanation, the foundations of probability and statistical inference, and philosophical problems in biology, mathematics, medicine, neuroscience, and physics are discussed in HPS philosophy classes. They address significant ethical challenges, including scientific fraud and misbehavior, as well as interactions between humans and machines. Students also have the option to minor in HPS.
Mathematics
The objective of the mathematics course is to provide students with an awareness of the fundamentals of contemporary mathematics, to introduce them to current research, and to get them ready for advanced study in pure mathematics or subjects related to it.
Students of mathematics study topics that extend far beyond the fundamentals, including the structures of algebra, analysis, and geometry, as well as the fundamentals of combinatorics and set theory. Juniors and seniors have the ability to concentrate their studies on a subject that is of particular interest to them by participating in research with members of the faculty and enrolling in advanced subjects classes.
Students are taught to construct coherent and comprehensive proofs of a variety of statements, to come up with non-trivial instances, and to make use of computational tools wherever they are available.
Biology
The undergraduate option in biology is designed to build on a strong foundation in mathematics and physical science by providing an introduction to the fundamental facts, concepts, problems, and methodologies of biological science. This option is designed to be taken after completion of the mathematics and physical science foundation.
This option provides a foundation for further study at the graduate level in any branch of biology as well as for entry into the medical school program. At Caltech, students also have the option of pursuing Biology as a minor.
Physics
Instruction in the principles of modern physics is provided through the physics option, which also lays the groundwork for further study at the graduate level, which is typically required for a career in basic research. In addition, the physics curriculum provides an outstanding foundation for subsequent studies in a wide number of applied subjects.
Those students who intend to continue their education in physics can take an accelerated version of the sophomore-level physics course (which covers waves, quantum mechanics, and statistical mechanics), and the junior-level courses that they are required to take provide an in-depth examination of the fundamental principles.
How do I Decide on my Major?
How do I decide on my Major? Though we're trying to know "What are the best Majors at Caltech?", one of the most important choices that a high school or college student is required to make is selecting a concentration of study. And it is one that many people wish they could retake; according to one survey, 61% of college graduates would switch their major if they could go back to school.
However, not everyone suffers from a case of buyer's remorse when they receive their diploma. The following is a list of the most significant considerations to make when selecting a major, as well as advice on how to select the appropriate college once you have made your selection.
Consider Your Skills
Create a list of your accomplishments and areas of interest to get started. After you've finished, inquire with your closest loved ones and friends about the things they would say about you. There are times when we need a third party to point out to us our qualities and abilities that we sometimes take for granted.
Include any subjects that have always piqued your curiosity but that you've never committed yourself to study in depth. You should also mention things you used to be good at but haven't done in a while, especially if you haven't done them in a while.
Investigate Possible Professions.
When you have a list of your interests and passions, the next step is to investigate what kinds of professions meet those interests. For instance, if you have a passion for music, you could pursue a career as a music instructor, or a club promoter, or look for work at a charity organization that is dedicated to music.
After compiling a list of possible lines of employment, you should think about observing those currently employed in those positions in order to get a feel for what it's like to do the job. Observing the processes that are actually carried out by people will help you determine whether or not you are engaged in the endeavor. If seeing someone on the job isn't possible, you can reach out to folks via email or LinkedIn and set up a phone call with them to ask them questions face-to-face.
Estimate Future Earnings
The majority of careers have their progression tracked by the Bureau of Labor Statistics. Visit the site and choose the professional fields that are of most interest to you. You will be able to discover what employment is available in each sector from that location.
After compiling a list of occupations that pique your interest, you can use the site to determine which of those occupations have a positive growth rate and incomes that are commensurate with the lifestyle you intend to lead. Even if the amount of money you will make in the future is not the only thing you should think about while choosing a career path, it is still an essential consideration. Having this knowledge can assist you in determining how much of an investment it is prudent to make in your secondary schooling.
Consider what you want your life to be like once you graduate from college as well. For example, if you want to establish a family, reside in a major city, or do substantial traveling, you're going to need a career that pays well enough so that you can afford those things.
Consider how much of your time you are able to invest in your studies
It's not true that all majors are created equal. There is a significant difference in the amount of effort that is required for various programs. Think about how much time you are able to devote to your training and how committed you want to be as a student.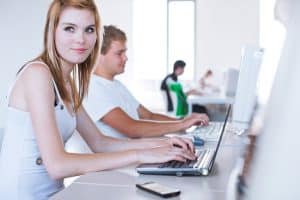 Research any advanced degrees that may be required of you after you graduate college if you want to work in the field that interests you. Before you make a final decision on what you want to study for your bachelor's degree, it is essential to consider whether or not you will need to move on to earn a professional or master's degree in order to achieve the professional goals you have set for yourself.
What kind of Students does Caltech look for?
What kind of students does Caltech look for? Though we're trying to know "What are the best Majors at Caltech?", your enthusiasm for science, technology, engineering, and mathematics (STEM) fields will probably be highlighted in the academic history portion of your Caltech application; nevertheless, the admissions committee at Caltech is just as interested in your research enthusiasm as they are in your grades.
You will have the opportunity to highlight your talents and why you're a perfect fit for Caltech's challenging programs if you demonstrate a constant interest in STEM research throughout your application. This passion should be shown throughout your entire application.
An evaluation from a mentor or teacher who supervised one of your research projects while you were still in high school is strongly encouraged to be included in your application to Caltech since the institute is interested in learning why you are so enthusiastic about STEM fields.
Ambition and teamwork go hand in hand
The admissions committee at Caltech is interested in seeing how you challenged yourself while you were still in high school. It is absolutely essential that you are able to function well in group settings when you are at Caltech because the majority of the work you will be doing there will be done in groups.
Likewise, ambition is a very vital aspect of STEM research; without it, scientists wouldn't push limits and develop new, imaginative ways to make their findings understandable. At Caltech, being ambitious and having the ability to work well with others are both required for students who wish to be successful.
The unique collection of interests
It is possible for students to become confused when they see the phrase "unique," and it may also persuade them that they need to make an effort to be intriguing in their application. You should fight the temptation to embellish the truth about oneself in order to come across as more distinctive. Instead, be truthful about the things that fascinate you personally.
Respect and concern for your neighborhood
In conclusion, a genuine college application should highlight the applicant's involvement in the local community. Research in the STEM fields has the ability to effect positive change in communities; therefore, it is important that you discuss how you anticipate your research will benefit society.
What are my Chances of Getting into Caltech?
What are my chances of getting into Caltech? Though we're trying to know "What are the best Majors at Caltech?", there were 13,026 applications submitted to Caltech in the hopes of being accepted into the freshmen class of 2021-22, but only 510 were chosen.
The acceptance rate at MIT for the same cycle was 3.9%, which was practically the exact same as this rate. In the previous academic year, the institution received 8,007 applications for a place in the Class of 2024 and admitted 536 students, which corresponds to an acceptance rate of 6.7% overall.
Although the official numbers for the Class of 2026 have not been revealed yet, we do know that there were only 432 students accepted. It is possible that this indicates that the acceptance rate for the incoming freshmen class of 2022-2023 was closer to an even 3%. Scores between 1530 and 1580 on the SAT are considered to be the norm at Caltech. The California Institute of Technology comes in at number nine on the list of National Universities in the edition of Best Colleges that was published by U.S. News in 2022.
If you are interested in learning how to enroll at Caltech, you should be aware that admittance to this university is exceedingly competitive. Any kid could "reach" for Caltech if they worked hard enough. Though we're trying to know "What are the best Majors at Caltech?", to be accepted into Caltech, you will need to demonstrate much more than just the ability to maintain a grade point average or SAT score that is above the Caltech norm.
If you want to improve your chances of getting into Caltech, you should get all of your application materials ready well in advance of either the Early Action or normal Caltech application date. Prepare yourself for standardized tests, work hard to maintain a good grade point average, and show that you have genuine thinking when responding to the Caltech essay prompts. Consider applying before the Early Action deadline for Caltech if you are certain that it is your first choice in institution to attend.
Though we're trying to know "What are the best Majors at Caltech?", if you need help putting the finishing touches on your college applications,  at AdmissionSight, we have over 10 years of experience guiding students through the competitive admissions process
AdmissionSight can help you put your best foot forward when applying to college this fall. Contact us today for more information on our services.