What Are The Best Midwest Colleges In The US?
What makes a good Midwest school?
What makes a good midwestern school? What should midwest colleges be teaching, and how should they teach it? And how exactly do we evaluate the quality of our work? These are astoundingly important questions that require answers that consider societal requirements, individual teachers' capabilities, and technological resources' availability. Several factors can contribute to a good school in the Midwest, including:
Academic excellence: A good school has high academic standards and a rigorous curriculum. Standardized test scores, graduation rates, and the number of college students can measure this.
Experienced and qualified teachers: A school with experienced and qualified teachers dedicated to student learning can greatly impact student success.
Safe and supportive learning environment: A safe and supportive learning environment where students feel comfortable and can thrive is key to a good school. This includes a positive school culture, access to resources and support services, and policies that promote inclusivity and equity.
Extracurricular activities: Good schools offer a variety of extracurricular activities that allow students to explore their interests and develop new skills.
Strong community involvement: Schools with strong partnerships with local businesses, community organizations, and parents can help provide additional resources and support to students.
Adequate funding: Adequate funding is crucial for schools to provide the resources and support needed for student success. This can include funding for teacher salaries, classroom resources, technology, and extracurricular programs.
Why study in the US Midwest?
There are several reasons why one might consider studying in the US Midwest:
Cost of living: The cost of living in Midwest colleges is generally lower than in other regions of the United States, making it an affordable option for students.
Quality education: The Midwest is home to some of the top universities and colleges in the country, offering high-quality education in a wide range of fields.
Cultural diversity: The Midwest is a culturally diverse region with a rich history and many communities representing a range of backgrounds and experiences. This offers students a unique opportunity to experience diverse cultures and perspectives.
Career opportunities: The Midwest is home to several major corporations and industries, providing students with various job and internship opportunities upon graduation.
Natural beauty: The Midwest is known for its rolling prairies, scenic lakes, and parks, offering students a chance to enjoy outdoor recreation and scenic beauty.
Overall, studying at midwest colleges offers a well-rounded educational experience, combining quality education, cultural diversity, and an affordable cost of living.
What are the best midwest colleges?
University of Chicago
The University of Chicago is a private educational establishment that was established in 1890. The University of Chicago, located in Hyde Park, provides students with a vibrant campus life despite being in the middle of a major metropolitan area. In addition to the undergraduate program, the university provides several postgraduate options, some of which are highly regarded, such as the Harris School of Public Policy, the Pritzker School of Medicine, the Booth School of Business, and the Pritzker School of Law.
The Chicago Maroons participate in the University Athletic Association and have 18 teams in NCAA Division III. This school's wrestling and basketball programs are among the best in the country. The University of Chicago is well-known not only for its academic rigor but also for the numerous extracurricular opportunities it provides. The former president of the United States, Barack Obama, was an instructor at the University of Chicago Law School for twelve years.
Most students live on campus, and it is a prerequisite for first-year students to do so. Students on campus are assigned to "houses" within their residence halls, which function as close-knit communities and offer academic and social support to their members.
Being one of the best midwest colleges, more than 450 student organizations are available to students at this university. It is also noted that students can select from more than 50 different majors and 40 different minors, such as environmental studies or history. Students participating in study abroad programs have traveled to China, France, and Greece. The university's faculty and staff include 94 laureates of the Nobel Peace Prize.
Northwestern University
The year 1851 marked the beginning of Northwestern University, which is a private institution. The Big Ten athletic conference includes Northwestern University as a member of its Division I competition. Northwestern's women's lacrosse team has been victorious in several NCAA national championships. There are hundreds of student organizations on campus for students to join that cater to their wide range of interests.
First-year students must live on campus for the first two years of their education. The university's ten residential colleges each provide students with a unique set of living quarters centered on a particular academic or social focus. The primary campuses of Northwestern University are found in Evanston and Chicago, both of which are situated along Lake Michigan. Doha, Qatar, became the location of Northwestern University's third campus when it opened in 2008.
What makes them one of the best midwest colleges is that nine of Northwestern's 12 schools offer programs at the undergraduate level. In comparison, the other ten schools offer programs at the graduate and professional levels. The Medill School of Journalism at Northwestern University is widely recognized as having an excellent graduate program. The Northwestern University Dance Marathon is one of the largest student-run philanthropies in the country. It has raised more than $20 million for charitable organizations in the Chicago area since it was established in 1975.
Notable former students include Rahm Emanuel, the current mayor of Chicago; John Paul Stevens, a retired justice of the United States Supreme Court; Meghan Markle, the Duchess of Sussex; Michael Wilbon, a commentator for ESPN; Stephen Colbert, a comedian; and Gwynne Shotwell, president and chief operating officer of SpaceX.
University of Notre Dame
The year 1842 marked the beginning of the University of Notre Dame, which operates as a private institution. Notre Dame is located in South Bend, Ind., just 100 miles outside Chicago. Only freshmen are required to live on campus, but most students choose to remain on campus in one of the 30 single-sex residence halls.
Since no Greek life exists at Notre Dame, the residence halls have become the primary social hubs on campus. The Legends Restaurant and Pub, located on the campus, is one of the most popular places to watch sporting events. The "Fighting Irish" of Notre Dame University is one of the midwest colleges that compete in approximately 20 varsity athletic teams in NCAA Division I and are most well-known for their consistently successful football program. Over half of the students study abroad for at least one semester.
The University of Notre Dame comprises eight schools and colleges, with the College of Arts and Letters being the largest. Famous people who attended this university include former Secretary of State Condoleezza Rice, talk show host Regis Philbin, and football player Joe Montana, who is enshrined in the College Football Hall of Fame. The 1993 movie "Rudy," about Daniel "Rudy" Ruettiger, who overcame many challenges to play football at Notre Dame, was filmed on the campus of Notre Dame and was named by ESPN as one of the top 25 best sports movies of the past 25 years.
Washington University in St Louis
Privately established in 1853, Washington University in St. Louis is now one of the nation's oldest universities. In addition to a diverse selection of dining establishments and places to go for entertainment, the city in which Washington University in St. Louis is situated is home to professional baseball and ice hockey teams.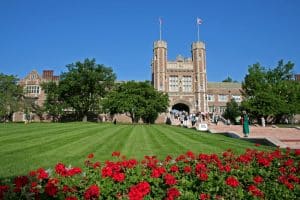 As one of the best midwest colleges, the University Athletic Association of Division III of the NCAA is where you'll find the Wash U Bears competing. All incoming first-year students must find housing on campus in one of the dormitories. After the first year of college, students can move into housing such as suites, on-campus apartments, off-campus apartments, and homes, or remain in a fraternity or sorority house. At WashU, the Greek community encompasses the lives of approximately 15% of the student body.
One of the most illustrious university collections in the country can be found on the campus of Washington University in the Mildred Lane Kemper Art Museum. The collection features pieces by renowned artists such as Pablo Picasso and Jackson Pollock. Both actor Peter Sarsgaard and former FBI Director William H. Webster received their degrees from Washington University. The Barnes-Jewish Hospital at the University of Washington is consistently ranked as one of the best hospitals in the United States.
University of Michigan-Ann Arbor
The University of Michigan-Ann Arbor is a public university that was established in 1817. The university is proud to be located in Ann Arbor, which is regarded as one of the top college towns in the United States and is only forty-five minutes away from Detroit. Housing is guaranteed for first-year students, but they are not required to live on campus. More than 1,500 student organizations and 62 Greek chapters are available for students to join at this educational institution.
As one of the more popular midwest colleges, athletics play a significant role in campus life, and one of the school's most heated rivalries is with Ohio State in football. In addition, the University of Michigan is renowned for its School of Dentistry and Taubman College for Architecture and Urban Planning, both of which feature highly regarded graduate education programs.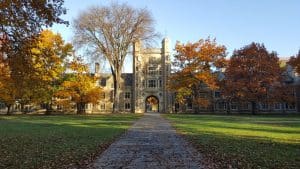 The Stephen M. Ross School of Business, the College of Engineering, the Law School, and the Medical School are some of the highly-ranked graduate schools at the University of Michigan. The University of Michigan Hospitals and Health Centers are consistently regarded as some of the finest medical facilities in the United States.
Now that you know about the best midwest colleges in the US, the next thing you should think about is your college admissions. To ensure that you get into the college you want, you can get help with AdmissionSight. With ten years of experience with college admission experts, AdmissionSight can help you get into the college of your choice. You can talk to our experts today to get an initial consultation.