What are the best political science colleges in the US?
Benefits of getting a political science degree
Understand how the government affects businesses:
One of the pros of getting a degree in political science is that students can learn how government rules, procedures, and decisions can affect businesses. Since they have graduated from the best political science colleges, employees who know how to do their jobs while following local and federal rules may be valued by many companies.
Finding out how political institutions and people are connected:
With a degree in political science, you can learn how people affect government agencies or policies. It can also show how people are affected by these political systems.
Making justice and ethics more important:
If a student gets a degree in this field, they may learn to see the importance of law and morality more nuancedly. This can be important for people who work with sensitive information, like customer data or government policies that are still being made.
Learning how to speak up:
A political science program can help you learn how to speak up for social issues or groups that aren't well-known. If you know how to advocate for something, you might be able to get a job in many different fields, such as grant writing, lobbying, or public relations.
Keeping up with current events:
Political science students may learn why it's important to pay attention to current events and how to get accurate information about things happening in the news.
Career choices for Political Science majors
Besides working in politics, there are many other job choices for Political Science Majors. Students who major in political science learn how to write well and do good research. They learn how to make an argument that makes sense and how to back it up with facts. When students in political science share their work with faculty and peers, they get better at giving presentations and talking to groups.
Students who major in political science work on their analytical skills by learning about policy initiatives and thinking about the effects of what the government does. To judge the plans of political parties and the effects of leadership changes, you need to be able to think critically.
Students who major in political science learn how power is gained, how campaigns are run, and how public opinion can be swayed. They look at different leadership models and how they worked in the past to get a better idea of which ones work best. If you choose to study at the best political science colleges and get a political science major, you can do many different things after you graduate. Some of these things are:
Policy Analyst
Legislative Assistant
Public Relations Specialist
Social Media Manager
Marketing Research Analyst
Political Consultant
Attorney
Intelligence Analyst
Political Campaign Staff
College-Student Leadership and Activities Director
Top political science universities in the US
Harvard University (Cambridge, MA)
Harvard University has the most political science students in their first year than any other school on this list. This university has been considered one of the best political science schools in the U.S. More than 450 students are studying for a degree in political science.
People who study public policy and tech science with a concentration in political science try to figure out how technology helps or hurts social conflicts. Participants learn to find problems, evaluate risks, and make prototypes to solve problems through the various courses available. One example is that students can do their research if they sign up for GOV 92R.
Each political science major can research and write about a topic of their choice, such as the politics of building large infrastructure projects, the effects of wealth concentration in China, or how social and cultural factors came together to start a wave of Republican radicalization.
There are many things for political science majors to do in and around Cambridge during the summer. Harvard students run and work at ten summer camps across Boston as part of the PBHA's Summer Urban Program. Students who want to work in public service can choose from internships at Harvard's Institute of Politics during the summer. People say that these experiences help political science majors get ready for interesting jobs in various fields.
Yale University (New Haven, CT)
More than 400 undergraduates at Yale study political science, making it the second most popular major at the school. One thing that makes Yale's political science department stand out is that it lets first-year students choose their major anytime during their four years there. Students can finish one of five concentrations in a standard, intensive (accelerated), or interdisciplinary major.
As one of the best political science colleges in the U.S., all political science majors must write a senior essay over one or two semesters. This essay is eligible for awards like the American Political System Frank M. Patterson Prize, given to an essay writer whose work upholds the pillars of the U.S. Constitution and Bill of Rights.
The winning essays have been about a wide range of topics, such as wars in Europe caused by migration, the role of dissent in U.S. law, and how dark money from corporations can weaken democracy. Students can also attend interesting lectures by the American & Comparative Political Behavior Workshop. Speakers talk about anti-Semitic attitudes toward young Americans and the ideologies that cause political divides.
Princeton University (Princeton, NJ)
You've probably heard of some people who studied political science at Princeton. Robert Mueller, the former U.S. Attorney and current head of the FBI, and Jerome Powell, the head of the Federal Reserve, both went to Princeton. The political science department is one of the biggest at the university, with about 150 undergraduates and 140 graduate students. As such, more people consider entering this university as they see it as one of the best political science colleges in the U.S.
Even though the school is big, classes are still small. Undergraduates work with one or more faculty members to finish their junior papers and senior theses. In classes like Mass Media, Social Media, and American Politics, students have to think about how the media affects elections and how it changes the behavior of elected officials. In Causes of War, on the other hand, undergraduates look into why countries go to war and suggest ways to stop it.
Students can learn more about political problems, improve their technical writing skills, and participate in a Socratic dialogue at several centers and institutions. For instance, the Mamdouha S. Bobst Center for Peace and Justice is a think tank whose goal is to promote peace and respect for cultural differences across national borders. Students majoring in political science can attend panels, conferences, and workshops on international conflicts, nationalism, and other related topics.
Stanford University (Stanford, CA)
Stanford's political science program on the west coast teaches students how to use qualitative and quantitative methods to study political behavior, public policy, and how government institutions are set up.
When they leave Stanford, graduates will be ready to do well in non-profit, academic, business, and government careers. The data science track is one of five, and students learn how to predict political events by studying algorithms.
One class, called "Games Developing Nations Play," uses games to get students to answer questions like why developing economies don't produce high-income levels, why violence is so common in those areas, and what flaws there are in their evolving systems.
The Stanford Civics Initiative (SCI) is one of many programs designed to improve the undergraduate experience. It gives students a chance to talk about what makes it hard to become U.S. citizens and suggests ethical ways to make it easier.
Georgetown University (Washington, DC)
Because Georgetown is close to political institutions like the U.S. Supreme Court, the Library of Congress, and the World Bank, political science majors have access to a long list of internships. This makes it one of the best political science colleges, especially if they want to someday land a job here. Undergrads can choose either government or political economy as their major.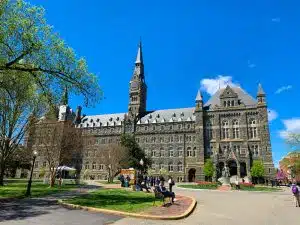 The government major has an integrated writing requirement. Students write policy briefs, critical papers, and case studies of different lengths as part of this requirement. In the fall of their junior year, students with a GPA above 3.5 can apply for the Government Honors Program. If accepted, they will participate in a research seminar and write a senior thesis.
Students who want a master's degree can sign up for the accelerated BA/MA in American government. In the fifth year, they will work as apprentices in a field that interests them. Through programs like the Political Science Predoctoral Summer Institute, students are paid to research for a government agency in Washington, D.C.
Duke University (Durham, NC)
In the fall of 2022, Duke changed its political science major to emphasize learning advanced data science techniques and getting used to different analytical tools.
The highly qualified staff is one of the department's strengths. Professors have been named Fulbright Scholars, held leadership positions on the National Security Council, and even worked in the U.S. House of Representatives.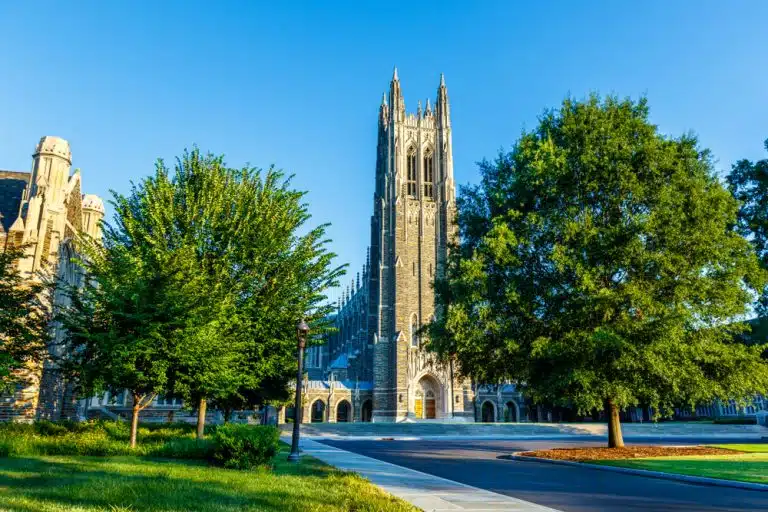 Many first-year college students choose to major in political science and something else, like math, economics, or philosophy. After graduating, majors can get good jobs in think tanks, media organizations, and public administration. Students can get internships that put them in a room where important decisions are made, and many choose to study abroad in places like Denmark, Russia, and South Africa.
The curriculum has several focus areas, such as Security, Peace, and Conflict. Undergraduates in this field take challenging classes that examine the politics of authoritarian regimes, terrorism, and global corruption, all of which are important issues in the 21st century.
University of Chicago (Chicago, IL)
Some of the most important people in political thought, like Herbert Simon, who was the first political scientist to win a Nobel Prize, have taught at UChicago's Department of Political Science. To stay at the forefront of new ideas in political science and be one of the best political science colleges in the U.S., the university regularly creates workshops like the Historical Capitalisms & Social Theory Workshop that focus on current political issues.
Undergraduates use an intersectional approach to examine how capitalism has changed over time and make predictions about countries. The school wants its students to have excellent writing skills, so they all have to write a B.A. Thesis or Long Paper. The latter is usually written as part of a political science class and is longer than 20 pages.
University of Pennsylvania (Philadelphia, PA)
Penn has recently seen a rise in the number of students who want to study political science, so it has added 50% more political science faculty. Undergraduates can focus on international relations, comparative politics, American politics, or political theory.
Students in American politics look at things like how political polls work, the politics of food and agriculture, and the science of how and why people get elected. One of the best things about the political science department is the chance to get hands-on experience in the field.
The Penn Program on Opinion Research and Election Studies (PORES), Penn's newest undergraduate research program, gives students a chance to study important political issues in the U.S. and worldwide. In internships at places like the U.S. Department of Education, the House Budget Committee, and the White House Office of Public Engagement 9, students can gain valuable work experience.
Massachusetts Institute of Technology (Cambridge, MA)
Aside from computer science, MIT has a lot of great programs, such as a major in political science. What makes MIT one of the best political science colleges is its commitment to growth in the field of research regarding politics. The school's mission is to give students a chance to do field research in places like U.S. voting booths and political settings in China, Bangladesh, and Afghanistan.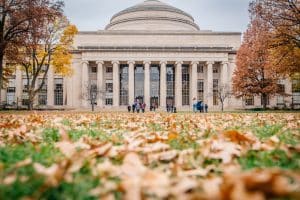 In their third year of school, all political science majors sign up for a political science lab. They use quantitative methods to determine what people think, determine how people vote, and compare how democracy works in three or more countries. At MIT, a senior thesis is not required, but it is at many other schools.
The MIT Washington Program is one of the most important programs at MIT. Undergraduates who are accepted get a place to stay and a stipend so they can do research during their spring break in Washington, D.C. The MIT Washington program is different from other programs because it puts students in a room where important decisions are made. Students go to meetings on Capitol Hill and write about the most important things they learned from hearings around the city that are related.
Vanderbilt University (Nashville, TN)
Students at Vanderbilt can major in political science or minor in American politics, world politics, or political theory. Most graduates (37%) go into the private sector, where they work in data analysis, social media, finance, and public relations. 28% go to law school, and 8% join a non-profit group that works on climate policy, human rights, or the integrity of elections.
Undergraduates can choose from many interesting classes that deal with current political issues. In PSCI 3265, students look at how human rights help fight against wrongdoing. There is a class about how populist parties have grown in more developed democracies. There are several important political science centers on the Vanderbilt campus, such as the Researching on Conflict and Collective Action (ROCCA) Lab.
Here, undergraduates, graduate students, and professors collaborate on research about political violence and how groups respond to it. Many students choose to do an honors thesis or even get paid to research through an Immersion Vanderbilt program.
Now that you know where to study political science at some of the best political science colleges in the world, the next thing you should think about is your college admissions. To ensure that you get into the college you want, you can get help with AdmissionSight. With ten years of experience with college admission experts, Admissionsight can help you get into the college of your choice. You can talk to our experts today to get an initial consultation.