What Are The Top 10 US Universities?
Importance of studying in a university
Why is going to university important? The best thing about college is that it opens doors to more opportunities. We're not just talking about more job opportunities after graduation, especially if you study at one of the top 10 US universities. We're also talking about the endless possibilities of making new connections that could be useful to you for the rest of your life, the benefits of learning new things, and the encouragement to find new things you're interested in.
Make valuable connections
When you go to college, you can meet new people from different places and with different interests. This gives you a better chance of connecting with people in your potential career field. Having good friends can help you get far in life. You never know who will help you get your dream job or put you in touch with someone who can.
In college, you can grow your network by joining clubs related to your interests, playing sports, or helping out an organization. Joining a sorority or fraternity is another great way for many people to make close friends. You could also meet people by getting an internship or part-time job on or off campus. Learning from someone more experienced is also a great way to try out a field you're interested in and, in that way, learn more about yourself.
Use your brain
When students go to college, they can read books and listen to lectures from the best experts in their fields. So, they learn more about the things that interest them the most. This kind of stimulation gets people to think critically, question ideas, and try out new ones, which helps them grow and develop further.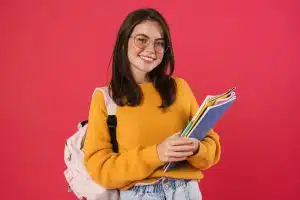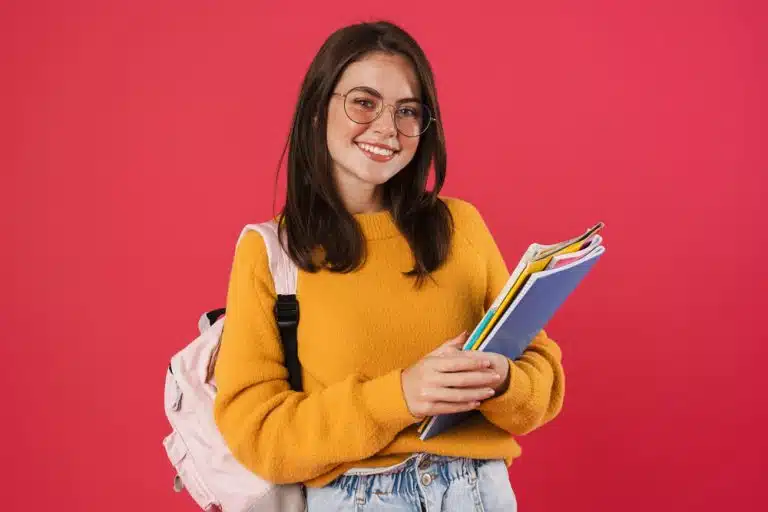 Most of the time, college graduates have an advantage over high school graduates in getting a job. Seniors have also been going back to college in recent years to keep their minds active and take advantage of new opportunities that will help them as they age.
Allow yourself to get more jobs
Most people who attend the top 10 US universities hope to have good job prospects after graduation. The good news is that many recruiters in the United States now look for people who have gone to college. Since we have moved from a manufacturing-based economy to a knowledge-based economy, it is more important than ever to go to college. No matter what you want to do for a living, going to college will probably help you.
Get well-rounded
By joining a club, participating in a group study, taking different classes, and always trying to improve your work ethic, you naturally learn more about yourself as a person.
Most people who enter their 20s without a clear idea of what they want to do for a living will figure out their "calling" after taking classes they didn't have the chance to take in high school. Some examples of these classes are psychology, communications, sociology, business, and computer science, to name a few.
Many college students are also living away from home for the first time. This independence and freedom allow them to try things they wouldn't have done in high school. What you learn in college could lead to new interests and possible career paths after graduating.
Requirements of a good university
There are many different ways to describe the status of a university. But what makes a good university? You shouldn't forget about some things if you want to apply to any university. Look for these important things to find a good college.
Academic programs
The programs a university has to offer are very important. A good way to tell if a university is good is if it has a lot of courses that students can take in cutting-edge and in-demand fields. The top 10 US universities are known to have very extensive academic programs, both undergraduate and graduate.
Faculty
In every university, teachers play a very important role. So, one should ensure that the university's teachers are well-educated and have a lot of experience. It will guide you through the program and help you develop your skills. They give you the necessary information and resources to learn the right ideas and information.
Freedom and being in charge
A good university should have both freedom and leadership, which should be emphasized in its programs. A great university should be able to help students become more competitive, creative, and innovative so that they can grow in the best way possible.
Budget-friendly
The university should have a big enough budget to reach as many people as possible. Those who can't pay the required fees can get scholarships based on how well they do in school. There are also different scholarships, but the university's appropriate authority decides which level is best based on merit, eligibility, and other factors. The university can even give them money, which could help students who don't have much money.
Membership and accreditation
Some of the most important things to look for in a university are recognition and ties to other groups. The well-known university helps you get better job opportunities, which is a big plus. You shouldn't ignore affiliation with the university, or you'll regret it in the long run.
Infrastructure
Infrastructure is also one of the most important things that makes a school great. A good university has an infrastructure that is cutting-edge and up-to-date so that students can learn in a professional and industrial setting. Infrastructure like labs, TV and radio studios, debate courts, libraries, and sports complexes help them get real-world experience.
Universities work together
Great schools should work with other schools and businesses to train students and give them work experience. Therefore, the top 10 US universities also teach students in partnership with other universities and businesses in the United States and worldwide.
The Top 10 Universities in the US
Princeton University
Princeton University was established as a private school in 1746 and is considered one of the top 10 universities in the US. Princeton is in the quiet town of Princeton, New Jersey. It is one of the oldest colleges in the United States. Princeton's historic, ivy-covered campus is home to various events, activities, and groups. The Ivy League's Princeton Tigers are known for having strong men's and women's lacrosse teams year after year.
The Princeton School of Public and International Affairs and the School of Engineering and Applied Science offer some of the best graduate programs in the country. One thing that makes Princeton's academic program stand out is that all undergraduates must write a senior thesis or do an independent project in some engineering departments. President Woodrow Wilson, model-actress Brooke Shields, and former First Lady Michelle Obama are all famous people who attended this school.
Massachusetts Institute of Technology
The Massachusetts Institute of Technology is a private school that was established in 1861. MIT is in Cambridge, Massachusetts, just outside of Boston. It focuses on research in science and technology and has five schools and a college. Universities spend more than $700 million a year on research, which the government pays for through departments like the Department of Health and Human Services and the Department of Defense.
High-ranking graduate schools at MIT include the School of Engineering and the Sloan School of Management. Economics, biology, chemistry, earth sciences, physics, and mathematics also have strong programs. Buzz Aldrin, an astronaut on Apollo 11, Kofi Annan, the Secretary-General of the United Nations, and Ben Bernanke, the head of the Federal Reserve Bank, are all famous alumni.
Harvard University
Harvard University was established as a private school in 1636. Harvard University is made up of 12 graduate and professional schools, an undergraduate college, and the Harvard Radcliffe Institute. It is in Cambridge, Massachusetts, just outside of Boston. As one of the top 10 US universities, Harvard includes the top-ranked Business School and Medical School, the highly ranked Graduate Education School, the School of Engineering and Applied Sciences, the Law School, and the John F. Kennedy School of Government.
Harvard was established in 1636 by the General Court of the Massachusetts Bay Colony. It is a private, not-for-profit school. According to the university's archives, the school was first made to educate people in the clergy. John Harvard, a Puritan minister, gave half his estate and 400 books to the school when he died in 1638. This is how the school got its name.
The oldest collection in the US and the largest academic library in the world are both found in Harvard's huge library system. Harvard also has sports teams that compete in the Ivy League. Each year, Yale and Harvard play football against each other. Eight US presidents, like Franklin Delano Roosevelt and John F. Kennedy, went to Harvard. Henry David Thoreau and Helen Keller are two other famous alumni.
Stanford University
Stanford University was established as a private school in 1885. The beautiful campus of Stanford University is in the Bay Area of California, about 30 miles from San Francisco. The Stanford Cardinals are known for their annual "Big Game" against Cal. The winner of this football game gets the Stanford Axe, their prized trophy. Tennis and golf are also played well at Stanford. Freshmen are the only ones who have to live on campus, but students are guaranteed a place to live for all four years, and most choose to stay.
The Ram's Head Theatrical Society and the Mendicants, an all-male a cappella group, are two well-known theater and music groups at Stanford. Former US President Herbert Hoover, NFL Hall of Fame quarterback John Elway, actress Sigourney Weaver, and golfer Tiger Woods all went to Stanford for college.
Yale University
Yale University was established as a private school in 1701. Yale University is in New Haven, Connecticut. As one of the top 10 US universities, Yale is known for its great drama and music programs, which go beyond the classroom with student groups like the Yale Whiffenpoofs, a famous a cappella group, and the Yale Dramatic Association. The Yale Bulldogs play in the Ivy League. Their rivalry with Harvard is well known.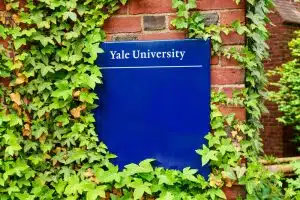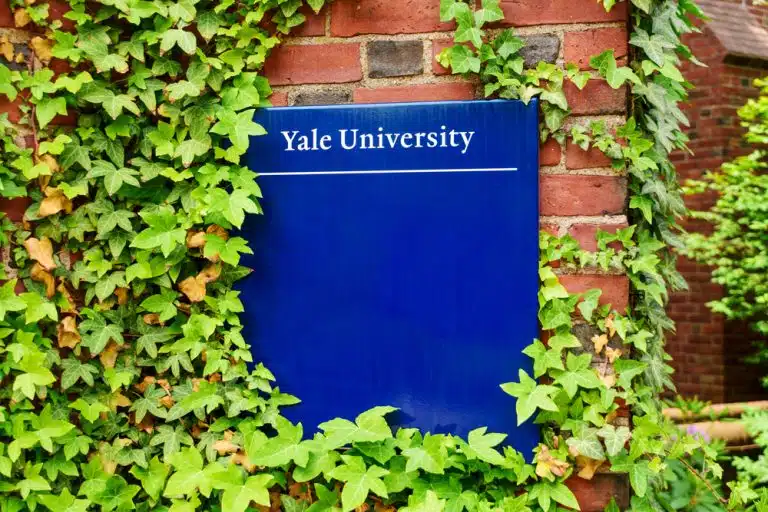 The graduate programs at the School of Drama, School of the Environment, and Divinity School are also well known. The oldest college humor magazine in the country is the Yale Record. Dwight Hall is an independent organization that helps students get involved in service and activism in New Haven and other places.
Yale is known for its secret societies. The Skull and Bones Society and the Scroll and Key Society are the most well-known. George W. Bush and John Kerry were both Skull and Bones Society members. Meryl Streep, an actress who has won many awards, Bob Woodward, an investigative journalist and editor at the Washington Post, and Edward Norton, an actor, are all famous Yale graduates.
University of Chicago
The University of Chicago started as a private school in 1890. The University of Chicago is in Hyde Park and has a lively campus life in the middle of a big city. In addition to the college, the university has postgraduate programs, such as the highly ranked Booth School of Business, Law School, Pritzker School of Medicine, and Harris School of Public Policy.
As one of the top 10 US universities, the UC has more than 450 student groups. Students can pick from more than 50 majors and 40 minors, like history or environmental studies, and have studied abroad in places like Greece, China, and France. The university is home to 94 Nobel Prize winners. The University of Chicago is known for its location and rigorous academic and enrichment programs. Barack Obama taught law at the University of Chicago Law School for 12 years before he became president.
Johns Hopkins University
Johns Hopkins University is a private college that has been around since 1876. The main campus for undergraduates is the Homewood Campus, one of the four university campuses in and around Baltimore. The school's School of Advanced International Studies also has campuses in Washington, D.C., Bologna, Italy, and Nanjing, China. The top-ranked Bloomberg School of Public Health, the highly ranked School of Education, the Whiting School of Engineering, the School of Medicine, and the well-known Peabody Institute for Music and Dance are all graduate programs at Hopkins.
The top-ranked Bloomberg School of Public Health, the highly ranked School of Education, the Whiting School of Engineering, the School of Medicine, and the well-known Peabody Institute for Music and Dance are all graduate programs at Hopkins. Johns Hopkins Hospital is the best hospital in the country, and its specialties are among the best.
University of Pennsylvania
The University of Pennsylvania was established as a private school in 1740. Benjamin Franklin started the University of Pennsylvania, which is in Philadelphia. There are many clubs and organizations at the school, from performance groups like the Latin and Ballroom Dance Club to student publications like the Penn Political Review. Through community service and advocacy groups, Penn is close to the West Philadelphia area.
Penn has 12 schools. Therefore, as part of the top 10 US universities, students have varied options in what to study here. Five offer undergraduate and graduate programs, while the other seven only offer graduate programs. The Wharton School, the School of Education, the School of Engineering and Applied Science, the Law School, and the School of Medicine are all highly-ranked graduate schools at Penn.
International study programs are offered in more than 50 countries around the world. Each year, more than 2,500 students take part in these programs. People like singer John Legend, poet William Carlos Williams, and President Donald Trump went to Penn.
California Institute of Technology
The California Institute of Technology is a private college that has been around since 1891. Caltech is in Pasadena, California, about 11 miles northeast of Los Angeles. It is a school for science and engineering. The Honor Code is an important part of student life. It says, "No Caltech community member shall take unfair advantage of any other Caltech community member." Caltech's graduate programs in engineering and science, such as biology, chemistry, computer science, earth sciences, mathematics, and physics, are among the best in the world.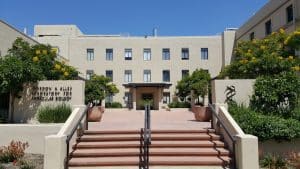 Caltech does a lot of research, and NASA, the National Science Foundation, and the Department of Health and Human Services, among others, give it money to do so. Almost 90% of first-year college students do research while getting their degree. Companies like Intel, Compaq, and Hotmail were started by people who went to Caltech. Caltech was also where well-known movie director Frank Capra got his degree.
Duke University
Duke University was founded as a private school in 1838. Durham, North Carolina, is close to Duke's campus and has many things to do, such as shopping, eating, and having fun. Bull City got its name from the Bull Durham Tobacco made by the Blackwell Tobacco Company. Duke University has ten schools and colleges, many of which serve undergrads and grads. Among its graduate programs, the Fuqua School of Business, the Pratt School of Engineering, the School of Law, the School of Medicine, the Sanford School of Public Policy, and the School of Nursing are all highly regarded.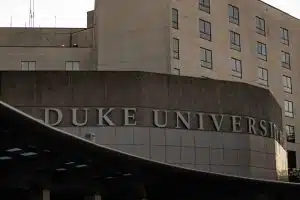 The Robertson Scholars Leadership Program is Duke's most prestigious undergraduate scholarship. It is open to students at both Duke University and the University of North Carolina at Chapel Hill. Melinda Gates, who helped start the Bill and Melinda Gates Foundation with her husband, is a famous graduate. So are former NBA player Carlos Boozer and three-time presidential candidate Ron Paul.
Figuring out what the top 10 US universities are can be a big help in your decision to enter college. If you have already made your decision, it is important that you also pay attention to your college admissions. AdmissionSight can assist you with your college admission. With ten years of experience with college admission experts, Admissionsight can help you get into the college of your choice. You can talk to our experts today to get an initial consultation.