What are the Unique Courses at Cornell?
The undergraduates, graduates, and professionals who attend Cornell University receive an excellent education at this prestigious private research university. Cornell University was established in 1865. Students have the opportunity to choose from among more than 4,000 unique courses at Cornell offerings each semester. This can be really exhilarating as well as overwhelming at the same time.
Regardless of the field of study you choose to concentrate on, you will always have the opportunity to pursue optional classes. However, you will need to collaborate with your academic adviser to ensure that you are fulfilling all of the requirements for your major and for your institution. We will gather more information about the unique courses at Cornell offers that are tailored to your particular interests.
What is Cornell known for?
What is Cornell known for? It is essential to be aware that each school and college within the university has its own admissions process and requirements, despite the fact that Cornell University is well-known for having academic standards that are considered to be more "relaxed" than those of the other members of the Ivy League.
Students who participate in activities outside of school that are both focused and relevant are generally sought after by more specialized educational institutions. In the meantime, the academic requirements for admission to the College of Engineering are among the most stringent and are on par with those of the other Ivies.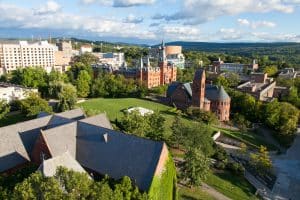 At Cornell, students have the opportunity to study under renowned faculty members such as Nobel laureates, MacArthur fellows, and Pulitzer Prize winners, and they can pick from more than 120 minors and 80 majors. Students who wish to enroll at Cornell must submit their applications to one of its individual schools or colleges rather than to the institution as a whole.
Cornell is well-known for a variety of programs, including those relating to engineering, architecture, and hotel management. (The School of Hotel Administration at Cornell University is the only hotel management program in the United States that offers a full four years of study.)
Some students pursue dual degrees, called concurrent degrees, across numerous schools and universities. Students must already be enrolled in a college or school at the time of application to the second college or school, in addition to meeting the prerequisites for both programs. This option is not available at all schools and universities.
A student could, for instance, acquire a Bachelor of Arts degree from the College of Arts and Sciences in addition to a Bachelor of Science degree from the College of Engineering. The completion of multiple degrees at the same time often takes five years.
There are further dual-degree options available, such as the Five-Year MBA Program, which is offered in partnership with the Johnson Graduate School of Management. Participants in this program have the opportunity to acquire both a bachelor's degree and an MBA in just five years.
There are many students who end up attending law school, medical school, or veterinary school, and Cornell is one of the few universities in the country that has its own veterinary school. The university provides advising resources and tracks for students who are interested in attending these types of schools.
What are the Unique Courses at Cornell?
It is an Ivy League research university that is both private and statutorily required to be there. Cornell University is located in Ithaca, New York. It has an acceptance rate of approximately 15% and there are approximately 14,000 students enrolled there. Here are 10 unique courses at Cornell you can check out.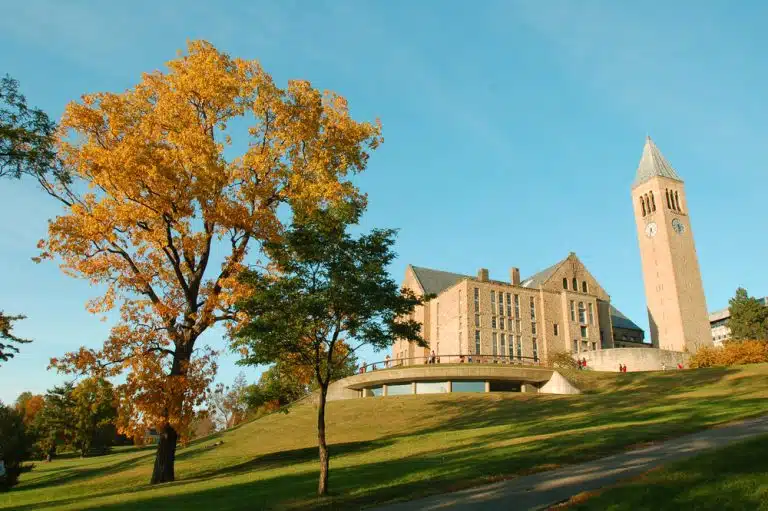 AAS 4050 Critical Filipino and Filipino American Studies
This class examines the history of the Philippines and Filipino Americans through the lens of three key and interconnected themes: war and empire; labor and migration; and culture and imagined worlds.
One of the unique courses at Cornell, the focus of the course is on the manner in which Filipinos living abroad, Filipino immigrants, and Filipino Americans have formed their own culture and connected with their contemporaries in the Philippines.
This course examines the politics of history, memory, and cultural citizenship in Filipino American communities through the reading of historical and sociological books, as well as popular culture texts and creative examples.
AEM 1101 Design Your Dyson
One of the unique courses at Cornell, this course is intended to help first-year students build a greater grasp of the undergraduate experience within the Dyson School of Applied Economics and Management (Dyson School) by exposing them to a variety of topics related to that experience.
Students will have an understanding of the requirements that will be placed on them throughout their academic careers as a result of their participation in this course.
ARTH 3506 Slavery and Visual Culture
This lecture for undergraduates takes an interdisciplinary approach to investigate the visual culture of slavery and the transatlantic slave trade from the 16th century up till the current day.
During the lectures, antiques, prints, paintings, pictures, sculptures, films, and installations of art are shown that image the history of slavery as well as its significant significance in modern society.
ARTH 4858 Dancing the Stone: Body, Memory, and Architecture
This course investigates the function of temples and the sculptural projects housed within them in South and Southeast Asian countries as sources of inspiration for reenactment performances.
The mapping of choreographic encounters between imagination and memory will take place as they take place at various times in Java, Bali, Cambodia, and India's historical and political development.
HIST 1180 FWS: Viking America
Five centuries before Christopher Columbus's fatal expedition, Europeans in rickety wooden ships were making their way westward across the Atlantic Ocean. The 'Vanland sagas' are the primary topic of this class, which investigates the Norse exploration of North America about the year 1000 AD.
As one of the unique courses at Cornell, the course will analyze these sagas as attempts made by medieval historians to write about their own history, comparing and contrasting their work with that contemporary historians' perspectives on the same topics.
Additionally, Native American perspectives, the contact zone between texts and tangible evidence, and the afterlife of the Norse trips in popular imagination will be discussed throughout the course.
The purpose of the short essays that the students will write is to review and rethink the current history in an effort to improve our understanding of the relationship that exists between events and the textualization of those events, both in the present and in the past.
HIST 1930 A Global History of Love
This lecture course for beginning students covers the various ways in which people have experienced and expressed love from pre-modern times up until the present day. The course begins with seemingly straightforward questions such as "what is love" and "who has the right to love."
The course will examine the debates about and enactments of what constitutes the appropriate way to show love and affection in different cultures and historical contexts through the use of case studies of familial and conjugal love in Africa, Asia, the United States, Europe, as well as South and Latin America. These case studies will take place in Africa, Asia, the United States, Europe, and South and Latin America.
ROMS 3300 The Culture of Violence: Europe 1914-1945
At the close of the Great War, Europe developed into the arena for a fresh dynamic between political power, cultural norms, and violent conflict. Between the years 1914 and 1945, the entire continent was engulfed in an unparalleled web of wars, revolutions and counterrevolutions, civil wars, and genocides, which could be summed up by the term "European Civil War."
This course will engage in political theory, cultural and intellectual history, as well as the examination of novels, films, and other intellectual creations in order to provide an analysis of some aspects of this turbulent era.
ROMS 6100  Romance Studies Colloquium
The colloquium is a forum for debate between graduate students and faculty members that takes place in an intellectually stimulating environment. Its purpose is to impart knowledge on how to conceptualize projects, carry out research, and publish one's work.
The meetings are held every other week for two to three hours, and while all Romance Studies students and teachers are welcome to attend, participation is obligatory for first-year students in the program. At each meeting, we will invite two members of the faculty to talk about their research as well as a brief piece of writing of their choosing, which will be sent to them in advance.
HADM 1102  Entrepreneurship and Concept Development in the Food and Beverage Industry
As a student enrolled in this class, you will be required to take part in a carefully crafted combination of active learning sessions, group projects, and lectures that focuses on analyzing your target market, putting your idea to the test, and developing a strategy for the effective implementation of innovative ideas for the food and beverage industry.
You will be introduced to the various segments and scope of the industry, as well as the major companies, market forces, and critical challenges that are at play in this competitive field through a variety of means, including but not limited to presentations, research, and guest speakers.
HADM 2351 Restaurant Management
The concepts, concerns, and business principles that are pertinent to the restaurant sector are discussed and used in this course. Topics covered include market analysis, menu, and service systems, as well as financial and operational management.
Students are responsible for developing the concept, managing the operations of a physical restaurant that is available to the Cornell community, and evaluating both the process and the outcomes of their work. Shortly after the beginning of the semester, students are expected to take and pass the certification exams for TiPS and ServSafe in order to successfully finish the course.
What to Consider in Choosing a Course?
It is very normal to be uncertain about the path you want to take in life. A significant number of students share your sentiments. Even people who already have a good concept of what they want to achieve in life may find it beneficial to investigate some of the unique courses at Cornell before making any final choices. There is always the possibility that there is something that you have overlooked.
Keep all of your options open to consideration
Try to keep an open mind when it comes to selecting unique courses at Cornell, regardless of whether you've had a clear idea for a long time about what you want to study in college or you have no idea at all.
You should wait to form an opinion about a class until you have more information about it, and you should take the time to think about topics that you haven't previously given much thought to.
Even if you have your mind made up about something, it is still in your best interest to investigate the options that are available to you to ensure that you are making the most appropriate choice.
Consider the things that interest you
Consider what aspects of college life are of particular interest to you if you are truly at a loss for direction. Think about the classes that you look forward to the most during the school year, or maybe there's a subject that pops up in your life outside of school that you've always been curious about learning more about.
You'll have a lot more fun at college if what you're learning about is something that genuinely interests you, so keep this in mind as you consider the myriad of options available to you when it comes to selecting some of the more unique courses at Cornell.
Carry out some research
It is imperative that you conduct a study once you have selected one of the unique courses at Cornell in which you may be interested in enrolling.
Investigate the course outlines of the various colleges, as well as the modules that are available and the kind of work that is required, and make your decision based on this information. If you are prepared for the content of the class, you will have a better notion of how much you will enjoy taking it.
Consider your options once you graduate from college
One thing that you should think about is what you can do after the completion of your degree. Many descriptions of courses will provide information on the kinds of careers that are possible following completion of the program as well as the kinds of opportunities for additional education that are out there.
There is also a possibility that there will be instances of what former pupils are doing now. This may be helpful in providing you with an idea of the options that may be open to you after you graduate from college.
Want to learn more about the unique courses at Cornell? You've come to the right place. At AdmissionSight, we have over 10 years of experience guiding students through the competitive admissions process.
AdmissionSight can help you put your best foot forward when applying to college. Contact us today for more information on our services.