What Do Colleges Look For In Students?
What do colleges look for in students? What characteristics do colleges look for in prospective students? Although it may appear to be a closely guarded secret, educational institutions are more than happy to discuss the criteria that are most heavily weighted in the admissions process. You merely need to be aware of where you should look.
When determining admissions, colleges place the most weight on grades earned in challenging coursework. But are there other things that colleges look for? The National Association of College Admission Counselors (NACAC) identifies the following aspects of an applicant's application as the most crucial considerations in the admissions process.
What are the most important considerations that go into getting into college?
Grades in college prep courses
The majority of colleges will look at your grade in college preparatory courses as the most significant indicator of your potential to succeed in college. If you do well in your Advanced Placement courses, it suggests that you have the ability to handle the workload that you will face in college.
Even if you had a rough start in your first few years of high school, colleges will look favorably on students who show significant improvement in subsequent years.
Quality of the education offered
Colleges are looking for students who have pushed themselves academically by enrolling in the most difficult classes that are offered to them and doing well in each of those classes. There are some high schools that do not provide a lot of classes that are college preparatory.
The admissions officers at your high school will take this into consideration if it is applicable to your school. They may also look favorably upon students who seek challenges outside of the classroom, such as by enrolling in AP courses online or at a community college outside of their hometown.
Admission test scores
If the college requires or accepts standardized test scores, then your SAT and/or ACT scores could be given a lot of weight. The majority of colleges and universities now offer test-optional, test-flexible, or test-blind admissions policies.
The results of Advanced Placement (AP) and International Baccalaureate (IB) examinations may also be considered important, particularly by more competitive educational institutions. Take a college test preparation course or buy a test preparation book to get the most out of your study time. This will make it easier for you to study and figure out the most effective way for you to conquer the test and get the best score that is possible.
Grades in all courses
Additionally serving as an indicator of your academic success in high school is the cumulative grade point average you earned there. The colleges you're interested in might look at your transcript to get an idea of how well you did in the classes you took.
A high school transcript contains a list of all of the classes that were taken during the student's time in high school as well as the grades that were earned in each class. Some colleges will look at the kinds of classes you took in high school and pay attention to whether or not you took honors and advanced placement classes if they were offered at your school.
The following most important factors to consider when applying to a good college are:
Extracurricular commitment
Your participation in extracurricular activities will be taken into consideration by colleges. What do colleges look for in students? The length of time you've spent and the level of dedication you've shown toward one or two of those interests are a major factor that matter the most to colleges.
This may include participation in a variety of sports, clubs, musical groups, or other activities. They consider the leadership roles you have held in the past, what you have accomplished, and the amount of time you have devoted to the activity as factors in their decision.
Letters of recommendation
The letters of recommendation from your high school teachers and guidance counselor are required by many colleges. There is a possibility that some additional letters of recommendation will be required from people who are familiar with you and are able to comment on your academic abilities, character, and personality.
Essay or writing sample
The majority of colleges will request that you submit an essay or personal statement, and some of them will ask you to answer additional questions in addition to writing shorter essays. This is your chance to shine a light on who you are as a person in the application you've submitted.
Remember always that an essay that is written well has the potential to sway a decision in your favor, while an essay that is written poorly can have the opposite effect.
Interest that has been shown
You can draw attention to how strongly you desire to enroll in college by paying a visit to the institution, having conversations with admissions officers, or conducting enthusiastic interviews. It's possible that submitting your application for early consideration will also make a favorable impression.
Rank in the class
Colleges that consider this factor want to know the level of competition that students had to overcome in high school in order to achieve their rank. There are a declining number of colleges that place a significant amount of importance on class rank. The NACAC reports that fewer than half of high schools in the United States currently track class rank.
Personal qualities
Some schools look for evidence of particular personality traits, such as inquisitiveness, social consciousness, or perseverance, which they believe to be associated with academic achievement among college students.
You might be able to get an idea of the characteristics that your colleges value if you look at their admissions websites and mission statements, or if you ask an admissions counselor or a current student about the types of students who are successful at the school.
When it comes to student admission, do all colleges and universities use the same standards?
When deciding whether or not to accept prospective students, colleges do not all use the same criteria to make their determinations. Have a discussion with a guidance counselor at the school of your choice to find out what factors are considered in the admissions process. You will be better prepared for college interviews and application processes if you do this. Several examples are provided down below.
Essays and other forms of demonstrated interest may be given a significant amount of weight by liberal arts colleges because they encourage students to study a wide range of subjects.
There are thousands of exceptional students who seek admission to highly selective colleges. When making their decisions, these colleges will typically take into consideration the factors that are deemed "moderately important."
The applicant's grade point average and performance on standardized tests may be the only factors considered in admissions decisions at very large universities.
When deciding which students to accept, colleges look at a variety of criteria. It is important to keep in mind that the admissions processes for various colleges each take into consideration a unique set of criteria. After you have gained a better understanding of these college admissions strategies, the next step is to conduct research on the institutions to which you are applying and think of innovative ways to differentiate yourself.
What qualities do colleges look for in students?
What kind of individualities do colleges look for in prospective students? On your college application, the colleges want to see evidence of more than just your academic prowess and test scores.
They are looking for proof that you have the personal qualities that are associated with being successful in college. Applicants to colleges are evaluated based on the following nine personal qualities.
When considering applicants, competitive colleges and universities look beyond the numbers. This is common knowledge. In addition to this, they look for a wide range of personality and character traits.
Seventy percent of admissions counselors responded to a survey that was conducted by the National Association for College Admissions Counselors (NACAC) and said that character traits were "considerably" or "moderately" important in their decisions regarding college admissions.
However, there are experts in the field of admissions who believe that it is currently even more crucial for students to demonstrate these qualities in their applications. As a result of the influence of COVID-19, a refocused attention on access and equity, and rapid changes in the world of testing, there is a rapid movement toward holistic admission, including the elevation of character attributes.
Not only colleges that are considered selective (colleges that accept less than 50 percent of applicants) pay close attention to the characteristics of their applicants' characters. Students who wish to enroll in schools with a lower level of academic competition may also benefit from possessing these qualities.
Students who want to be considered for merit scholarships or get into honors programs at schools with lower levels of competition will need to demonstrate their character. This is because having good character is essential for any student who plans to go to college and make a positive contribution to society.
What are some qualities that colleges look for in prospective students?
Personal characteristics that encourage collaboration, community, and compassion are becoming increasingly valued by educational institutions. Students' self-centered career ambitions are not as appreciated as much as sincere personal and professional aspirations to make the world a better place. It is no longer the individual leader at the helm; now, it is the collaborative team member who attracts attention.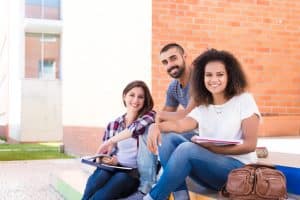 It is recommended that students highlight the "7Cs" in their applications and essays, which are collaboration, commitment, character, curiosity, cultural intelligence, and creative challenge.
It's possible that different colleges look for different qualities in students, or that they define these characteristics in different ways. However, when colleges talk about the students they want to enroll, they frequently emphasize certain qualities more than others.
The following is a list of the nine qualities that colleges frequently mention when discussing what they look for in prospective students.
1. Curiosity
The pursuit of knowledge, not limited to a single academic subject but encompassing all aspects of life, is something that colleges look for in prospective students. Demonstrate to the educational institutions to which you have applied how much you enjoy learning, how much you want to learn, and what intellectual pursuits excite you.
A "growth mindset" is the belief that one can improve their intelligence, abilities, and talents through hard work. If you can demonstrate that you have this mindset, that is another thing that goes in your favor.
2. Persistence
Some educational institutions seek prospective students who not only push themselves to their limits, but also remain resilient in the face of adversity, establish goals for themselves, and succeed in accomplishing those goals. This trait is sometimes referred to as "grit," while others call it "commitment."
There is a growing body of evidence that suggests that "grit" rather than IQ may be a better indicator of future success.
You may have demonstrated persistence when you continued to participate in challenging classes or activities despite the fact that you did not initially excel in them. You may also have demonstrated persistence whenever you worked hard to accomplish a goal despite the presence of obstacles or setbacks.
The important thing is to demonstrate that regardless of the challenges you faced, you never lost your drive, enthusiasm, and passion for the goals you set out to accomplish.
3. Risk-taking
In this context, taking risks does not necessarily mean participating in high-risk activities such as bungee jumping or mountain climbing; rather, it refers to stepping outside of your comfort zone, whether it be in the classroom or in other aspects of life.
Participating in the debate club despite having a fear of public speaking is one example of taking a risk. Other examples include trying out a new activity or enrolling in a challenging class.What do colleges look for in students?
The majority are looking for students who are not afraid to mess up and who are aware that making mistakes is an integral part of the educational process.
4. Compassion
Compassionate students are sought after by some educational institutions. To suffer together is the literal meaning of the word compassion. It is the emotion that arises when you are exposed to the suffering of another person and feel compelled to do something to alleviate that suffering.
According to research conducted on college students, those who demonstrate a higher level of concern for their friends and classmates also have higher levels of self-esteem and a greater sense of their own ability to succeed.
Compassion for others is one of the eight defining characteristics that Georgia Tech looks for in its students. In a statement on its website, Syracuse University advises prospective students, "You are a strong candidate if you strengthen and support those around you, even as you work to develop yourself."
When considering applicants, UCLA looks for those who have "shown concern for others and for the community."Compassion is demonstrated not only by expressing empathy for other people but also by taking action to assist those who are in need.
Compassion can serve as the driving force behind activities such as volunteering in the community, helping students who are struggling academically at your school, voluntarily taking care of siblings so that parents can focus on their careers, and political activism.
5. Open-mindedness
The college experience can be a wonderful chance to interact with people who come from a variety of cultural and ethnic backgrounds, as well as to consider ideas, points of view, and opinions that may be new to you or that differ from your own.
The ability to respectfully consider opposing points of view and a willingness to do so when given the opportunity are both important qualities for college applicants to demonstrate.
Another skill that colleges value is critical thinking, which requires the ability to consider all arguments and ideas, even those that one may disagree with.
6. Social consciousness
Many educational institutions have stated that they are looking for students who intend to use their academic and professional interests to make the world a better place.
The University of Pennsylvania states on its admissions page that its "ideal candidates are inspired to emulate our founder Benjamin Franklin by applying their knowledge in service to society, to our community, the city of Philadelphia, and to the wider world."
According to its admissions website, Oberlin College is looking for "individuals who care about the world, who believe they can make it a better place, and who have the courage to try."
Does the subject matter that you study relate in any way to an area of concern that you have in your personal life? You could, for instance, choose to major in engineering and put the knowledge and skills you acquire to use in the fight against climate change.
You could also demonstrate your sense of social responsibility by consistently engaging in political activism or volunteer work.
7. Being creative
The value of creative skills is recognized by 95 percent of admissions decision-makers, according to a study that was recently conducted by Adobe. What do colleges look for in students?
Like Duke, MIT, and UCLA, they have ranked creativity as one of the most important qualities they look for in prospective students, but it does not necessarily have to be demonstrated through participation in artistic endeavors. Colleges are frequently on the lookout for students who are able to think creatively, find solutions to problems, be innovative, and be entrepreneurial.
Include an experience in which you came up with a creative solution to a problem or took a unique approach to an assignment in order to demonstrate that you are capable of creative thinking. For example, if you are applying for a job that requires creative thinking, include this experience.
8. Cooperative effort
What do colleges look for in students? Colleges want to know that you are capable of working well with other students and faculty members, as well as that you are able to prioritize the requirements of your group over your individual requirements.
If you were in a position of leadership on a team, it is essential to demonstrate that you were an effective leader who was able to keep the group together, even if your team did not ultimately succeed. You might believe that colleges look for students who can take the lead. It is true. However, they are most interested in leaders who can bring together a diverse group of people.
Collaboration is not limited to the realm of athletics; examples of teamwork can also be found in the classroom (whether in the form of lab or other assignments), outside of the classroom (such as volunteer work), or in the performing arts.
9. Cultural intelligence
Students who value cultural diversity and are eager to interact with and learn from people hailing from a wide variety of cultural traditions are highly sought after by educational institutions.
The University of Southern California has said this about successful applicants: What do colleges look for in students? They must be  interested in the world, in other people and cultures, and enjoy examining important issues from a global perspective.
It is not necessary to have extensive travel experience or to have lived in a different country in order to demonstrate this quality. You could talk about your desire to become fluent in a foreign language, your experience campaigning for a global cause that's important to you, or your involvement in local projects in which you collaborated with people from a variety of cultural backgrounds.
If you're looking for guidance in selecting the high school classes and activities that will best prepare you for entry into one of the elite universities in the country? We've got you covered! At AdmissionSight, we have over 10 years of experience guiding students through the competitive admissions process.
Are you hesitant about your ability to write? We are able to assist you in writing outstanding college essays. AdmissionSight will assist you throughout the entirety of the admissions process in order to increase your chances of gaining entry into an Ivy League institution.