6 Attributes Columbia Admission Counselors Look for in Future Students
How does the Columbia University admissions process work?
Columbia University takes a holistic approach when reviewing applications. What does that mean? Well, it's just a fancy way of saying that admissions officers take a wide variety of factors into account when deciding whether or not an applicant ends up getting accepted. Every part of the application process holds significant weight and should be treated as such. So, what does Columbia university look for in applicants? It's not enough to nail your academic performance with straight A's and near-perfect test scores while delivering subpar essay responses.
Likewise, you can't expect amazing extracurricular success to make up for below-average academics. Each piece of the admissions puzzle serves an important role. Your GPA illustrates your academic prowess, letters of recommendation demonstrate the impact you've had on teachers, essay responses convey your uniqueness and personality, and so on.
The Columbia application has been carefully refined and perfected over several decades to give admissions officers the most complete and accurate glimpse of each applicant. You shouldn't assume that one portion of the process is more important than the other. At the end of the day, it's the goal of the admissions staff to find the best candidates for Columbia University.
With each passing year, the competition gets a little more fierce as more highly qualified applicants vying for limited spots. Admissions staff are tasked with the difficult job of reviewing each application to determine which students are in the best position to take advantage of the world-class collegiate experience offered at Columbia while also offering something in return for the community overall.
What kind of students get admitted into Columbia University?
Every year, tens of thousands of students from around the country and the world send in applications to Columbia with the hope of making it into the school's incoming freshman class. This last year, admissions staff received 40,084 applications. After each application was reviewed, 2,544 students were accepted.
This means Columbia's acceptance rate is 6.3%. In other words, for every 100 students that apply only six end up getting admitted. Clearly, Columbia is a competitive school. And, as a result, only the highest performing students end up getting accepted. Knowing the caliber of admitted Columbia applicants makes it easier to determine exactly what admissions officers at the school are looking for.
GPA and standardized test scores are the only objective metric that's comparable amongst students, making them the ideal factor to compare. Of the students admitted to the Class of 2024, the average score range on the SAT for the middle 50% of applicants was 1500 to 1560. This translates to a 34 to 35 on the ACT. Although exact GPA data wasn't released by Columbia, it was reported that 95% of admitted students placed in the top 10% of their high school classes.
How many people will review my University Application?
There's a misconception among students and parents alike that all applications sent to colleges merely get skimmed or not even looked at before getting thrown away. Columbia makes it public that their admissions process is committee-based. In other words, there's never a time when one admissions officer decides on your application alone. It has to be reviewed and discussed by multiple people before a decision is made. While it's reassuring to know that your application will receive a fair chance, you also need to make sure it's pristine and complete. The more eyes that are on it, the greater effect even the slightest flaw might have.
What attributes do Columbia University admission officers look for in future students?
Curriculum and Performance
As an Ivy League school, Columbia is well-known for its academic rigor. Its courses are challenging even for the most talented students. but, what does Columbia university look for in applicants? Admissions officers are on the lookout for applicants that will perform well in a collegiate setting. One of the best ways to demonstrate this capability is to load up your high school schedule with demanding courses such as Advanced Placement or Honors classes. Columbia wants students who are willing to improve their academic abilities by engaging with difficult work that will push them past their comfort zones.
However, it's not simply enough to take tough courses. You also need to perform well in these classes. After all, Columbia admissions officers aren't just interested in finding students that are willing to take college-level work head-on, they're also committed to accepting applicants who can handle this kind of challenge. Applicants are also encouraged by admissions officers at Columbia to take courses that cross various disciplines. More specifically, those applying to the school of engineering are advised to take coursework in calculus and physics.
Context
Columbia is dedicated to maintaining an inviting, diverse, and dynamic collegiate community where students from all backgrounds are welcomed. In light of this effort, context is another important consideration that admissions officers make with all applications. Keep in mind that this point is more for your information since most of these characteristics are outside of your control. Still, it's helpful to know how various circumstances impact your chances of getting accepted. Here are some contextual factors that Columbia admissions staff take into account:
Family circumstances
Your secondary school
The community which you're from
Your interests
Your access to resources
Extracurricular Activities for University Application
As mentioned before, academic performance alone isn't enough to get you into Columbia. Even a perfect GPA and record-breaking test score wouldn't secure you a spot in the incoming class. Why not? Well, Columbia doesn't just offer world-class academic opportunities. It also has top-tier extracurricular offerings. Admissions officers want to make sure admitted students are going to take advantage of these resources. And one of the most reliable ways to determine an applicant's aptitude for participating in these extracurriculars is to look at what they did in high school.
If you participated in a lot of activities and events outside the classroom, admissions officers are going to safely assume you'll do something similar at Columbia. However, they're not interested in seeing students participate in every club available. Instead, it's the quality of the engagement that matters the most. As a result, we recommend that students focus on excelling in one or two extracurriculars throughout their time in high school. This demonstrates dedication, perseverance, and determination.
Character
Beyond extracurricular participation and academic performance, Columbia admissions officers are looking for applicants with a particular character and personality that's compatible with the university's community. They want to identify applicants that will fit well into the college's culture while offering something unique and having a positive impact. First and foremost, Columbia is looking for d driven students who are constantly pursuing their goals, improving their abilities, and supporting fellow students. Those accepted to Columbia have also achieved a great deal professionally.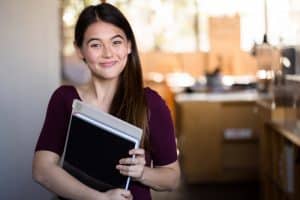 Beyond personal, academic, and professional achievements, Columbia admissions staff want to see students that are intrigued and educated about current events. You're bound to gain additional points if you can speak a language on top of English – even if it's just a little bit. In a broader context, Columbia wants students who are leaders. This includes attributes such as communication skills, self-awareness, social intelligence, and more. You don't have to be the absolute best in these character traits. It's more important that Columbia admissions officers see that you're actively trying to improve yourself in these areas.
Cultural Fit
Over the past few years, Columbia has placed greater emphasis on an applicant's cultural fit. In other words, admissions officers want to make sure that students understand what sets Columbia apart from other universities, why it matters, and how they're planning to take advantage of it. So, naturally, you might be wondering what exactly makes Columbia so unique? Great question! And you should definitely know the answer before you apply. The culture of Columbia is largely influenced by its Core Curriculum, urban campus atmosphere, and intellectual curiosity. Let's explore each of these in a bit more detail:
Core Curriculum – Columbia is well-known for its open curriculum which not only allows but encourages students to explore a wide variety of coursework, even if it falls outside of their chosen field of study. As a result, admissions officers are searching for applicants who intend to take advantage of this academic freedom. You must be curious about learning new things and exploring various fields.
Urban Atmosphere – Columbia is uniquely located on the Upper Westside of Manhattan in New York City, making it an incredibly urban and vibrant campus. This characteristic location makes for a lively, active, and sometimes intense atmosphere. Admissions officers want to ensure all accepted students can handle and thrive in this type of environment.
Intellectual Curiosity – The open curriculum approach taken by Columbia has resulted in a community of students who are always eager to learn new things and have new experiences. In order to fit into this culture, admissions officers want to make sure applicants have a curiosity and passion for challenging their current abilities or knowledge. After all, it's these students who are best suited to thrive in the school's Core Curriculum.
It's important to note that not everything you've heard about Columbia is true. For example, there's a common misconception that fierce and cut-throat competition is prevalent. Although there's a healthy amount of competition, Columbia is more collaborative and supportive than anything. In the past, some of these assumptions might have been more accurate. However, Columbia has made a concerted effort to create a more cooperative and holistic community. Any applicant that can help contribute to this sense of collaboration will certainly get a second look by admission officers.
Letters of Recommendation for University Application
When requesting a letter of recommendation from a teacher, feel free to share information about what admissions officers at Columbia are hoping to receive. Don't worry. It's not cheating! This way, you can rest assured that the key information is being covered. Plus, the teachers writing your recommendations won't have to fret over what to put in your letter. It's a win-win! We also highly advise students to request these letters as soon as possible to give the authors sufficient time to complete them while also leaving enough buffer to turn them in with your application.
Although admissions officers are going to take what you place on your resume at face vaue, it's still nice to have the information backed up by another source. That's why Columbia requests applicants to send in letters of recommendation. These letters written by teachers are designed to give admissions staff a deeper insight into who you are and what makes you unique. To ensure that the letters are as personal and heartfelt as possible, we recommend only choosing teachers with whom you've developed a close relationship. This connection will reflect positively in the letters and will give admissions officers a clearer image of what you have to offer.
Here are some characteristics Columbia admissions officers want to see in your letters of recommendation:
Academic prowess
Intellectual curiosity
Community participation
Classroom engagement
School interaction
Looking to increase your chances of getting into Columbia?
As one of the most prominent universities in the country, it's understandable why many students feel overwhelmed during the application process. Now that you know exactly what admissions officers are looking for, you're most likely wondering how you can act on this information to greatly increase your chances of success.
At AdmissionSight, that's exactly what we do! We help students just like you master the college admissions process by catering your application to the school to which you're applying. With over a decade of experience, we know what it takes to get into tough schools.
In fact, 75% of our students either get accepted into Ivy League schools or Top 10 universities. Whether you need help writing and editing your college essays, finding a relevant and interesting summer program, or guidance when choosing high school courses, AdmissionSight can help.
All of our services are personalized to ensure we're taking the academic interests, strengths, and goals of each applicant into account. If you're eager to learn more about how we can help you in university application and get into the school of your dreams, feel free to reach out. We can set up a free consultation to answer all of your questions.