What Does Davidson Look for in Applicants?
There is no one-size-fits-all approach when it comes to impressing college admissions officers. Each college has unique criteria for selecting applicants, and Davidson College is no exception. This blog will dive into the query, "What does Davidson look for?" and explore its admissions process.
The Importance of the College Application Process
For many high school seniors, the college application process signals an exciting yet nerve-wracking time in their lives. It's a time when they must demonstrate their readiness to take on college-level work while showcasing their academic and extracurricular achievements. 
While the college application process may be daunting, understanding "What does Davidson look for?" can help you tailor your application to make it stand out.
A critical aspect of the college application process is the essay. This is your opportunity to showcase your personality, writing skills, and unique perspective. It's essential to choose a topic that is meaningful to you and to write in a way that is authentic and engaging.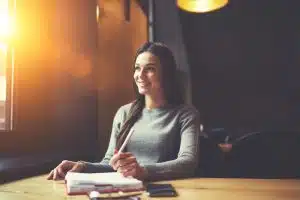 Admissions officers want to understand who you are beyond your grades and test scores, so feel free to let your personality shine through in your essay.
Understanding the Admissions Criteria of Davidson College
Davidson College is a highly selective, top-ranked liberal arts institution with an acceptance rate of 18%. The admissions committee seeks to admit students who meet the following criteria:
Academic achievement and potential

Extracurricular involvement

Demonstrated commitment to community service

Diversity of experiences and backgrounds
While these criteria may be broad, they provide a blueprint in "What does Davidson look for in its applicants?"
Academic achievement and potential are key factors in the admissions process at Davidson College. The admissions committee looks for students who have challenged themselves academically and have excelled in their coursework. They also consider the rigor of the student's high school curriculum and the student's standardized test scores.
Extracurricular involvement is also an essential factor in the admissions process. The admissions committee looks for students who have pursued their interests outside the classroom and demonstrated leadership and initiative in their extracurricular activities. They also consider the quality and depth of the student's involvement in these activities.
Academic Requirements for Admission to Davidson College
Davidson College's academic requirements for admission are rigorous. The admissions committee reviews each applicant's high school transcript, paying attention to their GPA, course selection, and grade trends. 
A solid academic record is a critical factor in admission. This includes taking rigorous classes such as Advanced Placement or International Baccalaureate courses.
In addition to academic requirements, Davidson College also values extracurricular activities and community involvement. The admissions committee looks for well-rounded individuals who have demonstrated leadership, creativity, and a commitment to service. 
Applicants are encouraged to showcase their passions and interests outside the classroom through application materials, such as essays and letters of recommendation.
Extracurricular Activities and Community Service: How They Affect Your Application
As students contemplate "What does Davidson look for?" it's important to know that Davidson College values students who are involved in extracurricular activities and demonstrate a commitment to community service.
The admissions committee wants to see that you have pursued your passions outside of the classroom, whether it's through athletics, music, or volunteering. Highlighting these activities in your application can help you stand out.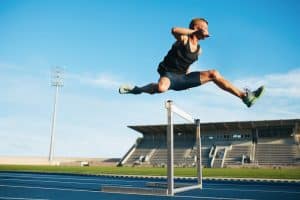 Moreover, being involved in extracurricular activities and community service can help you develop essential skills that colleges and employers value. 
For example, participating in a team sport can teach you about teamwork, leadership, and time management. Volunteering at a local non-profit organization can help you develop communication skills, empathy, and a sense of social responsibility. These skills can be highlighted in your application and demonstrate to the admissions committee that you are a well-rounded individual with much to offer.
Tips for Writing a Standout Personal Statement
The personal statement is your opportunity to tell the admissions committee more about yourself beyond your academic and extracurricular accomplishments. It's the time to showcase your personality, values, and character. 
When writing your personal statement, be authentic and avoid cliches. Be sure to use specific examples to illustrate your experiences and showcase who you are.
One important tip for writing a standout personal statement is to tailor it to the specific program or school you are applying to. Research the program and its values, and make sure your personal statement reflects how you align with those values. This will show the admissions committee that you have a genuine interest in the program and have put effort into your application.
Another tip is to have someone else read and provide feedback on your personal statement. This can be a teacher, mentor, or friend who can offer constructive criticism and help you refine your message.
It's important to have a fresh set of eyes on your writing to catch any errors or inconsistencies and to ensure that your personal statement effectively communicates who you are and why you are a good fit for the program.
Standardized Test Scores: What Role Do They Play in Admissions Decisions?
Standardized test scores are just one factor that the admissions committee considers when reviewing applications. While Davidson College has no minimum SAT or ACT score requirement, a strong score can demonstrate your academic potential. 
However, if your scores do not reflect your academic abilities, you can demonstrate your strengths in other areas of your application.
It is important to note that standardized test scores are not the only measure of academic potential. High school grades, course rigor, and extracurricular activities are also considered. Admissions officers are looking for well-rounded students who will contribute to the campus community in various ways.
Furthermore, some students may struggle with standardized tests due to test anxiety or other factors. 
In these cases, Davidson College offers test-optional admissions for students who feel their scores do not accurately reflect their abilities. This allows students to showcase their strengths in other application areas and still be considered for admission.
How to Highlight Your Unique Experiences and Background
In searching for the answer to "What does Davidson look for?" note that the college values diversity of experiences and backgrounds in its student body. When applying to Davidson, highlight how your unique experiences have shaped who you are today. Emphasize your cultural background, socioeconomic status, or any obstacles you have overcome.
One way to showcase your unique experiences is to provide specific examples of how they have influenced your academic or personal pursuits. 
For instance, if you come from a low-income background, you could discuss how you have had to work multiple jobs to support your family while still maintaining good grades.
Alternatively, if you have a passion for community service, you could talk about how your experiences volunteering at a local shelter have inspired you to pursue a career in social work. 
You can demonstrate to the admissions committee how your background has shaped your values and goals by providing concrete examples.
The Role of Recommendations in the Application Process
Recommendations give the admissions committee an additional perspective on your academic potential and personal qualities. 
Typically, Davidson College requires one recommendation from a counselor and two from teachers. Be sure to choose teachers who know you well and can speak to your academic abilities and personal characteristics.
It is important to note that recommendations should not be taken lightly. They can significantly impact the admissions decision and even decide between two equally qualified candidates. 
Therefore, choosing recommenders who can powerfully and positively endorse your abilities and character is crucial. 
Additionally, it is recommended to give your recommenders ample time to write and submit their letters, as rushing them may result in a less thoughtful and thorough recommendation.
Preparing for Your Davidson College Interview
If you are offered an interview with Davidson College, take advantage of this opportunity to showcase your interest in the school and demonstrate your fit. Research the school and prepare questions to ask your interviewer. Be sure to dress professionally and arrive punctually.
During the interview, highlight your strengths and accomplishments and provide specific examples of how you can contribute to the Davidson College community. 
Moreover, be prepared to discuss any challenges you may have faced and how you overcame them. Remember to maintain eye contact and engage in active listening throughout the interview. 
After the interview, send a thank-you note to your interviewer to express your appreciation for their time and consideration.
Early Decision vs Regular Decision: Which is Right for You?
Davidson College offers both early decision and regular decision options. Early decision is binding and requires applicants to commit to attending Davidson if accepted. To decide which choice is right for you, consider your level of interest in the school and your ability to apply early.
One advantage of applying through early decision is that it can increase your chances of being accepted. This is because colleges want to fill a certain number of spots with students committed to attending. 
Additionally, applying early can give you a sense of relief and allow you to focus on other aspects of your senior year.
However, there may be better options than applying through early decision. The regular decision may be better if you are still deciding about your top choice school or need to compare financial aid packages. 
It is also important to consider the potential consequences of backing out of an early decision agreement, as it can harm your reputation with other colleges.
Understanding Davidson College's Financial Aid Policies
Davidson College is committed to making high-quality education accessible to all students, regardless of financial need. The college offers need-based financial aid to qualifying students. To apply for financial aid, be sure to submit the CSS Profile and the FAFSA.
In addition to need-based financial aid, Davidson College also offers merit-based scholarships to incoming students. These scholarships are awarded based on academic achievement, leadership potential, and other factors. 
Students interested in being considered for merit-based scholarships should submit their application materials by the priority deadline.
Navigating the Waitlist: What You Need to Know
If you find yourself on Davidson College's waitlist, remember it's not an outright rejection. 
While being on the waitlist can be frustrating, you can take steps to improve your admission chances. Since submitting your application, consider sending an update letter highlighting any new accomplishments or achievements.
It's also important to remember that the waitlist does not guarantee admission. Davidson College may not admit any students from the waitlist, or they may only admit a small number. Having a backup plan and considering other schools you may be interested in attending is essential. 
However, if Davidson College is your top choice, don't give up hope. Keep in touch with the admissions office and express your continued interest in attending the school.
Key Takeaways: How to Maximize Your Chances of Admission to Davidson College
Focus on solid academics, including rigorous coursework.

Get involved in extracurricular activities and demonstrate a commitment to community service.

Write a standout personal statement that showcases your unique personality and experiences.

Choose recommenders who can speak to your academic potential and personal qualities.

Prepare for your interview and highlight your interest in Davidson College.

Apply early decision if you are highly interested in attending Davidson.

Submit all financial aid documents promptly.
Another critical factor to consider when applying to Davidson College is demonstrating a passion for learning and intellectual curiosity. 
Admissions officers want to see that you are interested in getting good grades, exploring new ideas, and pursuing knowledge outside the classroom. This can be demonstrated through extracurricular activities, such as attending academic clubs or lectures and seminars.
Additionally, showing that you are a well-rounded individual with various interests and experiences is important. Davidson College values diversity and seeks to admit students who will contribute meaningfully to the campus community. 
This can be demonstrated through your involvement in sports, music, art, or other hobbies and any leadership roles you may have held in your school or community.
By understanding "What does Davidson look for?" and tailoring your application to showcase your strengths, you can maximize your chances of being admitted to this highly sought-after institution.
In the face of competitive Davidson admissions, AdmissionSight acts as a trusted partner, helping students navigate the complex college admissions process. Our team of experts also guide students in finding the answer to the query, "What does Davidson look for?"
By offering personalized guidance, from essay crafting to test prep and interview readiness, AdmissionSight increases students' chances of overcoming these hurdles, turning their aspirations of attending Davidson College into reality.
Feel free to schedule an appointment for an initial consultation today!