8 Attributes MIT Admission Counselors Look for in Future Students
The Massachusetts Institute of Technology is often ranked among the country's top universities. In fact, MIT ranks 4th in the U.S. News Top National Universities list. Despite not being in the Ivy League, this highly esteemed university is often mentioned in the same breath as this prestigious group. Having produced some incredibly successful graduates including heads of state, prominent researchers, famous astronauts, actors and actresses, and ground-breaking scientists, it's understandable why MIT has such a strong reputation. Naturally, this leads many students to wonder what does MIT looks for in applicants?
After all, it's the answer to this question that will guide you while preparing to attend MIT. If you're heading into high school, you have sufficient time to build your schedule and extracurriculars around these expectations. If you're in the process of applying to MIT, you can cater your application to highlight specific characteristics admissions officers will be looking for when reviewing applications. Even if you're a parent undergoing pre-high school consultation to prepare your child early, you'll have a better idea of how you position your child for success when it comes time to apply to MIT.
So, what does MIT look for in applicants? Well, we should first start by acknowledging that MIT takes a comprehensive approach to its admissions process. What does that mean? That essentially means that admissions staff take a wide variety of factors into account when determining who gets accepted. Even the most talented academic performers might get overlooked because of their underperformance outside of the classroom. Likewise, applicants that spent more time invested in extracurriculars without giving their academics much attention are at risk of getting denied.
To help increase your chances of getting into MIT, we'll take a look at some key attributes admission counselors are looking for in future students.
What does MIT look for in applicants?
Although every college will have similar requirements for applicants, there are some unique characteristics that each university stresses over others. It's imperative that applicants have a good understanding of what the admissions staff at their desired school is looking for in applicants.
This way, you can optimize your application to ensure these attributes stick out for admissions staff to see. Fortunately, MIT clearly outlines some specific things they're keeping an eye out for when reviewing applications. Other universities aren't as forthcoming with this information which gives applicants an advantage.
Here are eight key attributes MIT admissions officers are looking for in students.
Contributing to the school's sense of support.
College admissions is a two-way street. In other words, admissions officers aren't only interested in why you want to attend MIT. They also want to know what you have to offer the university.
Despite its relatively small student body, MIT has a strong sense of community. And with that bond comes a sense of camaraderie in which students seek to support, inspire, and guide each other in overcoming challenges and reaching their potential, especially when it comes to math, science, and engineering. MIT admissions officers are interested in finding applicants that are going to be a great fit into this supportive community to ensure that spirit carries on.
Aligning your goals with MIT's overall mission
MIT's stated mission is to "advance knowledge and educate students in science, technology, and other areas of scholarship that will best serve the nation and the world in the 21st century." It's common for schools to have mottos or mission statements that point to the school's overarching vision or direction.
MIT admissions officers want to make sure that your personal, academic, and professional goals align with this mission. While there are countless examples, you'll want to show how you plan to use the education you receive at MIT to make the world a better place.
Exhibiting a spirit of cooperation and collaboration
Another important cornerstone of MIT's community is cooperation. In fact, the university seeks to champion this collaboration by designing assignments and homework – affectionately called "problem sets" on campus – to be completed in groups. Some of this collaboration is even designed to happen in between department labs to promote interdisciplinary work.
As a result, MIT admissions officers will be on the lookout for students that work well in groups, enjoy collaborating with their peers, and contribute their fair share when working with other people. If you loved group projects in grade school and high school, you're likely a great fit for this cooperative community.
Taking initiative to reach your goals
As one of the most well-funded universities in the entire country, MIT has no shortage of opportunities both in academic and non-academic settings. However, these offerings aren't going to be placed in your lap. Students have to make an effort to take advantage of these opportunities. From research projects and seed money to fascinating lectures and unique classes, MIT has a wealth of resources for students.
Admissions staff are on the lookout for students who will have the initiative to use these unrivaled resources in order to pursue their goals, improve their capabilities, and explore various interests. How can you show your willingness to do this before attending? By mentioning specific courses, extracurriculars, and other offerings you plan to take advantage of if accepted to MIT.
Willing to take risks to further develop
Admissions officers aren't just looking for dedicated students who are committed to success. They're also interested in finding people who are willing to take calculated risks in order to further their development. When you stick your neck out, you develop resilience, determination, and perseverance – three excellent characteristics to develop before attending one of the most competitive schools in the country.
MIT is a chock-full of people who are successful, creative, and risk-takers. They understand that failure isn't a setback but rather an unavoidable part of life that needs to be overcome. MIT is looking for students that fit this description. Ones that aren't going to give up when the going gets tough.
Hands-on creation and scientific research
For decades, MIT has been a hub of innovation, invention, and creation. It's produced some of the most ground-breaking voices, inventors, scientists, researchers, and politicians of the 21st century including Noam Chomsky, Buzz Aldrin, Richard Feynman, and many, many more. MIT views hands-on creativity and experimentation as one of the best ways to become successful. As MIT explains it, "we apply theoretical knowledge to real-world problems here." They're interested in finding students who are committed to action and implementation just as much as they are to thinking and scheming.
Prioritizing balance in college
There's no doubt you've heard through the grapevine that MIT is a fiercely competitive university where students are always looking to one-up each other in a never-ending academic competition. You'll be happy to hear that this isn't the case. In fact, one of the stated characteristics that MIT admissions officers explicitly say they're looking for in students is an ability to balance. Yes, they're actually looking for people who value downtime! If you've never had a problem kicking back after a long, hard day of honest work, it's now your time to shine. In fact, MIT even wants you to demonstrate how you've been prioritizing downtime in high school!
Placing stress on curiosity and intensity
MIT might not be a large school but they certainly do things big. It's a big-name school with big-name alumni that are looking for students who think big! Admissions officers are interested in applicants who are crazy passionate about their field of study. It's not enough to simply have an interest in a subject, you have to show an intense curiosity and excitement about it. Don't worry! MIT isn't so picky about what that passion is about.
They're more interested in seeing the fire behind your interest that will drive your engagement in the field. In fact, MIT stresses quality over quantity – encouraging students to do less well than make an attempt to do more with lower quality. That's why it's paramount that students explore various activities and subjects in high school to have a firm grasp on their direction in college.
What are other strategies you can use to catch the attention of the university admission officers?
The aforementioned attributes are exactly what MIT admissions officers say they're searching for when choosing which applicants are accepted and which are denied. However, that doesn't comprise everything you need to know about MIT admissions. Here, we'll take a look at some other key characteristics and achievements that can greatly improve your chances of securing a spot in MIT's incoming class:
Preparing for the interview
As the MIT website puts it, they "don't just want to see how you look on paper." They're interested in what makes you unique, what you're interested in, and who you are as a person. Since other parts of the admission process don't offer much of an opportunity for admissions officers to get to know you in greater depth, MIT offers an interview where you have an opportunity to talk to a representative from the MIT Education Council.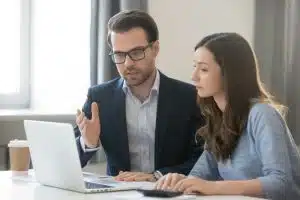 We highly recommend attending this meeting in order to get your questions about MIT answered while also demonstrating a desire to attend the school. Preparing for the interview beforehand is a great strategy to ensure it goes off without a hitch.
Getting excellent grades and test scores to get into a university
What does MIT look for in applicants? MIT admissions staff looks at a wide variety of factors – both academic and non-academic – when considering who gets admitted and who gets denied, it's tough to understate the importance of academic performance. You'll need to perform well on standardized test scores such as the SAT and ACT as well as your high school courses. We advise students to take Advanced Placement (AP) courses and honors courses in order to boost their GPA. When it comes to testing scores, it's recommendable to take them at least twice to optimize your performance.
Signing up for summer programs
The initiative was one of the key characteristics that MIT says it actively looks for in students. What better way to show a willingness to go above and beyond than to spend a few weeks during the summer pursuing your academic interest and developing your skills in the area? Fortunately, there are countless summer programs that offer a wonderful opportunity for high schoolers to do just that. While it's important to find an activity in which you're interested, you still want to make sure the program lines up with the field you want to pursue.
Awesome letters of recommendation for a university
All MIT applicants are required to provide two letters of recommendation. Unlike other schools that don't specify which teachers need to write the letters, MIT admissions officers are looking for one from a STEM teacher and one from a humanities teacher. To make sure the letter is as impactful as possible, it's important to choose a teacher with whom you've developed a special relationship. They should be able to write a letter of recommendation that shows your academic prowess while highlighting some unique characteristics about you that aren't strictly academic. It's imperative to request these letters as early as possible to ensure they're high quality.
Impressive university essay responses
Like most universities, MIT requires applicants to answer a series of essay questions to gain a better understanding of what makes each person unique. What does MIT look for in applicants when it comes to these essays? They look for open, honest, unique, and personal responses that reveal something about you they didn't know while still sticking to the prompt.
It's not enough to provide a generic, copy-paste answer. This is one of the best opportunities you have in your entire application to show why you're great for MIT. It might even be a good idea to get some essay editing services from a professional coach to ensure your essays are pristine!
Participation in Academic Competitions
MIT is well-known for its robust math and science offerings. From world-class staff and top-tier courses to state-of-the-art technology and impressive funding, this university invests a considerable amount in these fields. A great way to show that you're eager to pursue an education in a mathematics or science program at MIT is to participate in an academic competition. Olympiads, which are team-based math and science competitions are a great place to start, as well as the Intel Science and Engineering Fair.
Knowledge about the university
When answering "what does MIT look for in applicants?", we'd be remiss not to mention the importance of demonstrating knowledge about the university. Why do you want to attend MIT? What about the university makes it a preference for you over other schools? What specific courses, extracurriculars, degrees, and programs are you hoping to take advantage of if you're accepted into MIT?
These are all questions you should be able to answer by the time you apply. You'll want to demonstrate this knowledge whenever possible. Essay prompts and the interview is perfect opportunities for this. The whole point is to show admissions officers that you have specific reasons for wanting to attend MIT, not just because it's an excellent school.
You're one step closer to getting into MIT
If you're determined to attend MIT, you're in the right place! AdmissionSight – that's us! – has over a decade of experience helping students just like you achieve the dream of attending the college of their choice. We understand how daunting it is for both students and parents to look at the selective admissions rates of some high-level universities such as MIT. Fortunately, AdmissionSight has in-depth knowledge regarding the admissions processes of some of the country's leading universities. Our services are uniquely poised to help students overcome these challenges and increase their chances of getting accepted.
Whether you need help finding a relevant summer program for your field of study or you want some assistance writing your admissions essays, we have the expertise to help! All of our services are individualized to ensure we're taking each student's academic interests, strengths, and goals into account. With over 75% of our students successfully getting accepted into Ivy League schools or Top Ten universities, we have a proven track record of success. Interested in learning more about what we offer and how you can benefit from our services? Feel free to contact us for a free consultation.