What Does UC Santa Barbara Look for in Prospective Students?
When selecting prospective students, UC Santa Barbara has a holistic approach. The university looks beyond academic achievements and considers various factors to determine the best fit for its community. In this article, we will cover what does UC Santa Barbara look for in its applicants and what steps you can take to ensure a successful application process.
Why UC Santa Barbara Matters for Prospective Students
Before we dive into application requirements, let's take a moment to understand why UC Santa Barbara matters to prospective students. Founded in 1909, UC Santa Barbara is a public research university in Goleta, California.
It is a member of the prestigious University of California system, offering an unparalleled academic experience focusing on research and creative expression. The campus is situated along the Pacific Ocean, providing a beautiful setting for students to learn and grow.
UC Santa Barbara has consistently been ranked as one of the top public universities in the United States, making it a highly sought-after institution for prospective students.
One of the unique aspects of UC Santa Barbara is its commitment to sustainability. The university has implemented numerous initiatives to reduce its carbon footprint and promote environmental stewardship.
For example, the campus has a bike-friendly infrastructure, with over 10,000 bike parking spaces and bike rental programs. Additionally, UC Santa Barbara aims to achieve carbon neutrality by 2025, making it a great choice for students passionate about environmental issues.
Another reason why UC Santa Barbara matters for prospective students is its diverse and inclusive community. The university values diversity and strives to create an environment where all students feel welcome and supported.
UC Santa Barbara has various resources and programs to support underrepresented students, including the Educational Opportunity Program and the Resource Center for Sexual and Gender Diversity.
With a student body representing over 100 countries, UC Santa Barbara offers a truly global perspective and a chance for students to learn from and connect with people from all walks of life.
Admissions Requirements for UC Santa Barbara
Regarding admissions requirements, UC Santa Barbara looks for various factors to evaluate each applicant holistically. In addition to academic achievements, the university looks at extracurricular activities, leadership potential, and personal qualities to determine a student's potential to thrive. Below are some of the requirements for admission:
Completed application, including personal statement and activities and awards listing
Official high school transcript
SAT or ACT scores
Two letters of recommendation
It is important to note that meeting the minimum requirements does not guarantee admission to UC Santa Barbara. The university receives many applications each year, and admission is highly competitive.
In addition to meeting the requirements, applicants are encouraged to showcase their unique strengths and experiences in their application to stand out.
The Importance of Your High School Transcript for Admission
A student's high school transcript is one of the most important requirements for admission to UC Santa Barbara. The university evaluates a student's academic performance throughout their high school career, considering not only their grades but the rigor of the courses they have taken.
When evaluating a transcript, UC Santa Barbara looks for students who have challenged themselves academically and have taken advanced courses in preparation for college-level work.
UC Santa Barbara also considers the overall trend of a student's grades throughout their high school career. A student who initially struggled but later improved their grades may receive a favor over a consistently high-achieving student with no significant progress.
It is important for students to not only focus on earning good grades but also to strive for continuous improvement throughout their high school career.
How Your SAT/ACT Score Affects Your Chances of Getting into UC Santa Barbara
Although it takes a holistic approach to admissions, UC Santa Barbara still looks for SAT or ACT scores, which are still important. The university sets minimum scores for admission, but it is important to note that these scores are not the only factor considered during the evaluation process.
The SAT or ACT scores help the admissions committee gauge a student's potential in college-level coursework and provide additional information on their abilities outside of their transcript.
It is also important to note that UC Santa Barbara has super scores on the SAT and ACT. This means they will combine the highest section scores from multiple test dates and combine them to create a new, higher composite score.
This can benefit students who may have struggled in one section on a previous test but improved on a later test date. However, it is still recommended to aim for a high score on each individual section to increase your chances of admission.
The Role of Extracurricular Activities in UC Santa Barbara Admissions
UC Santa Barbara places a high value on extracurricular activities and leadership potential. When evaluating applications, the university looks for students with a well-rounded profile, demonstrating engagement in activities outside the classroom.
Being involved in extracurricular activities can also show a student's ability to manage their time effectively and work collaboratively in a team environment.
Furthermore, UC Santa Barbara also considers the impact of a student's extracurricular activities on their community. The university values students who have made a positive difference in their school or local community through their involvement in clubs, volunteer work, or other activities.
This demonstrates a student's commitment to making a difference and contributing to society, which aligns with UC Santa Barbara's mission to create responsible and engaged citizens.
Tips for Preparing a Strong Personal Statement for UC Santa Barbara
Your personal statement is an opportunity to showcase who you are beyond your academic achievements. It's a chance to tell your story and illustrate your character. When preparing your personal statement, keep the following tips in mind:
Tell a story that is unique to you
Show, don't tell, your personal qualities and attributes
Avoid cliches and generalizations
Proofread for errors
Additionally, it's important to tailor your personal statement to UC Santa Barbara. Research the university's values, mission, and programs, and highlight how your goals and experiences align with them. This will demonstrate your genuine interest in attending UC Santa Barbara and your potential to contribute to the university community.
Letters of Recommendation: Who, What, and How Many You Need for UC Santa Barbara Admissions
UC Santa Barbara requires two letters of recommendation from teachers who have taught you an academic subject in high school. These letters allow the teachers to share their perspectives on your academic abilities and personal qualities. When selecting teachers for your letters of recommendation, consider those who know you well and have seen you thrive academically.
It is important to note that UC Santa Barbara does not accept letters of recommendation from family members, friends, or paid private counselors.
Additionally, it is recommended that you request your letters of recommendation well in advance of the application deadline to give your teachers enough time to write thoughtful and detailed letters.
Remember to thank your teachers for their time and effort in writing your letters of recommendation, as their support can greatly enhance your chances of admission to UC Santa Barbara.
Understanding the Waitlist Process at UC Santa Barbara
After all, applications have been evaluated, UC Santa Barbara may place some students on a waitlist. Being on the waitlist means the university sees potential in applicants but needs more time to evaluate their qualifications.
If you find yourself on the waitlist, it's important to communicate your continued interest in attending UC Santa Barbara and provide any additional information that may strengthen your application.
It's important to note that being on the waitlist does not guarantee admission to UC Santa Barbara. The university will only admit students from the waitlist if spots are available after all admitted students have made their decisions. This means having a backup plan is important in case you are not ultimately admitted to UC Santa Barbara.
If you are on the waitlist, you typically have a shorter time to decide than students admitted in the initial round. This means it's important to stay on top of your email and prepare to decide quickly about the admission offer.
How to Make Your Application Stand Out from the Crowd at UC Santa Barbara
With over 100,000 applications received annually, making your application stand out from the crowd is important. Here are some tips to help:
Challenge yourself academically and take advanced courses
Engage in extracurricular activities that showcase your interests and leadership potential
Write a strong personal statement that illustrates your character and unique perspective
Provide letters of recommendation from teachers who know you well
Another way to make your application stand out is by demonstrating your commitment to community service. UC Santa Barbara looks for students who are actively involved in their communities and desire to impact the world positively. Consider volunteering at a local organization or starting your own community service project.
In addition, it's important to show your passion for your intended major. UC Santa Barbara offers a wide range of majors, and the admissions committee wants to see that you have a genuine interest in the field you plan to study. Attend events related to your major, such as guest lectures or workshops, and participate in relevant clubs or organizations.
Campus Life and Culture
UC Santa Barbara is known for its lively campus culture. It has many opportunities for students to join clubs and organizations, attend concerts and events, and enjoy the beautiful surroundings. The university strongly focuses on sustainability and offers many programs and initiatives to promote environmental responsibility among students.
Additionally, UC Santa Barbara has a diverse student body, with students from all over the world. This creates a vibrant and inclusive community where students can learn from each other and gain a global perspective.
The university also offers many resources for students to support their mental and physical health, including counseling services, a health center, and various fitness classes and sports teams.
Furthermore, UC Santa Barbara is located in a prime location for outdoor activities. The campus is next to the beach, and students can easily access hiking trails and other outdoor recreation areas. The university also offers programs for students to study abroad and gain international experience, further expanding their horizons and enriching their education.
Academic Programs and Opportunities
UC Santa Barbara offers over 200 undergraduate and graduate programs across many disciplines. The university is known for its engineering, physics, chemistry, and materials science programs. Additionally, UC Santa Barbara provides students with many opportunities for research and internship experiences that can enhance their learning experience.
UC Santa Barbara also offers a variety of interdisciplinary programs that allow students to explore multiple fields of study. These programs include Global Studies, Environmental Studies, and Feminist Studies. Students can also take advantage of the university's extensive language offerings, with courses in over 40 languages.
The university also is compassionate to undergraduate education, with small class sizes and opportunities for personalized attention from faculty. The university also offers academic support services, including tutoring, writing assistance, and academic advising, to help students succeed.
Financial Aid and Scholarships Offered
The commitment of UC Santa Barbara is to make quality education accessible to all students, regardless of their financial circumstances. The university offers a variety of need-based and merit-based financial aid options, including grants, scholarships, loans, and work-study programs. Prospective students should explore financial aid opportunities and apply for aid as early as possible.
In addition to the financial aid options available to students, UC Santa Barbara offers several scholarships for underrepresented and marginalized communities. These scholarships aim to support students facing additional barriers to accessing higher education.
For example, first-generation college students, students from low-income backgrounds, and students from historically marginalized racial and ethnic groups. The university also provides resources and support services to help students navigate the financial aid process and make informed decisions about their education.
Alumni Success Stories from UC Santa Barbara
UC Santa Barbara has a strong alumni network who have succeeded in their respective fields. Notable alumni include Nobel laureate Walter Kohn, former U.S. Ambassador to China Gary Locke, and Academy Award-winning actress Michael Douglas. The university's alumni network is a testament to the quality of education and opportunities UC Santa Barbara provides.
One of the unique aspects of UC Santa Barbara's alumni network is the strong presence of entrepreneurs and innovators. Many alumni have started their own successful businesses, including the co-founder of YouTube, Jawed Karim, and the founder of Patagonia, Yvon Chouinard.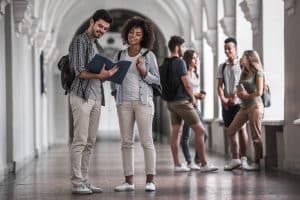 These alumni have not only achieved financial success but have also made significant contributions to their respective industries.
UC Santa Barbara's alumni network also extends beyond the United States, with many graduates making an impact on a global scale. Notable international alumni include the former Prime Minister of Japan, Yasuo Fukuda, and the former President of Costa Rica, Luis Guillermo Solis.
These alumni have used their education and experiences at UC Santa Barbara to make a positive difference in their home countries and beyond.
Final Thought
UC Santa Barbara is a highly selective university that values its applicants' academic achievement, extracurricular engagement, and personal qualities. Prospective students must understand the admissions requirements and utilize the application tips provided.
They can increase their chances of admission to this prestigious institution. Once on campus, students will find a welcoming and supportive community that offers many academic and personal growth opportunities.
Are you feeling overwhelmed by the college admission process? Look no further! AdmissionSight is here to guide you toward success. With our specialized college admission consultation service, we offer personalized assistance tailored to your unique goals and aspirations.
Our experienced consultants will provide expert advice on crafting a standout application, selecting the right colleges, and navigating the complex admissions world. Don't let stress hold you back—let AdmissionSight be your trusted partner on your journey to higher education. Contact us today to take the first step toward a brighter future.