What is a gap year?
What is a gap year? A semester or year of experiential learning is often taken after high school but before entering the workforce or continuing education in college, with the goal of deepening one's understanding of practical, professional, and personal aspects.
Searching for the ideal harmony between travel and enlightenment? Take a year off. It will be time well spent, whether it's a year off between high school and college (a healthy break from routine school life!), a gap year after graduation (which can allow you time to determine your future steps), or a gap year at essentially any other time.
Programs for gap years are rife with chances for growth on a personal level, acquiring new skills, reevaluating personal and professional goals, and (of course) experiencing once-in-a-lifetime adventures.
So, hold on, how are we going to make all of this great stuff happen? AdmissionSight has prepared points to discuss in depth on how to take a gap year!
History and principles of a gap year
Many experts and enthusiasts have written articles about gap years since the 1980s when they became popular in the United States. However, the article titled "Time Out or Burn Out for the Next Generation," which is primarily attributed to William Fitzsimmons, a former dean of admissions at Harvard, stands out. Numerous books and articles have been written since then, most notably "The Gap Year Advantage" by Karl Haigler and Rae Nelson.
Why take a gap year?
Why take a gap year? The reasons you might want to take a gap year are individual to you, and they frequently depend on when you decide to do so.
Frequently cited justifications for what is a gap year and why take a gap year are as follows:
Not knowing whether to attend university or what to study there
Taking a break after finishing school before beginning a profession
Making use of the time you have off from school during the summer
Developing your resume and picking up experience
Upskilling for a new career
Meeting your need for adventure
Using free time to engage in a meaningful volunteer activity to benefit others
Promoting one's own growth and self-discovery
Trying to find a chance to travel and meet new people!
So, that pretty much gives you a sense of the question of "what is a gap year?", along with the motivations for why individuals take one.
Pros and cons of gap years
Pros
1. A gap year can increase academic success.
Not everyone prefers the accelerated schedule of consecutive academic years from elementary school through university. A gap year can provide you with the mental break you need to get back on the path to academic achievement if you've completed a few quarters, semesters, or years of university and are struggling academically.
When they return to school after a gap year, many students say their enthusiasm for learning and studying has been revived. Students who take a gap year have higher GPAs than those who do not take any breaks from their studies at all, according to statistics gathered by the American Gap Association. Are you concerned that taking a break may prevent you from completing your degree? 90% of people who take a gap year return to school within a year of their out-of-school experience.
2. A gap year can help you decide what to do next.
Taking a gap year can help students who are uncertain about their next move after graduation. Delaying graduation will give students more time to consider their career goals, and a gap year can give them practical experiences that help them make links between their academic work and the working world.
Volunteering with elephants in Thailand may highlight the use of a biology degree, taking a leadership course in Alaska can help launch a career as an outdoor instructor, and exploring Europe can inspire a career in travel writing.
Numerous gap year programs offer planned experiences that help create these connections, and many students also return to school motivated by their professors or other accomplished adults they met during their time away from the classroom.
Cons
1. You might stop paying attention to your studies.
Many parents worry about students who ask "What is a gap year?" because once they know what it means, it prevents children from taking a gap year or even studying abroad. Even though 90% of students who take a gap year return to their studies, taking one could cause you to fall behind in your studies.
Make sure your gap year program or activity of choice is a calculated decision that will foster your drive to learn, keep you focused on your path of study, and not detract from your more general objectives.
After your gap year, you might need some time to return to university life's demands as you juggle a course load, write papers, and take examinations. Be ready for this possibility.
2. It will take you longer to finish college.
Unless you have extra credits from AP or summer courses, taking a gap year is likely to result in you needing more time to finish your education. Employers and graduate schools frequently accept a delay in graduation owing to a gap year and are impressed by the advantages, so this is not always a bad quality.
You will have to accept the reality that it is a fact, though. A gap year in the middle of college may not fit well with your personal life plan if getting your degree in four years is crucial to you.
However, a lot of students strongly support the value of taking a gap year. Since we've just discussed the answer to the question "What is a gap year?" and the pros and cons of gap years, let's concentrate on understanding its advantages.
Gap year benefits
The principal advantages of a gap year
Think again if you believe that taking a gap year will allow you to take a break from the hard work needed to get a college degree. Even if they are only a few months or a semester-long, gap year getaways taken in a foreign country have substantial advantages.
AdmissionSight has listed some of the gap year benefits and key advantages of taking some time off to travel before you go into higher education:
Consider things differently. The Gap Year Association's most current study findings show that students who took a break before college had a better awareness of the society in which they lived.
Specifically, 90% indicated they had a greater knowledge of and respect for cultures other than their own, 94% said their time spent overseas helped them learn to converse with people from diverse backgrounds, and 93% report an increased interest in people from around the world.
Reading books or watching documentaries can teach you a lot about the world we live in, but they don't compare to actually traveling to a new nation and experiencing it for yourself. And most of the time, experiential learning has a considerably greater influence than any advice a college professor could possibly offer.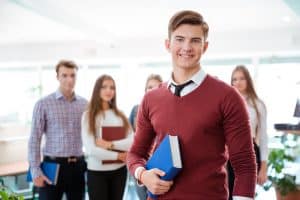 Determine the best strategy to attain your true goals. It might not be a good idea to enroll in classes right away if you aren't sure what subject you want to study. Before choosing a college major or a professional path you might be trapped with for the majority of your whole life, taking a gap year and traveling abroad can help you clarify your ambitions.
According to data from the Gap Year Association, 84% of respondents to their study claimed that their time abroad helped them develop the skills necessary to succeed in their careers. In addition, 77% stated their gap year helped them discover their purpose in life, 75% said it assisted them in landing a job, and 73% said it assisted them in getting ready for college.
You discover that you don't need to spend tens of thousands of dollars on higher education. Although "finding yourself" in school has a hefty price, it may be feasible to learn about the future you want during your first year of college. Remember that a four-year public school typically costs $10,230 per year and that when room and board are included, the expenditures rise to $21,370 per year.
Consider how many nations and cultures you could visit for a small portion of the cost. Anywhere in the world, young people can find a cheap economy ticket and travel on a budget by staying in hostels or enrolling in a study abroad or work abroad programs. They can discover who they are and learn lessons that are simply impossible to learn in school without piling up tens of thousands of dollars in debt by choosing to take time off to travel.
Obtain useful professional experience. What is a gap year? Keep in mind that a gap year can be much more than a drunken semester spent making acquaintances in dorms. In actuality, a lot of students who take a gap year use that time to study abroad or participate in volunteer activities abroad.
There are many structured programs for gap years that give certain kids the structure and educational component they require. Aardvark Israel, Art History Abroad, and Gap Year South Africa are a few examples. Choosing a structured program with a clear goal could be a wise choice if you want to make sure your gap year counts.
It never hurts to think about taking some time off, whether you're a student debating whether to enroll in college right away or a parent of a high school graduate. Traveling abroad has several advantages, including the chance to meet new people and understand how other cultures operate.
Additionally, there are occasions when you can combine travel with an educational opportunity that can forever alter the way you think.
No matter if you take a gap year or enroll right after high school graduation, finding the right college to attend is crucial. Through a private consulting program and test preparation courses, AdmissionSight has emerged as a market leader in assisting students in being admitted to elite institutions all over the world. With 75% of our students receiving acceptance letters from Ivy League colleges, we have one of the highest success rates in the industry. To arrange your free initial consultation, don't hesitate to get in touch with us right away.