What is the Average ACT score at Harvard?
It goes without saying that for every student who is interested in getting into Harvard University, performance in high school is of course the primary thing that admission officers will look at. However, there are a lot of different important factors that go into that. One of those very important factors is how a high school student manages to perform when taking the standardized test of their choice. For many, that means taking the ACT. But what is the average ACT score at Harvard?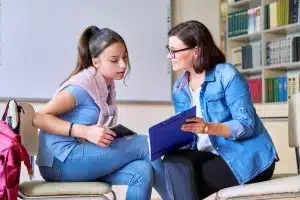 If you are curious about that, how to best prepare for the exam and so much more, then you have come to the right place!
Let us at AdmissionSight break down everything any student interested in applying and getting into Harvard should know about the ACT score.
Harvard's Average ACT Score
Just like the rest of the Ivy League and many other colleges, Harvard has required that students who are applying to the school submit either an ACT or SAT score to be considered. With that being said, it is important to mention that in the 2019-20 school year, the current 2020-21 school year and in the 2021-22 school year, Harvard and many other top schools made submitting an ACT score or SAT score voluntary.
The reason for that decision was of course rooted in the very rare and difficult circumstances related to the COVID-19 pandemic. While students applying to colleges for these two school years have not been required to submit ACT or SAT scores, there is no doubt that many students did regardless.
That is because most high school students who are applying to schools that are as competitive and prestigious as Harvard know that they must do anything in their power to get an advantage over the other fantastic students who are applying that school year.
Moreover, there is little doubt that SAT and ACT test scores will be required once again by top schools in the United States. For that reason, it is important for high schoolers – especially younger high school students – to plan as if their SAT or ACT test scores will be required.
Overall, the average SAT score that students who get into Harvard enjoy is a highly impressive 34 out of the perfect score of 36. The 25th percentile score is 33 and the 75th percentile score is 35. What that means for any student is that if they score a 33 or below, their score will be below the average score of students who are accepted to Harvard. The opposite can be said for the score of 35.
No matter how impressive a high school student is, applying and trying to get into a school like Harvard is an incredibly daunting task. The incredibly high average ACT score of students who ultimately are accepted to the school is just one of the many reasons why.
However, just because it is hard does not mean that it is impossible. And most things that are worth working for are worth working hard for.
For that reason, let's break down some of the most important tips that any high school student can know about when it comes to improving their chances of getting into Harvard.
How to prepare for the ACT
No matter if you are a confident and adept test taker, or if you consider test-taking to be something of academic weakness, there are some really fantastic ways in which you can boost your chances of success when preparing for the ACT.
Without a doubt, if you are interested in getting into a school like Harvard, you owe it to yourself to do everything that you can to improve your chances of success in every aspect of the application process.
So, let's break down some crucial ways that any student can improve their performance when preparing for the ACT.
Purchase and start working with at least two reputable study books
The very first tip to keep in mind is that students who invest in purchasing at least two great study books. Some of the most reputable books include Kaplan or Princeton Review. The reason why this is such a great strategy is because you will have more opportunity to learn about the ways to prepare as well as what kinds of questions you can expect. Beyond that, it will also expand the amount of practice questions and full practice exams a student will have to work with.
Focus on the most frequently tested concepts and questions
One of the biggest mistakes that students who are preparing for the ACT make is preparing for the wrong kinds of questions. The ACT and SAT are quite different from the kinds of exams that most high school students are used to in the sense that these tests do not focus on facts, or even necessarily equations.
Mostly, the SAT and ACT are going to test a student's ability to reason. For that reason, some of the questions can be predictably answered if you know what the question is really looking for. Focusing on being able to identify and answer these popular questions will surely help any student increase their chance of success.
Plan out a reasonable ACT study schedule
In order to make sure that you are preparing for the ACT in a responsible and effective way, it is really important that you set up a reasonable study schedule. First off, you will want to give yourself ample time to prepare so that you both do not have to cram for the ACT and so that you do not end up studying for the ACT at the expense of your high school curriculum.
Typically, it is advised that students begin studying for the ACT about three months before the date of their exam. For many students, that means spending a decent amount of their summer vacation following their sophomore year studying for the exam.
Moreover, keep in mind that for the vast majority of students, it is far more effective to study 20-30 minutes per day throughout the week as opposed to three to four hours one day per week. Ideally, students will be prepping for the ACT at least four days out of the week.
Do the necessary work to pinpoint your weaknesses
For the vast majority of students, it is quite common for some sections of the ACT to be strengths and other sections of the ACT to be weaknesses. No matter what your strengths or weaknesses are, it is crucial that you do the work early on to identify those weaknesses.
The only real way to do that very important job is by taking practice exams and scoring them accurately. After doing a fair amount of practice exams, you should get a really solid idea of what you can feel comfortable with and what you have to spend some extra time working on.
It's also important to keep in mind that putting off this hard work of identifying strengths and weaknesses is only going to hurt you in the long run. Truly, giving yourself as much time to master every aspect of the exam is the best thing any high school student can do for his or herself.
Time your test exams
One of the most important skills that students have to learn when preparing for the ACT is managing their time well. It is also important to prepare for the rigors that come with sitting down for hours to take a high-pressure exam.
Overall, the timing of the exam is as follows:
70 minutes to complete English
90 minutes to complete Math
55 minutes to complete Reading
55 minutes to complete science
2 hours and 55 minutes is a real marathon, and students have to be prepared to be at their very best for the entirety of it.
Truly, the best way to prepare for these demands is to take as many practice exams as possible. Not only that, but students also need to time those fully practice tests with the same amount of allotted time that they will get on the day of the actual exam.
Considering enrolling in a class or finding a tutor
If you are able to, one of the very best ways that a student who is especially committed to doing their very best on the ACT is find an in-person or online class to enroll in or find a reputable tutor that they can meet one-on-one with in the lead up to the date of the exam.
Not only will either option be incredibly helpful in allowing the student to ask questions and get answers to particular aspects of the exam, but they will also be engaged in something that demands they remain responsible and up to date. As a parent, it is sometimes very helpful to make sure that the student has skin in the game when it comes to preparing for the ACT. A class or tutor will ensure that that is the case.
Here at AdmissionSight, we pride ourselves on helping students prepare for the application experience in every way possible. That includes connecting them with highly trained and experienced tutors who make it their primary priority to make sure that their students achieve their ACT goals.
Other tips to improve your chances of getting into Harvard
Now that all of the information that you need regarding the ACT has been broken down, now is the time to go over some of the other most important aspects of trying to get into Harvard.
While standardized test scores are of course really important, there are other really important things that will go into whether a student is ultimately accepted into or rejected from Harvard University.
Students should exhibit growth and potential
Obviously, a school like Harvard is looking for excellence from all of the students that apply to their school, but beyond that, Harvard is also looking for signs of growth throughout a student's high school years as well.
Everything from essays to letters of recommendation and even a positive trend of improving grades from freshman to senior year is a great way to prove to Harvard and any other top school that you – as a student and a person – are just getting started in terms of all the great things that you're going to do.
Interests and activities
While Harvard is not going to necessarily put a premium on specific interests and activities that a student holds, they are definitely expecting to see that every student they let into their school holds a plethora of passions and interests. Beyond that, they want to see that the student is deeply dedicated to their passions and does whatever they can to improve and express their talents.
A student applying to Harvard can – and should – imagine a college admissions officer asking, "What did this student do with their time and resources outside of the classroom?" For that reason, students should always make it a priority to explore and commit to extracurriculars and ideally earn roles of impact and leadership within those groups, teams, programs, etc.
Strong character and personality
When it comes to proving that you have strong character and personality, remember that there is no one character or personality type that Harvard is looking for. A high school student interested in getting into Harvard or any kind of similarly prestigious and competitive school should never strive to become someone who they think the school wants them to be.
Instead, students simply need to find a way to effectively communicate how driven, dedicated and focused they are on achieving their goals. If there was one word we'd use to say what Harvard is looking for, we'd say initiative. But beyond that, it's simply most important to remain positive, passionate, and true to yourself.
Dedication to contributing to your community
Another thing that Harvard will absolutely be looking out for is students who they believe will be able to contribute to the Harvard community during their years on campus and beyond. For those reasons, it is a great idea for high school students who are interested in going to Harvard to figure out ways to give back to their own community during high school. Whether that means being a leader in their school, dedicating time to a non-profit, or finding some other way to have a positive impact, Harvard will love to know about it!
Keep in mind, it is best to find things that you as a person are truly interested in, as that interest will shine through in your application, essays, interviews, and more.
Impress them with your fantastic personal essays
Truthfully, when it comes to schools that are like Harvard and truly selecting from the cream of the crop of high school students, it can be really difficult to stand out. Whether you have scored a perfect 36 on the ACT, have a GPA that shows that you excelled in AP, IB, and Honors courses, and have incredible extracurriculars, chances are pretty good that you really aren't that much different from the average Harvard applicant.
One play that you can truly set yourself apart, however, is by writing the very best personal essays possible. Take these essays as an opportunity to let the admissions officers looking over your material.
Give them an idea of who you are as a person, what makes you tick, why you want to become a member of the Harvard family, and what your inclusion into that elite group will offer the school in return. Finding out a way to talk positively about yourself without boasting or seeming unbecoming is one of the few ways that you can really allow yourself to get a leg up in the arduous, stressful, and ultimately very rewarding process of getting into Harvard.
We can help you beat the Harvard University average ACT score
Now that you know just how high the average score that Harvard students get on the Act, you may be wondering what your chances are at achieving a similar result. The truth is that no matter who dedicated and intelligent some high school students are, getting a 34 or above on the Act is really tough!
That is where we at AdmissionSight come in. As one of the very best college admissions consultants today, we make it our number one priority to help every student that we work with make their college admissions dreams a reality. It's why we have a 75 percent success rate when it comes to our students getting into schools like the Ivy Leagues, the University of Chicago, Stanford University, and more.
We would love to help you every step of the way, from planning your curriculum to choosing your extracurriculars to ace the ACT, crafting the perfect application essays, and more. Contact us today to learn more about how we can help you beat the odds and gain admissions at some of the most competitive and prestigious universities in the entire world.