What is the Average ACT Score at UPenn?
The University of Pennsylvania is known across the world as one of the most competitive, prestigious and historic universities within The United States. Every year, tens of thousands of accomplished high school students apply to the University of Pennsylvania hoping to begin the next step of their academic journey there. However, just like the rest of the Ivy League schools, the University of Pennsylvania is incredibly hard to get into. But what is the average ACT score at UPenn?
Here at AdmissionSight, we take pride in our ability to help high school students from across the world make their admissions dreams are reality.
We do that through hands on admission consulting, tutoring and much more. We believe that one of the prime tools that any high school student can use when it comes to getting into the schools that they want to attend is knowledge.
For that reason, we have decided to break down some of the most important facts regarding what it takes to get into Ivy League schools and other top ten schools across the country.
So, if you are looking to learn about what standardized test scores it takes to feel good about your chances of getting into University of Pennsylvania, what you can do to improve those scores, and what kind of students the University of Pennsylvania is looking to accept, then you have come to the right place!
Let's get started.
What is the average ACT score at UPenn?
Just like the rest of the Ivy League schools, the UPenn acceptance rate is incredibly low. In fact, the application cycle for 2021, which was accepting students who will eventually graduate in 2025, marked a historical low for the school.
The 2021 UPenn acceptance rate of 5.68% puts University of Pennsylvania on par with the hardest schools in the country.
From that number alone, it should already be abundantly clear that the University of Pennsylvania is an incredibly difficult school to get accepted into. What is the average ACT score at UPenn for students that get accepted?
Historically, the range of scores that will give you a fighting chance to get into the University of Pennsylvania comes in at 33 to 35 out of the perfect score of 36. Without a doubt this score will mark a large challenge for a majority of high school students throughout the world.
Just as has been the case for countless schools across the country, the University of Pennsylvania made it clear that due to the COVID-19 pandemic and ongoing disruptions to the standardized testing schedule, the test optional policy has been in effect since 2019 and will continue on until at least the end of the 2021-2022 admission cycle.
However, students should still prepare to take either the SAT or the ACT for a number of reasons and learn the average ACT score at UPenn.
First of all, some schools have made it clear that once it is possible to do so, they will remove their test optional policy and revert back to standardized tests being required to apply. So students should absolutely expect the ACT or SAT to once again be listed as one of the UPenn requirements in the near future.
Students who are able to take either the AC T or SAT should absolutely do so. The reason for this is because – as you now know – the acceptance rate at the University of Pennsylvania is incredibly low. So, students should take every opportunity they can to separate themselves from the rest of the pack. A fabulous score on the ACT can go a long way in doing just that.
In addition, by studying for the SAT or ACT the student will also gain an opportunity to further develop their foundational math and reading skills. So, while it may not be one of the UPenn requirements right now, you should consider it a requirement for yourself!
How to improve your ACT score
Now that you know the answer to the question, "What is the average ACT score at UPenn," chances are good that you have quite a few questions about how to improve your score.
Well, we've got you covered.
If you have already taken your first ACT and know that you are going to have to improve your score in order to boost your chances of getting into a school like the University of Pennsylvania, then you might be curious about the different steps that you can take in order to do that.
Here at AdmissionSite, we proudly offer curated tutoring for our students who are interested in taking either the SAT or ACT.
However, we also recognize that there are some students who are not working with us who still want to gain some useful knowledge in regard to how to improve their ACT scores. For that reason, we have decided to go over some of the best tactics that high school students can employ when it comes to improving their scores.
So, let's get started.
Start studying immediately after taking the test
This may seem counter intuitive, as the last thing many people want to do after completing a test as rigorous as the ACT is to start studying all over again. However, it isn't credibly beneficial to do just that.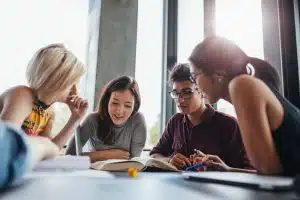 As quickly as you can, you should start writing down everything that you can remember about the test that you just took.
Jot down anything that has to do with what confused you during the exam, what was most difficult, what sections you felt confident in, and more. This is meant to help you recount everything about the test when it is most fresh in your mind.
The reason why this is so helpful it's because it can help you plan for your next test date. By writing down the most important impressions that you took away from the exam, you will be able to remain aware of exactly what you need to focus on for the next time.
Of course, your exam report will also help in how you prepare and study as well. In fact, using both your impressions and the test report that you will receive will give you the best chance of improving your score the next time you take the exam.
Use your score report as a tool
Here is another great tip in order to earn a score that is at or above the UPenn average ACT score.
Whether you are happy or disappointed in your score, you should be using your score report as a tool to improve your overall score for next time. Typically, the results of your previous ACT will be made available approximately 2 to 8 weeks after you take the exam.
Your score report will be available either online or you can receive the report in the mail. On top of looking at your overall score and section scores, you should also be paying close attention to the sub scores.
The reason for this is because this is likely where you will receive the greatest benefit when it comes to your next round of studying.
Particularly, students should be looking at the detailed results section and keep an eye out for the lowest subscores that they received in their exam.
The reason why this is such an important thing to look out for it's because it will give you a study approach that is more manageable because you will know exactly what you need to fix for the next time out.
Work on your time management
There is no doubt then one of the most challenging things that high school students encounter when they take the ACT is the need to effectively manage their time.
The exam offers a notoriously limited amount of time available to complete each section and answer every question offered to you. Beyond that, if a student is not able to set and maintain a steady pace while moving through the exam, then they will not be able to answer everything, and their score will suffer as a result.
The same is true if students skip questions because they are spending too much time on them without coming up with an acceptable answer.
Luckily, this issue is very easy to help solve through the studying process. The way to do this is to simply keep a stopwatch with you every time you are taking full practice exams and make sure that you are timing yourself under test taking conditions. By doing this, students will be able to find out how well they are keeping pace during each section.
This will accomplish a number of things. First off, who will help students identify which sections give them the most trouble when it comes to finishing on time.
Moreover, students will also be able to establish a certain kind of internal clock in which they will be able to set and maintain an effective pace throughout the entirety of the exam.
Improve reading speed and comprehension
One unique quality about the AC is that it requires students to be able to read quickly and gather all the necessary information from that reading.
The English and science sections of the exam are especially heavy on reading and demanding that students digest a lot of information without much time to do so.
For that reason, students should spend a fair amount of their test prep refining their ability to read written passages quickly and glean the crucial information within those passages.
In fact, students should feel comfortable skimming sections and pulling the important information from them as best as possible.
One way to try to save time while reading is to practice reading the first and last sentences of each passage entirely before skimming the body sections.
Moreover, students should try to read sentences that are specifically associated with the questions they will be expected to answer. Ultimately students should use whatever strategy they are most comfortable with as long as it results in their ability to read quickly and take in the most important information.
Memorize formulas and rules
Another really helpful tool that can help high school students prepare for the ACT is to memorize some of the most important mathematical and grammar concepts that they will be accepted to grapple with during the course of the exam.
This is especially crucial for the math section, because that section does not provide references that students can use.
The types of mathematical equations and formulas that students should make sure they have committed to memory include the following:
The slope intercept formula
The quadratic formula
Area of triangles
Special types of triangles
The Pythagorean theorem
How to find the area of circle
How to find circumference
How to find the area of a sector
How to find the area of a rectangle
How do you find the area of a trapezoid
How to find the area of a parallelogram
The trigonometry functions
When it comes to the English and reading sections, students should also make sure that they are familiar with basic grammar rules so that they can save time while going through these sections as well as give themselves a better chance to answer the questions successfully.
Take multiple practice exams
Improving and taking a standardized test is just like improving at anything else, it takes a lot of practice and preparation to become a master.
So, if you are interested in improving your overall score for the ACT you are going to want to practice as much as possible. Luckily, there are ample opportunities for people to do just that.
Students who are looking to boost their score for the ACT should be taking as many practice exams as possible. There are a lot of reasons why this is true.
First off, taking full practice exams will help our students to gain mastery with the actual format of the exam. While this may not seem like a huge deal, the fact of the matter is that the format of the exam is often what ends up tripping students up the most.
Secondly, students will gain a greater understanding of what their own strengths and weaknesses are within the exam itself. Students that take many practice exams leading up to the date of the actual exam are far more likely to know how to answer questions correctly.
Get enough sleep before the exam and remain calm
As you start to get closer and closer to the actual date of the exam, chances are good that you will start to feel a bit of anxiety about the potential outcome.
After all, there is a lot to think about whether or not you will be able to hit that target score. That is especially true if you are dedicated to attending a school as competitive as the University of Pennsylvania.
However, you need to do everything that you can to improve your chances of success. Part of that means getting enough sleep to give your brain the energy it needs to work at its top potential.
In the few days leading up to the test date, consider rolling back on your studying and trying to get the recommended amount of sleep. Moreover, when the date of the exam actually arrives do what you have to do to maintain a calm sense of mind.
If you are prone to stress anxiety, you may even want to pick up a practice of meditation in the months leading up to the exam so that you can train your body in mind to remain calm even under stressful circumstances.
Practice process of elimination
The final bit of advice that we have for you deals with the actual taking of the exam. Of course, you should be practicing this during your practice exams, and it will certainly come in handy if you come across questions that you are having trouble answering.
Because you simply will not have the total amount of time that you likely want or need to take the full exam, it is important to make sure that you are not wasting precious time on questions that you simply do not know the answer to.
For that reason, utilizing the process of elimination is a crucial period which essentially means crossing out which answers you know cannot be the right one and simply taking as best an educated guess as possible. This will save you time and will likely result in you actually answering some of the questions that you simply do not know the answer to correctly.
Will you get into the University of Pennsylvania?
Without a doubt, getting into the University of Pennsylvania – or any Ivy League school for that matter – is an incredible challenge and accomplishment.
As your standardized testing scores only mark one variable within the holistic admissions process, it is a very important part of admissions officers' quest to find the right students for their school.
Hopefully, this quick breakdown of what the University of Pennsylvania expects out of its students in terms of standardized testing scores, as well as a breakdown of how to improve your score has helped give you a better idea of  what is the average ACT score at UPenn and how you should be preparing for the ACT.
Here at AdmissionSight, we make it our number one priority to help the students that we work with get into the schools of their dreams.
That's why we're so proud of our 75% success rate of getting students that we work with into Ivy League schools or other top ten programs within the United States. If you are interested in learning how we can help improve your chances of getting into your targeted schools, contact us today for a free consultation.