What is the Average SAT Score at Princeton?
For students who are determined to get into some of the most impressive universities in the United States, Princeton is seen as an undeniable dream school. Some of the greatest and most influential names in recent memory have walked through the halls at Princeton, and it constantly seems to be at the forefront of the educational world. It's hard to get into Princeton, there's no doubt about it. And earning top grades and standardized test scores is basically a must for students dreaming of attending Princeton. But what is the average SAT score at Princeton?
If you are curious about the kind of score that you would need in order to feel good about your chances of getting into Princeton, then you're in the right part of the internet! Here at AdmissionSight, we make it one of our many jobs to answer important questions like this one so that high school students all around the world can approach the entire college application process with more information and more confidence with the goal that they will ultimately enjoy more success as a result.
So, let's get started on breaking down all of the crucial information that any high school student with dreams of attending Princeton should know about the threshold that they should be aiming for when it comes to the SAT.
Princeton's average SAT score
Let's not waste any time and get right into the information that you came here to find. On average, the SAT score that students who get accepted to Princeton earn are 1505. The 25th percentile score is 1440, and the 75th percentile score is 1570.
Of course, the perfect score for the SAT is 1600. From this alone, you should be able to tell that the average SAT score for students getting into Princeton is incredibly high. In fact, even the 25th percentile score of 1440 – which essentially means that anything at the level or below is below the average – is a remarkable school and will be good enough for students to get into almost any school in the United States.
But Princeton is not "any" school. It is, of course, a part of the elite and historical group of schools in the Northeast known as the Ivy League.
Much like many of the top schools in the country, Princeton announced early on this year that SAT and ACT scores would not be a requirement for applying students as a response to the ongoing COVID-19 pandemic. With that being said, students should not consider this optional test policy as something that will last long. It is quite likely that the moment the world governments agree that the COVID-19 pandemic is under control, that test policies will return to their pre-pandemic form.
Moreover, students also need to be aware that the lack of SAT or ACT requirements does not mean that these schools will become any less competitive. In fact, we would actually advise that students who are able to take either the SAT or ACT do so, even if the policy of optional standardized test score submission remains.
The reason why is because students want to give themselves every opportunity to prove their value and set themselves apart from the pack. If you are able to take the SAT and earn a top score even though it is optional for students applying to Princeton, you will certainly impress the admissions officers looking at your application.
While the SAT or ACT is certainly important to the application process, the school wants to make it clear that they consider much more than just the score that a student is able to earn,
"Please know that standardized testing is but one element of our comprehensive and holistic application review process," the school states on its official site. "We employ no minimum test scores for admission; rather, the entirety of a student's background is considered in context. Additionally we do not require applicants to submit the optional writing section of the SAT or ACT (the SAT Essay or ACT Writing Test)."
One final thing that is really important for students who applying to Princeton to keep in mind in regards to their standardized testing scores is that the school does actually allow applicants to use the score choice feature of the SAT as well as accept only the highest composite score of the ACT.
That means that you can use your "super score" on multiple tests to get the highest score possible. With that in mind, the school does encourage applying students to submit all results of the tests that they take.
How to improve your SAT score
As the primary focus of this article is to educate high school students about the importance of the SAT score, we at AdmissionSight also believe that it is a very good use of our time and your time to dive more deeply into how students can aim to actually improve their SAT score.
While students should not enter the process of preparing for the SAT with the expectation that they will earn a perfect, there are some really fantastic ways that people can prepare and hone their skills for the big test day. So, no matter what part of the process you are in when it comes to preparing for the exam, here are some of the most important tips to keep in mind.
Get familiar with the format and details of the exam
Interestingly, one of the things that high school students tend to have the most trouble with when it comes to the SAT is the actual format of the exam. Unlike the tests in their high school curriculum, the SAT covers all major academic subjects. It is also an incredibly long test. For that reason, high school students are strongly advised to familiarize themselves with the details and structure of the exam.
Important things to make yourself aware of on top of the subject matter and length of the exam includes getting used to the type of instructions you will come across, types of questions that will be asked, and the amount of time that students will have for each section of the exam in total. Without a doubt, one of the very best ways to get acquainted with all this and more is to take as many practice tests as possible in the months leading up to the exam day.
Improve your vocabulary
you may have heard in the past the phrase, "SAT vocabulary word." this phrase comes from the fact that the test seems to have a pretty demanding level of vocabulary. One of the best ways to boost your vocabulary leading up to the exam did you read some challenging books and articles to make sure that your knowledge on vocabulary is as strong as it possibly can be. in fact, the College Board publishes a list of suggested reading that students can use to prepare themselves for the reading comprehension aspect of the SAT.
If you decide to try and tackle the recommendations on this list, you may want to have a dictionary close by!
Practice, practice, practice
it shouldn't come as much of a shock That is students prepare for the SAT or ACT is to take as many full-length practice tests as possible. When a student is just getting started on their preparation, they may want to take an exam as slowly as they feel comfortable with. That means having no timer and feeling no rush.
However, as the exam date approaches, it is absolutely recommended that students start to give themselves the allotted time that they will get on the day of the actual exam. The reason for this should be clear, but it is so that students can get acquainted with answering the number of questions that they will face and the amount of time that they will be given to do so.
Below is a breakdown of the time that is allotted, and the number of questions that are asked, in each section of the SAT.
Beyond this, it is strongly advised that students take notes and look for trends when they are scoring their practice exams. This will give them the opportunity to identify questions that they have extra issues with, which will, in turn, allow them to commit extra time to get comfortable with those kinds of questions.
Learn how to take advantage of your free time
We're not going to pretend like being a dedicated and successful high school student is easy. Not only do students have to commit the time necessary to excel in their classes at school, but they also have to focus on their extracurricular activities all while trying to get enough free time to stay sane!
This process is made even more difficult when paired with the need to prepare for the SAT. And while doing this is definitely not easy, it is very important. Whether you are getting some practice questions in as you eat your breakfast, while you riding to and from school, or any other time that you have a free moment, consider using it to boost your familiarity and confidence with the material.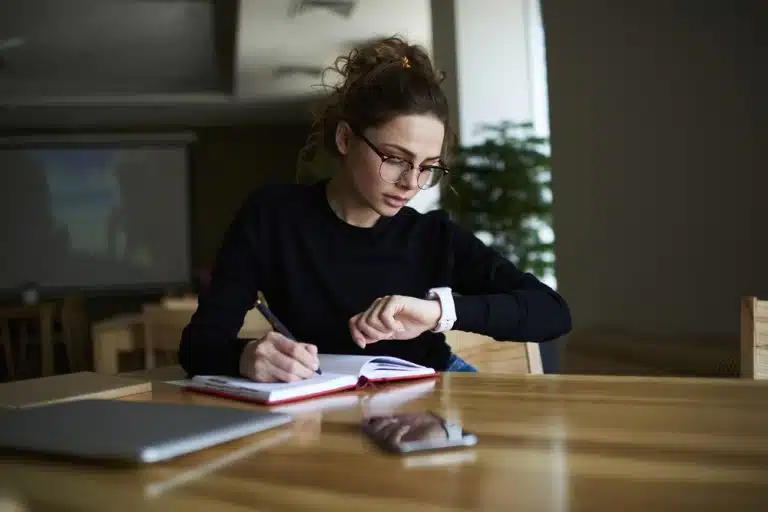 One of the best ways to do this is to get one of the many smartphone applications that are geared towards helping students prepare for the SAT.
Of course, it is also really important for you to – at the very least – purchase one of the many reputable SAT preparation books so that you can wrestle with the material, get access to practice question sets as well as full practice exams.
Join a class or get a personal tutor
Finally, while it is certainly a great idea to get a prep book for the SAT, many students ultimately find that it is a better use of their time and energy to enroll in a prep class or work one-on-one with a tutor.
Here at AdmissionSight, we are confident that there are many benefits to students working directly with an educated and experienced educator. The SAT prep courses are specifically designed to help students prepare for the SAT as best as possible.
Moreover, tutors are great for this kind of job because they can augment and shift their approach based on the student's specific needs.
It is important that these options certainly come with a price, but the investment is often clearly worth it based on the kinds of scores that students end up getting on the exam.
Tips to improve your chances of getting into Princeton
Now that you know some of the most important and impactful ways to prepare for the SAT, let's go over some of the most impactful tips when it comes to improving your chances of getting into Princeton overall.
It's very important to know that Princeton is, quite simply, one of the hardest schools to get into in the entire world. Its acceptance rate has been below 10% for many years, and these days it hovers somewhere between 4% and 6% depending on the year. For that reason, even the most successful, dedicated, and impressive students cannot consider for instance a shoo-in.
If you are looking for ways to improve your chances of getting into schools like Princeton, Harvard, Columbia, and the five other Ivy League schools just bear with us.
Commit to your extracurriculars
One of the best ways for students to prove that they are ready for the opportunities and demands of college life is to spend their high school years committed to a specific number of groups, teams or clubs. These are known as extracurriculars, and they are a great way for students to explore and expand their interests outside of the classroom.
Extracurriculars can play a role in helping you get into schools like Princeton if you are able to excel within the group and earn leadership roles within the groups that you are a part of. It is far more advisable for students to commit heavily to three to five groups rather than casually commit to five to ten groups.
Whether your passion is sports, theater, academic competitions, or anything in between, it doesn't really matter. What matters most is that you can prove that you care deeply and commit heavily to these activities.
Obtain fantastic letters of recommendation
Another really great way for you to improve your chances of getting into a school like Princeton is to get great letters of recommendation from the faculty at your school and your high school counselor. In fact, as part of the application process, Princeton requires that every student send in one letter of recommendation from their high school counselor and two letters of recommendation from two separate members of their school's faculty.
To make sure that you are getting the best letters of recommendation possible, you should actively be trying to form meaningful and positive relationships with the teachers at your school.
The same can be said for the high school counselors. When it comes to actually having these letters of recommendation written, you are going to want to make sure that you are giving the eventual writers of these letters ample time to prepare.
That means that you should approach them about the job sometimes at the end of your junior year, over the summer, or at the very latest in the early days of your senior year of high school as the application process gets started.
Craft fantastic personal essays
The final tip to improve your chances of getting into Princeton is that you should commit to writing fantastic personal essays and statements. These essays are every student's opportunity to show admissions officers all over the country who they really are to pass their GPA and standardized test scores.
Take that responsibility seriously, and take the time to come up with an essay topic that is honest, impressive, and can be used as an explanation for why you think you belong at a school like Princeton.
We can help you beat the Princeton University average SAT score
Here at AdmissionSight, we know that getting into schools like Princeton is all about being above average. The very same can be said for the scores that you were going to want to burn in the SAT or ACT. Whether you are a confident test taker or consider it to be one of your academic weak points, we want to help you achieve your goal of beating the average score at Princeton.
If you're interested in what we can do to help you do this and much more when it comes to the application process, contact us today to set up your free console with one of our highly trained college admissions consultants.