What is the Average Student Loan Debt?
Student Loan Debt
What is the average student loan debt? Any recent college graduate (or parent of a student) is aware that earning a degree today costs far more than it did a generation or two ago. According to the College Board, during the past three decades, the average cost of attending a private four-year university has increased to more than three times that of attending a public four-year institution, and it has more than doubled at public four-year schools.
Paying the bills out of savings and assets is just not an option for many Americans. Because of this, more families and students are taking out loans to pay for college, which is making the total amount of student loan debt grow.
What is the average student loan debt?
What is the average student loan debt? Over the past 30 years, the price of higher education has been rising significantly. Public four-year universities saw an increase in tuition from $4,160 to $10,740 during that time, while private nonprofit institutions saw an increase from $19,360 to $38,070. (adjusted for inflation).
The need for student loans and other types of financial aid has increased along with costs.
More than half of students today graduate from college in debt. AdmissionSight prepared some points, including a quick look at how much the typical student borrows, the most popular loan types, and how those loans are repaid.
There are around 92% of federal student loans, and the other 12% are private student loans, totaling $1.75 trillion in total student loan debt (federal and private loans included). The average borrower is responsible for $28,950 in student loan debt.
57% of students from private nonprofit four-year universities and 55% of those from public four-year institutions had debt from their education.
Age-specific average student loan debt
Since 2004, when borrowers in this age group had only $6.3 billion in college debt, the amount of student loan debt held by those 60 and older has climbed by 1,256%.
The majority of student loan debt is held by borrowers between the ages of 30 and 39, despite the fact that there are more borrowers under 30.
Before 2014, the group between 30 and 39 years old held the majority of the outstanding student loan debt.
There are more borrowers under 30 than in any other age group, according to the Federal Reserve Bank of New York's age group breakdowns. In a surprising way, the number of people under 30 who borrow money hasn't grown much over the past 13 years, compared to other age groups.
Debt to income ratio for students by race and gender
Asian men have the lowest percentage of student loan debt, with their college debt only accounting for 65% of their first-year income. African-American women have the highest student loan debt balances, accounting for 111% of their first-year income. Women, in general, must use a higher percentage of their income to pay off student loan debt than men.
In order to further our analysis, we looked at how much borrowers' post-college salaries were being eaten up by student loan repayments. This is determined by taking the total amount of student loan debt owed by a person and dividing it by their annual salary one year after graduation. Most of the time, Asian Americans spend the least amount of their first-year salary on college debt, while African-Americans spend the most.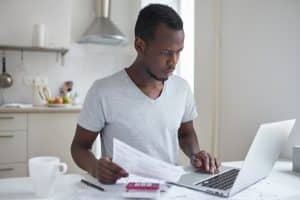 Now that you know the average student loan, you might be interested in learning about student loan debt forgiveness. In certain situations, you can have your federal student loans forgiven, canceled, or discharged.
Student loan debt forgiveness
What is student loan debt forgiveness? You are no longer required to make any or all loan repayments if your loan is forgiven, canceled, or discharged.
Forgiveness, cancellation, and discharge: differences
Although they are used differently, the terms discharge, cancellation, and forgiveness all refer to essentially the same thing. It is often referred to as "loan forgiveness" or "loan cancellation" if you are no longer obligated to make loan payments as a result of your employment. Discharge is the term used when you are no longer obligated to make loan payments because of another event, such as a total and permanent disability or the closure of the institution from whom you borrowed the money.
Different forms of pardon, cancellation, and discharge
In the summaries that follow, you'll find short explanations of the different ways that federal student loans can be forgiven, canceled, or paid off.
Forgiveness of public service loans
In line with average student loan debt and under the Public Service Loan Forgiveness (PSLF) Program, you may be eligible for loan forgiveness if you work for the government or a non-profit.
PSLF wipes out the rest of your Direct Loan debt after you have made 120 qualifying monthly payments under a qualifying repayment plan while working full-time for an eligible company.
Note: If loans from the Federal Family Education Loan (FFEL) Program and Perkins Loans are combined into the Direct Loan Program, they may be eligible for PSLF.
Loan forgiveness for teachers
Your Direct Loan or FFEL Program loans could be forgiven up to $17,500 if you work five full academic years as a full-time teacher in a low-income elementary school, secondary school, or organization that provides educational services.
Note: You can't get both the teacher loan forgiveness and the public service loan forgiveness at the same time or for the same number of payments.
School closure discharge
If your school closes down while you are still enrolled or soon after you drop out, you may be able to get your federal student loan paid off.
Cancellation and discharge of Perkins loans
Based on your career or volunteer work, you might be qualified to have all or some of your Perkins Loan forgiven (under certain conditions). This includes the cancellation of Perkins Loan Teachers.
Discharge for total and permanent disability
Your federal student loans and/or Teacher Education Assistance for College and Higher Education (TEACH) Grant service obligations may be discharged if you are totally and permanently incapacitated.
Discharge since death
In the event of the death of the borrower or the student for whom a PLUS loan was obtained, federal student loans will be canceled.
Release after bankruptcy (in rare cases)
After filing for bankruptcy, there are specific circumstances where your federal student loans may be erased. However, a bankruptcy discharge is not a routine procedure.
Loanee's defense against repayment
In line with the topic of average student loan debt, if you took out the loans to attend a school and the school did something or failed to do something connected to your loan or to the educational services that the loan was intended to pay for, you may be eligible for a discharge of your federal student loans based on the borrower's defense to repayment. Depending on when you obtained your loan, there are different prerequisites for a borrower's defense to repayment discharge.
Discharge for false certification
If your school wrongly told the government that you were eligible for a loan, you may be able to get your federal student loan paid off.
Discharge for insufficient funds
If you dropped out of school and the school didn't return the loan money to the loan servicer, you might be able to get rid of the amount of your federal student loan(s) that the school didn't pay back.
Fraudulent discharge
Forgery is the intentional production of a false written document or modification of an authentic one. Identity theft victims are usually also fraud victims.
If you think you were a target of fraud, you might be qualified for a discharge of any federal student loans that were wrongfully obtained in your name.
You might be having second thoughts about applying to colleges since you are aware of the average student loan debt and your options. AdmissionSight will provide the necessary guidance and give you advice on other financial and educational options. At AdmissionSight, you may acquire all the necessary advice from our college admission specialists. With a free consultation, you may begin your journey right now.