What Major is NYU Known For?
What is NYU?
New York University (NYU), founded in 1831, has evolved into a leading institution with a global reputation for excellence in education, research, and innovation. Situated in the heart of New York City, NYU has become a hub for intellectual and creative pursuits, attracting students and scholars worldwide. With all that being said, it is no wonder that people value NYU enough to learn what major is NYU known for.
Its diverse and inclusive environment fosters a vibrant academic community that thrives on interdisciplinary collaboration, breaking down traditional barriers between disciplines. The university's expansive global presence, comprising multiple campuses and academic centers worldwide, underscores NYU's commitment to creating opportunities for cross-cultural learning and engagement.
Renowned for its prestigious academic programs, cutting-edge research, and engagement with pressing global issues, NYU has consistently demonstrated its ability to adapt to the changing needs of the modern world while maintaining its status as a leading force in higher education.
Why study at NYU?
Studying at New York University provides numerous benefits and opportunities for personal and professional growth, making it an attractive choice for students worldwide. Here are some reasons to consider studying at NYU:
Prestigious academic programs: NYU is home to a wide range of highly-regarded undergraduate and graduate programs, offering diverse disciplines and fields of study. These programs are taught by distinguished faculty members who are experts in their fields, ensuring students receive a top-notch education.
Location: NYU's main campus is in the heart of New York City, one of the world's most vibrant and culturally rich cities. The city offers countless opportunities for students to engage in internships, cultural experiences, and networking, providing a unique learning environment beyond the classroom.
Global network: NYU has a strong global presence, with multiple campuses and academic centers worldwide, offering students the opportunity to study outside the US and immerse themselves in different cultures. This global network encourages cross-cultural collaboration and fosters a more comprehensive understanding of pressing global issues.
Research and innovation: NYU is at the forefront of cutting-edge research across various disciplines, from healthcare and technology to the arts and social sciences. Students can engage in research projects and collaborate with faculty members, contributing to advancements in their respective fields.
Diverse community: The university is committed to fostering a diverse and inclusive academic environment, attracting students from various backgrounds and nationalities. This diversity enriches the learning experience, encouraging open dialogue and promoting the exchange of different perspectives.
Networking and alumni connections: NYU boasts a strong alumni network, with graduates making significant contributions in various industries and professions. This network offers students valuable connections and resources, helping them forge professional relationships and access job opportunities upon graduation.
Cultural and extracurricular activities: NYU offers a vibrant campus life, with numerous clubs, organizations, and events that cater to a wide range of interests. Students can engage in artistic, cultural, recreational, and social activities, ensuring a well-rounded university experience.
In summary, studying at NYU provides students access to prestigious academic programs, opportunities for global exposure, and a supportive and diverse community. The university's location in New York City and its strong alumni network further enhance the learning experience, preparing students for success in their chosen careers. This is good to know, especially if you want to know what major is NYU known for.
NYU Academic Programs
Leonard N. Stern School of Business
The Leonard N. Stern School of Business at New York University is one of the premier business schools in the world, offering a wide range of undergraduate and graduate programs designed to prepare students for success in today's fast-paced and competitive global market.
The NYU academic programs offered include Bachelor of Science degrees in Business and Economics, Master of Business Administration (MBA) degrees in various specializations and a range of executive education and doctoral programs. The Stern School's curriculum emphasizes theoretical knowledge and practical application, enabling students to develop a solid foundation in business principles and hands-on experience in real-world situations.
The school's distinguished faculty comprises thought leaders and experienced practitioners from diverse fields, ensuring students are exposed to cutting-edge insights and practices. Notable Stern School alumni and faculty include prominent business leaders, entrepreneurs, and scholars, such as Jack Dorsey, co-founder of Twitter and Square, and Michael Spence, a Nobel laureate in economics.
The successes of these and other alumni have significantly contributed to the school's reputation for excellence and innovation in business education. It has also contributed to its claim about what major is NYU known for.
Tisch School of the Arts
Another one of the schools at NYU that is checked when learning what major is NYU known for is the Tisch School of the Arts. This school at New York University is a renowned institution dedicated to nurturing creative talent in various artistic disciplines, including film, photography, performance, and interactive media.
Offering a dynamic learning environment that encourages experimentation, collaboration, and innovation, the school has established itself as a premier destination for students seeking to develop their artistic abilities and make a lasting impact on the world of art and entertainment.
Tisch boasts a distinguished faculty of accomplished artists and scholars who provide students with valuable mentorship and guidance throughout their academic journey. The school's reputation for excellence is bolstered by an impressive roster of successful and renowned alumni who have significantly contributed to their respective fields.
Notable Tisch graduates include esteemed filmmakers such as Martin Scorsese, Spike Lee, and Ang Lee and celebrated actors, including Alec Baldwin, Philip Seymour Hoffman, and Lady Gaga. These success stories testify to the school's commitment to fostering the growth and development of the next generation of creative visionaries.
School of Law
New York University's School of Law consistently ranks among the most prominent law schools in the nation, offering a comprehensive range of academically rigorous and professionally relevant programs designed to cultivate the next generation of legal professionals.
Students at the School of Law have access to a wealth of resources and support as they pursue their Juris Doctor (JD) degrees, specialized Master of Laws (LLM) programs, or Doctor of Juridical Science (JSD) degrees. The school's commitment to excellence is evident in its impressive faculty, comprising preeminent legal scholars, practitioners, and experts in various fields of law who provide students with invaluable insights and mentorship throughout their academic journey.
Furthermore, the School of Law has produced an extensive list of notable alumni who have significantly impacted the legal profession, including distinguished judges, attorneys, and legal scholars. Some prominent examples include US Supreme Court Justices Sonia Sotomayor and Elena Kagan and civil rights attorney Bryan Stevenson.
These accomplishments reflect the School of Law's dedication to fostering a dynamic and intellectually enriching environment for students to grow and excel while shaping the legal profession's future. With all that in mind, it is no wonder why people value this school when discussing what major is NYU known for.
Steinhardt School of Culture, Education, and Human Development
The Steinhardt School of Culture, Education, and Human Development at New York University is a multidisciplinary institute that fosters innovation and excellence in various fields, including education, music, and art therapy. With a diverse array of undergraduate and graduate programs, the school seeks to cultivate professionals equipped to address the complex challenges faced by individuals, communities, and societies worldwide.
The Steinhardt School's commitment to holistic education is evident in its highly regarded programs, such as the renowned music education and music therapy programs, which combine rigorous academic study with practical experience in various settings, from schools and hospitals to community organizations.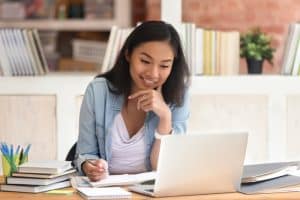 The school is also a hub for influential research, with faculty and students actively engaged in cutting-edge scholarship that seeks to advance knowledge and inform policy and practice in various domains. The Steinhardt School's impact extends well beyond the confines of the university, as its graduates go on to make significant contributions in their chosen fields, improving the lives of countless individuals and communities through their work as educators, therapists, artists, and researchers.
This enduring legacy of positive change speaks to the school's unwavering dedication to fostering its students' intellectual and personal growth while making a meaningful difference in the world. This has led people to see this school when learning what major is NYU known for.
Now that you have an idea about NYU, your college admissions into that university should be next in your mind. To ensure that you get into NYU, you can get help with AdmissionSight. With ten years of experience with college admission experts, AdmissionSight can help you get into NYU. You can talk to our experts today to get an initial consultation.