What To Avoid In Choosing Tutors Online?
What is online tutoring?
What exactly is online tutoring? Online tutoring is teaching over the Internet, on a computer, a tablet, or other devices. The student meets tutors online instead of in person. They can talk with tools like whiteboards, e-mails, video, and audio.
As technology changes, so do the ways people can get private tutoring. Online tutoring programs are now available in addition to traditional ones. It's not surprising since online learning is becoming increasingly popular. In recent years, online tutoring has become very popular, and for good reason.
In the past few years, intuitive online teaching platforms have come a long way, making it possible to have a full learning experience that is fun, dynamic, and ultimately engaging.
What are the benefits of online tutoring?
What are the pros of tutoring online compared to traditional tutoring? Online tutoring programs can help students learn how to study and learn in a way that will help them be successful for the rest of their lives. But you can do all of this from the comfort of your own home. There are many benefits to tutoring services. Here are some of them:
Individual and unique learning experience – Students who study from online tutoring will have a personalized learning experience that they can't always get in a classroom. Their lessons and activities can be made just for him or them by a tutor.
Students get one-on-one attention – Tutors online learn how their students learn best and can adjust their teaching methods to fit. With this method, they teach them in their personalized way.
Helps students do better in school – Tutoring will help students prepare for tests and exams, and tutors will work with their problem areas. When they work with an online tutor, their grades and understanding of the subject will greatly improve.
Students will enjoy learning – Having a tutor can help change how a student feels about learning and school. They will no longer feel overwhelmed or frustrated by the school if you praise and encourage them all the time.
Helps students learn at their own pace and in their way – By choosing tutors online, students will learn to take charge of their schoolwork. They will also learn to control how fast they learn.
Boosts self-esteem and confidence – tutoring will boost students' self-esteem and confidence by giving them the tools and skills they need to do well in school.
Improves work and study habits – Students will learn work and study habits that they will use for the rest of their lives through tutoring. With these skills, they will be better prepared to reach their goals in and out of school.
Positive workspace – Since there are fewer students and other distractions in a tutoring setting, your child will be able to focus better on learning.
Teaches independence and responsibility – Students will learn how to do schoolwork without your help. Your child will grow as a person and learn to be responsible for themselves and their studies.
Helps overcome learning problems – The tutor will focus on the part that the student is having trouble with. This means they can adjust the lessons and pacing of the subjects discussed.
What should you not do when picking an online tutor?
Choosing something based only on price
There's always a reason why a tutor charges for what they do. For that reason, picking tutors online is not always about the price. If the price is low, it could be because the tutor needs more experience or is not qualified. They might not have much infrastructure or support, making it hard to give a good tutoring session.
Even if you pay a very high price, that doesn't mean you'll get better service. Tutors might think that their qualifications mean they should get paid a lot. But you might be wasting your money if they don't have the experience and credentials to back up what they say. Also, you should check references and qualifications, and the tutor should be thoroughly interviewed to see if they are right for the job.
Choosing tutors online that don't know much about the curriculum
As students move from one year to the next, they build on the skills they learned the year before. When tutoring, it's important for the tutor to know what the student is learning. This is to ensure that they don't learn more than expected for their grade level and that they can "go back" in their learning and be taught earlier skills again.
Choosing a group lesson over private tutoring one-on-one
The students in a group lesson are usually led through a set curriculum. This is the best place to get tutoring for some students, but for others, especially those falling behind in school, it may not work. Students don't have as many chances to ask questions and may feel less comfortable doing so. They also don't get the personalized help they need. The experience is just a repeat of a lesson from school, but with fewer people.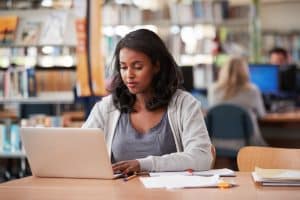 Many students want to be able to ask specific questions. One-on-one tutoring, either in person or online, is the only way this can happen. It is also the only way that tutors online teach each student in a way that is tailored to their needs.
The tutor booked too many lessons.
If tutoring sessions are high quality and one-on-one, most students should only need one hour per week. Tutoring sessions should be very focused, and parents might be surprised at how much can be done in an hour with a great tutor once a week. More lessons per week won't lead to better or faster results, especially if most of the tutoring is just worksheets done repeatedly.
Choosing a set curriculum instead of tutoring based on the student's needs
It is up to the school to teach the curriculum, and it is up to the tutor to give the student the help they need to understand the curriculum and do school-based tasks with confidence.
A set curriculum means that just like at school, the student has no say in what will be covered in a tutoring session because the curriculum has already decided it. This means that the student might not have a chance to work on the parts of the curriculum with which they are having trouble.
Children having trouble in school don't just need a repeat of the lesson. They also need to be able to talk to their tutor as much as possible and say what they think and feel. This lets the tutor know how students think about their actions and why. This lets the tutor fix problems with the student's understanding of concepts or procedures.
As you choose tutors online to help you in your studies, it is equally important to learn how to enter the college of your choice. At AdmissionSight, you will be guided as needed in that step. You can get all the right information and guidance from experts at AdmissionSight. Start your journey today with an initial consultation.