What to Expect Your Freshman Year of High School & How to Prepare
Transitioning from middle school to high school is an exciting move with a lot of changes taking place. You're most likely going to school in a different building and maybe even in a new town. The student body and class sizes are much larger.
You're meeting new people and saying goodbye to some old friends. The transition from freshman year to high school is an all-around major change. And one that understandably creates a lot of uncertainty.
Many people wonder what their freshman year of high school is going to be like after going to the same middle school for multiple years.
Here, we're going to begin by looking at some of the most stark changes you can expect during your freshman year of high school.
Having advanced knowledge of these factors can make for a smoother transition as you know what to expect and can prepare yourself accordingly. Keep in mind that everyone's freshman year of high school is unique and personal.
So, what you experience might differ from another student's perspective. But that doesn't mean that there aren't some major factors all incoming freshmen can expect to see. Those are the elements we're going to explore in depth here.
What to Expect Your Freshman Year of High School
There are growing pains.
As with any major transition in life, moving up to high school from middle school will take some adjustment on your part. Nearly everything you'll experience is new during your freshman year – classes, students, teachers, building, commute…the list just goes on and on.
At the beginning, these changes might feel like too much to handle at once but give it some time. Don't be afraid to ask for support from your fellow freshmen, upperclassmen, teachers, staff, older siblings, or parents.
Before you realize it, you'll feel just as comfortable in high school as you did in middle school. And soon, people will be asking you for advice about their freshman year of high school!
You'll meet a lot of new people.
The end of middle school is a bittersweet time. Saying goodbye to people you've gone to school with for several years is sad, but the prospect of meeting new friends is exciting. Plus, some of your middle school friends might even be joining you in high school!
Either way, your freshman year of high school is an excellent time to meet new friends. Between new classes, clubs, sports, and other social events, you'll have no trouble coming into contact with potential friends.
Just make sure to put yourself out there and be yourself. It might feel a bit lonely at first, but you'll have a whole new friend group before you know it.
There are endless opportunities to explore your interests.
Your freshman year of high school is the perfect opportunity to explore your interests both academic and non-academic. Whether you want to delve deeper into a current hobby or try something completely new, you'll have the opportunity to do that exploration in high school.
Even if you're going to a smaller school, you'll find a plethora of clubs, events, sports teams, and other extracurricular activities that you can (and should!) take advantage of. If your school is holding some sort of club fair, it's a great chance to see what opportunities are available.
Don't see anything you like? No problem! Many high schoolers allow their students to set up clubs on their own.
College Prep Tip: Colleges and universities prefer to see students who have excelled in one or two extracurriculars instead of applicants who participated in several.
That's why we advise students to do their extracurricular exploration during their freshman year of high school. That way, they can spend the rest of their high school succeeding in an extracurricular they're passionate about.
You'll have more responsibility.
During your freshman year of high school, you'll notice more is expected of you when compared to middle school. You'll notice heavier homework workloads and more time commitment when it comes to academic and non-academic activities.
At the same time, you'll notice teachers and maybe even your parents hassling you less about staying on top of your tasks. As you get closer to being an adult, people expect you to take more responsibility for getting things done timely and correctly without being prompted.
Don't let the lack of reminders and nudges from teachers and parents result in missed assignments, late homework, or lower grades. Your freshman year of high school is the time you take charge and show what you can do.
There's more freedom.
Don't worry! Your freshman year of high school doesn't just come with more responsibilities on your shoulders. It also comes with more freedom. With teachers and parents taking a step back, you'll have more room to do things the way you prefer. Sounds like a pretty fair trade-off, right?
You'll even see a difference in the way teachers interact with students. You and your classmates will be treated more like adults than kids. Keep in mind that the flip side of this extra breathing room is responsibility. You'll be expected to stay on top of your studies and schedule even with greater freedom.
Your schedule will be busier.
Your freshman year of high school will be significantly busier than what you experienced all throughout grade school. You'll be spending more time on homework, participating in more extracurricular activities, and enjoying more time with new friends.
With a busier schedule and more on your plate, you'll have to learn how to manage your time properly. You might have been able to glide through middle school without keeping a planner regularly, but high school is different. It's crucial to maintain an up-to-date and accurate planner of your homework, extracurricular responsibilities, and maybe even your social life.
This way, you always know exactly where you need to be, how long it's going to take, and how much you can spare doing other things. It'll feel tedious at first, but keeping a planner can greatly reduce headaches and help you prevent time conflicts.
You should start preparing for college.
When you're in middle school all you're thinking about is getting good grades, performing well in your extracurricular activities, and getting ready for high school. Parents and forward-thinking students who want to get a leg up on the competition might even start light college prep in middle school.
However, the vast majority of people wait until high school to start looking towards college preparation requirements. This marks one of the biggest differences between middle school and your freshman year of high school. Contrary to popular belief, colleges do take your freshman year into account on college applications.
As mentioned before, freshman year is an excellent time to explore your interests both academically and extracurricular Lee. However, it's still important to push yourself by taking difficult/challenging classes and finding a non-academic activity you can pursue for the rest of high school.
You might have to balance work and school.
If you decide to work your freshman year of high school, you'll have to figure out how to balance your school life and work life. Obviously, your academics should remain the priority in your responsibilities.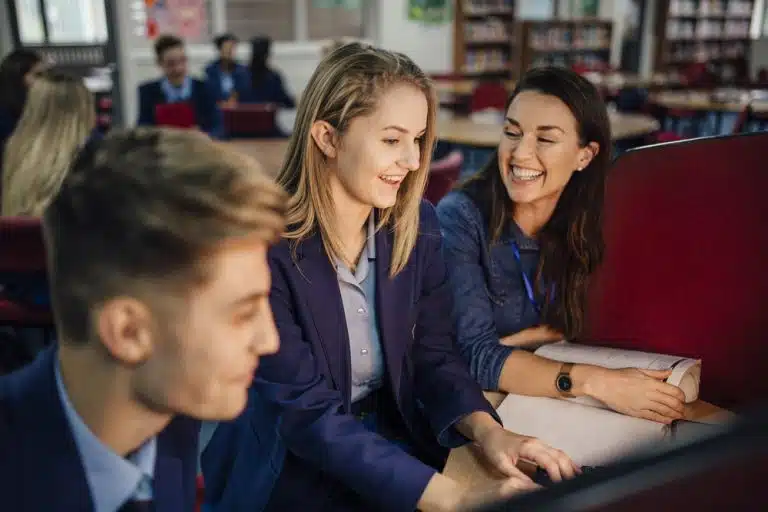 Even with a busier schedule than you had in middle school, you have the maturity and time management skills to tack on a part-time job to your weekly responsibilities. It's a good idea to work on the weekends instead of during the week if possible.
This can alleviate some stress as bouncing directly from school to work all week while still having homework to finish can create undue anxiety. If you're wondering, having a high school job can look good on a college application. The key is keeping your grades and test scores high.
How to make the most of your freshman year of high school.
Knowing what to expect in your freshman year of high school is only half the battle. Nearly just as important is understanding how you can properly prepare yourself for a successful change. Here we're going to look at some practical tips to help you make the most of this important transition.
Learn how to manage your time effectively.
In middle school, you don't really have to worry about actively managing your time. Not only do you not have a lot of responsibilities in these grades, but your parents and teachers always supported you in making sure your time was managed correctly whether that meant getting you to school on time, reminding you about upcoming tests, or urging you to get your homework done.
When you enter your freshman year of high school, you'll have to learn how to manage your time effectively. You'll not only have more responsibilities and a busier schedule, but your parents and teachers won't be as involved in making sure you stick to a strict schedule. Keeping a calendar is a great way to get an idea for how much time you need to commit to each responsibility while staying on top of your to-dos.
Put yourself out there.
High school is a major transition that will push many students to the edge of their comfort zones. While it's possible to remain in your shell and avoid potentially uncomfortable situations, you should put yourself out there to make the most of your freshman year of high school. It's the only way you'll meet new people, experience new things, and learn more about yourself.
With each passing year of high school and college, you'll be expected to further narrow down what you want to study.
Freshman year is the perfect time to experiment with different classes, clubs, activities, and events. Meet new people, try new things, and have a blast! You'll have such a more meaningful and impactful freshman year when you're outside of your comfort zone.
Improve your studying habits.
Many talented students are able to breeze through grade school without studying much for exams or spending too much time on homework. For many people, high school marks the end of that trajectory as courses become more rigorous, requiring more studying, attention, and energy.
Instead of continuing to rely on your grade school habits, you should take the transition to develop new and improved studying habits during your freshman year of high school.
Maybe you could set aside an hour each night to review what you're learning in class or perhaps you need to schedule some one-on-one tutoring. Either way, it's crucial to improve your studying game to perform your best during your freshman year.
Take challenging classes.
One of the best ways to make the most of your freshman year in high school is to challenge yourself with difficult courses. Advanced Placement (AP) and honors classes are ideal options for high schoolers looking to improve their chances of getting into excellent colleges. Admissions officers love to see students who aren't afraid to push themselves.
It might be tempting to take it easy during your freshman year, but this year will set the tone for the rest of your time in high school which will end up influencing your college experience. As a result, it's important to think forward to the future and choose challenging courses that will help you continue to improve your skills.
Write a lot…like a ton.
Robust vocabulary skills, impeccable grammar, and top-tier writing are undervalued skills among high schoolers. These capabilities will drastically improve your grades in all courses while preparing you for the increased writing required in college.
Whether you enjoy writing short stories, comics, poems, songs, or any other form of prose, dedicate at least a few hours each week to it. The most important thing is that you're writing, learning new words, and improving overall.
Find your friends.
Your freshman year of high school will present you with the challenge of meeting new friends. Even if you're lucky enough to bring some people from grade school with you to your new school, we still encourage students to expand their social sphere during their freshman year. The more people you know, the more welcomed you'll feel.
Having a group of friends you can rely on will help you overcome many challenges that you experience during your freshman year and beyond. Plus, you'll have so much more fun being able to enjoy your first year with some great friends.
Work with a college admissions professional.
As mentioned before, college might feel far away but it'll come quicker than you realize. Furthermore, what you do from your freshman year in high school onward will be considered by colleges when you eventually start the admissions process.
One of the best ways to ensure you're on the right track in high school is to work with a college entrance expert like the professionals at AdmissionSight.
We help incoming highschoolers determine the best path over the course of the next four years to ensure a smooth and successful transition into college.
We can help you choose the best courses and extracurriculars that will boost your GPA while improving your application overall. It's one of the most effective ways to ensure you get off on the right foot during your freshman year of high school.
Improve your chances of getting into the college of your choice
When you first enter your freshman year of high school, the college will feel light-years away. As anyone who has been through high school kind of tests, these for years can go by in the blink of an eye. That's why it's important for both high schoolers and parents to start thinking about the college application process.
What classes should you take in high school to best position yourself for acceptance into the school of your choice? What kind of extracurricular activities will admissions officers want to see on college application questions? How can you set yourself apart from the thousands or even tens of thousands of fellow applicants?
These are the kinds of questions you should be asking yourself during your freshman year of high school and beyond. Unfortunately, neither parents nor students are well prepared for the college admissions process. It's a complex and mysterious process that only a select few completely understand. That's where AdmissionSight can help!
For the past decade, we've been helping students successfully prepare four admittance into their school of choice. We have mastered the college applications process and possess an in-depth knowledge of what college admissions officers are looking for from applicants.
Our services are specially designed to help students perfect their college applications. We offer a wide range of services including academic and extracurricular preparation, college essay assistance, SAT and ACT help, and much, much more.
If you're ready to start taking your college prep seriously, contact us today to set up a free consultation. We look forward to hearing from you!