What to Look for in a College
Why should I be careful when choosing a college?
Why should you choose a college carefully? One of the most important decisions you will ever make is where to go to college, and that is correct. Where you go to college will shape your personal and professional life for a long time. When you have so many options, choosing what to look for in a college can be hard, especially right after you finish school. But the truth is that many students choose a college based on how they feel, a very small number of factors, or even just a gut feeling.
Research has shown that you are more likely to do well in college if you are happy with where you live on campus and in the surrounding community. If you are unhappy or uncomfortable at school, staying focused on your studies may be hard. Making a well-informed, well-thought-out choice can increase your chances of success and happiness.
What makes a college good?
Academic programs
Something that makes a good college is the programs they offer. Once you know what you want to study, look at the colleges' academic programs to see if they offer that subject as a major. Read the course outlines to learn more about the classes you can take and the careers you can go into after you graduate.
You can also find out about other things the program has to offer that might interest you. For example, if you want to be a TV reporter, you might be interested in a school with a journalism program and a student TV station on campus.
Student Housing
Universities often have several housing options if a student wants to live on campus. Set up a time to see the dorms and apartments on campus. You can ask about things like private bathrooms and laundry services on-site. Ask how roommates are chosen and if resident assistants are on staff.
How much it costs to go
The price is very important in deciding what to look for in a college. Your final choice may depend on how much the college costs. Find out how much it would cost to go to each college for four years to get a degree. Look at the costs of tuition, student housing, and any school supplies you may need, like computers and books. You might want to talk to the school's financial aid office to find out about scholarships and grants you might be able to get.
Where it is located
The location of the college you want to go to can affect your choice and the costs. Think about how far away from home you want to be. For example, if you want to be a student resident, you can ask yourself if you are comfortable being away from home for long periods of time. To be a commuter student, you should consider how far you can drive to and from school. If you attend college in a different state than where you live full-time, your tuition costs may also differ.
Medical Facility
Look for a place on campus that can help you stay healthy both physically and mentally. For example, if you have a cold or a stomachache, you can go to the health center to get medicine and feel better. If your college classes make you too busy, a counseling center can help you deal with the stress and get through personal problems.
Organizations on campus
You can find things to do on a college campus through student-led groups. You can meet other students interested in the same things you are, take on leadership roles, and grow your personal and professional networks. Find out about campus groups at the college you want to go to. There are sororities, fraternities, and clubs in your major. If the college doesn't have a club or group that interests you, find out what you need to do to start your own.
Services for jobs
A college's career services can help you prepare for your job search after graduation. As you decide what to look for in a college, you should ask about the campus activities the department puts on. For example, you can go to a "mock interview" to practice answering questions about your qualifications or get help writing your resume. Career services may also hold job fairs where you can meet potential employers and find out about internships and full-time jobs.
Size of classes
Check the ratio of teachers to students, which is the average number of students in a class with one teacher. If you like to learn in a more personal setting, you may want to choose a college with smaller class sizes. Class sizes can vary depending on your major and the courses you're taking. For example, an introductory communication class might have room for 80 students, but a capstone research class might only have room for 15.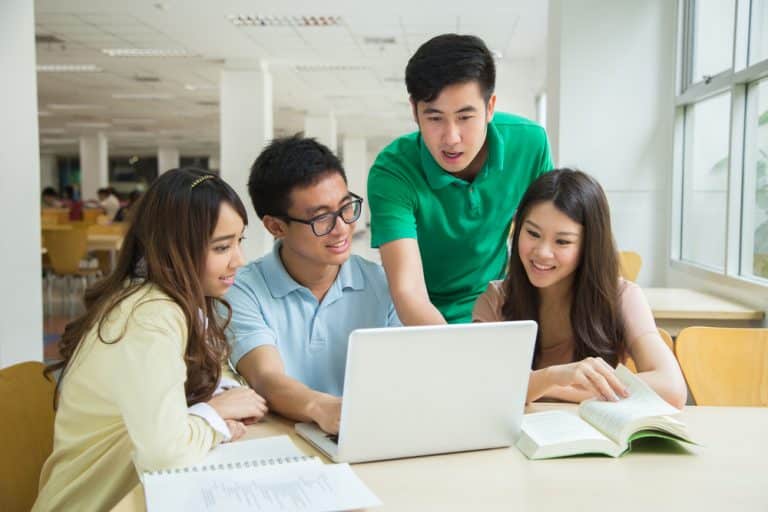 Places to eat
Look at the different places on campus where you can get food. If you want to live on campus as a student, you might want to look for restaurants open during the day, at night, and on weekends. If you are taking public transportation to and from campus, you may want to focus on places where you can sit and eat inside before going to your next class. You can also look at the types of meal plans and how much they cost.
Things to do for fun
You might want to find ways to stay active when you're not going from class to class or studying for midterms. Find out if the college you want to attend has a recreation center. Ask about the things you can do at the center, like fitness classes and sports tournaments. You can also look for open grassy fields where outdoor sports games can be played.
Number of graduates
The graduation rate is the number of students who finish their degrees at the school. A high rate means that the college keeps its students, which means they don't go to another school or stop going to school. Instead, they stay enrolled until they graduate. Compare how many people graduate from the colleges you're going to. The one with a higher rating might be better at giving you the tools you need to do well in school and prepare for a career.
Programs for studying abroad
Many colleges let you study abroad, which means you can live and learn in a different country. For example, you could take Spanish classes in Spain to learn the language and learn more about the culture. When considering what classes to take at a college, ask about study abroad programs. Find out how the costs, the length of time you spend in another country, and the effects of your participation may affect your progress toward getting your degree.
Safety on campus
Safety should be prioritized as you learn what to look for in a college, especially if you want to live in student housing. During a university tour, you should ask about the campus police station and how much surveillance there is in and around high-traffic areas like dorms and restaurants. Find out if you can be walked home from an evening class or event, for example, by someone.
What should I avoid when choosing a college?
Taking too little time
If students wait until the last minute to look for a college, they won't have time to research and learn about all the opportunities colleges offer. Experts say that students and their parents should start thinking about college as early as the sixth grade. If you don't give enough thought to all of your choices, you might make a decision based on things that don't tell you much about what colleges have to offer.
Choosing a college based on how well-known it is
Something that someone should avoid doing is choosing a college based on its fame alone. Though it can be a factor, extensive research can help make that decision. Many of the lesser-known schools in the country are just as good as the best colleges. Don't let the name and reputation of a school throw you off. Look past all that and consider whether this college is a good fit for you.
Putting too much weight on your current major
It can be a mistake to decide what to look for in a college based on what you think you want to study and how you want to get a job. After they start college, more than half of students change their major. Instead of choosing a course based on a job, think about what you're interested in and what you want to major in. Then look for colleges that offer programs in all of those areas.
Can't apply because it's too expensive
This is probably the mistake that students and parents make the most. If you do a little work, you and your parents likely won't have to pay the full cost of college out of pocket. About two out of every three students in the U.S. who go to four-year colleges get some kind of financial aid that helps them pay less overall.
Missing deadlines
There is no deadline for applying to college or getting money to help pay for it. There are different due dates for each college. Listen to them, and try to get your applications in a couple of weeks before the deadline. Write down application deadlines in a planner or on your phone's calendar and remember them.
Taking no for an answer
You might be selling yourself short if you don't apply to a school because you think you won't get in. There's a good chance you can do more than you think, and many counselors recommend applying to schools that might be considered "out of reach." After all, if you don't try, you'll never know what you can do. And if a "reach" school doesn't work out, there are plenty of other schools where you can get in and do well.
Let your family tell you what to do
Most parents want the best for their kids, but sometimes they have too much to say about which college their kids choose. As such, when learning what to look for in a college, choose the one you want and not what your parents want.
Even though they may pay for most of the costs, your parents won't be in class with you. Even though you should listen to what they say, you still need to do your research to find the college that feels right for you. After a thorough search and a lot of talking, you and your parents should be able to agree on something.
Now that you know what to look for in a college, it is time to decide where you should also prepare for your college admission. Wherever you might want to enter, you can get help with AdmissionSight with the help of our world-class guidance. With the help of experts, choosing the best university that suits you best shouldn't be hard with the help of AdmissionSight. You can talk to us today to get started.