What You Need to Know About USC ACT Scores: A Comprehensive Guide for Aspiring Students
What is a good ACT score for USC?
What is an acceptable ACT score for USC? For USC, the middle 50% of accepted students typically have ACT scores between 32 and 35. This means that 25% of admitted students score below 32, while another 25% score above 35.
It's important to note, however, that a high score doesn't guarantee admission, just as a score below the average USC ACT score range doesn't equate to automatic rejection. USC evaluates each application holistically, considering grades, the rigor of high school coursework, extracurricular activities, letters of recommendation, personal essays, and more, in addition to standardized test scores.
What is the USC ACT code?
What is the ACT code for USC?  When sending your ACT scores to colleges, you will need to know the specific ACT code for each institution. This code is unique for every college or university and helps ACT send your scores directly to the schools of your choice.
USC's ACT code is 0470. When you register for the ACT, or after you've taken the test, you can use this code to ensure your scores are sent directly to USC. Promptly sending your scores will help ensure they are included in your application package.
Does USC require an official ACT?
Is an official ACT required at USC? USC requires official ACT scores to be sent directly from ACT, Inc. Self-reported scores, while useful for initial evaluations, aren't considered official. You must list USC as a recipient of your scores when you register for the ACT, or when sending scores afterward.
Make sure you allow enough time for score delivery, as it can take up to two weeks for your scores to be sent, received, and processed. Scores must be received by the application deadline for your application to be considered complete.
How important is the ACT score in USC's overall admissions process?
How significant is the ACT score in the overall admissions process at USC? The ACT score is an important part of the USC admissions process, but it's not the only factor considered. While it is true that a higher ACT score can increase your chances of admission, USC utilizes a holistic review process. This means that they review every part of your application to get a complete picture of you as a student and person.
USC looks at your academic record, the rigor of your high school coursework, your grades, extracurricular activities, leadership roles, community service, letters of recommendation, personal essays, and other factors in addition to your ACT score. Having a balanced, well-rounded application can compensate for ACT scores that are slightly below the average range of admitted students.
How does USC help prospective students boost their ACT scores?
How can USC assist prospective students in improving their ACT scores? USC is committed to student success and offers various resources to help prospective students prepare for the ACT. While the university doesn't provide direct ACT tutoring, they do offer guidance and resources through its admissions department and official website.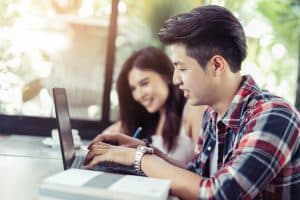 There is also a multitude of test prep resources listed on USC's site, including practice tests, study guides, tips, and strategies for tackling the ACT. They also often host informational sessions and webinars that can provide insights into the admissions process and the role of standardized tests.
What should be your ACT strategy for USC?
What ACT approach should you use for USC? Now that we have gone over the USC ACT score range and its importance in the application process, let's discuss strategies for acing the ACT for USC:
Understand the ACT Structure
The ACT consists of four sections: English, Math, Reading, and Science. Understanding the content and structure of each section can help you study more effectively.
Take Practice Tests
Regularly taking full-length, timed practice tests can help familiarize you with the test format and improve your time management skills.
Analyze Your Performance
Identify your strengths and weaknesses. Focus on improving the areas where you tend to lose points.
Create a Study Plan
Based on your performance analysis, create a study plan that gives more attention to your weaker areas, while still reinforcing your strengths.
Stay Healthy
Regular exercise, a balanced diet, and adequate sleep can boost your cognitive abilities, improving your performance.
Stay Updated on Deadlines
Make sure you're aware of the registration and score submission deadlines to ensure your scores reach USC on time.
Remember, while ACT scores are an important factor in USC's admissions process, they're just one part of your overall application. A well-rounded application showcasing academic achievement, character, leadership, and other qualities can help make you a competitive candidate for USC.
Navigating the USC admissions process can seem overwhelming, but with the right resources and preparation, you can confidently tackle each step. At AdmissionSight, we're dedicated to guiding you through this journey, providing insightful strategies and resources tailored to USC's high standards. With a focus on the importance of your USC ACT score and a comprehensive understanding of its holistic admissions process, we'll equip you with the tools you need to put your best foot forward. The dream of becoming a USC Trojan is within reach, and AdmissionSight is here to help you every step of the way. Contact us!