When Should You Apply for College?
Is it too late to apply for college?
When should you apply for college? Is it too late to apply for college? Colleges almost universally have application submission deadlines. The application deadline is for incoming freshman students. There are numerous deadlines you can apply for because a school frequently offers various applications, such as early and normal applications.
Each school has a different deadline, of course. Checking the precise dates of the schools you are applying to is, therefore, highly advised. However, generally speaking, the standard application deadline is the latest one for students who will be enrolled in the upcoming term.
When should you apply for college?
Incoming freshmen students have a lot on their plate for college preparation, from college admissions, applications, recommendations, dorm life, campus tours, essays, etc. But when should you apply for college? Experts urge high school students to start the application process by the start of their senior year because deadlines and requirements for college applications differ.
Although many schools have adopted test-optional or test-blind policies, there is still a ton of preparation work to be done before then, such as taking the SAT or ACT, visiting colleges, enrolling in advanced courses, participating in extracurricular activities, and requesting recommendation letters.
Experts advise beginning the college application process as soon as possible. Think about what you might be interested in and get an idea of what colleges might be looking for to help you choose classes and find other options.
Students who are interested in particular college programs, which frequently require physical fitness tests and nominations, should plan ahead in particular.
The majority of students don't decide to attend college on a whim. Focus on your college search and creating your application materials, it takes time and planning. The deadlines for college applications should be kept in mind to ensure that you complete everything on time and don't miss the start of the semester.
When is the deadline to apply to college?
When is the deadline to apply to college? It's important to know when should you apply for college, however some college applicants might feel that you are late in applying to college. In this portion, AdmissionSight has prepared some best practices if you feel that you are late with your application for college.
In general, you need to apply to college for at least a few months—more than half a year—before you want to begin your studies. Given how long the application process for college actually takes, prospective students are sometimes advised to start whittling down their list of universities and preferred courses of study at least a year in advance.
For example, students in their junior year of high school should start looking into colleges and visiting their campuses if they want to go to college right after they graduate in the fall. They should start getting ready to submit their applications early in their senior year.
Naturally, you must know when should you apply for college since the deadline for applications depends on when you plan to enroll. Even though a fall semester start is customary, many students start their college careers in the spring. Application deadlines differ not only from institution to institution but also depending on when a student plans to start his or her education.
When is the fall application deadline for colleges?
According to U.S. News & World Report, students should plan on completing all of their college applications for a fall semester start date no later than early January of the year they expect to start school. Planning the effort required to finish the application process is made easier by keeping this advice in mind. The planning of placement and standardized tests, the creation of strong essays and writing samples, and the acquisition of reference letters are some of these duties.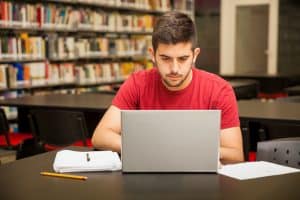 However, you shouldn't assume that all of the universities you are considering will allow you as much time to apply since each school sets its own application deadlines. The deadlines for fall college applications might be as early as December, November, or even October.
On the other hand, certain schools might give applicants extra time to submit their paperwork, occasionally accepting fall enrollment applications as late as February. Regular decision applicants (as opposed to early decision or early action applicants) who submit their fall admissions applications by the deadline will frequently hear back about their applications in the spring, most frequently in March or April. Aside from knowing when you should apply for college and when the deadline for the fall application is, also consider when the spring college applications are due.
When are spring college applications due?
If you're seeking admission to a college during the spring term, be prepared to submit your application materials in the fall, the sooner the better. Many colleges set their deadlines in November or even as early as October, while some colleges may extend the deadline for spring applications until the beginning of December.
Some schools send acceptance letters as soon as two weeks after the deadline or the date the application was submitted, so enrolling in the spring semester rather than the fall semester will shorten the wait time.
In almost all circumstances, it is best to avoid missing deadlines because doing so is almost never a good thing. That's why it is vital to know when should you apply for college. The majority of the time, once the deadline has passed, the application is closed, and institutions will no longer accept additional entries. You will either need to look for another application choice that is still available or just wait until next year.
When it comes to application deadlines, many colleges are fairly strict. The due dates are often definite, and extensions are rare. Many people think it is too late to submit an application if they miss the most recent deadline for application options.
It is still possible for students to submit their applications now, rather than having to wait until the following year. For instance, certain colleges might consider you for admission or extend or reopen the application period. These rely on the situation to determine whether that is even possible.
Finding out about late applications would be your best course of action if you were unable to submit your application by the deadline. The school's official website is the best place to start. Contact the admissions office if you can't find any assistance there. Any still-available possibilities could be shown by them.
Contacting your high school's office that handles assisting kids with college applications is an additional option. Someone you could speak with about applying after the deadline is your guidance counselor, for instance. Better yet, always search for the best options, consider all your possibilities, or know exactly when you should apply to college.
When should you apply for college scholarships?
When should you apply for college scholarships? There are many scholarship opportunities available for incoming freshman students, but you have to know where to look and when you should apply for college scholarships, as well as when should you apply for college.
Scholarship applications can be submitted by students as young as 14. Although those under the age of 14 are not yet able to apply for scholarships, they can advance by improving their extracurricular activities, volunteer work, and academic standing. Younger kids should prioritize academic success and develop effective study techniques.
So, once you are 14, should you start applying? When you are up against students who are older and more experienced, does it really make sense to apply?
The answer is yes, and the following explains why: the only way to improve at something is to practice. Students can learn about how scholarship applications work and how to identify scholarships that they are most qualified for early in high school.
Although the federal student aid office advises students to start their scholarship applications at least the summer before their senior year of high school, starting even earlier can help them qualify for more scholarships. Students can get used to applying for scholarships by doing so starting in their freshman year of high school. Students will be familiar with how to submit scholarship applications on time, write effective scholarship essays, and fulfill deadlines by the time they are in their junior and senior years.
The majority of students start looking for scholarships around their junior year of high school. Between taking the ACT/SAT and visiting colleges, the junior year is jam-packed with college preparation activities.
Students begin to think more critically about what financial aid they will require and where they can acquire it as they get ready for the future. High school seniors are targeted for scholarships the most because they are the ones most likely to enroll in college, but your chances of winning increase the earlier you apply.
Knowing when should you apply for college is crucial. Our team at AdmissionSight has more than ten years of experience helping students get through the challenging admissions process necessary to enroll in the most prestigious universities in the world. Please feel free to schedule a consultation session today.