Where to Look for the Best Biology Schools?
Why study Biology?
Why should someone study biology? A biology major learns how living things work and what they look like. In this major, students use an approach called "integrative," in which they spend time in both the classroom and a research lab. Students will work alone and with others in the lab and on research projects. They will be expected to run experiments, look at the results, and present their findings. Students who study at the best biology schools will get a strong background in biology that will prepare them for a wide range of graduate programs or jobs in the health and environmental fields.
There are several good reasons to study biology. Some examples are:
Studying biology gives students more options for where they can go with their careers. Biology majors can learn about all parts of biology, from ecology to cells to marine life, because they don't just focus on one area.
Do you like working in the field and a lab simultaneously? Well, you can do both if you study Biology. When you study biology, you can do both of these things. One week you can put on a lab coat and look at cells through a microscope, and the next week you can put on your boots and go outside.
If you want to graduate school, majoring in biology as an undergrad is a good choice. Since it is based on research and can be adapted to many different fields, it is a natural step to continue your studies at the post-graduate level.
What jobs can I get with a degree in biology?
With a degree in biology, you can do many different things. If you are studying biology or want to learn more about living things, here are some jobs you can get after you graduate.
Biological Technician
Biological technicians use the lab skills and techniques that students from the best biology schools can learn in their labs when doing research for their classes and when working with faculty on research projects. Technicians should also do studies that give correct results.
Biochemist
Well, biochemists are very important in the fields of biotechnology and biomedical research, which are growing quickly. So, studying biology gives them the skills and laboratories they need to do scientific research and come up with new products.
Also, understanding anatomy and biochemical physiology can help you figure out how drugs and biotechnological solutions affect the human body.
Genetic Counselor
Genetic counselors look at their clients' genes and talk to them about the likelihood that they will pass on a disease or genetic disability to their children.
Also, they can work with adults who want to find out if there are chances for them to show signs of genetic diseases later in life. They must be very good at biology if they want to get the master's degree that the specialty requires.
Health Communication Specialist
Health communication professionals teach people about health problems, especially public health problems like infectious diseases, health management, and healthy living. This has made it a good job for those who study at the best biology schools.
On the other hand, hospitals and other healthcare companies often use health communication professionals to organize public relations campaigns, marketing strategies, and community involvement.
Sales Representative of Pharmaceutical
Sales reps for pharmaceutical or medical products sell medical supplies, computer products, medications, and other things to hospitals, clinics, and other medical practices.
Representatives for drug companies need to know a lot about chemistry, anatomy, and physiology to tell doctors how a new drug will affect their patients.
Financial Analyst
Financial analysts look at stocks, bonds, investment funds, and other investments for clients and companies. Biologists can use their advanced math skills to figure out how well investments are doing.
Most analysts focus on one industry, and biomedical specialties are especially good for working as analysts in biotechnology, pharmaceuticals, medical products, health services, and environmental companies.
Director of Medical and Health Services
Managers of health and medical services spend most of their time talking to doctors and nurses, so they need to be able to talk to them about scientific policies and procedures.
What are the best biology schools in the world?
Harvard University
Degrees Offered: Undergraduate, Master's, and PhD
Harvard University is the best school for biology in the whole world. Those interested in Molecular and Cellular Biology (MCB) will learn about biological processes and methods, such as chemistry and genetics. Those who want a bachelor's degree in Chemical and Physical Biology will learn about physical biology, chemical biology, and math skills. If neuroscience were a more interesting part of college, a student could choose to get an undergraduate degree and study the nervous system and how it affects behavior.
Massachusetts Institute of Technology
Degrees Offered: Undergraduate and PhD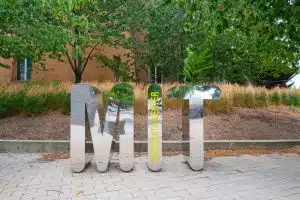 The Massachusetts Institute of Technology has 30 different areas of study related to technology. There are a lot of degrees that focus on biological information to choose from among the 30 programs. As a student in the Biology department, you will learn how to use and work in the ten laboratories open to you for work and study. As part of the learning experience, there are also chances to do experimental research to help people learn and understand more.
University of Cambridge
Degrees Offered: Undergraduate, Master's, and PhD
Another one of the best biology schools in the world is the University of Cambridge. Cambridge is also the home of 110 Nobel Prize winners and is ranked as the world's third-best college. Because biology is a focus in 16 different departments, first-year students often learn many different things before deciding on a more specific path to take. The university expects this from many first-year students and has a very involved advising faculty.
Stanford University
Degrees offered: Undergraduate (with Minors, Honors, and Co-term)
Stanford University was founded in 1891 in Stanford, California, and it has been very successful. The biology major at the university is said to have a lot of information about biology. For example, the research areas listed by the Stanford University biology department include behavior, biochemistry, biophysics, cell biology, and many more.
As one of the best biology schools in the world, there are many degree options for people who want to go to college, such as a co-terminal master's program for people who want to learn more about research and graduate-level courses.
University of California, Berkeley
Degrees Offered: Undergraduate, Master's, and PhD
This university has 350 degree programs and 80 interdisciplinary research units. UC Berkeley has a top biology program with a long list of biology majors for all current and future students. Biology is a broad subject that covers a lot of different areas of education. Undergraduate students can study everything from atmospheric science to public health. In choosing a graduate degree in biology, there are many majors at this university, like bioengineering.
ETH Zurich – Swiss Federal Institute of Technology
Degrees Offered: Undergraduate, Master's, and PhD
Like most programs for first-year college students, ETH Zurich teaches the basics of biology. The master's program focuses more on research methods and requires that you finish two major projects and a master's thesis to graduate. There are also a lot of different areas of research to choose from, such as ecology and evolution, systems biology, molecular and structural biology, and more. The ETH Zurich doctoral program allows students to write a research proposal and evaluate dissertations.
As you choose from the best biology schools, Admissionsight can help you get through your college of choice. With 10 years of expert experience, AdmissionSight is a team of trained professionals who can guide you through the college of your choice. Book your initial consultation today.