Questions students and parents should be asking to determine which schools to apply to.
It's an exciting time as you start deciding which colleges you want to apply to. You've been working incredibly hard throughout all your high school years – acing tests, passing courses with flying colors, excelling in extracurriculars, and much, much more.
You can think of a dozen different colleges you'd be happy to attend, but you know the application process is too involved to apply to each school. Every year, millions of high school students are faced with the same question when college admissions season rolls around: "which college should I apply to?"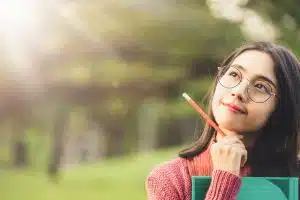 This tough question isn't helped at all by the fact that many college students still aren't entirely sure what they'd like to study. Fortunately, you don't need to have everything figured out before deciding where to attend.
An important part of the college admissions experience is discovering what you want to pursue in college throughout the process. Each step of the way, you'll learn more about yourself, what colleges offer, and which are the best match for you given your academic interests, personal strengths, and long-term goals.
A great way to narrow down your options is to ask specific questions about each potential university. You can think of these queries as a filter separating colleges that are a good fit for you from those that aren't worth applying to. Here, we'll take a look at some questions students and parents can both ask to simplify the college admissions process. We've divided these queries by topic for easier organization.
Location & Setting
One of the easiest ways to narrow down your list of potential universities is to identify locations you couldn't possibly see yourself living in for four years or more. Non-negotiables such as these are a good place to start as no other factors could make you reconsider. Let's explore some location and setting-related questions you can ask:
Where is the school located?
Most universities fall into three categories when it comes to location: rural, suburban, and urban. Some colleges are located in the heart of major cities such as Columbia? in New York City.
Others, like Harvard, are situated in smaller towns and suburbs. Still, there are some far away from most towns and cities. Cornell is a great example as it's located in the small town of Ithaca, New York. Whatever your preference, it's important to determine where a school is located before applying.
What is the campus like?
No matter where a college is located, the campus is very unique to each university. Since you'll be spending the vast majority of your time at college on campus, it's imperative that you apply only to universities that match your preferences. Some factors you should consider include:
The physical size of the campus
How large the student population is
Whether or not you can live on campus
What kind of housing is available
What's the year-round weather in the area?
It might sound slightly superficial to be caring what the weather is like where you might attend college. After all, the whole point of attending your desired university is to receive an excellent education right?
Yes, it definitely is. But that doesn't mean you shouldn't take non-academic factors into account. If you can't stand long, biting winters then some northeastern universities might not be a great choice. Alternatively, if blistering summers sound miserable, then you might want to avoid the southwest.
Are there career or internship opportunities around?
If you really want to plan ahead, a great way to narrow down your college options is to determine what kind of professional advancement opportunities are available nearby. If you're interested in pursuing a career that only has positions in a major city, you might want to consider a university located in or near a larger metropolitan area.
What kind of amenities are nearby?
Although you'll be spending a great deal of time at university on-campus, it's still important to consider what kind of amenities are around the school. Are there enough grocery stores, restaurants, entertainment venues, and parks nearby to keep you entertained throughout your four years or more at the university? While the vast majority of colleges have at least a small town with basic amenities nearby, each student will have personal requirements when it comes to the amount, variety, and size of these amenities.
Do you have to live on campus or can you live off-campus?
If you're wondering how to choose which schools to apply to, one of the best questions to ask is about the living situation. After all, you'll be spending at least a few years at this university if accepted. Some colleges require students to live on campus for at least their freshman year with a small number requiring on-campus living for all four years of an undergraduate degree. Others give students more freedom by allowing them to live off-campus throughout their studies.
Of course, this boils down to preference as some students will choose to live on campus regardless due to the connectivity, camaraderie, and affordability. Others will prefer the spaciousness and autonomy that comes with living away from campus. Whatever your preference, it's vital to determine your desired college living requirements before making your final decision.
Academics
Although there are numerous factors being considered when choosing colleges to apply to, academic offerings should be at the top of the list. After all, excellent education is one of the primary reasons you're going to college in the first place! This makes academic-related topics some of the most important questions students should ask about each college. Here are some you should consider:
Does the college have a major matching your area of study?
If you've already determined what you want to study, first of all…congratulations! It's not the easiest decision and one that will save you some headaches in your first few months at college. Students in this position have a great filter through which they can put each potential college. You'll want to keep your options narrowed down to schools that have a degree matching your area of study. The more you know about the field you want to study, the more specific you can get in your search.
For example, if you know you want to study Forensic Psychology, not just Psychology in general, you can look for a college with that specific major. However, if you only have a more general idea of what you want to study, you don't have to get as detailed in your search.
It's all about making sure that the school to which you're applying actually has a degree that would further your education and match your academic goals. If you're not sure what you want to study yet, no worries! Finding a school that encourages students to take many different classes is a great way to explore various interests while still working towards a degree.
Will the goal be able to help you achieve your personal, academic, and professional goals?
When students are asking "which college should I apply to?", many aren't thinking long-term. Instead, the focus is usually placed on what will happen during the years when they're attending the university.
While there's no doubt that it's a critical consideration, students shouldn't forget about the bigger picture. College is intended to prepare students for life after graduation. That's why it's imperative that students consider how a school can help them achieve their personal, academic, and professional goals.
What do you want to achieve while on campus? What kind of person do you want to become in the next few years? Where do you see yourself in 5, 10, 15 years? What kind of profession do you want to pursue after graduation?
These are all questions applicants should be considered when determining the school that best matches their long-term goals. If a school can't actually help you achieve your goals, it's not worth applying to even if it matches all of your other requirements. You're only at school for four years (unless you attend graduate school), but the impact your college education has on the rest of your life lasts for much longer.
Does the school have a graduate program?
If you know you want to attend a graduate program after receiving your undergraduate degree, it's something you should start thinking about when choosing colleges. It might sound too early, but remaining at the same school makes it much easier than having to apply to another when transitioning into graduate school.
Even if you're not 100% sure you're going to attend a graduate program, it's still worth considering. Finding a school with a reputable program in your area of study might just be a place you can call home for the next six to eight years, depending on what you study. It doesn't have to be the deciding factor, but definitely something to consider.
What kind of professors teach at the university?
Teachers have an incredibly large impact on the quality of education a university can provide. Even if a course or entire degree is a perfect match for what you want to study, a bad teacher might make the university not worth attending.
That's why it's paramount that applicants consider the type of professors working at the university to which they're applying. While these instructors don't have to be Nobel laureates – although they sometimes are! – you still want to make sure they're accomplished, reputable, and professional. Generally, the better known and more selective a university, the better the faculty.
Satisfaction and Prestige
It's important to consider what a college can do for you when determining which school's you'll apply to. After all, you're the one who will be attending.
However, it's helpful to consider the experiences of other students to determine what the university has offered previous graduates. Just like you'd check customer testimonials before purchasing a product, seeing how students feel about the college can reveal a lot.
Furthermore, finding out how they're recognized in comparison with other schools is something worth looking into. Let's take a look at a few questions relating to satisfaction and prestige.
What's the college's retention rate?
Retention rate is the percentage of freshmen that re-enroll as sophomores at the same college. It's a popular metric for determining the satisfaction of first-year students.
Although transitioning does take some effort, it's a safe assumption that only truly satisfied students would remain at their college after a year of studying. Although we don't have enough time to discuss the retention rates of all colleges in the US, here are the retention rates for each Ivy League school.
| | |
| --- | --- |
| College | Retention Rate  |
| Yale University | 99% |
| Columbia University | 99% |
| Brown University | 98% |
| Dartmouth College | 98% |
| Princeton University | 98% |
| University of Pennsylvania (UPenn) | 98% |
| Cornell University | 97% |
| Harvard University | 97% |
Source: Ivy League: retention rate 2019 | Statista
Regardless of what schools you're considering applying to, checking retention rates are a great way to gauge the feelings of first-year students. If students are dropping out in high numbers after a year, that's telling about their experiences.
However, if the overwhelming majority are sticking around, that means the school must have awesome offerings. Of course, not all students that transition can be counted as a negative reflection on the university. For some reference, the national retention rate is around 72%, so anything around here is considered average, anything below is not a good look, and anything above is great.
What's the university's ranking?
One of the best ways to determine how a college is viewed is to look at its ranking. Although there are a wide variety of different rankings, the U.S. News publication is one of the most well-respected and widely recognized.
The colleges that make it high up in this list can be assumed to have excellent academic offerings, great instructors and staff, fantastic campuses, and more. Here are the top 20 colleges currently ranked out of all in the United States:
Princeton University
Harvard University
Columbia University
Massachusetts Institute of Technology
Yale University
Stanford University
University of Chicago
University of Pennsylvania
California Institute of Technology
Johns Hopkins University
Northwestern University
Duke University
Dartmouth College
Brown University
Vanderbilt University
Rice University
Washington University in St. Louis
Cornell University
University of Notre Dame
University of California–Los Angeles
Of course, the colleges to which you apply don't have to be in the top 10, 20, or even 30. But you should check the ranking of the schools on your list to determine how they're viewed at large. Universities are always going to talk highly of themselves, but you want to get an objective perspective before you make your decision.
Make sure you're looking at rankings from reputable sources. U.S. News is also an excellent resource to use when determining how colleges rank on individual criteria such as undergraduate programs, graduate programs, extracurriculars, and more. Choose what's most important to you and see what schools are the best match.
We can help you figure out how to get into Brown University
What many students and parents struggle to realize is that there are college admission experts that can drastically help high schoolers increase their odds of getting accepted into some of the best colleges in the country and even the world. As one of the leading specialists in this field,
AdmissionSight gives high school students a leg up on the competition by supporting them through each step of the application process. We've been supporting students through this important process for over a decade, and we have a proven track record of success. In fact, 75% of the students we work with getting into Top 10 or Ivy League universities.
Whether you need advice on choosing summer programs, editing or writing essays, determining the best high school courses to take, or guidance on where to apply, we've got you covered!. We have the insider knowledge, expertise, and insights needed to guide you on your path towards acceptance. We can help you determine which colleges best match your personal, academic, and professional goals.
Our specialized team will answer all of your questions so you can feel more confident in your application. Furthermore, all of our services are completely customized to meet the individual needs of each student. We'll take your academic strengths and personal interests into account when tailoring our offerings. That way, they're more effective.
Feel free to contact us to learn more about our services and how you can benefit from working with Admission Sight. We'll set up a free consultation to answer all of your questions.