Yale Cheerleading Team
Cheerleading was not recognized by the relevant authorities as a competitive sport for a substantial length of time, and this perception persisted for quite some time. Today, teams from all around the country, including the Yale cheerleading team, are playing against one another, and fans are showing their support for the teams who hail from their own regions.
After cheerleading was first publicly acknowledged as a sport, the activity eventually developed into a range of different sorts of teams that competed against one another.
In the lines that follow, we will offer you information about Yale Cheerleading Team.  In addition, we will discuss bonus cheerleading topics: the biggest cheer competition in the US, ways in which cheerleading teams prepare for an upcoming show and competition, and the role of motivation among cheerleading teams.
Meet Yale Cheerleading Team
Since the beginning of Yale Athletics, cheerleading has been an essential component in the development of the school's legendary team spirit.
Twelve students from the class of 1886 collaborated in 1884 to write the now-famous "Long Cheer," a rallying cry written in Ancient Greek and English that was inspired by Aristophanes' Frogs. By 1912, an organized Yale Cheer Team had been established, and its members immediately gained a reputation for contributing significantly to the culture surrounding collegiate sports.
After more than a century and a half, the "Yale Man" from the early 20th century is no longer considered to be the representative image of Yale Cheer.
The responsibilities of a college cheer squad have grown to include sideline entertainment, dancing, acrobatics, and stunting. Because of this, they no longer wear the 'Y' sweater and pants; instead, they wear clothing that are designed for flipping and jumping.
The cheerleaders for the Yale football team in 1912 may have originated from a small number of private schools in New England, but today's cheerleaders come from all over the world, are enrolled in a wide variety of academic programs at Yale, and are in a diverse range of extracurricular activities.
The Yale Cheerleading Team serves as an ambassador of the University and exemplifies the university's commitment to research and service in the world outside of Yale.
Together with Handsome Dan XIX, the official mascot of Yale University, the cheerleaders' primary objective is to inspire the local community to get behind the Yale Bulldogs. They strive to be inclusive, friendly, and full of school pride in all that they do.
What skills do they require to tryout?
In order to try out for the Yale cheerleading team, what kind of talents are required? They do not require any particular talents in order to try out, although prior experience in gymnastics or cheering is strongly preferred.
In the past, they have recruited those who have spent their whole lives cheering as well as others who are just beginning.
However, much as in other sports, physical training is required for everyone who wants to join cheerleading. Those interested in the exciting subject of cheerleading should focus their efforts on improving their flexibility, strength, and endurance.
Flexibility is essential when preparing for and performing jumps. Cheerleaders with better flexibility will be able to do higher-altitude leaps. When you've properly warmed up, you'll notice that leaping becomes considerably easier. Increased strength enhances every single cheering technique.
Lifting and holding flyers is considerably easier while stunting, which helps minimize damage and makes it easier to do so. Endurance is also important, despite the fact that it is easy to overlook.
Because certain stunts last more than a few seconds, all participants in the stunt must have the stamina to complete it. Even a simple workout that lasts only 30 seconds requires a lot of energy.
What is the time commitment like at Yale Cheerleading Team?
How much of your time is required to participate in the Yale Cheerleading Team? In general, they train two to three times per week for around one and a half to two hours each time, and they also urge the members to include conditioning into their personal schedules whenever they can.
During the fall, they watch football games that often last around four hours, and during the spring, they cheer on two basketball games each weekend, and each one typically lasts around two hours.
How does the team promote social justice and inclusion?
In what ways does Yale Cheerleading Team work to advance social justice and inclusiveness? Yale Bulldogs for Change has received a commitment of support from both Bulldog Nation and the Athletics Department of Yale University, which includes the Yale Cheerleading Team.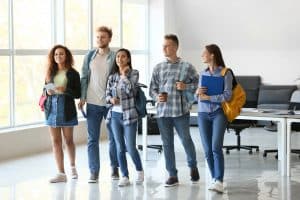 The mission of the leadership team of Yale Bulldogs for Change (YBC) is to improve the varsity student-athlete experience for people of color, in addition to providing a voice and support that are necessary to navigate a predominately white institution (PWI). Specifically, the team will focus on the following actions:
Building safe spaces and community
Raising awareness about social issues
Supporting local communities of color
Encourage social and cultural connections through events, forums, and programming
In addition, the Yale Bulldogs for Change (YBC) has set its sights on the following objectives:
Connect first-year students of color with current students of color to assist with their transition to Yale.
Create engaging connection opportunities to join student-athletes of color from various cultures and personal ideology.
Organize events and safe spaces for student-athletes of color to bring their whole selves with no judgement.
Build community among student-athletes of color through connecting teams, collaborating with campus cultural centers, and networking with alumni.
Find ways to give back to communities of color within New Haven.
Assist with topics for programming and workshops to address diversity, inclusion, and equity for student-athletes, coaches, and athletics department staff.
Create a platform for unbiased discussions
Partner with Student-Athlete Advisory Committee (SAAC) to promote events and assist in raising awareness among all student-athletes to address social issues
Programming at Yale promotes social justice, diversity, and inclusion is in keeping with the university's goal, therefore this is consistent with it. Our sporting programs have the potential to advance jointly if as many Bulldogs as possible participate, interact with one another, and provide a helping hand to one another.
The coaching staff at Yale has made a commitment to acknowledge and appreciate the university's diverse student body and promote serious and constructive debate on relevant issues wherever it is feasible.
What sports does Yale Cheerleading Team cheer for?
For which athletic teams does the Yale Cheerleading Team cheer? They attend all of the home football games and home volleyball matches and cheer. We never miss going on the road to cheer for the Harvard vs. Yale game.
They travel with both the men's and women's basketball teams to the Ivy League Tournament and the NCAA Tournament during the spring semester, and they cheer at all of the home basketball games during that semester.
What is the biggest cheer competition in the US?
What is the most popular cheerleading competition in the United States? In all-star competitive cheerleading, the NCA Nationals is generally considered to be the most prestigious event that takes place throughout the regular season. It is also the largest cheerleading competition in the world, and the competition in 2022 was the largest competition in its history.
This year's competition included over 200 Cheerleading Worlds-level teams competing in every division that is open to US-based teams at the Cheerleading Worlds. The event was held in the United States. That's a really large number of teams. That's a significant number of subcategories.
Since the beginning of the epidemic in the year 2020, this was the very first time that the event had taken occurred in person. There is no stage quite like the arena stage, and it was a wonderful showcase of the finest cheerleading the world has to offer.
Every cheerleader should make it a goal of theirs to become the NCA All Star National Champion at some point in their careers. The National Cheerleading Association (NCA) not only bestows the illustrious title of National Champion, but also grants bids to significant end-of-season competitions such as The Cheerleading Worlds, The Summit, and The D2 Summit.
The NCA All Star Nationals is the second competition that takes place in the Triple Crown series that Varsity hosts. The CHEERSPORT Nationals, the NCA Nationals, and the UCA Nationals are all included in the Triple Crown Series. The Varsity Triple Crown is awarded to the team that finishes in first place in their respective level at each competition. In the world of cheering, this is one of the most difficult championships to take home.
How do cheerleading teams prepare for an upcoming show and competition?
How exactly do cheerleading teams like Yale cheerleading team get ready for a concert or a competition that's coming up? Any cheerleading squad cannot function without regular practice. This assists in the memorization of routines, the improvement of leaps, and the recall of cheers.
Even for stunting purposes, it is impossible to do a stunt only once or twice. It is necessary to practice it quite a few times so that everyone feels at ease when carrying it out.
This eliminates the risk of injury in the event that a stunt doesn't go as planned during the performance. The more you practice, the easier and better your performance will be.
What is the role of motivation among cheerleading teams?
In the world of cheering, what exactly is the function of motivation? When everyone is motivated and focused during team practice, there will be no time wasted and everyone will stay on track with their goals.
If everyone in the team is devoted to the task that the team is working on, then the task will be completed more quickly. The team will profit from productive practices, and they will also give extra time for the team to focus on new things.
Experience Yale school spirit with the Yale cheerleading team
Cheerleading has played a crucial role in creating Yale's famed team spirit since the very inception of Yale Athletics.
If getting into Yale is one of your goals, you should seek the guidance of professionals who work in the subject of college admissions, such as those who work at AdmissionSight, in order to increase your chances of being accepted there.
AdmissionSight has become the most trusted name in the field of college admissions advice as a result of its more than a decade of expertise assisting students just like you in gaining admission to the colleges of their first and second preferences.
Please get in touch with us as soon as you can so that we can schedule an initial consultation that will be provided free of charge.