Yale Freshman Class Size
How Big Is the Freshman Class At Yale?
The acceptance rate for the admissions cycle for the academic year 2021-2022 is 4.46 percent, which is the lowest it has been in recent years. It went from 6.54 percent for the Class of 2024 to 4.62 percent for the Class of 2025, and it went from 5.91 percent for the Class of 2023 to 4.62 percent for the Class of 2025.
Eight hundred (800) of the admitted students were able to obtain their acceptances through the early action application process, and 81 QuestBridge applicants found a match with Yale in December. Thursday was also the day when Yale made available to one thousand students spots on the college's waitlist. 46 students who were admitted during the admissions cycle of the previous year but who made the decision to postpone their matriculation until the autumn of 2022 will be joining this class.
The Admissions office claimed earlier this semester that 50,022 students had applied to Yale. However, this total included these 46 students who had delayed their attendance, and it did not include the 39 students who had been given application extensions due to extenuating circumstances.
Now, how big is the freshman class at Yale? Yale freshman class size is represented by 1,557 students who were welcomed to the New Haven campus as the Class of 2026. Find out more about this distinguished group of students as we go on!
They will be joined by 24 new transfer students as well as a record-setting number of 23 new adult students who will be matriculating through the Eli Whitney Students Program, which is a program for nontraditional undergraduate students. Thirteen former members of the United States armed forces and twenty-one students who were most recently enrolled at a community college are among the new students.
In order to properly welcome these new first-year and transfer students, the Yale College Dean's Office developed a whole new orientation that will last for one full week and is called "Camp Yale." All first-year students are welcome to participate in the Camp Yale programs. Camp Yale Programs (CYPs) are comprised of six different activities that are run by Yale College and are designed to give first-year students memorable experiences as well as a sense of early community.
Where Are Most Yale Students From?
Where are most Yale students from? Students hailing from the following regions made up the Class of 2026:
Northeast: 31%
Middle Atlantic States: 9%
Southern States: 12%
Western States: 18%
Midwestern States: 11%
Southwestern: 6%
Other (including international): 14%
The following are the countries represented by the residence of the students of Yale freshman class size:
Bangladesh, Bhutan, Brazil, Bulgaria, Canada, China, Colombia, Czech Republic, Ecuador, Ethiopia, France, Germany, Ghana, Greece, Guatemala, Hong Kong,  Hungary, India, Indonesia, Israel, Italy, Japan, Jordan, Kazakhstan, Kenya, Latvia, Malaysia, Mexico, Morocco, New Zealand, Nicaragua, Nigeria, Norway, Pakistan, Peru, Philippines, Poland, Qatar, Romania, Rwanda, Singapore, South Africa, South Korea, Spain, Sri Lanka, Sweden, Switzerland, Taiwan, Turkey, Ukraine, United Arab Emirates, United Kingdom, United States, Uzbekistan, Vietnam, and Zimbabwe.
What Are the Demographics of Yale?
If you're curious about "What are the demographics of Yale?", the following is based on data that students of Yale freshman class size self-reported when they applied. A total of 53% of first-year students who identify as members of a minority group are US citizens or Permanent Residents.
Because 19% of domestic first-years claimed they identify with two or more races or ethnicities and are represented in more than one group, the categories do not total up to 100%.
African American: 13%
Asian American: 27%
Hispanic/Latino: 14%
Native American: 3%
White: 46%
International 12%
The following can be deduced from an examination of the types of high schools attended by members of the Class of 2026:
Public: 65%
Independent Day: 20%
Boarding: 8%
Religious: 7%
Yale freshman class size consists of 1,557 students who graduated from a total of 1,147 unique high schools; fourteen percent of these students received their secondary education elsewhere besides the United States.
For the fourth year in a row, the majority (53%) of first-year applicants who self-identified as belonging to a racial or ethnic minority group are citizens or legal residents of the United States. Nearly half (49%) said they spoke a language other than English at home or as their first language.
Over 18% of students will be the first in their family to graduate from a four-year college or university, and nearly one in five will receive a federal Pell Grant for low-income students. Yale offers need-based financial aid to 53% of first-year students, with an average scholarship amount of $66,362 for the 2022–23 academic year.
What Are the Top Majors At Yale University?
Yale admitted students with potential hailing from a wide variety of backgrounds. In addition to this, they cover a broad spectrum of scholarly interests. When applying to Yale, students in the first-year class were allowed to select up to three academic departments that best suited their interests. Collectively, they indicated that they were interested in 83 different majors offered by Yale College.
So, what are the top majors at Yale University chosen by the incoming pool of Yale freshman class size? More than one-quarter of the students, or 26%, indicated that they were initially interested in pursuing a degree in the arts and humanities. A comparable amount (27%) picked a social science major.
A little less than half of the students in the class chose to major in one of the STEM fields; thirty percent went into either the physical sciences or engineering, and sixteen percent chose one of the five life science degrees. More than 97% of new students named numerous majors that they were interested in pursuing, and 78% of those students selected majors that encompassed two or more academic categories.
In addition to having a reputation for having coursework that is exceptionally challenging academically, Yale University is also renowned for having undergraduate study classes that are among the most engaging and thought-provoking. The university has been featured in the media quite frequently as of late due to a course that was formerly known as "Psychology and the Good Life."
It received its new moniker, "Science of Well-being," rather recently. During the COVID-19 pandemic, the number of students enrolling in the class increased by more than 3,000%, and many of those students are looking to the class for evidence-based advice on how to improve their health. The course has been incorporated into the academic reputation that Yale is recognized for.
The "Science of Well-being" at Yale University is not the only well-known class at the university, despite the fact that the media has focused a lot of attention on it. The educational establishment has earned a reputation for providing excellent programs in a wide variety of fields. At Yale, some of the programs that students choose to concentrate on include:
Economics
The economics program at Yale provides students with the opportunity to participate in research alongside some of the most brilliant minds in the field. In addition, students take classes that are designed to investigate the factors that have shaped our economic climate in the past, as well as those that will shape it in the future.
The requirements for the major include introductory classes like calculus, microeconomics, and macroeconomics, as well as core classes, field classes, elective classes, and two advanced classes that a student must take during their senior year. Students are required to earn grades of A- or higher in at least three-quarters of the classes that count toward their major.
 History
History is one of the most well-liked and intellectually diverse majors at Yale College. It covers nearly every region and time period of the world's past, including African history, American history, Asian history, and colonial history, to name a few. History is one of the most popular majors at Yale College. Being a member of the history faculty provides outstanding preparation for jobs in a wide variety of professions, including law, journalism, business and finance, education, politics and public policy, social action, and the arts. Students who major in History are required to take a Pre-Industrial Class, participate in a Departmental Seminar, and write a Senior Essay, however, the requirements vary depending on whether they pick the Specialist or Global route.
Political Science
Students who choose to major in Political Science at Yale will work toward developing the ability to think critically and analytically about the structures, incentives, and agents that play a role in the formation of political phenomena within human societies.
The undergraduate study major in political science requires students to take a minimum of two courses in each of the department's five subfields, including internal relations, American government, political philosophy, analytical theory, and comparative politics. The major consists of a total of twelve term courses in political science.
Molecular, Cellular, and Developmental Biology
Students who choose to concentrate their studies on Molecular, Cellular, and Developmental Biology obtain a comprehensive and multifaceted liberal education, cultivate their capacity for critical thinking, and graduate ready to pursue professional employment in a wide variety of areas.
During their time in the undergraduate program, students cultivate their capacity for critical thinking while learning the fundamental principles and abilities of science, including investigation and analysis. In addition to the courses that are particular to their chosen track, all students who intend to earn the degree are required to complete Chemistry, Physics, and Organic Chemistry.
Computer Science
The Computer Science Department at Yale collaborates with the Electrical Engineering Department, the Economics Department, the Mathematics Department, and the Psychology Department to offer four combined majors in computer science. These majors are Electrical Engineering and Computer Science, Computer Science and Economics, Computer Science and Mathematics, and Computer Science and Psychology. Every program follows the same fundamental curriculum, which consists of five core Computer Science classes.
 Psychology
The study of psychology at Yale can serve as a springboard into a variety of professions, including those in teaching and research; the legal system; medical and public health; politics and public policy; and several areas of business, including marketing, finance, and management. Every student is expected to complete a minimum of two courses in the social sciences and a minimum of two courses in psychology that focus on the natural science perspective.
Global Affairs
Students at Yale University who choose to concentrate their studies in this in-demand field have the freedom to design their own courses in accordance with their own passions and career goals. Some students have focused their academic studies on issues that are pertinent to national and human security, such as economic development and poverty, global health, global climate policy, international relations, and foreign policy and diplomacy. In addition to meeting the language prerequisite, the major requires completion of a total of thirteen term-long courses.
English
Yale Students who choose to major in English at Yale University are given the opportunity to investigate writing from all eras and periods in the history of the English language, including medieval dream visions, Shakespeare's plays, American slave narratives, modernist poetry, digital literature, and contemporary Anglophone novels from around the world. Students are required to take a total of 14 classes, one of which must fulfill the Senior Requirement.
Statistics and Data Science
Students who intend to major in Statistics and Data Science are required to complete courses that cover both the mathematical and practical foundations of the field. Additionally, they are strongly urged to enroll in classes related to the fields of study indicated below. Because these subjects provide a mathematical foundation that is necessary for many courses, students in the major are obliged to study Calculus and Linear Algebra at some point during their time at Yale University, preferably in the beginning of their academic careers there.
Engineering Sciences
The Engineering Sciences degrees at Yale involve a less number of technical classes, and as a result, students can concentrate more on subjects that are not related to engineering. Students have the option of taking classes that either cover a wide range of engineering topics or go into greater depth on a particular topic. They also frequently have the opportunity to graduate with a double major, such as in mechanical engineering and economics or electrical engineering and computer science.
Is Yale A Large University?
To give a clearer picture of the answer to "Is Yale a large university?", the establishment of residential colleges at Yale began in the early 1930s and was a major factor in the university's subsequent development. This distinctive system divides the undergraduate population into twelve separate communities of approximately 450 members each, taking medieval English universities such as Oxford and Cambridge as its model.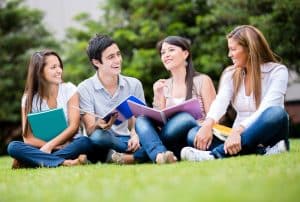 As a result, Yale can provide its students with both the intimacy of a small college environment and the vast resources of a major research university. Each college encompasses a courtyard and can take up an entire city block, creating a welcoming neighborhood in which residents can live, eat, engage in social events, and participate in a wide range of academic and extracurricular pursuits.
Each college has its own dining hall, library, seminar rooms, relaxation lounges, and other amenities. Each college also has its own master and dean, as well as a certain number of resident faculty members who are referred to as fellows.
In the modern era, Yale has developed into one of the most prestigious educational institutions on the planet. Its 11,000 students come from 108 different nations and all fifty states in the United States. The faculty at this university consists of 3,200 men and women who are experts in their professions and come from a varied range of backgrounds.
The residential communities surrounding the Divinity School are located inside the 310-acre (125-hectare) central campus, which stretches from the School of Nursing in the heart of downtown New Haven to the tree-shaded residential areas around the campus.
The 260 buildings that make up Yale's campus were designed by some of the world's most renowned architects and span the entirety of the university's existence. The styles span from current to contemporary, as well as from New England Colonial to High Victorian Gothic and Moorish Revival. Buildings, towers, lawns, courtyards, pathways, gates, and arches at Yale make up what has been called "the most magnificent urban campus in America" by an architecture critic.
Yale's West Campus was purchased in 2007 and encompasses a total area of 136 acres. It features 1.6 million square feet of research, office, and warehouse space, which offers the university the opportunity to expand its medical and scientific research as well as its other academic programs. The campus is located seven miles west of the center of New Haven. In addition, the university oversees the upkeep of about 600 acres (243 hectares) of natural preserves and athletic fields that are located only a few minutes by bus from the main part of town.
Yale freshman class size is one of the factors you and your parents should contemplate when deciding if you should attend Yale. With the low acceptance rate and several admission requirements to complete, this could get overwhelming. However, AdmissionSight is here to help! Find out more about our counseling and tutorial programs by setting up an initial consultation with AdmissionSight college admissions experts.