Yale Short Answer Questions
What Is the Primary Purpose of Short Answer Questions?
The Yale application is dominated by short answers. So, in a nutshell, they are searching for assurance. You don't have time to ramble when an essay must be under 100 words. You cannot encircle your core point with generalizations. You must be concise and clear in your delivery. In order to tell your tale (literally), bring vivid details to life, and highlight your general intellect, the successful applicant will use exact phrases that can serve a double- or even triple-duty.
It takes a lot of wordsmithing to write a solid short answer, so plan to spend a lot of time editing, rewriting, and scraping your drafts. Strangely, the application is lengthy and meandering overall, with distinct sets of questions for students applying through different platforms, even if the challenges call for critical thought. So, pay attention and make sure you're concentrating on the proper task.
If you're curious about what is the primary purpose of short answer questions, the Yale additional essay prompts provide you the chance to demonstrate many of the various, intricate characteristics that both make you an attractive person and a strong applicant for admission. You'll want to make the most of that chance by giving thoughtful consideration to your comments and using them to demonstrate variety.
How Many Supplementals Do You Need for Yale?
Now, we've learned the importance of Yale short answer questions, let's tackle how many supplementals do you need for Yale. All applicants must answer three Yale short answer questions that ask about their areas of interest and their motivations for applying.
Students can use Questbridge, the Coalition Application, or the Common Application. Additionally, each applicant is required to submit two 250-word essays. Finally, applicants using the Coalition App or the Common App must respond to four questions with extremely brief answers (around 35 words apiece).
How To Answer Yale Short Answer Questions?
For every candidate, including Questbridge:
Students at Yale have plenty of time to explore their academic interests before committing to one or more major fields of study. Many students either modify their original academic direction or change their minds entirely. As of this moment, what academic areas seem to fit your interests or goals most comfortably? Please indicate up to three from the list provided.
Why do these areas appeal to you? (125 words or fewer)
To start the discussion on "How to answer Yale Short Answer Questions?", this question is identical to the standard "Why This Major" question however, you only have 125 words. You must be thorough and concise regardless of whether you choose to major in physics, economics, or neuroscience, the same general approach can be used in all cases.
You need to be as specific as you can about your academic interests, the specific reasons your intended major appeals to you, and your career aspirations.
For instance, you might be interested in linguistics because, as a person from a third culture, you've always battled to get rid of your American accent when speaking Portuguese, although your younger brother doesn't have one.
You're curious about the science of language learning and the effects of language on people (culture, identity, language preservation). One day, you might be interested in pursuing a career as a translator, largely to help great literary works transcend language barriers.
Or perhaps you're captivated by the divisive political climate of today and are interested in psychology and political science. You want to know why people believe what they do and behave the way that they do as voters. You aspire to one day work on the campaigns of progressive candidates that champion the issues that are important to you.
Jump right into the most specific details, whatever your area of interest. After that, try to relate the specifics to your future objectives and passions. Despite the fact that a standard "Why This Major" essay should include this information, the limited word restriction may prevent you from doing so. Fortunately, you can talk about Yale's assistance for your academic objectives in response to the following query.
What is it about Yale that has led you to apply? (125 words or fewer)
This is a traditional illustration of a "Why This College" essay. You should provide concrete examples of why Yale is a suitable fit for advancing your academic objectives in response to this inquiry. As college is not just about what you do in the classroom, you could also want to highlight any appealing extracurricular reasons.
Let's return to the student who is passionate about Psych and PoliSci as an example. The support provided by the PoliSci Department to students involved in political campaigns is a particular Yale resource that they would want to draw attention to. Students are able to create and carry out a campaign strategy based on their particular skills thanks to this financing. Using their understanding of voter psychology, they might decide to design a social media campaign, as an example.
In your essay, try to be as specific as possible and thoroughly explore Yale's resources. If you're unsure where to begin with your "Why This College" essay, check out our piece How to Research a School.
You probably won't be able to list more than four Yale-related qualities in a 125-word essay. That's okay! Instead of simply listing a ton of broad qualities, it is preferable to demonstrate a deeper understanding of what Yale has to offer.
Under no circumstances should you make generalizations about other schools' locations, reputations, or even their academic programs. Your essay isn't detailed enough if you could just change the school's name and use the same essay for another institution. What other courses, programs, organizations, or grants might help you achieve your objectives?
For applicants through the Coalition and Common Application:
These short statements must all contain 35 words or fewer and 200 characters (letters, spaces, symbols or numerals) or less.
What inspires you? (35 words or fewer)
Caution! You might be tempted to be clever or sarcastic in your response given the limited word count here. Defy the desire! Again, choose sincerity over cunningness. If your response naturally contains anything endearing or humorous, get it approved by your guidance counselor, English teacher, or another dependable editor before submitting it. Humor can come out as frivolous, which could give the application committee the impression that you aren't serious about your application.
The list of appropriate responses to this query includes exquisite cuisine, amazing vistas, and inspirational personalities. Have fun answering because there is no right answer.
Consider the question posed by this prompt: What inspires you? What motivates and excites you? Never, ever, ever give a simple response. Don't mention how "the world in all its immensity" has inspired you. Instead, take a closer look at yourself and consider the times when you felt most inspired to do the things you love and best about yourself. What gave you that feeling? Who? How did you respond to that inspiration, then?
Yale's residential colleges regularly host conversations with guests representing a wide range of experiences and accomplishments. What person, past or present, would you invite to speak? would you ask them to discuss? (35 words or fewer)
Here is yet another enjoyable prompt. Do not use clichés again! Don't respond with "Gandhi" or "MLK" because those are apparent responses that cannot be accomplished.
Not someone you think will impress the admissions committee, but someone who has actually inspired you. They don't need to be extremely wealthy, famous, or successful. However, they ought to have had a noticeable effect on your life.
You are teaching a new Yale course. What is it called? (35 words or fewer)
This is another interesting question. Once more, please refrain from using clichés, obvious solutions, or comedy.
Here's your chance to demonstrate a skill you believe you possess. Choose a topic that you are familiar with right now rather than speculating about the future when you are a well-known playwright and qualified to instruct a course on fantastic realism in contemporary theater.
You might have a second language. Perhaps you press flowers or collect insects. You might be an authority on self-care for busy students. The purpose of this question is not to learn more about your aspirations or objectives. The committee is interested in knowing more about your interests and skills at this point.
Yale students embrace the concept of "and" rather than "or," pursuing arts and sciences, tradition and innovation, defined goals and surprising detours. What is an example of an "and" that you embrace? (35 words or fewer)
This question allows you to demonstrate your adaptability and ability to embrace nuance in the world around you. Some of the best ideas and innovations have come out of seemingly contradictory situations. The people who are able to envision connections, collaborations, and synergies where others can't are good at embracing "ands"–and people like that belong at Yale!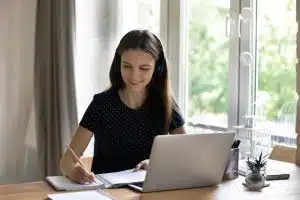 The important thing to highlight in this response is a concrete example of a connection you've made that may be surprising to outsiders. For instance, maybe you've found your own way to apply classical literature to the medical field. No matter what, you'll want to show that when you get to Yale, you'll be capable of creating and innovating in the midst of contradictions.
Yale Supplemental Essays
Those who submit either the Common or Coalition applications are required to submit the larger extra essays other than the Yale short answer questions. You will be allowed to select one of the remaining two essay questions for a total of two essays, but keep in mind that the first prompt is mandatory. We'll go over a bit on how to answer each Yale supplemental essay question.
Essay Question 1
Yale's extensive course offerings and vibrant conversations beyond the classroom encourage students to follow their developing intellectual interests wherever they lead. Tell us about your engagement with a topic or idea that excites you. Why are you drawn to it? (250 words or fewer)
To demonstrate that you have independent intellectual interests and take the initiative to pursue them in your life, respond to this challenge. The interest, zeal, and drive you'll bring to the Yale community should be evident in your response to this question!
The following components should be included in a solid response to this query: 1. A topic or idea that interests you, 2. how you interact with it, and 3. why you find the topic or idea appealing.
Essay Question 2
Option A: Reflect on a community to which you feel connected. Why is it meaningful to you? You may define community however you like. (250 words or fewer)
This essay is a fantastic opportunity to show the selection committee a side of you unrelated to academics. There are so many alternatives here, including family, sports teams, religious institutions, AV clubs, and even online groups. Choose a community that has left a lasting impression on you and to which you have made significant contributions.
Option B: Reflect on something that has given you great satisfaction. Why has it been important to you? (250 words or fewer)
This essay prompt is an opportunity for you to tell Yale more about who you are on the inside. The things that make us happy offer insight into our personalities, values, aspirations, and motivations. This implies that you should carefully consider your response. Make sure your response accurately represents who you are. You can be humorous or even a little ridiculous.
This is your chance to share a personal narrative about how and why that particular aspect of your life has made you happy. It's crucial to describe why you enjoy caring for your garden, for example, if you choose to write about it. Perhaps your family has a history of owning farms, and you adore how your garden pays homage to that heritage. You might adore the connections that come from giving away half of your vegetables to underprivileged folks in your neighborhood.
What Does Yale Look for in Essays?
Because universities want to know that you're serious about attending their institution. Students who are passionate about their school are more likely to be engaged and content as students and, in the future, as alumni. Let's find out the answer to the big question "What does Yale look for in essays?"
To put it briefly: your essay should demonstrate to the admissions committee your genuine love for Yale, which will increase their belief that you'll be a terrific addition to the university.
Given the prevalence of the "why this college" essay, it may be tempting to reuse one you already wrote for another institution and submit it as part of your Yale application. That is not a wise move!
The admissions committee will be concerned that you are not committed to attending Yale if your essay is general or unfocused on Yale. They might even assume that you don't care about getting into Yale, in which case they might choose to consider another applicant who genuinely wants to attend Yale instead of you. The selection committee is looking for applicants who will enroll at Yale the following year.
In short, Yale wants to make sure you understand and respect what they have to offer and wants to know how you'll make the most of the numerous possibilities available to you on campus to advance your academic and professional goals.
Make certain that the points you select are specific to Yale. In contrast to other colleges, Yale has a very distinctive residential college structure that generates a very diverse campus life environment. Discussing how much you value that aspect of Yale's campus will demonstrate that you have done your study and are interested in the university's distinctive traits.
No matter what subject you select, make sure to relate it to your personal interests.
Keep the following advice in mind as you plan to start writing your Yale short answer questions and supplemental essays:
Be brief but assured. There is no notably high word restriction for any of the Yale supplemental essays. Only 250 words are allowed for the longer essay questions. You must so confidently respond to questions in a span of 100–200 words by persuasively narrating a tale, painting a clear portrait of yourself, and outlining your aspirations concerning the programs at Yale. Do not avoid the subject. Get right to the point, make several revisions, and actively consider why Yale is the best institution for you.
Don't mislead yourself. It may be tempting to try to figure out what Yale wants to hear in response to inquiries about your academic interests or ideas that you find compelling. Avoid doing that at all costs because it is unfair to both you and your reader. Yes, applying to a school as prestigious as Yale comes with a lot of pressure, but if you try too hard, you'll put a lot of work into a dishonest application. You desire the admissions committee to judge you according to your actual interests.
Be certain to be specific. Some of the questions in the Yale supplemental essays such as the "Why Yale?" prompt, may lead you to make the mistaken assumption that listing details directly from the Yale website will demonstrate your thorough investigation. However, if admissions officers chose to read it, they could open it in their web browser as the website is available to everyone. Tell the school anything about yourself that they don't know in relation to how you'd benefit from Yale's resources instead of merely copying and pasting cool features. These writings are intended to determine how you would fit within the campus community.
In your Yale supplemental essays, highlighting your individual traits and experiences can help you stand out from your peers. You may also want to check the attributes that Yale admission looks for. Admissions officers are more inclined to support you if they believe after reading your responses that you are making an informed choice. Lastly, AdmissionSight can help you with your answers to Yale's questions and essays.
Consult with AdmissionSight and see what we can offer to make sure that you are well-prepared and knowledgeable enough to enter your choice of school.