How to Groom Your Kid for Yale University Admission
As a parent, you're eagerly involved in your child's education. Before they were even born, you were thinking about ways you could ensure they receive the best education possible. After all, where your child attends college can play a large role in their future success. When looking for the best schools, many automatically think of the Ivy League. Learn How to Groom Your Kid for Yale University Admission!
Since these schools are recognized as some of the finest institutions of higher learning in the entire world – not just the country – you might understandably be wondering how you can best prepare your student for getting accepted into these schools. If you have the goal of helping your student become a Bulldog, you'll be interested in some of the top Yale University admission tips for parents.
In order to get a better understanding of the keys to getting your kids into the Ivy League, it's important to see what Yale University admissions officers are looking for. This way, you'll know what the people who are going to make the final decision on whether or not your child gets accepted are thinking. After all, the final decision comes down to these professionals who have to sift through tens of thousands of applications. So, what do you think Yale admissions officers are looking for?
Your gut answer might be a high grade-point average (GPA) and excellent standardized test scores. While these components are important, they don't paint the overall picture that is the Yale University admissions process. You see, Yale takes a holistic approach when considering applications.
This means that academic performance isn't the only thing that admissions staff look at to determine whether or not your child gets accepted. They'll also be looking at non-academic components such as personal interests and hobbies, extracurricular activities, and more.
If you're wondering how to get into Yale University and you'd like to learn expert tips for getting your kid into college, you're in the right place. AdmissionSight has spent years learning and mastering the college admissions processes of some of the country's top universities, including Yale. Here, we'll take a deeper look into some ways you can groom your kid for Yale University admissions.
When is the right time to start preparing my kid for Yale University?
So, you've decided you want to guide your kid towards an Ivy League education. More specifically, you've set your sights on Yale University. Great! But when should you start the preparation process? After all, you know just how competitive these schools can be. Is high school too late to set your child up for success in the face of the Ivy League? Or is grade school too early?
While it's impossible to give a one-size-fits-all answer to this pertinent question, we can offer a general rule of thumb that parents can follow. However, it's important to keep in mind that what's best for your student might differ.
Typically, we recommend that parents start helping their children prepare for the Ivy League freshman or sophomore year of high school. This provides students with sufficient time to plan their high school courses and extracurricular activities without feeling too overwhelming.
However, some parents even want to get an earlier head start by prepping in grade school. While this might work for some students, we advise parents to make sure the process isn't becoming too overbearing. The last thing you want to do is burn your kid out early on.
10 tips to improve your child's chances of getting into Yale
1. Make sure your child is on-board.
Naturally, parents want what's best for their kids. Since a great education is a vital part of that equation, you've probably been eyeing the Ivy League and maybe Yale specifically for your child's future. While there's no doubt that this university can provide students with unparalleled academic and professional opportunities, it's important to ensure your child's vision lines up with yours before setting anything in stone.
At the end of the day, there wouldn't be any point in investing significant time and energy towards helping your child attend a university in which they have no interest. As a parent, you should share your thoughts on the matter and help guide them towards the best decision while also allowing them to offer input. At the end of the day, it needs to be a collaborative decision to make the most out of it.
2. Don't forget about other schools.
Even if Yale University has been you and your child's number one choice for years and years, you don't want to end up ruling out other schools. One of the secrets of getting your kid into the Ivy League is to keep your options somewhat open. While setting a goal and being focused is critical, you can go overboard by not having a backup plan.
It's a great idea to have at least two back-up schools where your child would attend if they don't end up getting accepted to Yale. And, as one of the most competitive universities in the country, this isn't a far-fetched scenario. It's perfectly fine to keep Yale as your first-place choice, but you and your child should actively seek out second and third-place choices.
3. Learn more about Yale.
Yale University is a leading university not only in the United States but in the world at large. Although this is enough of a reason for many parents and students to consider applying, it's not necessarily sufficient for Yale admissions officers. You see, all Ivy League schools offer top-tier academic opportunities that attract tens of thousands of applicants each year. However, just because a university offers world-class offerings, that doesn't necessarily mean it's a perfect match for your child.
That's why we advise both students and parents to begin their research by learning more about Yale University in order to become more familiar with what makes the school unique, what it can offer students in specific, and whether or not these offerings line up with your child's goals. The official Yale University website is an excellent place to start. Feel free to contact admissions staff to ask more specific questions that you can find answers to online.
4. Visit the university.
After learning more about Yale University, you and your child should consider visiting the campus in-person. This not only helps give applicants a better idea of what to expect if they end up getting accepted but it also makes it easier for your child to envision a future education at Yale.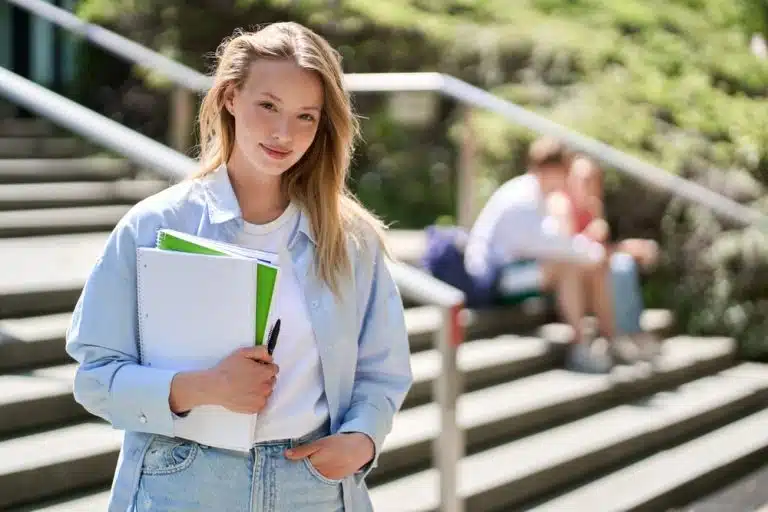 You'll be able to see classrooms, living quarters, quads, common areas, and the area surrounding campuses such as local restaurants, parks, and more. While you're welcome to visit the Yale University campus anytime you please, going with a tour can gain you access to some spots that would otherwise be off-limits. In addition, you'll have an opportunity to learn more details about the school in detail.
5. Reach out to alumni.
Ivy League universities, including Yale, are well-known for their alumni networks. In fact, one of the longest-lasting advantages of attending one of these eight prestigious schools is becoming a permanent part of this well-connected and helpful network of graduates. Students who attend Yale University are forever tied together by a sense of accomplishment, camaraderie, and pride. Luckily, even applicants can tap into this network to reap its advantages.
There's no better person with which to discuss how to get into Yale University than someone who has successfully accomplished this feat. As a parent, you can ask around within your family, group of friends and even network of colleagues to see if anyone within your circle has or knows someone who has graduated from Yale. Speaking with an alumni member can help answer some burning questions both you and your child have about the admissions while giving you some peace of mind about the possibility of getting accepted.
6. Get started early.
Time is of the essence when grooming your kid for Yale University admission. Due to the competitive nature of this college's admissions process, it's not enough for a student to decide junior or senior year that they'd like to attend Yale. One of the most important Yale University admission tips for parents is to help their child prepare early for the admission process.
Although the sophomore year of high school is often spoken of as the ideal time to start preparing for college, we sometimes advise parents to consider pre-high school consultation in order to ensure all four years are optimized to help groom their kids for Yale University admission. After all, the earlier you start prepping for Yale, the higher chances your student has of getting accepted.
7. Be selective of high school courses to get into university.
The high school courses you and your kid choose to play an important role in whether or not they end up getting accepted to Yale University. Although grade-point averages (GPAs) are important, they're not the entire story. Admissions officers also take into account the complexity of the courses taken, the curriculum and difficulty of the high school's curriculum, and the capabilities of the applicant.
As a result, it's paramount to choose challenging courses such as advanced placement (AP) or honors classes that will challenge your kid without being too hard. It's also critical that parents help their kids choose courses that are in line with their overall academic interests and goals. This shows an extra level of dedication and coherence that admissions officers love.
8. Sign up for extracurricular activities.
Although the importance of high school courses in helping your student get accepted into Yale can't be overstated, you don't want to forget about non-academic areas of development. Many students and parents get too focused on academic-related components that they forget all about groups, clubs, sports, and other extracurriculars. Keep in mind that Yale University takes a comprehensive approach to admissions.
This means that a wide array of components are taken into account when determining which students are eligible for entry and which will be denied.
Extracurriculars are a vital part of this equation, making it important that parents help their kids choose some activities outside of school to pursue. While it might be tempting to join as many clubs as your student has time for, it's better to choose a few that are the most attractive and engaging.
Although it helps when these extracurricular activities are somehow in line with your kid's academic pursuits, admissions officers are more interested in seeing how applicants grow and develop through their participation in these activities.
9. Prep for standardized tests.
Standardized tests have been used for decades to help admissions officers determine a student's college readiness. While high school courses offer some indication, the ACT and SAT have become the gold-standard of exams to show how an applicant might perform at the collegiate level.
As a result, it's paramount that parents help their students prepare for these exams, especially for those who want to groom their kids for the Ivy League. We typically advise parents to sign their child up for specific courses designed to prepare students for these standardized tests once they're in high school.
Furthermore, you can even have your child complete questions from previous SAT and ACT exams. This not only helps students gain a better understanding of what's on the exam, but it can also help them answer the questions in a more timely manner. Although students are allowed to take these tests as many times as they'd like, it's recommendable to limit it to two or three times as too many tries can reflect poorly on your child's application.
10. Practice your supplemental essays.
Each year, Yale University releases new supplemental essays that applicants must complete in addition to the standard application. While the standard application covers specific information like GPA, test scores, and high school courses, the supplemental essays are much more open-ended in nature. They're designed to give admissions officers a better understanding of each applicant on a more personal level. It's one of the best – and one of the only – opportunities applicants have to let their uniqueness shine through.
As a result, it's important for parents to help their kid's prep for the Yale University supplemental essays. One of the best ways to help your students nail these essay prompts is to help develop their writing skills throughout high school. You can do this by signing them up for writing classes, encouraging them to take courses in high school that stress writing skills, and even by having your child practice previous Yale supplemental essays which can be found online.
When the time comes, it's advisable to hire a professional college admission specialist such as AdmissionSight that offers personalized editing services. These experts can help you and your students nail the supplemental essays, greatly increasing your child's chances of getting accepted into Yale University.
Need help preparing for Yale University? We've got your back.
One of the best-kept secrets of getting your kid into the Ivy League is working with a college admissions specialist. These professionals work closely with parents and students throughout the application process.
AdmissionSight is one such expert with years of experience and a proven track record of helping students just like you make their way into some of the best universities in the country, including Yale University. We know the keys to getting your kids into the Ivy League and offer a variety of services to help you and your student master the process. Better yet, all of our services are completely personalized.
When you work with AdmissionSight, you'll have an endless supply of expert tips for getting your kid into college. We're more than just a service provider; we're your partners and support for grooming your kid for a Yale University education – or any college for that matter. Whether you need help choosing the best summer programs and extracurricular activities or you're interested in pre-high school consultation, we can help.
If you're interested in learning more about our services or want to book a free consultation, feel free to contact AdmissionSight. One of our college admissions specialists will be in contact with you shortly. We look forward to hearing from you!