Yale vs. Brown University: A Comprehensive Look at the Pros and Cons
Are you a high school senior trying to decide between Yale University and Brown University? Yale vs. Brown University, both highly selective Ivy League institutions, excel as leading American colleges, yet each possesses distinct advantages and disadvantages.
This comparative article will take an in-depth look at many aspects of both universities, including their academic programs, campus life, faculty, facilities, location, and sports programs. By the end of this article, you will be better equipped to choose between Yale and Brown as the ideal college destination.
Introduction: Why Compare Yale and Brown University?
It goes without saying that Yale and Brown are among the most prestigious universities globally. However, many high school seniors struggle to make a choice between these two Ivy League giants. While both Yale and Brown share the same prestigious pedigree, each school offers a very different mix of academic, social, and cultural learning environments.
Factors such as location, campus life, research opportunities, and student experience can play a crucial role in determining which institution is the best fit for you. This article aims to give you a comprehensive look at the pros and cons of both universities so you can make an informed decision.
One of the key differences between Yale and Brown is their location. Yale is located in New Haven, Connecticut, which is a small city with a population of around 130,000 people. Brown, on the other hand, is located in Providence, Rhode Island, which is a larger city with a population of around 180,000 people.
While both cities offer a range of cultural and social activities, Providence is generally considered to be more vibrant and diverse than New Haven.
Another important factor to consider when comparing Yale and Brown is their approach to undergraduate education. Yale is known for its strong emphasis on the liberal arts, with a core curriculum that requires students to take courses in a range of subjects, including humanities, social sciences, and natural sciences.
Brown, on the other hand, has a more flexible approach to undergraduate education, allowing students to design their own course of study and take classes across a range of disciplines. This can be a great option for students who are interested in pursuing interdisciplinary studies or who have a specific academic interest that doesn't fit neatly into one department.
History and Background of Yale and Brown University
Yale University was established in 1701 and is one of the oldest universities in America. Yale has a rich history and has produced numerous notable figures, including multiple US Presidents, prime ministers, and CEOs of fortune 500 companies. Brown University, on the other hand, was established in 1764 and is the seventh oldest university in America.
Brown has a similar record of academic excellence, fraternity culture, and research legacy. However, Brown is known for its unique open curriculum and progressive culture. Its students are encouraged to blaze their own paths, and the curriculum is designed to let them do so. For students who relish intellectual freedom, Brown may be the better choice.
Both Yale and Brown have a strong commitment to community service and social justice. Yale has a long history of activism, with students and faculty participating in movements such as the Civil Rights Movement and the anti-apartheid movement.
Brown also has a strong tradition of social justice, with a number of student-led initiatives focused on issues such as environmental sustainability, LGBTQ+ rights, and racial justice. Both universities offer a range of opportunities for students to get involved in community service and social justice work, including service-learning courses, volunteer programs, and student organizations.
Yale vs. Brown: Admission Requirements and Process
Both Yale and Brown have a highly selective admissions process, with acceptance rates of less than 10%. Yale accepted only 2,304 of its 27,000-plus applicants in the previous admissions cycle, whereas Brown accepted 2,533 of 30,397 applicants. However, admission rates are not the only criterion to consider.
Yale also boasts a strong International Student Program, while Brown values social engagement as much as excellent academics. Thus, students who wish to have academic experiences rooted in a strongly aligned community should favor Brown University, whereas those looking for a more diverse student body may prefer Yale.
It is important to note that both Yale and Brown have specific admission requirements that applicants must meet. For example, Yale requires applicants to submit standardized test scores, transcripts, essays, and letters of recommendation. Brown, on the other hand, has a test-optional policy and places more emphasis on a student's extracurricular activities and personal qualities.
Additionally, both universities offer need-blind admissions, meaning that a student's financial need is not taken into consideration during the admissions process. However, it is important for students to research and understand the specific requirements and expectations of each university before applying.
Yale vs. Brown: Campus Life
Yale and Brown both have campuses in New Haven and Providence, respectively. However, the campus culture varies significantly at each institution, with Yale offering a classic campus look and culture, while Brown maintains a more progressive, liberal environment. Yale is large and historic, featuring gothic-style architecture and longstanding traditions such as a popular Halloween celebration called "The Game."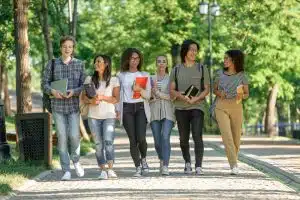 Brown, on the other hand, prides itself on fostering intellectual curiosity and experimentation and encourages students to create their campus life. From a campus culture standpoint, Brown is known to value active community participation and social bonding. Ultimately, the choice of campus culture should reflect each student's personal preferences.
One of the unique aspects of campus life at Yale is the residential college system. Each student is assigned to one of 14 residential colleges, which serve as a home base for students throughout their time at Yale. The residential colleges provide a sense of community and foster close relationships between students and faculty members.
Additionally, Yale has a strong athletic culture, with many students participating in varsity and club sports.
At Brown, students have the opportunity to design their own academic programs through the Open Curriculum. This allows students to explore a wide range of subjects and pursue their interests without being restricted by traditional academic requirements.
Brown also has a strong commitment to sustainability and environmentalism, with many initiatives and programs aimed at reducing the university's carbon footprint and promoting eco-friendly practices. Overall, campus life at both Yale and Brown offers unique opportunities for students to explore their interests and engage with their communities.
Yale vs. Brown: Academic Programs Offered
Academically, both Yale and Brown are Ivy League powerhouses, with highly competitive programs in science, social science, arts, and humanities. Yale has a reputation for excellent programs in economics and political science, prepping students for careers in business and governmental policy.
Brown maintains an open curriculum, where students can develop their programs to suit their interests, passions, and goals. As a result, Brown may be the better choice for students who are interested in pursuing more than one field of study. Yale's rigid curriculum, however, may be better suited for students who prefer structure in their academic pursuits.
Additionally, both universities offer a variety of unique academic programs that cater to specific interests. Yale offers a joint program with the Juilliard School, allowing students to pursue a degree in music while also receiving conservatory-level training. Brown has a renowned program in environmental studies, which integrates science, policy, and social justice to address global environmental challenges.
Both universities also have strong programs in computer science and engineering, with Yale's program focusing on computer science theory and Brown's program emphasizing hands-on experience and innovation.
Yale vs. Brown: Faculty and Professors
Both Yale and Brown employ world-renowned scholars who are experts in their respective fields. Both professors and students are enthusiastic about intellectual discussion and debate, making class discussions engaging and thought-provoking.
However, if we are to look at academic programs and departments, it's crucial to note that both universities have some strengths and weaknesses- Brown has an excellent music department, whereas Yale is renowned for its law program. It's best to research the programs' faculty and departmental strengths and weaknesses to gauge the quality of the education provided at each institution.
Another important factor to consider when comparing the faculty and professors at Yale and Brown is the diversity of their academic backgrounds. Yale has a strong emphasis on the humanities and social sciences, with renowned scholars in fields such as literature, history, and political science.
Brown, on the other hand, has a reputation for its strength in the natural sciences and engineering, with faculty members who are leaders in fields such as biology, chemistry, and computer science. This diversity in academic backgrounds can provide students with a well-rounded education and a range of perspectives on various subjects.
Student-to-Faculty Ratio: How Does Yale Compare to Brown?
With a student-to-faculty ratio of 5:1, Yale is known for its small, intimate classes that facilitate the close relationships between students and professors. Brown University has a slightly higher student-to-faculty ratio, at 7:1. However, class sizes at Brown are still relatively small, and students have many opportunities to work with faculty members to develop their academic interests and research projects.
It's worth noting that while Yale's student-to-faculty ratio is lower than Brown's, both universities prioritize small class sizes and individualized attention from professors. Additionally, both schools offer a wide range of resources to support students academically, including research opportunities, writing centers, and tutoring services.
Ultimately, the choice between Yale and Brown may come down to factors beyond the student-to-faculty ratio, such as location, campus culture, and available extracurricular activities.
Yale vs. Brown: Campus Facilities
Both Yale and Brown invest heavily in the quality of their campus facilities, such as computer labs, libraries, athletic centers, and dining halls. Yale boasts state-of-the-art science labs while Brown considers its libraries as some of the best in the world. However, there is no definitive winner when it comes to campus facilities, as each school offers excellent resources that cater to their specific students' needs.
One area where Yale stands out is in its athletic facilities. The Payne Whitney Gymnasium is a massive complex that includes multiple basketball courts, a swimming pool, and a rock climbing wall. Brown, on the other hand, has a smaller athletic center but places a strong emphasis on outdoor recreation. The school has a large network of hiking and biking trails that students can explore.
When it comes to dining options, Brown offers a wider variety of choices. The school has several dining halls that serve a range of cuisines, including vegan and vegetarian options. Yale, on the other hand, has fewer dining halls but places a strong emphasis on sustainability. The school sources much of its food locally and has implemented several eco-friendly initiatives in its dining facilities.
Research Opportunities at Yale vs. Brown University
Yale and Brown Universities are both highly acclaimed research institutions with extensive research opportunities in a wide range of fields. Yale invests heavily in research and has made significant contributions to scientific fields such as medicine and neuroscience.
Brown is also home to many cutting-edge research facilities, including leading research centers in public health, behavioral, and cognitive sciences. With access to resources, funding, and world-renowned faculty members, students at both universities have ample opportunities to engage in research activities and publish their work.
One of the key differences between research opportunities at Yale and Brown is the size of their research programs. Yale has a larger research program, with more funding and resources available for students and faculty. This allows for a wider range of research projects and collaborations with other institutions.
Brown, on the other hand, has a smaller research program, which can be beneficial for students who prefer a more intimate research experience with closer faculty mentorship.
Another factor to consider when comparing research opportunities at Yale and Brown is the location of the universities. Yale is located in New Haven, Connecticut, which is home to many research institutions and companies, providing students with access to a diverse range of research opportunities outside of the university.
Brown, on the other hand, is located in Providence, Rhode Island, which has a smaller research community but offers a more relaxed and supportive environment for students to focus on their research projects.
Student Organizations, Clubs, and Activities at Yale and Brown University
Both Yale and Brown offer a wide range of clubs and organizations for students to join, from cultural, arts, and political organizations to athletics groups and recreational clubs. Yale University has a rich history of competitive athletics, including football, basketball, and crew, as well as many other sports.
Brown, on the other hand, is known for its culture of student-led events and social activities, with a variety of organizations and club groups that offer diverse options for extracurricular involvement. Your personal interests will determine which school better satisfies your recreational needs.
Additionally, both Yale and Brown have a strong commitment to community service and offer numerous opportunities for students to get involved in volunteer work. Yale has a dedicated center for public service that connects students with local organizations and provides resources for community engagement.
Brown has a similar center for public service and a student-run organization called the Swearer Center that focuses on social justice and community engagement. Both universities also offer alternative spring break programs that allow students to travel and participate in service projects around the world.
Yale vs. Brown: Athletics
Yale and Brown universities offer athletic programs that compete at the Division I level. Yale is traditionally stronger in football, basketball, and ice hockey, while Brown has thriving programs in lacrosse, soccer, and cross country. However, both universities provide excellent sports facilities that offer opportunities to engage in a variety of athletic activities.
Regardless of athletic interests, both universities offer many resources and opportunities for students, including athletic competitions, training facilities, and athletic scholarships.
Yale's athletic program has a long and storied history, with many notable alumni who have gone on to successful careers in professional sports. The university has produced numerous NFL players, including Calvin Hill, Gary Fencik, and Rich Diana. Yale's basketball program has also had success, with several NCAA tournament appearances and a trip to the Elite Eight in 2019.
Brown's athletic program may not have the same level of national recognition as Yale's, but it has a strong focus on individual sports and has produced many successful athletes in a variety of disciplines. The university has a particularly strong track and field program, with several athletes competing at the national level. Brown also has a successful sailing team, which has won several national championships.
Tuition Fees, Financial Aid, Scholarships, and Grants
Both Yale and Brown are four-year undergraduate universities that can be quite expensive, with high annual tuition expenses. However, both universities offer generous financial aid packages that help students pay for tuition and other expenses. Yale has a need-blind admissions and full-need financial aid policy, which means that students' financial circumstances do not influence admissions decisions.
Brown also offers need-blind admissions and full-need financial aid, as well as various scholarship programs based on merit, athletics, and other criteria. Moreover, with the cost of higher education rising every other year, students should compare the financial aid packages available to determine which university is more affordable for them.
In addition to financial aid and scholarships, both Yale and Brown offer grants to students who demonstrate financial need. These grants do not need to be repaid and can significantly reduce the overall cost of attending either university. Students should research the different types of grants available and apply for them as early as possible.
Furthermore, both universities have work-study programs that allow students to earn money while gaining valuable work experience. These programs provide part-time jobs on campus or in the local community, and the earnings can be used to pay for tuition or other expenses.
Students should check with their respective universities to see if they qualify for work-study programs and how to apply for them.
Career Services, Job Placement Rates, and Alumni Networks of Yale vs Brown University
Both Yale and Brown universities have extensive career services and alumni networks that help students find job placements, internships, and networking opportunities after graduation. Yale operates a career center that offers students career counseling, job search assistance, and networking events.
Brown encourages students to leverage its large and active alumni network, which provides opportunities for mentorship, internships, job placements, and more.
Comparing the Location, Surroundings, and Community
The location and surroundings of each university are crucial factors that can influence a student's college experience. Yale is situated in New Haven, Connecticut, a lovely coastal town that offers many cultural and recreational opportunities. Brown, on the other hand, is located in Providence, Rhode Island, which is known for its lively arts and music culture.
However, both universities are relatively close to major cities in the Northeast, offering students access to some of the most vibrant and bustling cultural and economic hubs in the country.
Campus Safety: A Comparison Between Yale and Brown University
Campus safety is a critical factor to consider when choosing a college. Yale and Brown have excellent campus safety and security programs that ensure a safe and secure learning environment for students. Both universities have a campus security force, emergency response team, and other safety measures in place to ensure students feel safe and secure.
Student Experience: What do Current Students Have to Say About Life at Yale or Brown?
Ultimately, the ideal way to understand how Brown and Yale differ is to hear from current students directly. While Yale and Brown share significant similarities, the campus cultures, tastes, and preferences differ significantly, making each university unique in its way. Many online resources, including social media, active forums, and rating websites, offer perspectives on the student experience at both universities.
Researching students' firsthand accounts and reaching out to alumni groups, clubs, and organizations can provide astute insights into the campus cultures, activities and will help make an informed choice.
Conclusion: Which is Better – Yale or Brown?
Choosing between Yale and Brown is no easy task. Both universities offer top-tier academics and have a long tradition of academic excellence. Ultimately, the decision should be based on each student's personal goals, academic interests, and campus culture. Students who value intellectual freedom, liberal arts focus, and active community engagement may find Brown University a better fit.
On the other hand, students who prefer traditional academic structures, a close student-faculty community, and small class sizes may prefer Yale. In conclusion, there is no right or wrong answer. The key is to research the options thoroughly, weigh the pros and cons, and choose the university that resonates with you the most.