Caltech Campus Life
The California Institute of Technology is regarded as one of the best colleges in the country and is known for its outstanding science and engineering departments. Caltech is proud to have esteemed academic programs, an illustrious faculty, and a focus on research. These characteristics, among others, attract thousands of applicants to the school each year, aside from the welcoming Caltech campus life.
Caltech, which is based in Pasadena, California, offers outstanding academic programs and fantastic research possibilities to its students. The university takes pride in emphasizing undergraduate education and boasts one of the lowest student-to-faculty ratios in the nation.
One thousand two hundred fifty graduate students and 1,000 undergraduates are taught by about 300 faculty members. 34 Nobel Prize winners are among the distinguished faculty at Caltech, who are experts in their disciplines.
California Institute of Technology is located in a suburban area. The average annual cost of on-campus living is $18,606. The California Institute of Technology participates in intramural, club, and NCAA Division III competitions.
Where do most students live at Caltech?
Where do most students live at Caltech? Housing, as part of Caltech campus life, has a wide range of on-campus housing alternatives available for Caltech undergraduate students. In its eight houses, as well as the Bechtel, Marks, and Braun residences, Caltech offers a variety of single, double, and triple rooms.
First-year and transfer students are given housing guarantees, and returning students can choose from a variety of residences through a lottery. Students in their first and second years must also reside on campus. Undergraduates are required to take part in a housing lottery each spring in order to reserve residence for the upcoming academic year or summer research session.
Every undergraduate resident has a bed (with a twin XL mattress) and a desk, chair, drawers, and closet in their room. Caltech ID cards are required for entry into every building on campus.
Bechtel Residence
With 211 bed spaces, The Bechtel Residence is Caltech's newest residence hall. It features private rooms and suites, a lovely outdoor courtyard, and a dining hall. Just around 100 square feet are allocated to each bedroom.
Marks/Braun
Based on demand for on-campus housing, a combination of single and double rooms.
Window-mounted air conditioners
Access to Ethernet and WiFi ports
A basement kitchen and laundry room
TV-equipped air-conditioned lounge
Avery House
The newest House, Avery, was constructed in 1996. There are single and double room options for housing, but first-year students typically dwell in doubles with bed/desk combos (bed on top, desk below). The structure is equipped with a dining room, lounges, kitchens, and other communal areas. Avery has both gender-specific and gender-neutral restrooms.
North Houses
The North Houses were constructed in 1960 to meet the needs of the expanding student body. The offered housing options consist mostly of lofted beds with ladder access and double-capacity bedrooms.
Throughout the structures are dining rooms, lounges, kitchens, and other communal areas that are specific to each house. The North Houses have both gender-specific and gender-neutral restrooms as part of the inclusive Caltech campus life.
South Houses
On campus, the South Houses are the most established. There are single, double, and triple-bedroom options for lodging, with the bulk of rooms being singles. All throughout the structures are dining rooms, lounges, kitchens, and other communal areas that are specific to each house. The South Houses' restrooms are all gender-neutral.
Transfer and First-Year Students
Incoming students have assured accommodation and will either be in the Bechtel Residence or one of the 8 undergraduate homes. Before arriving in the fall, students have the choice to seek a permanent housing assignment in Bechtel; if they don't, they will be given one that lasts until the end of rotation at the start of the fall term.
Returning Students
Returning students can choose their residence for the upcoming academic year by taking part in a housing lottery. Near the beginning of the spring term, details and a schedule for this procedure are available. Additionally, during a separate summer housing lottery, students taking part in campus research activities throughout the summer will be able to choose their summer residence.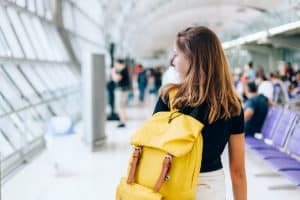 Returning students should email Caltech to check on housing options after the lottery procedure is over or at any other point throughout the academic year.
Summer Students
During a separate summer housing lottery process, Caltech students taking part in summer research programs on campus or in the neighborhood will be able to choose housing for the summer housing term. The 10-week SURF research program is the duration of the summer housing period, which starts right after the spring term housing period. Housing is not assured outside of these times.
What are the available dining services at Caltech?
For a safer Caltech campus life, no matter if a person has received vaccinations, Caltech mandates the usage of masks in all indoor venues on campus beginning on April 22, 2022.
What are the available dining services at Caltech? There are four primary dining halls at Caltech that can accommodate any craving or meal. There is everything there, from ramen to freshly ground espresso drinks. Every establishment has a different menu.
Browne Dining Hall
Monday – Friday

Breakfast 7am – 10:30am
Lunch 11am – 3:30pm
Dinner 5pm – 7pm

Saturday & Sunday

Red Door Marketplace
Monday – Friday

Saturday & Sunday

Avery Kitchen
Monday – Sunday

Closed for the Season
Open during Board Term, Closed Weekends & Institute Holidays

Broad Café
Monday – Friday

Breakfast 7:30am – 10:30am
Lunch 11am – 2:30pm
Performing and Visual Arts at Caltech
Caltech has outstanding options for music, theater, and visual arts study and performance. The performing and visual arts staff share a passion for serving students who seek to enrich and broaden their college experiences. They are dedicated to quality in both performance and teaching.
Participation can result in academic credit for students. In order to fulfill the Institute's purpose of "educating outstanding students to become creative members of society," performing and visual arts are essential.
Is there a wellness service at Caltech?
Is there a wellness service at Caltech? There is. The goal of Caltech's Student Wellness Services is to promote the physical and psychological wellness of its students. This is one of the highlights of the Caltech campus life. Caltech offers direct services and community-level initiatives to enhance student wellness through individualized treatment planning, consultation, and outreach, enabling students to concentrate on their pursuit of academic success and holistic growth.
Through the lens of inclusion, diversity, and equity, they are dedicated to fostering individual agency and engagement in health and wellness among students, as well as understanding and affirming all elements of their intersecting identities.
Inclusion and Diversity at Caltech
The teaching, research, and administrative teams and student body at Caltech are made up of some of the world's brightest and most inventive individuals. By seeking out excellent individuals from a wide range of backgrounds and experiences, it promotes a culture where many viewpoints are appreciated.
Caltech welcomes women, minorities, veterans, and people with disabilities to apply for Institute jobs, research and faculty positions, and admission as an Equal Opportunity and Affirmative Action Employer.
How is campus security at Caltech?
Also, an integral part of Caltech campus life is campus security. An experienced team of trained security workers oversees campus security at Caltech. Officers and employees keep up a range of professional certificates, including those for Emergency Medical Technician, Rape Aggression Defense System (RAD), National Incident Management System (NIMS), and others.
Now, what do you think? How is campus security at Caltech for you given the information above?
How to enroll at Caltech
What is the class of 2026 acceptance rate at Caltech?
Out of the 13,026 applications for a spot in the freshmen class of 2021–2022, only 510 were approved. What is the class of 2026 acceptance rate at Caltech? It is 3.9%, only nearly comparable to MIT's. For the Class of 2024, the university received 8,007 applications the previous year. Of them, 536 students were accepted, for a 6.7% overall acceptance rate.
Although the exact numbers for the Class of 2026 have not yet been disclosed, AdmissionSight does know that just 432 applicants were selected. This could indicate that the acceptance rate for the incoming freshman class of 2022–2023 was closer to 3%.
Admissions to Caltech: SAT, GPA, and Class Rank
Because Caltech is now test-blind, which means that SAT or ACT scores are not taken into account, it has not yet made any official academic statistics for its Class of 2025 public. The mid-50% range for the class of 2024 was between 1510 and 1570. The ACT composite score ranged from 35 to 36. A staggering 96% of this group received a high school grade in the top 10%. The majority of Caltech students have an unweighted 4.0 (or extremely near to it) acquired within a full roster of AP/IB courses, although they do not publicly disclose information on average GPA.
Class of 2026 Admissions Trends and Notes
Females make up 51.4% of the Class of 2026 acceptees.
Public schools were attended by 66% of the admitted Class of 2026.
The 25 countries represented by the accepted international students include Zimbabwe, Poland, and Jamaica.
In the fall of 2022, Caltech hopes to have a student body of 235.
Caltech accepted a record 35 QuestBridge applicants.
Caltech exam: Is it optional?
Before you can enjoy the Caltech campus life, one of your questions may be about its exam policy. One of the most well-known institutions that have adopted test-free admissions, or not reviewing test results, is Caltech.
Caltech has added another year to the embargo on requiring SAT and ACT test results as part of the undergraduate admissions procedure. In addition, if certain test results are provided, the institute will not take them into account.
The Institute's June 2020 announcement of a two-year moratorium will now last three years as a result of this decision. The extension, like the first ban, is a reaction to the COVID-19 pandemic and its effect on students' access to tests elsewhere. Students who applied to Caltech for first-year admission in the fall of 2021 and 2022 were subject to the first moratorium. This resolution applies to first-year applicants who wish to enroll at Caltech in the Fall of 2023.
What is the yield rate at Caltech?
What is the yield rate at Caltech? The yield rate is 53%, which is calculated as the proportion of approved students who choose to enroll, divided by the total number of applicants. This percentage is greater than Rice (41%) and Carnegie Mellon (43%) but far lower than schools like Stanford (80%), Harvard (85%), or MIT (77%)
Tips if you want to apply to Caltech
You should be aware of the following if you intend to join the 13,000+ Caltech applicants for the upcoming admissions cycle:
AdmissionSight reiterates: Caltech will continue to function in a test-blind manner for the cycle of admissions for the Class of 2027.
Students at Caltech have the choice of submitting either the Coalition Application or the Common Application. They don't have their own unique application form, unlike rival MIT.
Since Caltech does not take "demonstrated interest" into account, you will not be evaluated based on whether you visited the campus, spoke with an admissions officer, etc.
Caltech does not conduct interviews with undergrads. The most effective technique to establish a personal connection with an admissions officer is through your writings and instructor recommendations.
All overseas applicants must submit their TOEFL results and an International Financial Aid Statement of Intent to Caltech.
Ensure that you give the Caltech-required supplemental essay and short answers the time and attention they need.
Deadlines and notifications at Caltech
See below for the important dates for Caltech deadlines and application procedures.
Regular Decision or Restrictive Early Action
Restrictive Early Action and Regular Decision are the two decision plans that Caltech will start offering to start in the autumn of 2022. The QuestBridge Program, which has a different admissions procedure, is another program in which Caltech participates.
| | |
| --- | --- |
| Action | Date |
| Restrictive Early Action deadline | November 1 |
| Restrictive Early Action decision notifications | Mid-December |
| Regular Decision deadline | January 3 |
| Regular Decision notifications | Mid-March |
| Restrictive Early Action and Regular Decision admit reply deadline | May 1 |
Restrictive Early Action
Students who are certain that Caltech is their top choice of college and they want to experience the Caltech campus life, who are enthusiastic about the potential of attending Caltech, and who want to find out as soon as possible if they are admitted can apply Restrictive Early Action (REA), a non-binding early admissions process.
At the same time, students who decide to apply to other schools during the Regular Decision process will not be compelled to accept a Caltech REA offer and may instead compare their financial aid choices. Applications must be submitted by November 1; applicants will learn whether they have been accepted, deferred, or rejected by mid-December. After then, admitted students will have until May 1, 2023 to decide whether to accept Caltech's admission offer.
With the following exceptions, students who opt to apply to Caltech via REA are not permitted to apply via Early Action or Early Decision to any other institution:
A facility located outside of the US
Any public institution with a fall application deadline and an optional admissions process (such as the University of California system)
The non-obligatory rolling admissions policy of an institution
Any military institution
Any scholarships or specialized academic programs at another school, public or private, with an early deadline if the early application submission is a requirement for consideration and the decision is not final.
If you apply to Caltech's REA program and are denied admission, you may still submit an Early Decision II application to another school. You must withdraw your admissions application to Caltech if you are accepted into that institution's Early Decision II program.
Additionally, REA should be for those who are prepared to turn in their strongest application—complete with letters of recommendation and any prerequisite coursework—by November 1.
Restrictive Early Action admissions decisions may be made
Students are informed of their admissions outcomes in one of three ways in the middle of December:
Admit: After receiving an offer of admission, a student has until May 1, 2023, to accept or reject it.
Defer: A student is given a Regular Decision review date. When it comes to deferment offers, Caltech is quite selective. They only use this option for applicants that they are particularly interested in getting to know better so they can consider them in the larger Regular Decision pool.
Reject: A student is turned away from Caltech and the Caltech campus life. A student cannot apply to Caltech in the Regular Decision round of that cycle or appeal any denial decisions, which are all final. The following fall, students are welcome to reapply for admission.
When a student is postponed to a regular decision at Caltech, there are only two possible outcomes for the admissions decision: admit or refuse. Caltech doesn't put deferred admission students on a waitlist.
Regular Decision
Regular Decision is the most popular admissions procedure at Caltech, and most admitted students will have used Regular Decision to submit their applications.
Potential regular decision admissions results
When students are informed of the admission decision in mid-March, these are the possible outcomes:
Admit: After receiving an offer of admission, a student has until May 1, 2023, to accept or reject it.
Waitlist: If a spot opens up in the class after May 1, a student on the waitlist at Caltech has until the middle of April to request a reassessment. Students are urged to provide additional materials to back up their applications.
Reject: A student is turned away from Caltech. All decisions to refuse are final, and students cannot challenge them. If you would like, you may reapply for the next autumn admission term.
Students who opted-in for reconsideration will have their applications reviewed if a spot opens up in the class after May 1. There is no rating scheme for the waitlist. The waitlist activity will end by mid-July, and they will notify students appropriately.
Here at AdmissionSight, we can help you with your application to the California Institute of Technology, and our experienced consultants can give you professional advice. Contact us today to learn about our committed service.