Cornell University Engineering Program
The Cornell University Engineering Program is widely recognized as one of the best engineering programs in the world. With its strong emphasis on innovation, creativity, and practical application, Cornell's engineering program attracts some of the most talented students and faculty from around the globe.
The program provides students with a comprehensive education in engineering, offering majors in diverse fields such as aerospace, computer, environmental, and biological engineering.
Cornell's engineering program is renowned for its interdisciplinary approach to research and education, bringing together faculty and students from different departments to work on complex engineering problems.
The program also offers unparalleled opportunities for students to gain hands-on experience through various research projects, internships, and design competitions.
With a focus on preparing graduates to become leaders in their respective fields, Cornell's engineering program is a springboard to a rewarding career in the engineering industry.
Is Cornell a good college for engineering?
Is Cornell a reputable institution for those interested in engineering? Cornell Engineering is a community of creative thinkers and problem solvers that values diversity and encourages participation from all members.
Although there is no secret formula for getting into Cornell University's program, the university does look for candidates who are well-prepared for its rigorous academics and who will contribute something special to the community in which they will be studying.
When selecting new students for the Cornell Engineering program, admissions officers look for students who excel in Mathematics and Natural Sciences, have diverse personal experiences and pursuits, are imaginative and empathetic, and have a strong motivation to bring about constructive and significant improvements in the world.
The course load at Cornell Engineering is rigorous, and the faculty there wants to ensure that their students are adequately equipped for the difficulty of the curriculum.
They are looking for students who have consistently pushed themselves academically throughout the secondary school while maintaining an excellent GPA.
The university requires students to have a certain level of proficiency in Mathematics and Science before they can enroll in the program.
This is done to ensure that students are ready for fundamental studies. Admissions counselors will look at the courses students have taken, as well as their grades and test scores when deciding whether or not they are ready for Cornell University Engineering.
Where does Cornell rank in engineering?
Where does Cornell stand in engineering? Cornell University's engineering program has consistently been ranked among the top engineering programs in the United States.
According to the 2023 US News & World Report rankings, Cornell's engineering program is ranked #13 in the nation.
This ranking is based on a number of factors, including peer assessment, recruiter assessment, research activity, faculty resources, student selectivity, and graduation rate. Cornell's strong performance in these areas is a testament to its commitment to providing a world-class education in engineering.
One key factor in Cornell's strong engineering program is its interdisciplinary approach to research and education.
By bringing together faculty and students from different departments to work on complex engineering problems, Cornell is able to foster a culture of innovation and creativity that leads to breakthroughs in engineering research and practice.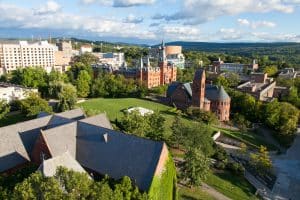 Another strength of Cornell's engineering program is its commitment to providing students with hands-on experience through various research projects, internships, and design competitions.
This practical approach to learning not only helps students gain valuable skills and experience but also prepares them for successful careers in the engineering industry.
Cornell's engineering program is also known for its diverse range of majors, offering students the opportunity to specialize in areas such as aerospace, computer, environmental, and biological engineering.
This allows students to tailor their education to their specific interests and career goals, ensuring that they are well-prepared for success in their chosen field.
In addition to its strong engineering program, Cornell also offers a number of resources and support services to help students succeed. These include academic advising, career services, tutoring, and a variety of student organizations and clubs focused on engineering and related fields.
Overall, Cornell University's engineering program is a top-ranked program that offers students a comprehensive education in engineering, along with hands-on experience, practical skills, and a commitment to innovation and creativity.
With its strong reputation and track record of success, the Cornell University Engineering Program is a top choice for students looking to pursue a career in this exciting and dynamic field.
What engineering majors does Cornell offer?
Which areas of study within engineering does Cornell offer? Cornell University offers a wide range of engineering majors for students to pursue.
Here's an overview of each program:
Biological Engineering
The biological transformation that has taken place in this century has resulted in an increase in the demand for engineers who are able to solve problems on a local, national, and even global scale by fusing the strength of engineering principles with the ever-evolving scientific field of biology.
It is highly recommended that you look into Cornell's Biological Engineering (BE) program if you are skilled in mathematics and the natural sciences, as well as if you are interested in finding solutions to engineering challenges that are associated with biological systems.
Biomedical Engineering
Consider entering the rapidly expanding field of biomedical engineering if you are interested in finding solutions to engineering challenges that are connected to human health (BME).
BME is an integrated and multidisciplinary undertaking that connects the engineering and medical disciplines to satisfy the requirements of biomedical businesses in the 21st century that are primarily focused on medical equipment and pharmaceuticals.
Biomedical engineers investigate and apply engineering principles and methods to a wide array of problems in medicine.
These problems include the diagnosis of the biological origins of disease as well as the design of biocompatible and living materials, prostheses, surgical implants, artificial organs, controlled drug delivery systems, and regenerative technologies to control or augment the healing process.
Chemical Engineering
At Cornell University Engineering, students will deal with chemical change and chemical manufacturing if they choose a career as a chemical engineer.
Students could come up with new methods for the production of chemicals or create, construct, and run a factory for the manufacture of chemicals. They could try to find new sources of energy, work toward cleaning up the environment, or develop new materials like plastic and earthenware.
Chemical engineers manufacture many different types of products, such as polymers, textiles, fertilizers, processed meals, and medications.
Chemical engineers also contribute to the development of new fields of biotechnology, such as the creation of novel treatments for life-threatening illnesses and improved delivery systems for pharmaceuticals.
Civil Engineering
Entrepreneurs, producers, and visionaries all describe what civil engineers do best. They not only create but also construct things like roller coasters, roller bridges, and dams.
They come up with intricate systems such as transportation and water supply networks, as well as information systems that are used in the creation and administration of engineering projects.
In addition to this, they develop dangerous waste remediation projects, water treatment and wastewater treatment systems, and other environmental safeguarding infrastructure.
Computer Science
As a student majoring in computer science (CS), you will be required to take classes on topics such as algorithms, data structures, reasoning, programming languages, systems, and theory.
You will also have the opportunity to select alternatives from a range of topics, including artificial intelligence, computer graphics, computer vision, databases, and scientific computing. In addition, students at the undergraduate level have the opportunity to pursue a degree in Computer Science.
Earth and Atmospheric Sciences
There has never been a time in history when geosciences have been more important to civilization than they are right now.
The headlines appearing more frequently include global warming, diminishing energy resources, inadequate water supplies, political strife over strategic minerals, and the potential for megadisasters caused by volcanic eruptions, earthquakes, tsunamis, and hurricanes.
These are just some of the topics that are being discussed. Cornell University's Department of Earth and Atmospheric Sciences is a world leader in research that seeks to understand the fundamental processes that have shaped the planet.
At Cornell University Engineering, this department is also dedicated to providing students with the earth literacy they need to serve as informed citizens and wise stewards of the Earth.
Electrical and Computer Engineering
The combination of electrical engineering and computer engineering constitutes an extremely extensive professional discipline.
The curriculum for the undergraduate program is designed to strike an ideal balance between theoretical groundwork and practical experience gained in the laboratory.
Engineering Physics
Students who are interested in finding solutions to both foundational and applied technological issues should consider enrolling in the Engineering Physics program.
This curriculum will prepare you for a variety of professions in a technical world that is constantly evolving, making it an excellent choice for anyone interested in obtaining a well-rounded education in engineering.
If you are interested in basic research, biotechnology, computer and information sciences, microelectronics, nanotechnology, optical engineering, software development, or any other burgeoning field of engineering that requires an outstanding technical background, obtaining a Bachelor's Degree in Engineering Physics is your best bet for achieving success.
Environmental Engineering
Environmental engineers are dedicated to helping people while also working to protect the natural world.
In addition to conducting research on issues pertaining to land, water, air, and pollution, their work also includes the development of designs for pollution and dangerous waste management facilities.
They take part in the planning of cities, the creation of systems for managing water resources, and the design of the operations of other systems that are essential to the maintenance of a high standard of living and the integrity of the natural environment.
Independent Major
Students who have educational goals that cannot be achieved by any of the standard minors have the option to pursue an independent major, which is a unique and exciting opportunity.
Students have the opportunity to design their own individualized and interdisciplinary academic programs using this choice.
The program must be authorized by the Independent Major Committee, which is responsible for supervising the student's work and is established by the student in consultation with academic advisors.
Information Science, Systems, and Technology
One of the Cornell University Engineering Programs, this field investigates the planning, development, and administration of intricate information networks.
In addition to gaining an understanding of the computing and communication technologies that are the foundation of digital information systems, the ISST program places a strong emphasis on information systems engineering in broad applications.
These applications focus on issues that arise at the intersection of information science, technology, and the increasingly rich interactions that take place between information systems and their human audiences.
Materials Science and Engineering
Students at Cornell University who major in Materials Science and Engineering (MSE) learn how to combine the fundamentals of physics, chemistry, and biology with engineering in order to develop and create novel materials that permit technological advancements.
Cornell's MSE program is a broad and multidisciplinary field dedicated to studying and manipulating the mechanical, chemical, electrical, magnetic, optical, and biological properties of materials.
The science aspect of MSE investigates the fundamental principles that give materials their characteristics.
The applications side investigates ways to modify all kinds of materials, such as metals, semiconductors, and plastics, as well as ways to create new materials, such as nanoparticles, with the goal of improving performance metrics in engineered products, such as speed, strength, compactness, and biocompatibility.
Mechanical Engineering
This program is intended to offer participants an introduction to the many different professional and technical fields that interest mechanical engineers and provide participants with a comprehensive background in the fundamentals of this discipline.
The curriculum is suitable for pursuing a wide variety of professional goals, including supervised engineering practice, advanced professional engineering education, and other professorial education in fields such as business, law, or medicine.
The processing of mechanical systems and materials, as well as the engineering of fluids, energy, and heat transmission systems, are the two primary areas of specialization.
Operations Research and Engineering
The Operations Research and Engineering (ORE) undergraduate degree program incorporates the data-driven decision-making tools and techniques that enable the technology-driven economy.
You will gain expertise in data science, optimization, machine learning, and quantitative modeling during this course.
Students who major in ORE gain an understanding of how these skills are applied in the sharing economy, in the design of online markets, in transportation applications used by businesses, in e-logistics used by businesses, in healthcare, and in a variety of other contexts.
In conclusion, the Cornell University Engineering Program offers students a diverse range of opportunities to explore and excel in their chosen field of study.
With its highly qualified faculty, state-of-the-art facilities, and commitment to research, Cornell prepares students for successful careers in engineering and related industries.
The university's focus on interdisciplinary collaboration and real-world problem-solving makes it an ideal choice for students looking to make a meaningful impact in their field.
Want to increase your chances of getting into Cornell's engineering program? Book an initial consultation with AdmissionSight today!
Our experienced admissions consultants can provide you with strategic advice and guidance on how to craft a winning application that stands out. Don't miss out on the opportunity to achieve your academic and career goals. Book your initial consultation now!