Examining the National Merit Scholarship: How to Become a Scholar
What is the National Merit Scholarship?
What is the National Merit Scholarship? The National Merit Scholarship honors high school students with excellent academic records who plan to attend college. PSAT results from 11th graders are used in the scholarship program to choose 50,000 high achievers.
Less than one in three of those students will go on to be a finalist for a scholarship. And just fifty percent of finalists earn National Merit Scholarships. When selecting award applicants, the scholarship program takes PSAT results, academic readiness for college, leadership experience, and recommendations into account.
What different categories do National Merit Scholarships fall under? National Merit Scholarships come in three different varieties:
National Merit $2,500 Awards: These single-payment $2,500 scholarships are open to all National Merit Scholarship finalists. They are given out on a state-representative basis without taking financial situation, college preference, intended major, or future career ambitions into account. Each year, the National Merit Scholarship program awards 2,500 scholarships.
Corporate-sponsored Scholarships: Companies who sponsor scholarships do so for a variety of reasons, including to support the career goals of National Merit Scholarship Finalists, inhabitants of communities where they operate, and children of their employees. Sponsors publish their programs each year, decide who qualifies, and cover the costs of the scholarships.
One to more than one hundred scholarships may be offered by a company or foundation. These bursaries may be given once, or they may be renewed for a further four-year undergraduate education.
Merit Scholarship Sponsored by Colleges: Finalists who have been accepted to the college or university and have told NMSC that the sponsoring college is their first choice by the deadlines are eligible to win college-sponsored merit scholarships. The duration of these scholarships, up to four years of undergraduate study, is renewable. To qualified Finalists, colleges, and universities award roughly 3,800 Merit Scholarships annually.
How Can I Qualify for the National Merit Scholarship?
One crucial query to ask is "How can I qualify for the National Merit Scholarship?" A student must do the following to be qualified for the National Merit Scholarship Program:
Take the PSAT/NMSQT in their junior year of high school.
Be enrolled as a high school student (traditional or homeschooled) and intend to enroll in college full time by the fall following his or her high school graduation.
Attend high school in the United States, the District of Columbia, or a U.S. commonwealth or territory; or satisfy citizenship requirements for students attending high school outside the U.S.
For high schoolers studying outside the United States: Students enrolled in high school outside the US who wish to be considered for the National Merit Scholarship Program must be either U.S. citizens or lawful residents, which means they have applied for permanent residency, their application has not been rejected, and they intend to naturalize as soon as it is approved.
A student will immediately be qualified to take part in the National Merit Scholarship Program if they fulfill these prerequisites (NMSP).
How Does the National Merit Scholarship Work?
Out of over 1.6 million applicants in a given year, about 50,000 receive distinction for National Merit Scholarships based on their PSAT/NMSQT Selection Index results. Each state has a different Selection Index for recognition. Qualifying scorers are informed of their position as a Commended Student or Semifinalist by their schools in September after taking the PSAT/NMSQT. Let's find out the answer to "How does the National Merit Scholarship work?"
Commended Students
They are not allowed to participate in the National Merit Scholarship competition, but some may be eligible to apply for Special Scholarships offered by organizations and companies.
Semifinalists
The top-scoring competitors from each state, known as semifinalists, must move up to finalist status by upholding rigorous academic standards and other crucial criteria. Semifinalists must complete an official SAT in order to proceed.
Approximately 15,000 students are chosen as Finalists in February after Semifinalist announcements (often in February of the senior year).
Finalists
In the same year, from March through June, 7,500 Finalists—roughly half of the pool of eligible students—are notified that they have been selected to receive Merit Scholarship awards. These awards may include $2500 National Merit Scholarships or other corporate- or college-sponsored Merit Scholarships.
Some students who were recognized but did not advance to the final round of voting during this time may win Special Scholarships from businesses and professional associations.
Timeline for the National Merit Scholarship Program
The cycle for the 2022 National Merit Scholarship begins in the fall of 2022 and lasts through the fall of 2024.
October 2022: Juniors take the PSAT/NMSQT and submit a form proving they are eligible to take the exam. The PSAT results are given to test takers around eight weeks later, or in December.
April 2023: The program contacts high schools to confirm eligibility after identifying about 50,000 eligible kids.
September 2023: Test takers find out if they are semifinalists or commended students. To advance to the finals, the semifinalists must fulfill specific qualifications.
February 2024: The program selects 15,000 finalists from among the semifinalists.
March–July 2023: Notification of National Merit Scholarship awards to finalists. A scholarship funded by a company or university may also be awarded to finalists. In addition, a unique scholarship is awarded to 800 non-finalists.
Fall 2024: National Merit Scholars start college in the fall of 2024 and are awarded their scholarships.
What is a Good PSAT Score for the National Merit Scholarship?
To even be considered for the National Merit Scholarship Competition, you must first achieve a PSAT score that qualifies you as a semifinalist. So, what is a good PSAT score for the National Merit Scholarship? Score cutoffs vary from state to state because semifinalists are the top 1% of scorers in each state. The cutoff scores, for instance, are lower in North Dakota or New Mexico than they are in California and Massachusetts.
However, the selection isn't determined by your raw PSAT score. Your selection index score, which ranges from 48 to 228 based on your PSAT score, is determined by the NMSC.
The formula they employ is as follows:
Selection Index Score = [ (2 * Evidence-Based Reading and Writing Section Score) + Math Section Score] / 10
The cutoff scores from the previous year for each state's National Merit Scholarship semifinalist status are listed in the table below. The cutoff for ranking in the top 1% is 218 on average, however, because student performance varies from state to state, this number could be a few points higher or lower.
| | |
| --- | --- |
| STATE | SELECTION INDEX SCORE |
| Alabama | 216 |
| Alaska | 213 |
| Arizona | 219 |
| Arkansas | 214 |
| California | 222 |
| Colorado | 220 |
| Connecticut | 221 |
| Delaware | 220 |
| DC | 223 |
| Florida | 219 |
| Georgia | 220 |
| Hawaii | 219 |
| Idaho | 215 |
| Illinois | 221 |
| Indiana | 218 |
| Iowa | 215 |
| Kansas | 218 |
| Kentucky | 218 |
| Louisiana | 215 |
| Maine | 215 |
| Maryland | 222 |
| Massachusetts | 223 |
| Michigan | 219 |
| Minnesota | 219 |
| Mississippi | 214 |
| Missouri | 217 |
| Montana | 214 |
| Nebraska | 216 |
| Nevada | 218 |
| New Hampshire | 218 |
| New Jersey | 223 |
| New Mexico | 213 |
| New York | 221 |
| North Carolina | 219 |
| North Dakota | 212 |
| Ohio | 218 |
| Oklahoma | 214 |
| Oregon | 220 |
| Pennsylvania | 220 |
| Rhode Island | 218 |
| South Carolina | 215 |
| South Dakota | 214 |
| Tennessee | 219 |
| Texas | 221 |
| Utah | 215 |
| Vermont | 216 |
| Virginia | 222 |
| Washington | 222 |
| West Virginia | 212 |
| Wisconsin | 216 |
| Wyoming | 212 |
| Average Score | 218 |
Where Can National Merit Give You A Full-Ride Scholarship?
In general, full-ride National Merit scholarships are institutional grants that pay the tuition of a specific college or university. However, the definition of "full-ride" can change.
Most of the time, undergraduate tuition and on-campus living are covered by full-ride National Merit Scholarships. Some institutions do, however, pay for additional costs like meal plans and certain fees. While some cover the cost of a summer research opportunity or semester abroad, others offer stipends for books and other costs.
Students who are eligible for a National Merit scholarship full-ride grant should carefully check the specifications because the type of what is covered differs. They can estimate the cost of what isn't covered and make plans for those costs because they will know exactly what they are getting.
It's crucial to remember that many American institutions provide full-ride scholarships to National Merit finalist students, but no institution is compelled to do so. The rewards are given out at the institution's discretion, just like other institutional programs. National Merit semi-finalists are also given scholarships by several colleges. Although the rewards are less generous than those given to finalists, the scholarship is usually sizable.
If you are interested in where can National Merit give you a full-ride scholarship, the top ten institutions that provide full-ride scholarships to National Merit finalists are listed here, along with a brief explanation of what full-ride entails at each school.
Faulkner University – Montgomery, Alabama
National Merit finalists at Faulkner University are given awards that pay for their tuition, lodging and board, as well as any required expenses. Additionally, semi-finalists are qualified for full-tuition scholarships. The program takes into account the worth of other awards in both scenarios.
Florida Atlantic University – Boca Raton, Florida
There are two National Merit Scholarship programs at Florida Atlantic University. First, which is intended for residents of Florida, will pay up to the full cost of education for up to eight semesters. Other covers some, but not all, of the out-of-state finalists' travel expenses.
Florida International University – Miami, Florida
Finalists are eligible for full tuition, lodging and board, and other fees at Florida International University, up to the cost of attendance.
Harding University – Searcy, Arkansas
National Merit finalists at Harding University are given free undergraduate tuition, meals, and the technology fee.
Liberty University – Lynchburg, Virginia
Scholarships are awarded to Liberty University for both the winners and the runners-up. Semi-finalists receive tuition reimbursement for up to four years, while winners receive tuition reimbursement for up to four years.
Louisiana Tech University – Ruston, Louisiana
Finalists may receive a full scholarship for up to four years at Louisiana Tech University, covering tuition, fees, and room and board.
Murray State University – Murray, Kentucky
Finalists are provided with accommodation, a dining plan, and full tuition for up to four years at Murray State University.
Oakwood University – Huntsville, Alabama
Finalists receive residence and four years of tuition at Oakwood University. Tuition for four years is paid for semi-finalists.
Oklahoma Christian University – Oklahoma City, Oklahoma
Finalists may earn full tuition, fees, housing, and a meal plan for up to eight semesters at Oklahoma Christian University.
Oklahoma State University – Stillwater, Oklahoma
Finalists may be eligible for a five-year full tuition waiver at Oklahoma State University.
How to Become a National Merit scholar?
The PSAT/NMSQT is the entrance exam for the National Merit Scholarship Program, which is run by the nonprofit National Merit Scholarship Corp. However, only 7,500 students are chosen to receive Merit Scholarships. Although being a National Merit Scholar and receiving a scholarship award are uncommon honors, it is not impossible.
Here are some actions to answer the question "How to become a National Merit scholar?"
Attain a PSAT score that will place you in the top 1% of students.
If you plan to finish high school in four years, you must take the PSAT/NMSQT in October of your junior year and meet additional requirements, such as being a U.S. citizen or permanent resident.
Additionally, you need to ace the exam. Less than 1% of the nation's high school seniors who graduate will be among the 16,000 high scorers who will advance to the semifinals.
The scholarship program takes state-by-state examination results into account, giving applicants from all around the nation an equal chance of winning.
You might be curious about the minimum scores required to achieve the top percentile, but the cutoff varies every year. You can reach NMSC at 847-866-5100 for further information and to find out your state's deadline for the prior year. However, getting the highest possible PSAT score is just the beginning of the process for receiving a National Merit Scholarship.
Compile a top-notch application.
The first step to getting a scholarship is to take the PSAT. Nearly a year will pass before you find out what to do next, but you should get your score in around two months. You will learn if you qualified as a semifinalist in September of your senior year.
If you are selected as a semifinalist, you can next apply to be a finalist. It resembles the application process for colleges. You will be required to submit your academic history, an essay, and a recommendation, usually from your school administrator.
Make sure to devote time and consideration to your application materials because only a small fraction of students reach finalist status and are awarded a scholarship. To advance to the selection process, your application must be exceptional.
Achieve a high score on the SAT.
You'll need to take the SAT and transmit your results to the scholarship organization in addition to creating a stellar application.
The deadline for students to submit their SAT scores for the 2018 program was December 31, 2017. To meet this criterion, you usually need to take the SAT at least a month in advance.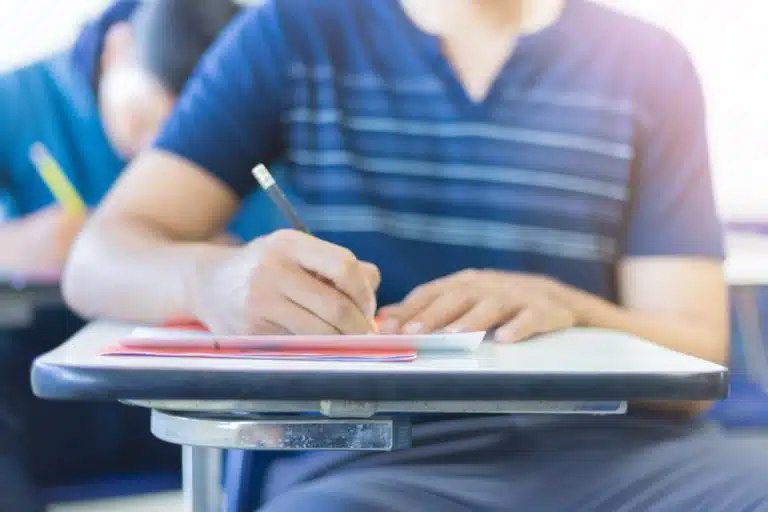 Although the scholarship organization doesn't provide a range, it does state that your SAT score should be high enough to validate your PSAT/NMSQT results.
Look over the list of sponsors from businesses and colleges.
You don't need to take any further action if you have the National Merit $2,500 Scholarship in your sights. For this prize, all finalists are taken into account.
To be considered for corporate or college-sponsored merit scholarships, though, you might need to go above and above. Children of employees, citizens of a community that qualifies, or students who intend to major in or work in a certain subject are all sought after by corporate sponsors. Scholarships from colleges are often awarded to students who notify NMSC of their top preferred school and their intention to enroll there.
To ensure that you don't pass up the opportunity to apply for scholarships, carefully review the list of participating universities and corporate sponsors, as well as their list of qualifying conditions.
Remember that there are other scholarship options.
Waiting for NMSC notification is the last step in the scholarship application procedure.
In February, the organization notifies approximately 15,000 students that they have advanced to finalist status. The program awards 7,500 finalists with $2,500 National Merit Scholarships, business or college-sponsored scholarships, or both each March. Special scholarships are awarded to an additional 1,200 students by partnering businesses.
Earning a National Merit distinction is a great honor, even though it may sound like a lot of work and waiting.
You shouldn't put all of your eggs in one basket because these scholarships are fiercely competitive. You might spend time applying for additional scholarships while in high school.
You may quickly uncover thousands of opportunities across the nation using scholarship search tools. Although the application process can take some time, the benefits are worthwhile. Your need for student loans and college tuition will decrease as your winnings increase.
If you are determined to get a National Merit Scholarship, start by making outstanding academic progress and being ready for the PSAT. Begin as soon as you can. The PSAT is only given once a year, in the fall, so the summer is an excellent time to study for it.
To improve the odds of success, ask for assistance when crafting the application. AdmissionSight has aided students with their college applications for more than 10 years. You may also refer to our tips for standing out when applying for a scholarship. However, better set up an appointment for an initial consultation with AdmissionSight experts for an in-depth discussion.