Intel Science and Engineering Fair (Intel ISEF)
Think beyond your ordinary science and engineering fair, and apply to enter the Intel International Science and Engineering Fair (ISEF)—a program of the  Society for Science & the Public that was established in 1950 by Gordon Moore, the co-founder of Intel Corporations.
When there are tens of thousands of students out there with perfect 4.0's, SAT and AP scores, it's important to stand out from the rest of the pack by competing in regional and national academic competitions, and the Intel Science and Engineering Fair (ISEF) is certainly one that will help you stand out and boost your odds of acceptance. If you're a math and science extraordinaire, look no further than to compete in the ISEF competition to stand out among your peers.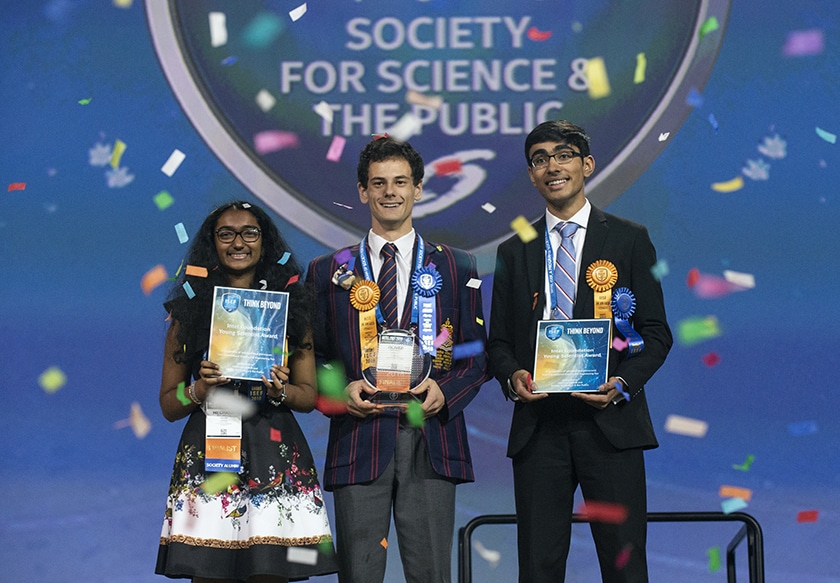 Intel ISEF's Mission
The largest pre-college fair in the world brings together about 1,800 high school students each year from across the globe to conduct advanced research on critical issues endangering the planet. This year the week-long event will be held from May 10-15 in Anaheim, California. Participants enter their research projects into one of the fairs 22 categories—ranging from animal sciences to translation medicine—and four of the best projects are selected by a panel of noble laureates.
Last year, the top four finalists of the Intel ISEF competition, took home $5 million total in cash prizes for their research projects. The top prize winner, Krihik Ramesh, earned $75,000 for his "Pokémon-Go like" augmented reality project which assists spinal surgeons with performing operations more quickly and accurately.
Other projects selected as finalists includes a system which allows medical professionals better track a protein which aids in transporting nutrients and wastes around a brain cell; a dye-like substance which allows physicians to determine if skin tissue is cancerous or not to avoid the need for patient biopsies;   and a system which improves the energy efficiency of autonomous underwater vehicles by simulating the behavior of jellyfishes. The sky is the limit as to what you can invent to stand-out as a finalist in this world-renowned competition.
Many of these finalists go on to establish their own research companies, gain patents for their research projects, and are funneled into one of the most recognized STEM talent pipelines in the world.
"This next generation of innovators are going to be solving the world's most intractable problems," stated Maya Ajmera, the President and CEO of the Society for Science & the Public, during the 2018 awards ceremony.
Qualifications
To qualify for entry, applicants must be in grades 9-12, and must not be over the age of 20 by May 2020. Students can apply individually, or in a group of no more than three members. The project must receive first place in a local, regional, or national ISEF-affiliated science fair in order to proceed in entering a project for the Intel ISEF fair. In 2019, there were 423 ISEF-affiliated fairs, 311 in the US, and 112 held internationally. Use this search engine to find an affiliated-ISEF fair, typically held between January- March, which will allow you or your team, to qualify for entry.
If your project is selected as a group project in the affiliated-ISEF fair it cannot be converted into an individual entry submission, and vice versa. Research performed before January 2017 will not be considered for entry, and no more than 12 months of continuous research should have been completed on the project prior to entry. An adult sponsor for each individual or group project is also required for all participants.
All science (physical, life, social) projects can qualify, and research projects can build on science work previously performed. However, if the research is part of a bigger study performed by professional scientists, then it must be clear that the project the student plans to present at Intel ISEF competition is only their original portion of the study. Projects entered which are demonstrations, 'library' research or informational projects, 'explanation' models, or kit building will not be considered for Intel ISEF entry. Approval from the International Review Board (IRB) may also need to be obtained prior to submission if the project involves animal testing, testing of a student-designed intervention, prototype, or concept by a human.
If you are thinking about entering the Intel ISEF competition, and meet all the qualifications above, then begin your submission process by first entering your or your teams research project into an affiliated- ISEF fair. Once your project has been selected as a winner of an affiliated-ISEF fair, then you can start filling out the following forms for 2020 entry into the Intel ISEF fair. Forms such as the Approval Form (1B), Checklist for Adult Sponsor, an abstract, Student Checklist (1A), and many more, are needed to ensure compliance with ISEF rules, and the laws and regulations which apply to your research project.
To learn more about how to increase your chances of entering into the Intel ISEF competition, book a consultation now with AdmissionSight coach Eric Eng, an private college admissions consultant based in California. Eng was recently featured in the US News and World Report for his work on, "the Early Edge," a book that aids high school students in developing early action skills to stand out as the strongest applicants for the top universities in the US.
At AdmissionSight, we help you navigate the the nuances of the Intel Science and Engineering Fair, including getting into high octane summer research programs as well as university research labs to pursue an independent project of your own. We also help with the editing and formulation of your research paper, which is used to compete in this competitions. In addition to the Intel Science and Engineering Fair, we've also helped several students win scholarships through the Regeneron Science Talent Search.
If you can advance to the semifinalist or finalist rounds of the Intel Science and Engineering Fair (ISEF), you can be sure that admissions officers will take note and put your profile heads and shoulders above the rest when it comes to college admissions.