Is 1500 a Good SAT score?
Finally! You've received your long-awaited SAT score. It's been weeks of excitement, frustration, anticipation, and a slew of other emotions. You see that you've received a 1500 SAT score. Perplexed, you realize that you don't really know what that score means in the grand scheme of things.
Is it a great score? A mediocre score? Or a bad score? Does it mean you need to take the SAT again? Is it a score you can get into the top colleges and universities in the country with?
All of these questions and more are probably swirling around in your mind after looking at your SAT score for the first time. What you thought would bring you some sense of calm and direction has only made things more confusing and generated a string of questions.
Don't worry! That's what we're here to clear up. In this article, we'll explore whether a 1500 SAT score is good or not, whether you should retake the exam, what schools you can get into with the score, and so much more. Let's get into it.
Is 1500 a good SAT score?
Naturally, the first question you want to be answered is "how good is a 1500 SAT score?" We're happy to tell you that a 1500 SAT score this is excellent! You're just 100 points away from a perfect score which isn't a lot considering the entire exam is just out of 1600.
Should you retake the SAT with a 1500 score
As mentioned before, a 1500 SAT score means that you've outperformed the overwhelming majority of students so you can rest assured admissions officers will take notice no matter where you apply. However, you might still be wondering if you should retake it to aim for higher. After all, you didn't get a perfect score and anything higher is better…right?
In reality, that actually depends. If you're already far ahead on the rest of your application, it's all optimized, and you have enough time to give the SAT another shot, then you can give it a go. However, if you're running out of time before needing to submit your application and there is still room for improvement, we would advise against it.
A 1500 SAT score is already fantastic. You don't want to end up putting to much focus on this particular part of your application that it reduces other components of it. For example, you shouldn't steal time away from making your college supplemental essays as good as possible to attempt a perfect SAT score.
A perfect standardized test score isn't going to make up for mediocre parts of a college application. It's important to keep in mind that admissions officers take a holistic approach when determining which applicants get accepted and which get turned away. Just follow the old adage: Don't let perfection become the enemy of success.
How to improve your SAT score?
With that being said, that doesn't mean you shouldn't have the resources you need to improve your SAT score if you decide that's something you want to aim for. Just keep in mind that it's much harder to get higher than a 1500 SAT score than it is to improve on a lower score. Here are some tips to get you closer to that perfect score!
Use the Khan Academy
The Khan Academy is a leading e-learning platform that offers a comprehensive and easy-to-follow SAT course that can help students improve their scores. It's one of the most effective and holistic courses that are available online. In addition to being free, the official SAT practice course of Khan Academy is also completely free. Just sign up for a free account and start taking the course at your own pace.
Use SAT practice exams.
There are plenty of resources online that promise to provide you with the exact material that will be included in the SAT. However, these materials are usually more effective when used in practice. By taking the SAT practice tests, you're simulating the actual environment of the exam, which can greatly affect your performance.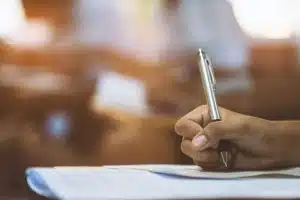 There are also various types of books and sample tests that can be used for practice. Although these are usually free, it's important to thoroughly simulate the conditions of the exam to ensure that you're getting the most out of them.
Boost your vocab.
Most students don't realize that the importance of vocabulary is a crucial part of the SAT exam. Without the proper knowledge of the word's definition, it can be hard to answer the questions correctly.
One of the most effective ways to improve your vocabulary is by searching for SAT vocabulary lists online. There are numerous resources that will show you the most commonly used words in the exam. This will allow you to study for them and not randomly.
Answer every single question!
There is a misconception that giving an incorrect answer is better than answering a blank sheet of paper. In reality, giving an incorrect answer does not count against you. Since the SAT has multiple-choice questions, there's no reason to leave a blank question.
Since there's a 25% chance that you'll get the correct answer, you should not leave any blank questions in the exam. You can always try to come back to them later in the session with a better guess, but make sure that you don't do so with blank questions.
Take advantage of official SAT material.
The College Board has tons of official materials for the SAT. These are usually updated and accurate since its being offered by the standards set by the organization that administers the exam.
Having access to these materials can help you remain positive that they're effective and precise. Although you'll likely know what to expect when it comes to the SAT having already taken it, having access to the College Board's official materials can help prepare you for the exam even more efficiently.
Stick to a practice schedule.
You have a limited amount of time in high school, especially when preparing for college admissions. Instead of leaving things up to chance and playing it by ear, you should set a dedicated SAT study schedule. This is an effective way to make sure you're preparing enough while still leaving enough time to keep up with other responsibilities
Make sure to come up with a schedule that works around your needs and preferences. For example, it might more sense for some students to set aside a few hours on the weekend to do all their weekly SAT studying while others prefer to spread it out throughout every day of the week. The most important thing is that you're being consistent and tracking your progress.
Colleges you can get into with a 1500 SAT score.
A 1500 SAT score may qualify you for some of the country's top universities and colleges. However, it's not enough to guarantee admission given the competitive climate at some of these universities. In addition to the number of factors that an admissions officer considers, other factors such the strength of your extracurricular activities and placing in national academic competitions can also affect your chances of getting in.
Johns Hopkins University
Located in Baltimore, MD, Johns Hopkins University offers various programs in various academic fields. This private university is known for its rigorous academic standards and for having a great student body.
Its prestige attracts some of the most diverse, talented, and thinking applicants from around the country and the world at large. There's a strong competitive academic culture that helps all students to perform at their best.
However, there are more than enough opportunities for students to let loose, have fun, and meet other students outside of the classroom environment.
California Institute of Technology (Caltech)
One of the most prestigious universities in California is Caltech, which is known for its emphasis on engineering and science education. Its low student-faculty ratio makes it an ideal choice for students.
University of Chicago
One of the largest universities in Chicago is the University of Chicago, which is located in Hyde Park. It's known for its commitment to providing the best possible education to its students. Its research facilities and academic programs are designed to encourage growth. The university also encourages its students to develop their personalities and explore new ideas.
Massachusetts Institute of Technology (MIT)
One of the most prominent universities in the field of non-Ivy League academics is MIT. This institution has a wide variety of academic facilities and programs that are designed to provide its students with the best possible education. It also features some of the most prominent scientists and instructors in its field.
Princeton University
Despite Princeton being known for its achievements in the field of research, it also has a significant role in providing the best possible education to its undergraduate students. In recent years, it has been named one of the country's best universities for teaching.
One of the main factors that sets Princeton apart from other universities is its commitment to hiring the very best staff members. This ensures that it can provide the best possible education to both its undergraduate and graduate students. Besides being able to offer outstanding academic programs, the university also provides financial aid packages that are geared toward helping students from different backgrounds get an Ivy League education.
Dartmouth
Unlike other Ivy League universities, Dartmouth does not have a large student body. This allows it to maintain a tight-knit environment and provide a more intimate learning experience. The university also offers various activities and traditions that its students can enjoy.
Although it's known for its liberal arts program, Dartmouth also offers a wide variety of undergraduate offerings in various fields such as biology, engineering, and computer science. For students who are looking for a place where they can feel like they're part of a community, then Dartmouth is a great choice.
Yale
One of the most selective universities in the league is Yale, which very low single digit acceptance rate. This prestigious institution's continuous efforts in improving its quality of education are also believed to have contributed to its low acceptance rate.
One of the main reasons why Yale is regarded as a highly regarded university is its student body. The members of this group are known for their dedication and ability to lead effective groups. Its alumni, such as Amy Klobuchar and George Bush, have also been prominent individuals in the field of politics. If you're an avid student who enjoys competing in a competitive environment, then Yale is a great choice. Besides being able to produce outstanding leaders, the university additionally offers various opportunities for its students.
UPenn
One of the main reasons why UPenn is regarded as a service-oriented university is its commitment to providing a comprehensive education. This Ivy League institution is dedicated to developing a positive global impact through its programs and activities. If you're a passionate student who's looking for an education that's world-class, then UPenn is a must-visit. Aside from being able to produce outstanding leaders and academics, the university also offers various opportunities for its students, such as international exchange.
Cornell
Many students who are not interested in attending Cornell instead go to other universities. Although it's considered to be a less selective school, it still has a high acceptance rate and offers over 4,000 courses. If you're still not satisfied with the education being offered by the Ivy League universities, then look into other options.
One of the most popular universities in the league is Cornell, which is known for its interdisciplinary programs in various fields such as hotel management. This allows students to explore their interests in different areas.
Columbia
The curriculum of Columbia University has been instrumental in its academic success. It allows students to develop an understanding of various fields. In order to graduate, all students are required to complete at least ten major courses. These requirements can help them make informed decisions regarding their studies.
Besides being able to offer interdisciplinary programs, Columbia University also has a diverse student body. This allows it to attract highly-qualified individuals. The goal of this university is to break down the various barriers that prevent people from attaining a world-class education.
Harvard University
Despite its low acceptance rate, Harvard is still regarded as one of the most competitive universities in the league. This is because of its continuous efforts in improving its academic quality. One of the main factors that sets Harvard apart from other schools is its large endowment, which has the largest amount in the nation. This allows the university to spend more on its students and faculty members.
Besides being able to provide competitive tuition assistance, Harvard also offers various other benefits. These include its liberal arts programs, which are well-known for their prestigious faculty members. Its business and medical programs are additionally highly regarded.
Brown University
Brown University's liberal medical program is also popular among students due to its ability to complete it with both the professional and undergraduate components. This allows individuals to pursue their MD without starting from scratch.
Unlike other universities, Brown University's open curriculum does not require students to follow a set curriculum. This allows them to take various courses without having to follow a specific set of requirements. However, students must first complete the approval process of the faculty member in order to pursue their interests in multiple concentrations.
Get into your dream schools.
It's common for high school students to not have the necessary preparation for the college entrance process. Every year, thousands of students start preparing without the necessary knowledge. It can be a frightening experience, and it only comes around once in life.
Getting the proper resources and expertise is very important for every student when it comes to the college admissions process. This is because, if you don't have the necessary support and resources, you might end up making the wrong decisions. There are a variety of services that experts in the field of admissions provide to help students navigate the process.
For over 10 years, AdmissionSight has been helping thousands of high school students get into top universities such as Princeton and Harvard. Most of these students were able to successfully navigate the college entrance process.
We offer a wide variety of services to help students get the most out of their college admissions process. If you'd like to talk about our services or have any questions, please contact us.
To get in touch with us, please complete the form below and we will set up a free consultation. We will talk about the various aspects of your college admissions process.