Northwestern Waitlist for 2025
Finding the perfect college, determining which colleges will serve as your safety schools and which will serve as your reach schools, and submitting an application to the school of your dreams may be an exciting yet difficult process. There are a wide variety of aspects to think about, such as the location, size of the campus, available student services, and more.
Hearing that you have been placed on Northwestern waitlist for 2025 can be pretty disheartening, particularly if the college in question is one that you had hoped to attend such as Northwestern University. This is because the college admissions process is accompanied by a lot of anticipation and pressure, which can make it difficult to hear certain news.
If you find yourself in this situation and being included in Northwestern waitlist for 2025, do not throw in the towel and concede defeat just yet; just because you have been placed on the waitlist does not indicate that there is no longer any chance of receiving an admission offer.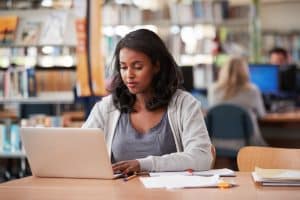 In the past few years, several universities have increased their utilization of the waitlist as an alternative within the context of the admissions process. If you find out that you have been waitlisted by a college, you should know that you are not alone in this situation.
Here at AdmissionSight, we will explore what it means to be placed on a waitlist, how to get off of one, some statistics concerning Northwestern waitlists, and more information that will be helpful to assist you through the ins and outs of the process of being waitlisted.
The Definition of Being Waitlisted
Understanding the definition of being waitlisted could take off some pressure and heaviness in your heart if you're on Northwestern waitlist for 2025.
When a student is informed that they have been placed on a college's waitlist, it indicates that the admissions office at that institution has evaluated their application and determined that the student possesses all of the necessary qualifications to attend their school; however, they are unable to offer admission at this time. As a result, being placed on the waitlist serves as an intermediary step between admission and rejection.
The fact that a student has been placed on Northwestern waitlist for 2025 does not mean that they should immediately give up all hope; there is still a possibility that they will be admitted to the school at some point in the future. Students, on the other hand, should be aware that there is a risk that, despite having their names added to the Northwestern waitlist for 2025, they may subsequently discover that they have been declined admission.
There are primarily two scenarios that could lead to a college deciding to put a student on their waitlist. To begin with, the institution may receive a greater number of applications than the number of available seats in their incoming class because the university already has a small number of students enrolled. Waitlists give colleges more time to determine how many accepted students will enroll at their school before they begin to consider applicants from the second tier of the applicant pool. This is accomplished by placing students on the waitlist who meet the college's admissions standards almost exactly or just barely.
The second prevalent reason why colleges place students on waitlists is so that admissions officers have more time to consider whether or not they want to accept applicants whose credentials, such as extracurricular activities, standardized test scores, and grades, do not quite meet their bar for admission. In this scenario, applicants who were placed on Northwestern waitlist for 2025 have the opportunity to be accepted into the program after presenting any final grades, scores on standardized tests, or additional academic records that were not available when they initially applied but that demonstrate the applicant's capacity favorably.
The Difference Between Being Waitlisted and Deferred
If, on the other hand, you're deferred from the college of your dreams, learn that it is not entirely the same as being waitlisted. The difference between being waitlisted and deferred shall be discussed in the succeeding paragraphs.
Thankfully, the majority of us will only have to apply to colleges and universities once throughout our lifetimes. However, this also implies that the process is new and novel; also, it may be difficult to comprehend what various terms mean and signify.
We'll begin by discussing "deferred" and "waitlisted" as potential responses to your college applications. Both of these are terms that could be used. Nevertheless, even though they share a similar definition and even some of the same characteristics, they are not the same thing at all. It is in your best benefit to gain an early understanding of the difference between being deferred and being waitlisted as soon as possible.
Deferred
When a student submits a college application early, either for Early Decision or Early Action, they may receive a deferral. It is a judgment that is difficult to make because it is neither an acceptance nor a denial; it just implies that the admissions officer has decided to consider your application once more together with the applications for normal determination.
As soon as you enter the Regular Decision pool, your application will essentially transform from one for Early Decision to one for Regular Decision. If you do end up receiving an offer from another college at a later date, you are no longer obligated to attend the first institution (which can happen with Early Decision). In addition, you won't find out the outcome of your application until the same time as your classmates who used the traditional decision process, which is often in March.
Waitlisted
However, as part of the usual decision-making process, you will be notified that you have been placed on a waitlist similar to being on Northwestern waitlist for 2025. This piece of information indicates that the college thinks highly enough of you to maintain its interest in you even though it does not have room for you at the moment. You might be able to participate in the event of a sufficient number of the other students decide not to go. It is not an outright rejection; rather, it indicates that you will need to wait to find out whether you will be granted admission. It is similar to a deferral in that regard.
Deferrals are frequently communicated in March because they are part of the regular application decision process. Unfortunately, because of the nature of waitlists, you won't know if you've been removed from the list until after college application responses are due in May. This can be extremely frustrating. To put it another way, before you find out if you'll be removed from the waitlist, you may be required to commit to attending another college. If you decide to transfer to the school that placed you on the waitlist, you may lose any security deposit you have already paid.
Being placed on the Northwestern waitlist for 2025, or a different college's waitlist is comparable to being given a deferral for an early decision or early action in the standard decision process. Both of these options prevent you from celebrating an acceptance while avoiding the finality that comes with rejection, instead leaving the door open for the possibility of an acceptance in the future.
In either scenario, it might be in your best interest to get in touch with the college in question, provided that you are still interested in attending that institution. If you are currently on the waitlist such as the Northwestern waitlist for 2025, you are required to notify the institution of your intention to accept the position that has been reserved for you on the waitlist. After that, though, composing a letter expressing persistent curiosity can be beneficial in either scenario. It demonstrates to the college that you are still interested in enrolling since it provides you with another opportunity to market yourself, and it enables you to attempt to convince the college that you will increase its yield rate if you are accepted into the program.
What are the ways to handle being waitlisted?
We at AdmissionSight prepared the following ways to handle being on Northwestern waitlist for 2025:
Be careful. Let it settle in first, and never make rushed decisions based on emotions. Consider how strongly you feel about enrolling in this school, and then make a decision about whether or not you want to remain on the waiting list.
Be transparent. Make your preference clear to everyone. You should get in touch with the school and let them know that you no longer wish to be considered for a seat off the waitlist if you conclude that you have other options available to you that could make you happy and that you don't care to be on the waitlist. It wouldn't be fair if you didn't make room for someone else in that seat.
Indicate to the college that you would like to remain on Northwestern waitlist for 2025 if you do decide to do so. They may ask you to declare this on a postcard or webpage, but it's not all you should do.
Compose a letter. Do you want to demonstrate that you are serious about attending the school if you are allowed to do so? You should write a genuine letter to the college explaining why you are interested in joining their school and expressing your earnest desire to do so.
Be firm and committed. Give them the reasons why they should take you seriously. Include an up-to-date account of anything that has transpired in the time since you submitted your application and include it in your letter. Did you win any awards? Complete an important project? Do you have the most recent report card? Give them extra reasons to take you by giving them further evidence.
Be concise. Make sure it gets to the appropriate person. You can locate the name of the admissions officer who is responsible for reading applications for your geographic region to find out to who you should address your letter if you wish to be more particular. The website of the educational institution typically contains this kind of information. It is alright to address the letter either to the Director of Admissions or to the Dean.
Be genuine and correct. Be who you are, and check your work for errors. When you send off a good letter that extols all of your virtues, the headache that could come after is realizing that you misspelled a word or failed to capitalize the name of the university to that you were addressing the letter.
For the Class of 2024, Northwestern admitted 55 students off a waitlist of 1,482. The university has not released the exact number of students on the waitlist for the Class of 2025, but based on the number from last year, it is understandable due to COVID-19, in which many students decided to take a gap year, so the total number of students admitted off the waitlist could be very low for Northwestern waitlist for 2025.
Ways to Get off from Being Waitlisted
There are ways to get off from being on Northwestern waitlist for 2025 but does not guarantee 100% admission; however, it would be best to act on it rather than to wait passively, right?
The first thing you need to do to get off the waitlist at a college is to acknowledge and accept your place on the list.
The vast majority of educational institutions that make use of waitlists provide prospective students with the opportunity to either accept or decline an offer to be placed on the waitlist; nonetheless, acceptance of the waitlist offer is necessary to be considered for admission.
After students have indicated that they will accept the offer to be placed on the waitlist, as we mentioned before, they should get in touch with the admissions office of the college to reaffirm their desire to study there.
Waitlisted students at some institutions may be permitted or even required to submit more information as an update to their application, while other schools may refuse to accept supplemental documents submitted by waitlisted candidates.
Because of the potential importance of this information to the applicant's chances of being accepted, it is important to get in touch with the admissions department to find out how a specific school handles its waitlist. This information can be obtained by contacting the admissions department.
At this stage of the application process, it is in your best interest to submit a deposit to another college. Students have until May 1 of each year to accept an offer of admission provided to them by a college or university, as this is the standard date by which the deadline for enrolling in college must be met. Students can assure that they have a spot in the incoming class of at least one institution by taking this step. This is preferable to relying on the likelihood that they will be admitted from the waitlist at their preferred school.
Students who have been placed on a waitlist at a school should have themselves ready to make a final choice as soon as they are informed of their acceptance or rejection from the school. This preparation should take place while they are waiting to hear back from the school.
Many educational institutions that make use of waitlists would rather get responses from waitlisted students as quickly as is humanly practicable. This is because, if students on the waitlist end up declining an offer of admission, the college will have no choice but to send an admission offer to the next student on the list to fill the available seats in the class.
Percentage of Students Admitted off the Northwestern Waitlist for 2025
The percentage of students admitted off the Northwestern waitlist for 2025 does not have a specific number, however, the following paragraphs can be of assistance in determining whether or not you have a higher probability of being admitted off of its waitlist.
In the Northwestern Class of 2025, there are countless uplifting and one-of-a-kind personal narratives. However, this new class of first-year students — which totals over 2,100 individuals — also shares a similar relationship that was created during the difficult transition from high school to college during the COVID-19 pandemic that was going on around the world.
These students are not only some of the most intelligent, brilliant, curious, caring, and tenacious Wildcats in the history of the university, but they also make up the most diverse incoming class in the institution's entire existence. They hail from almost every state in the country as well as every country on the face of the earth.
The number of applicants for the first year of college was about 48,000, which is an increase of more than 20 percent from the previous year. The admission rate was 7 percent, which is roughly half of what it was a decade earlier. The yield, on the other hand, has increased by more than fifty percent over the past decade, reaching over sixty percent for the incoming class. This indicates a considerable increase in the percentage of students who choose to enroll at Northwestern after being admitted there. There are 2,086 students enrolled in the first-year class, and approximately half of those students were admitted through Early Decision. This highlights the significant advantage of participating in Early Decision programs.
This yield has been steadily increasing, passing the 50% mark for the first time in 2017 after the University made the transition to a policy of providing financial aid that does not involve loans.
In the United States, there are fewer than twenty educational institutions that combine need-blind admissions with a commitment to cover the full financial need of families through loan-free aid grants. One of these universities is Northwestern University. Because of this policy, they have been able to accelerate their efforts to recruit and enroll students who come from a wide variety of backgrounds, experiences, and points of view as possible.
Increased applicants this year lowered the admission rate. This surge is probably due to multiple factors. Northwestern has chosen to introduce a test-optional policy for the 2020-21 and 2021-22 admission cycles because of COVID-19 cancellations and enrollment issues. This decision increased applications.
Digital marketing to potential students also helps with this increase. When the epidemic began, it was called a "pivot" from traditional on-campus visits and face-to-face meet-and-greets, but that phrase is no longer used. Prospective students have had trouble touring the school due to geography, time, and socioeconomic position. Northwestern, like many other colleges, has implemented several digital activities to express the school's basic ethos and sense of community to new and varied areas around the country and the world — or anywhere someone might stumble onto Northwestern via YouTube. This helps Northwestern spread its fundamental ethos and sense of community to other regions.
This past cycle, the Northwestern committee reviewed applications from more than 9,000 secondary schools, which is a significant increase from the previous cycle. They saw applicants in new places in large part because they can now provide them with more meaningful ways to engage with Northwestern from a distance with the help of digital space.
Students may experience a variety of emotions after being informed that they have been placed on a waitlist; however, here at AdmissionSight, we assist students in articulately processing those feelings and assisting them with their college admissions needs. Every one of our students can rely on the trustworthy experience that our team of specialists possesses. Get in touch with one of our trained specialists today.