Rice Acceptance Rates: 15.9%
Shortcuts to sections offered for Rice prospective students and Rice Acceptance Rate:
 Successful Applicant Profile
Demographics
Majors
SAT/ACT Scores
Entry Requirements
Tuition
Scholarships
Checklist of Application Requirements
Application Deadlines
What Should You Expect?
Student life
Academics offered
Athletics offered
Notable alumni
Rice Acceptance Rate – Important Information for Applicants
Rice University is a private research university based in Houston, Texas. Located on a 300-acre campus, this college stresses academics and has been regarded as a world-class institute of higher learning since its inception in  1912. The university was named after William March Rice, the college's namesake, after his death.
The Rice acceptance rate varies from year to year, but it typically hovers around 15.9% – making this university incredibly selective. If you're intimidated by the competitive Rice acceptance rate, we have some good news for you!
AdmissionSight has helped countless students defy the odds and get into some of the best universities in the country. We've compiled the following guide to give you all the information you need to overcome the Rice acceptance rate and secure a spot in the incoming freshman class.
Successful Applicant Profile
Every year, without fail, Rice University attracts tens of thousands of applicants from across the country and the world. Despite the competitive Rice acceptance rate, 27,087 students took the time to gather their requirements, fill out the Rice application diligently, and put their best foot forward for a chance to gain admittance to this esteemed college. In the end, only 2,361 applicants were accepted to join the Class of 2023.
If you're worried about certain weak spots in your application, you'll be pleased to know that Rice admission officers take an aggregate strategy when considering applications. This means that every piece of your application will be looked at carefully and given weight in the final decision.
This includes standardized test scores, high school GPA, course difficulty, academic and personal goals, work history, extracurricular participation, and much more. A great way to boost your chances of getting into Rice is by stressing your personal and academic achievements while getting excellent grades on collegiate-level tests.
Where are the applicants from?
Houston is one of the most demographically diverse cities in the country, making it a perfect reflection of the diversity inherent in one of its largest and most popular universities. Rice attracts students from all over the country and from all over the world.
Ever since it's founding, Rice University has strived to be inclusive and demographically rich in order to offer students a melting pot of sorts where students can come to collaborate with various perspectives, world-views, and backgrounds.
In fact, when it comes to diversity, Rice is ranked 34th in the nation with diversity scores well above the national averages. Despite being located in Texas, Rice attracts students from all corners of the United States.
On average, half of the student population originating from the US comes from out of state with the other half being from around Texas. 50% of students not from the Lone Star State represent 42 different states and Washington D.C. California stands out as one of the heaviest represented states.
When considering international enrollees, we see the demographics vary even greater. Of the overall student population, international students comprise 25%.
That means every fourth student is coming from outside of the US to attend Rice – a testament to the university's appeal and reputation. The university reports having around 1,709 international students that represent 47 different countries. China, South Korea, and India are among the countries most strongly represented.
The male-to-female ratio at Rice University is also very well balanced. In the undergraduate population, there are 1,889 females and 2,112 males. This translates to around 47.5% of the student population is female and the remaining 52.5% being male. The male-to-female breakdown of the faculty is just as balanced and actually skews a bit closer to 50/50.
What are the more common programs?
Rice University's diversity doesn't stop at its student demographics. The academic offerings available to students at this university represent a vast array of programs and areas of study.
Rice offers students over 50 undergraduate majors that span across six fields of study including social sciences, natural sciences, music, humanities, engineering, and architecture, with several opportunities for collaboration and research.
This variety of major,  course, and program offerings makes it difficult, if not impossible, to pigeonhole Rice University in terms of one area of speciality.
In reality, the college excels in several fields of study. Among the most popular majors for students at Rice University include Mechanical Engineering, Exercise Science, Kinesiology, Economics, Chemical Engineering, and Computer and Information Sciences.
What is the average SAT/ACT score of admitted students?
As you've probably been told countless times by high school instructors, the SAT and ACT exams are a critical component to your college applications. Excellent scores on these tests even have the ability to overshadow lower grades that might have you concerned.
Since these exams can accurately show admission officers how students will perform with college-level material, your scores are highly stressed when the final decision is made. Let's take a look at the overall average SAT and ACT  scores of admitted Rice students and what scores you should aim for in order to improve your chances of gaining admittance considering Rice acceptance rates.
Rice Average SAT Score of Admitted Students
Overall average score: 1490
75th percentile score: 1570
Students who want to use the SAT on their application in their favor should aim to score higher than the average score of 1570.
Rice  Average ACT Score of Admitted Students
Overall average score: 34
75th percentile score: 35
Students who want to use the ACT on their application in their favor should aim to score higher than the average score of 35
The Rice acceptance rate is a testament to the competitiveness of the admissions process. In order to stand out from the crowd of other applicants, it's important that students aim to score in the top tier of the SAT and ACT tests. The results of these tests will have significant weight when admission officers make their ultimate decision.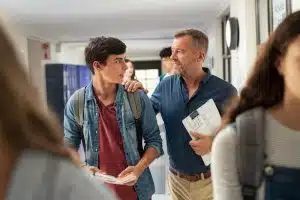 To give you a better idea of the level of academic prowess Rice University seeks out amongst their applicants, the average unweighted GPA of admitted students is 4.
A great way to boost your overall high school GPA while successfully preparing for the standardized tests is by filling your schedule with weight courses. AP and honors classes can help boost your GPA and improve your chances of catching the attention of admission officers.
Entry Requirements
While high standardized test scores will undoubtedly give you an edge over other eligible applicants, Rice University strives to take a holistic look at every student. Whether you get denied or admitted to Rice doesn't solely depend on your high school GPA and SAT/ACT score.
There are a plethora of other factors that are taken into account, including the kinds of extracurricular activities in which your participate, the rigour of your coursework, letters of recommendation, personal statements, personal achievements, and academic goals – among other things.
There's no denying that the Rice acceptance rate can be challenging to overcome. However, even the timidest of students can relish in the fact that admission officers will take all parts of their application into account, giving you a chance to stand out in different areas.
Another consolation to the competitive Rice acceptance rate is that the average starting salary for graduates is $63,900 – the highest out of any undergraduates in Texas. The flipside of a tough admissions process is a fantastic payout after graduation.
How much will it cost to attend?
Before you start spending time on your application, it's important to get an accurate idea of how much attending Rice Unversity will cost you financially. Although each student will end up paying a slightly different amount depending on their chosen program, it's still easy to get an accurate estimate of what first-year students can expect to pay.
| | |
| --- | --- |
| Tuition | $50,310 |
| Fees | $797 |
| Room & Board | $14,500 |
| Books | $1,250 |
| Personal Expenses | $2,700 |
| Total | $69,557 |
It's important to keep in mind that Rice University offers students significant help to cover the costs of its education in the form of grants, scholarships, and other financial aid.
What financial aid opportunities are available?
No matter a student's qualifications, families are still routinely forced to choose a school based on affordability. Rice University believes that talent shouldn't be stymied by financial obstacles.
For eligible domestic students, Rice makes a vow to not consider personal finances when reviewing an application through their need-blind admission.
In addition, this university runs as a need-based institution, meaning it offers financial assistance in relation to a student's financial needs. Those who receive aid through The Rice Investment are able to have all of their demonstrated needs met without dealing with any loans.
Rice University is committed to providing grants based on a family's income range. Those that earn $65,000 and lower can receive coverage for full tuition, room and board, and fees. Families who earn between $65,001 and $130,000 are eligible to receive grants for full tuition coverage.
Those that earn between $130,001 and $200,000 can get coverage for half tuition. Roughly 59% of first-year Rice students are provided with some form of financial aid, the majority come in the form of grants and scholarships. $44,751 is the average financial aid plan for first-year students.
What are the application requirements for Rice?
Rice University accepts two different applications from first-year students: the Common Application and the Coalition Application.
It doesn't matter which one you choose, but it's important that you only submit an application via one of these channels. In order to be considered for admittance in the next freshmen class of Rice Univerity, you have to have the following materials submitted before the deadlines:
Application submitted via the Common Application or Coalition Application
Rice supplemental essays
$75 non-refundable application fee
Official high school transcript
SAT or ACT scores
Counselor recommendation
Two teacher evaluations
Mid-year report
International students interested in attending Rice University are encouraged to head over to the university's International Student Admissions page to learn more.
Before sending in your application, AdmissionSight highly advises double-checking to ensure everything is in order.
What are the timelines for Rice applications?
The vast majority of first-year students apply within the Regular Decision timeline. However, Rice University does offer Early Decision applications for students who want to get a headstart on the process to secure early consideration and early admittance.
The deadlines for each application will fluctuate slightly depending on which way you decide to apply and to which program you're applying. We've outlined some of the most important dates below.
Early Decision – Nov. 1
Shepherd School of Music – Dec. 1
Rice/Baylor Medical Scholars Program – Dec. 1
Regular Decision – Jan. 1
Transfer – March 15
No matter how you decide to apply, it's critical that you mark the right deadline on your calendar. Rice University charges a fee for late applications and might not even consider applicants that send in their applications past a certain date. For more information regarding timelines for Rice applicants, you can visit the university's official site.
What to Expect
Rice University has been ranked by the Princeton Review as #10 in having the happiest students and #1 in the best quality of life. Anyone who was unsure about what this university had to offer might now begin to see why so many students come from around the world to attend this Houston-based college.
Whether you're looking for an active, exciting, and lively college experience, Rice can deliver due to its location near a large city and its active social life. Students looking for a more reserved and intimate experience will be pleased with the school's community feel.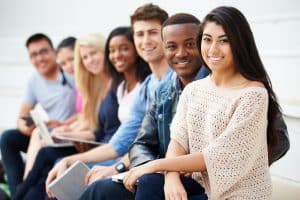 What do students think of life at Rice?
When it comes to measuring student satisfaction, many people look to a university's student retention rate to see how many first-year students had a good enough experience to decide to stay on another year.
In this area, Rice University excels with a freshman retention rate of 97% – well above the nation's average despite the Rice acceptance rate. Here's a review from a Rice freshman for some perspective: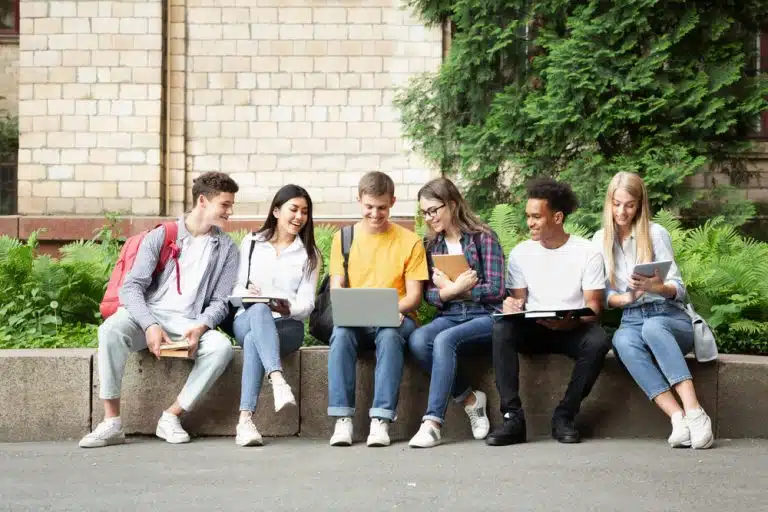 "I love the inclusion and culture of care at Rice. It was always so important for me to go to a school that was diverse and small enough to feel like I mattered, but also large and prestigious enough to provide me with the opportunities to enter the workforce successfully.
Rice University has an excellent system in place to help you in every way possible. Mentors and many staff are trained to guide us towards the path of our self-defined success. Professors are incredibly considerate. My peers are understanding and helpful." – Anonymous Rice University Freshman 2020
What academics are offered?
The personal nature of Rice University's classes is by far one of the college's major highlights. With an impressive student-to-faculty ratio of 6:1, each student gets highly personalized attention from professors.
This leads to a more personal and effective teaching style. A further illustration of this intimate classroom setting is that 71.9% of the university's classes have fewer than 20 students.
What athletic options are available?
The Rice Owls might not be a popular sports team, but they still have a wide variety of sports in which athletically oriented students can participate.
For those who want to participate in sports but don't have the time or talent to do it on a collegiate level, Rice also has a number of intramural sports and athletic clubs that you can join.
Who are some famous Rice alumni?
Stephen Hahn – The Commissioner for the US Food and Drug Administration and a physician.
John Doerr – An American venture capitalist and investor
Brian Armstrong – CEO of Coinbase
Do you want to get accepted into Rice?
AdmissionSight is your college admission specialist. We've helped countless students overcome challenging acceptance rates, perfect their applications, and increase their chances of gaining admittance into some of the best colleges in the US, and eventually achieving their academic goals. After years of experience in the college admission space, we know exactly what it takes to help students achieve their academic goals. Contact us today to learn more about what we offer and how we can help you specifically.