Exploring UC San Diego Admissions Statistics
If you're considering applying to the University of California, San Diego (UCSD), it's crucial to understand the admissions process clearly. In this article, we'll explore UC San Diego admissions statistics in detail and provide a comprehensive guide to the application process: from the overall admissions overview to step-by-step application guidance, understanding admission criteria, requirements, and trends.
UC San Diego Admissions Overview: A Quick Recap
UCSD is a highly selective public research university in La Jolla, California. The university is renowned for its exceptional engineering, natural sciences, and social sciences programs.
To be admitted to UCSD, you must have a solid academic background. This means excelling academically and showing impressive test scores and extracurricular activities that set you apart from other applicants.
The university offers a variety of majors, as well as small class sizes, to ensure a top-notch learning experience.
Additionally, UCSD has a strong commitment to diversity and inclusion. The university actively seeks to enroll students from a wide range of backgrounds and experiences, and it offers a variety of resources and support services to ensure that all students feel welcome and supported on campus.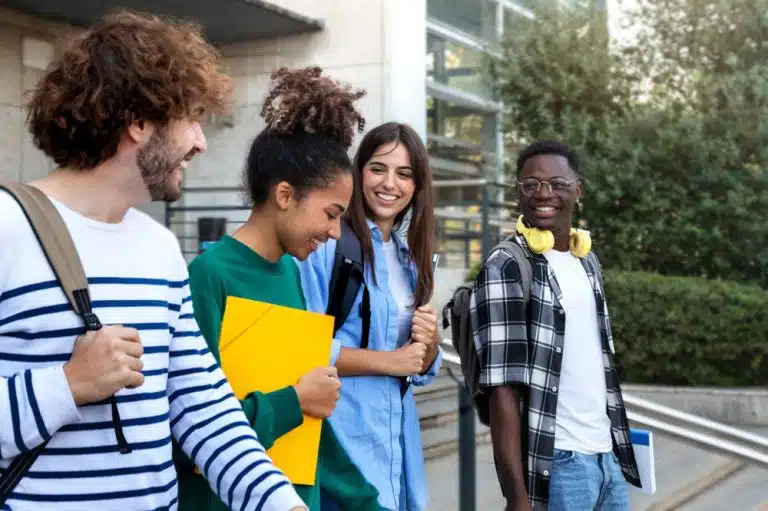 UCSD also has a thriving research community, with opportunities for students to get involved in cutting-edge research projects across various disciplines.
Overall, UCSD is an excellent choice for students looking for a challenging academic environment, a diverse and inclusive community, and opportunities to engage in groundbreaking research.
How to Apply to UC San Diego: A Step-by-Step Guide
The UCSD application process can seem daunting at first, but breaking down the process into smaller, more manageable steps can help.
To begin with, you'll need to create an account on the UC application site, which will allow you to submit an online admission application. Once you've done that, you will need to complete your personal information, academic history, and extracurricular activities.
Make sure all the information you provide is accurate and up-to-date. Other documents, including test scores and transcripts, will also be required. Remember to pay the application fee, too.
After submitting your application, you must wait for a decision from UCSD. The admissions process can take several months, so be patient. In the meantime, you can check the status of your application online.
If accepted, you must submit a Statement of Intent to Register (SIR) and pay a deposit to secure your spot.
If you are not accepted, don't be discouraged. You can always try again or consider other options, such as community college or transferring from another university.
Understanding the UC San Diego Admissions Criteria
Apart from dissecting the UC San Diego admissions statistics, examining the school's admissions criteria is crucial. The admissions committee at UCSD uses a holistic approach to evaluate applicants. This means they consider a range of factors in addition to academic performance. These factors include extracurricular activities, work experience, personal achievements, etc.
The admissions committee generally looks for students who demonstrate leadership potential, intellectual curiosity, and a commitment to positively impacting their communities.
It is important to note that meeting the minimum requirements for admission does not guarantee acceptance into UCSD. The admissions committee receives a large number of applications each year, and only a limited number of spots are available.
Therefore, it is crucial for applicants to showcase their unique qualities and stand out from the crowd. This can be achieved through a well-written personal statement, strong letters of recommendation, and a diverse range of experiences that demonstrate their potential to contribute to the UCSD community.
UC San Diego Admissions: What Do the Numbers Say?
The UC San Diego admissions statistics reflects the highly competitive nature of the university, with the acceptance rate of around 30%,. For the Class of 2024, the average GPA was 4.13, and the average SAT score was 1454.
Keep in mind that these are just averages, and that exceptional extracurricular activities and achievements can compensate for lower GPAs and test scores.
UC San Diego is known for its strong STEM programs, particularly in the fields of engineering and computer science. In fact, the Jacobs School of Engineering is ranked among the top 10 public engineering schools in the country.
Additionally, UCSD is home to several research centers and institutes, providing students with opportunities to engage in cutting-edge research projects.
Aside from academics, UCSD offers a vibrant campus life with over 600 student organizations, including cultural clubs, sports teams, and academic societies. The university also has a strong commitment to sustainability, with initiatives such as a zero-waste goal and a bike-friendly campus.
With its rigorous academics and diverse campus community, UCSD is a top choice for many high-achieving students.
Demystifying the UC San Diego Admissions Process
Students often feel overwhelmed by the UC San Diego admissions statistics and the application process, however, UCSD offers various resources for students throughout the application journey.
From online advising sessions to campus tours, the school guides students every step of the way. You can visit the UCSD website for more information on what to expect while applying.
One important thing to remember during the UCSD admissions process is that the university takes a holistic approach to reviewing applications. This means that they consider not only your academic achievements but also your extracurricular activities, personal statement, and any challenges you may have faced.
It's important to showcase your unique strengths and experiences in your application to give yourself the best chance of acceptance.
What are the UC San Diego Admissions Requirements?
As an applicant, you'll need to meet specific requirements that demonstrate your readiness for the rigors of college life. These requirements include college preparatory coursework, ACT/SAT test scores, and extracurricular activities.
Additionally, UCSD also requires applications to submit essays and letters of recommendation. These requirements are carefully evaluated to determine whether an applicant is well suited for the university.
A critical aspect of the UC San Diego admissions process is the consideration of a student's GPA. While there is no minimum GPA requirement, the admissions committee looks for students who have challenged themselves academically and have performed well in their coursework. This means that students who have taken advanced courses, such as AP or IB classes, and have earned high grades in those courses, may have an advantage in the admissions process.
Another factor that UCSD considers is a student's demonstrated interest in the university. This can be shown through campus visits, attending information sessions, and communicating with admissions counselors.
Students who show a strong interest in UCSD are more likely to be admitted, as they are seen as more likely to enroll if accepted. Therefore, prospective students must engage with the university and demonstrate their enthusiasm for attending.
Top Tips for a Successful UC San Diego Application
Although the UC San Diego admissions statistics and the intricate application process might seem daunting, there are several strategies you can employ to increase your chances of being accepted to UCSD.
First, consider taking rigorous AP or IB coursework in high school to demonstrate your readiness for college-level coursework.
Additionally, aim to score well on the SAT or ACT exam to showcase your academic ability. Finally, be sure to craft thoughtful essays and seek out strong letters of recommendation from people who know you well.
Another important factor to consider when applying to UCSD is your extracurricular activities. Admissions officers want to see that you are well-rounded and have a passion for something outside of academics.
This could be anything from playing sports to volunteering in your community. Make sure to highlight your involvement and leadership roles in these activities in your application.
It's also important to research the specific programs and majors offered at UCSD. Admissions officers want to see that you have a clear understanding of what you want to study and how UCSD can help you achieve your goals.
Take the time to explore the different departments and majors, and consider reaching out to current students or professors to learn more about their experiences.
The Importance of Extracurricular Activities in Admissions
In addition to strong academic performance, extracurricular activities can go a long way in boosting your chances of being accepted to UCSD. These activities help you demonstrate leadership skills, teamwork, and commitment to social causes. They're also a great way to showcase your personal interests and hobbies.
Furthermore, participating in extracurricular activities can also provide valuable networking opportunities and connections with professionals in your field of interest. Many clubs and organizations on campus host events and invite guest speakers, allowing you to gain insight and knowledge about your desired career path.
Additionally, involvement in extracurricular activities can lead to internships and job opportunities, as employers often seek out well-rounded candidates with diverse experiences.
The Role of Essays in Admissions
Essays offer a unique opportunity to showcase your writing skills and demonstrate your personality, interests, and perspectives. Make sure to take the time to craft thoughtful and well-written essays that showcase your genuine personality and writing abilities.
In addition to showcasing your writing skills and personality, essays also provide admissions officers with insight into your critical thinking abilities and your ability to communicate effectively.
Admissions officers are looking for students who can think critically and communicate their ideas clearly, so it's important to use your essays to demonstrate these skills.
Furthermore, essays can also be used to explain any extenuating circumstances or challenges you may have faced during your academic career. If you've experienced any setbacks or obstacles that have affected your grades or academic performance, your essays can provide an opportunity to explain these challenges and demonstrate your resilience and determination.
How to Ace the UC San Diego Interview Process
If you're invited to an interview, it's important to prepare well in advance. Brush up on your knowledge of UCSD and prepare thoughtful questions that showcase your interest in the university.
Additionally, be sure to dress professionally and practice good communication skills, including active listening and effective verbal communication.
During the interview, it's important to be confident and authentic. Feel free to share your unique experiences and perspectives, as they can set you apart from other candidates. Be sure also to highlight your strengths and accomplishments and how they align with UCSD's values and mission.
After the interview, be sure to follow up with a thank you email to your interviewer. This shows your appreciation for their time and consideration and can also help keep you top of mind as they make their final decisions.
Remember, the interview process is just one part of the admissions process, so stay positive and continue to showcase your passion for UCSD throughout your application.
UC San Diego Admissions: From Acceptance to Enrollment
If you're offered admission to UCSD, congratulations! However, the process continues beyond there. You'll need to carefully review your offer letter and follow the steps to accept your spot officially.
This includes submitting your Statement of Intent to Register, confirming your financial aid and housing status, and completing any other paperwork required by the university. Be sure to stay organized and follow deadlines carefully to ensure a smooth transition from acceptance to enrollment.
It's important to note that UCSD also offers resources to help admitted students make the transition to college life. This includes orientation programs, academic advising, and opportunities to connect with current students and faculty. Take advantage of these resources to ensure a successful start to your college career.
Additionally, don't hesitate to reach out to the admissions office or other university departments if you have any questions or concerns during the enrollment process.
The Future of UCSD Admissions: Trends and Predictions
It's difficult to predict what the future holds for UCSD admissions, but what is certain is that the admissions process will continue to be competitive. As a result, finding ways to stand out from other applicants will be more important than ever.
The UC San Diego admissions trends may also shift as the university adapts to new educational models and explores innovative ways to evaluate applicants.
One potential trend in UCSD admissions is a greater emphasis on diversity and inclusion. The university has already taken steps to increase diversity among its student body, and this may become an even more important factor in the admissions process.
Additionally, as the job market becomes more globalized, UCSD may place a greater emphasis on international experiences and language proficiency when evaluating applicants.
Another potential shift in UCSD admissions is a move towards a more holistic evaluation process. This could mean placing less emphasis on standardized test scores and more emphasis on extracurricular activities, community service, and personal essays.
The university may also consider factors such as socioeconomic background and first-generation college status when evaluating applicants.
Comparing UCSD Admission Stats to Other Universities
Comparing UC San Diego admissions statistics to other universities is a useful way to gain perspective on how competitive the admissions process is. UCSD is generally considered one of the most selective public universities in California, alongside UC Berkeley and UCLA.
Keep in mind, however, that each university's admissions process is unique and that it's essential to research and understand each college's process thoroughly.
When comparing UCSD's admissions statistics to other universities, it's important to consider the specific programs and majors offered at each institution.For example, UCSD is known for its strong programs in science, engineering, and technology, which may make the admissions process more competitive for those majors compared to other universities.
Another factor to consider when comparing admissions statistics is the applicant pool's demographics. UCSD has a diverse student body, with a significant percentage of students from underrepresented backgrounds. This may impact the admissions statistics and make it more difficult to compare to other universities with different demographics.
Common Mistakes to Avoid When Applying to UCSD
Finally, avoid common mistakes that can hurt your chances of being accepted to UCSD. These mistakes include submitting incomplete or inaccurate application materials, missing deadlines, failing to demonstrate leadership skills or a commitment to social causes, and submitting poorly written essays or recommendations.
One common mistake that applicants make is not taking advantage of the available resources. UCSD offers a variety of resources to help students with the application process, including workshops, webinars, and one-on-one advising sessions.
By utilizing these resources, you can get personalized guidance and support that can help you craft a more robust application.
Another mistake to avoid is not highlighting your unique qualities and experiences. Admissions officers seek students who bring diversity and new perspectives to the campus community. Show your individuality and what makes you stand out from other applicants. This can include your cultural background, hobbies, or any challenges you have overcome.
By avoiding these mistakes and keeping an eye on the big picture, you'll maximize your chances of being accepted to UCSD and starting your journey toward a successful college career.
Furthermore, following these strategies and tips in this guide will help you craft a strong application showcasing your talents and achievements.
While the admissions process requires hard work and attention to detail, it can also be an enriching experience that sets you on the path to a bright future at UC San Diego.
In the face of competitive UC San Diego admissions statistics, AdmissionSight acts as a trusted partner, helping students navigate the complex college admissions process.
Offering personalized guidance, from essay crafting to test prep and interview readiness, AdmissionSight increases students' chances of overcoming these hurdles, turning their aspirations of attending UC San Diego into reality.
Book an appointment for an initial consultation now!