UPenn Yield Rate
What is UPenn known for?
The Wharton School
The first thing that comes into the mind of several students when asked "What is UPenn known for?" is its prominent Wharton School of Business. The school is often considered to be the top business school in the world, both for undergraduate and graduate students. At least one-third of Wharton students' classes are taught in UPenn's other undergraduate schools, which contributes to the school's reputation for providing an education that draws from other fields. Aside from the Wharton school it is also imperative that you know more about the UPenn yield rate.
Wharton takes great satisfaction in its adaptable academic program, which allows first-year students to explore interests unrelated to the business environment, such as a love for the written word or an aptitude for political science. Students who take advantage of this method of instruction are better prepared for careers after college in virtually every sector. With such a benefit, it's only natural that the UPenn yield rate is high.
Engineering and Applied Science
Even though it is frequently overshadowed by the Wharton School at the University of Pennsylvania, the School of Engineering and Applied Science shouldn't be ignored. In addition to being well known for its multidisciplinary approach, the Department of Engineering at the University of Pennsylvania offers several specialized programs in collaboration with other schools. These programs include management and technology (M&T), energy research and development (VIPER), digital media and design (DMD), and information systems (NETS).
Consistent High Rankings
Benjamin Franklin, who also served as the college's president, established it as an Ivy League institution back in 1740 when it was first established. The school is consistently ranked among the top 10 universities in the nation, and the competitive admissions process is a direct reflection of this fact.
Quaker Consortium
In addition, the University of Pennsylvania is a member of the Quaker Consortium, which also includes Haverford College, Bryn Mawr College, and Swarthmore College. Because of this collaboration, students from any of these schools can enroll in classes and participate in extracurricular activities at the universities that these schools have partnered with.
Worthwhile Extracurriculars
Since its founding in 1849, UPenn's Greek life has been an important part of the university's legacy. It is also one of the factors that contribute to the university's well-earned reputation for being a "social" institution. Approximately one-fourth of undergraduates at the University of Pennsylvania are members of one of the school's 48 fraternities or sororities, which are the center of the campus's lively party scene.
UPenn's student body publishes a newspaper under the name "The Daily Pennsylvanian." Since its inception in 1885 (when it was still known as The Pennsylvanian), the DP has appeared daily ever since 1894, except for the years between World Wars I and II, when the publication was suspended. More than two hundred fifty students are employed by the DP, and they are supervised by three members of the professional staff.
On campus, one of the most well-known student organizations is called the Social Planning and Events Committee (SPEC). The Student Programming and Events Committee (SPEC) is a part of the student government that is responsible for conceptualizing, planning, and executing school events such as the Spring Fling and inviting well-known speakers to campus. Recently, Trevor Noah, host of The Daily Show, visited the University of Pennsylvania for a conversation that was sponsored by SPEC.
The Excelano Project, which was established in 2001, is regarded as one of the most popular spoken word groups at the University of Pennsylvania. The Excelano Project was victorious at the College Union's Poetry Slam Invitational (CUPSI) competition on two separate occasions, in 2007 and 2009. Poets from the Excelano Project have been featured at prestigious venues all around the world, including the White House, Broadway, and HBO.
Inviting Campus
The campus is both historically significant and aesthetically pleasing. Approximately 5,500 undergraduate students call the University of Pennsylvania's campus home throughout their time there. The vast majority of these students call one of the university's 12 college houses their home.
Every residential neighborhood is one of a kind and possesses its character, set of customs, and set of activities. Students at the University of Pennsylvania have the choice of living in either a college house or a program community in addition to the traditional campus housing. Students have the opportunity to live in program communities with other students and faculty members who have similar interests. It's no wonder the UPenn yield rate is high.
Financial Aid
The University of Pennsylvania offers students a very large aid package. The admissions process for students from the United States, Canada, and Mexico at this institution is need-blind, which means that the school does not take a student's current or anticipated financial situation into consideration when making admissions decisions. The institution will provide grants and work-study opportunities, both of which do not require repayment and enable students to graduate with no outstanding debt, to cover one hundred percent of a student's demonstrated financial need.
Exciting Location
One of the most under-appreciated cities in the United States is the city of Philadelphia. It has a long and complicated past. Vibrant culture. The downtown area, often known as "Center City," is easily accessible on foot. Awesome restaurant scene. It is the sixth largest city in the United States and provides everything that a student could want from living in a major metropolitan area, including great restaurants, fantastic museums, professional sports teams, and an international airport.
It is also the sixth largest city in the United States. Moreover, students who are eager for even more fun won't have to wait more than a few hours to go to New York City. In addition, Philadelphia is home to a large number of prestigious educational institutions, such as Temple, Drexel, St. Joseph's University, and La Salle University. Other prestigious educational institutions, such as Haverford, Bryn Mawr, and Villanova, are situated on the outskirts of the city.
The campus of the University of Pennsylvania offers students a one-of-a-kind opportunity. The university grounds themselves as stunning, steeped in history, and often have the air of being their distinct location. There is such a thing as a "Penn bubble," and it is a real phenomenon. On the other hand, the area immediately around the university is jam-packed with restaurants, pubs, and stores, and those who wish to get a better feel for the rest of the city won't have any trouble getting downtown.
How to get into UPenn?
Now that you're familiar with the factors making the university known around the nation, it is no surprise that the UPenn yield rate is high. Next, students pondering the question "How to get into UPenn?" can have particular answers in the succeeding paragraphs.
Although UPenn places a greater emphasis on extracurricular activities than other Ivy League schools such as Harvard, Princeton, and Yale, you will still need a stellar academic profile to be considered for admission to the university. Admissions to highly selective schools are notoriously difficult to obtain.
Application Requirements
Both the Common Application and the Coalition Application can be used to apply to Penn; however, to be considered for admission, applicants must also submit the two supplemental essays that Penn requires. Other prerequisites consist of the official high school transcript, school report, counselor recommendation, two teacher's evaluations, mid-year report, and final report. Furthermore, you should consider including your SAT/ACT scores, an additional letter of recommendation, and an art or music supplement.
Here at AdmissionSight, we wanted students to achieve their dream college or university with our expertise, so we prepare the following basic tips to help students get into UPenn:
Get high GPA
Maintain a grade point average of at least 3.9 while selecting the most difficult courses possible. As a result of the fact that UPenn considers GPA, class rank, and the intensity of the coursework to be "extremely relevant" in the admissions process, a competitive profile will have all or almost all A's earned in the most difficult classes that are offered. Applicants to Ivy League schools typically have a minimum of 10 and often as many as 12 AP courses listed on their academic résumé.
An applicant's academic credentials are condensed into a single number known as the Academic Index. Highly selective colleges like the University of Pennsylvania, which receive a large number of applications each year, frequently use this index to weed out applicants who do not meet the minimum academic requirements. Maintaining a solid Academic Index is contingent upon maintaining a high cumulative grade point average. Check out our suggestions for raising your grade point average if you're still early in your high school career and your grades aren't very good. It is more difficult to raise your grade point average when you are a junior or senior in high school; the quickest strategy to boost your Academic Index is to acquire higher test scores.
Get high SAT and ACT
You should aim for an SAT score of 1570 and an ACT score of 35. At the University of Pennsylvania, a score between 1460 and 1570 on the SAT and a score between 33 and 35 on the ACT is considered to be in the middle 50 percent. Any score that falls within the center half of the range is considered valid; however, the higher up on these ranges your score, the better your chances of being admitted improve.
Due to the inconvenience caused by COVID-19, UPenn decided to implement a test-optional policy for the 2020-2021 admissions cycle and has decided to extend that policy for the 2021-2022 admissions cycle as well. It is strongly suggested that you take one of the SAT or ACT standardized tests if you are in a position to do so safely. The admission rate for students who submit their test scores is higher than the acceptance rate for students who do not submit their test scores.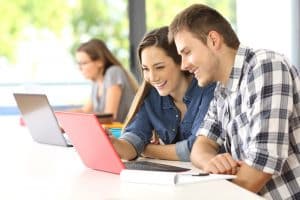 To determine your overall "super score," UPenn will take your highest Evidenced-Based Reading and Writing SAT score and combine it with your top Math SAT score from across all of your tests. To determine your overall "super score" on the ACT, your greatest individual score in each of the following categories—English, Math, Reading, and Science—will be averaged across all of the exams you take. Taking either of the exams more than once is a great method to enhance your score and increase your chances of getting into Penn.
Compose good essays
When it comes to selecting new students, the University of Pennsylvania places a "very strong" emphasis on both the application essays and character/personal traits. The connection between the two aspects is straightforward, as the essays offer the ideal setting for elaborating on your distinctive qualities and demonstrating how they will contribute to the life of the University of Pennsylvania campus.
Obtain great recommendations
Recommendations are deemed "extremely important" and are a required component of the University of Pennsylvania application. UPenn requires that you send a letter from your high school counselor or adviser in addition to two recommendation letters from your teachers; ideally, these should be teachers from your junior or senior year who have taught you core academic topics and whom you have gotten to know well.
UPenn will also consider an optional reference letter written by someone other than a teacher, such as a coach for a student's athletic team, the director of an internship or research project, the supervisor of a part-time job, or a member of the local church. These letters are only powerful if the person writing them knows you on a personal level, can write explicitly about you, and can provide additional information about you that is not present in instructor recommendations.
It is a significant request to make a teacher write a letter of recommendation; teachers are not compensated for writing these letters, and they have likely been asked by more than one student. If you follow the nine principles that are outlined in the guide for getting a letter of reference, you can increase the likelihood that you will receive an impressive letter.
Get Early Decision
Early decision (ED) is a program offered by the University of Pennsylvania that results in a greater acceptance percentage for applicants. However, early decision is not without their drawbacks. Students who are accepted through the early decision process are required to attend the school if they accept the offer. If you are thinking about applying for Early Decision (ED) at the University of Pennsylvania, you need to be certain that this is the school you want to attend and that it is affordable for you. Due to the binding nature of ED, you are unable to compare financial offers from other schools.
Be involved in extracurriculars
Develop at least one or two extracurricular activities that fall into the Tier 1-2 category (find your "spike"). The University of Pennsylvania only considers extracurricular activities and talent or ability to be "essential" when making admissions decisions; yet, these are excellent methods to set yourself apart from other applicants. When it comes to the college admissions process, not all extracurricular activities are created equal, and the best way to understand the differences between them is through the 4 Tiers of Extracurricular Activities.
Tier 1 is super-rare actions that demonstrate extraordinary talent or achievement. Tier 2 extracurriculars are those that require high levels of talent or achievement but are more accessible to participants than Tier 1 activities. The extracurricular activities that are featured in Tier 3 are not as prestigious as those that are found in higher tiers. Participating in a sport on the varsity level or assuming a position of leadership within a club is two examples. The most popular (but also the least spectacular) extracurricular activities are those categorized as Tier 4. Participating in a club without holding a position of leadership, playing a sport or instrument without distinction, and so on are examples of these types of activities. At least one or two activities that are included in the top two tiers of extracurriculars should be included in an application to a competitive Ivy League institution like the University of Pennsylvania. It is a fallacy that universities are searching for well-rounded kids. The applicants that stand out as the most competitive have a highly developed interest, sometimes known as a "spike," rather than a collection of interests that are unrelated to one another.
What GPA do you need for UPenn?
At the University of Pennsylvania, the answer to "What GPA do you need for UPenn?" is 3.9 on average.
The University of Pennsylvania requires that you have a grade point average of 3.9 to be considered for admission. To compete with other applicants, you will need to have nearly perfect grades in all of your classes. In addition, you must demonstrate that you are capable of easily handling the academic rigors of college by enrolling in challenging subjects such as Advanced Placement or International Baccalaureate programs.
It will be difficult for you to improve your grade point average in time for college applications if you are currently junior or senior. If your grade point average is equal to or lower than the school's average of 3.9, you'll need a better score on either the SAT or the ACT to make up for it. Because of this, you will have an easier time competing successfully against other applicants who have higher GPAs than you do.
There's a lot of competition in getting into the university, which is evident in the UPenn yield rate, so you must put extra effort into its admission process.
When do UPenn decisions come out?
Students curious about "When do UPenn decisions come out?" are advised to read carefully the following paragraphs.
This year, Penn accepted 15.63 percent of early decision candidates to the Class of 2026, which is a tiny increase from the record-low 15 percent that they accepted the previous year.
The Early Decision Program at the University received 7,795 applications from students in 2019, which is a 2% reduction from the 7,962 applications that were received in 2020. Penn extended admissions offer to 1,218 prospective students; these individuals will account for approximately half of the Class of 2026.
Keep in mind that the notification of UPenn's decision for Early Decision is in Mid-December 2022, while the Regular Decision is in April 2023. For students admitted, the reply or enrollment confirmation for Early Decision is on January 5, 2023, and the Regular Decision is on May 1, 2023.
What is the UPenn yield rate?
In this article, AdmissionSight wanted to highlight the answer to the question, "What is the UPenn yield rate?" along with the known factors why it is one of the most sought universities in the country. 
UPenn's yield rate is 75%, which is the percentage of accepted students who decide to enroll concerning the total number of students who are offered admission to the university. The most important message from this is that an extremely high percentage of those who are accepted to Penn ultimately decide to enroll at the university. This can be somewhat explained by the fact that the bulk of the class was accepted as part of the program through the use of a binding early decision. To put this into perspective, prestigious universities like Duke, Northwestern, Notre Dame, and Claremont McKenna all have yield rates that are closer to sixty percent.
What does UPenn look for?
What UPenn look for in students encompasses a lot of significant factors and answers. It is not sufficient to gain admission to a highly selective school like the University of Pennsylvania (UPenn) merely by having excellent grades and scores on standardized tests because almost all of the applicants are academically capable.
In addition to having outstanding academics, applicants to the University of Pennsylvania are subjected to a thorough review. UPenn is looking for students who are motivated to follow in the footsteps of the university's founder, Benjamin Franklin, by contributing to the betterment of society. This includes the community surrounding the university, the city of Philadelphia, and the wider world.
What Penn is looking for in a student and how competitive the admissions process is can vary depending on the program you wish to enroll in at the university. The College of Arts and Sciences (CAS) of the University of Pennsylvania is less selective academically than the Henry W. Penn School of Medicine (HYPSM), and it focuses more of a premium on extracurricular activities and accepting well-rounded students.
For more information about the subject matter and other related admissions inquiries, do not hesitate to contact our dependable team wherein each is equipped with extensive years of experience and reliable knowledge about college admissions. We at AdmissionSight are just one call away.