How to Ace the AP German Language and Culture Exam
For many of the most impressive high school students in the United States, high school is a time to fine subjects that both challenge and excite you. On top of that, another important thing to focus on while picking what types of courses you want to invest your time and energy in have to do what great colleges or universities you are interested in possibly attending as well we as what kind of career you hope to have when you graduate college in a number of years. When it comes to getting into some of the top schools in the country, one of the best ways to make sure that your application and transcript get the kind of attention it deserves is to enroll in AP courses and take the related exams. If you have an interest in the German language, have been studying the language for years, or are a native speaker of the language, then the AP German Language and Culture Exam may be a great thing to consider during your high school years.
Germans is one of the eight total languages that is offered within the AP World Languages and Culture Program. In all, the goal of the AP World Languages and Culture program is to help high schoolers in the United States master a language other than their native English. The reason why is because the College Board is a staunch believer in the fact that in order to achieve in the increasingly globalized culture and economy, young people must take the time to master a second language. When it comes to the German Language and Culture Exam, the goal is for students who are enrolled to gain advanced learning skills that offer social, cultural, academic, and workplace benefits.
Just like many of the other course offered in the AP World Languages and Culture program, enrollment in the German Language and Culture course is annually quite low. In fact, the average total enrollment per year is approximately 5,000 students nationwide. Of this group, the majority of students who end up taking the course and exam have studied German for (typically) three years as a part of their normal high school curriculum. The remaining students who took the exam enjoyed a large amount of exposure to the German language by either being native speakers or by being lucky enough to have studied abroad in Germany and gained a basic mastery of the language.
If you are interested in taking the AP German Language and Culture Exam, you will surely want to know what the course entails, what the exam will test you on, and how to best prepare for the exam if you end up enrolling. Luckily for you, we at AdmissionSight have made it our goal to make sure that all high schoolers are as prepared as possible when it comes to the exam by breaking down all of the basic information to help you make your final decision.
About the AP German Language and Culture Course
The AP German Language and Culture course takes a holistic approach to help high school students better understand the fundamentals of the German language and culture. Just like all the other courses in the AP Language and Culture program, the German course puts an emphasis on functional communication skills overmastering grammatical irregularities. This means that the primary goal of the course – and what students will be primarily tested on when they take the exam – is to make sure that students are able to both understand when people express, and learn how to express themselves. Communication and cultural understanding at the center of every AP Language and Culture course.
What that means is that the lion's share of the course curriculum is based on how comprehension, usage of vocabulary, language control, communication strategies and cultural awareness are all connected.
Beyond that, students who enroll can also expect to learn about language structure in context and how to use it in order to convey intended meaning. On top of that, a large portion of the class is dedicated to helping students understand German culture in both historical and modern contexts.
In all, students who are enrolled in the course will be expected to pursue interpersonal, interpretive, and presentational communication skills through speaking, listening, writing, and reading the German language.
Here is a visual guide to help you better understand what the course will be like overall.
Course themes
The course themes are the major thematic thru lines that students will tackle in order to gain a great understanding of the language and culture.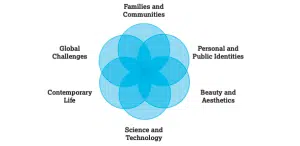 AP German Language and Culture Recommended Contexts
On top of that, here are the recommended contexts in which students learn.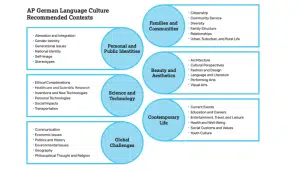 One important thing to mention before moving on is that while the AP German Language and Culture course do not have any official prerequisites, it is highly recommended that students have either engaged in three years of German language courses in their high school curriculum or have otherwise gained advanced knowledge and ability of the German language, such as being a native speaker or having learned German while studying there abroad. The reason why there are no prerequisites is that a large portion of the students that do actually take the course are native speakers and therefore do not have to enroll in a course in the school in order to be an advanced German speaker. To put the option – but highly recommended – prerequisites into context, consider the fact that the vast majority of the course itself is taught in German and the vast majority of instructions on the AP German Language and Culture Exam are also in German.
About the AP German Language and Culture Exam
Of course, the primary reason why students take the AP German Language and Culture course is to be as prepared as possible for the exam. The exam is broken up into two primary sections and students are given a total of three hours to complete the entire exam. The first section is a multiple-choice section and the second is a free-response section.
Multiple-choice section
The first section that students tackle when they sit down to take the AP German Language and Culture exam is a set of 65 total questions that students get one hour and 35 minutes to complete. This section of the exam accounts for 50 percent of your total score.
The multiple-choice questions are broken up into two parts. The first tests a student's interpretative communication skills through print texts. The second section tests those same skills through written and audio texts combined as well as standalone audio texts. Students want to take approximately 40 minutes on the first part and spend the remaining 55 minutes going through the second part.
Here are some examples of questions you might find on the multiple-choice section of this exam.
Free-Response section
The second portion of the exam is a free-response section and contains four total tasks that students must complete. The free-response section of the exam accounts for the remaining 50 percent of a student's score. Students get the remaining time allotted to them to complete this section of the exam.
The four total tasks of the free-response section of the exam are meant to test students on unique aspects of the German language as well as test their understanding of German culture. The four tasks include an email reply, an argumentative essay, a conversation, and a cultural comparison. Here are some examples of a couple of the aforementioned tasks.
Here is a table to give you a better idea of what you will face on the AP German Language and Culture Exam and what each section and subsection will contribute to your final score.
Score breakdown
Just like every other AP exam, the AP German Language and Culture Exam is graded on a 5-point scale with 1 being the lowest grade possible and 5 being the highest grade possible. As you most likely know, a scored of 3 is necessary to pass and the highest scores are actually able to earn high school college placement and credits. Of course, high scores also look quite impressive on college applications.
For that reason, you should have a good idea of what your chances are at success for a given exam. When it comes to the German exam, just under 75 percent of students pass, with nearly half of students earning a 4 or 5 last year. Here is a percentage of all the scores handed down to students who took the exam.
How to Prepare
Here at AdmissionSight, we make it our priority to make sure that every high schooler is as prepared for success as possible. Whether that means that they are trying to get into one of the most competitive schools in the country when it comes to college admissions, or if that means taking an AP exam, we make it our job to make sure that you have the tools you need and guidance you want. With that in mind, here are the best studying practices when it comes to giving yourself the best chance possible at scoring a 5 on this, and every other, AP exam.
Analyze your ability
The first step to making sure that you perform to the best of your abilities on this exam is to take a practice exam in order to test your knowledge and abilities. While you do not have to time yourself on this exam, it is crucial that you look over your answers and compare them to the answer key in the practice exam that you are using. This is the best way to make sure that you are taking note of which kinds of questions you do a good job at answering and which questions you may be struggling with. This will help inform you when it comes to what you should focus on heavily as you continue to study.
Master the material
The next step to making sure that you succeed in the AP German exam is to study and master the material. When it comes to this test, your primary concern is to master conversational German and learn as much about German culture as possible.
Some of the best ways to do that are to start watching Germans films, listening to German podcasts, reading German newspapers, or even creating a study group with your fellow students to speak about current German issues in German once or twice a week.
Keep in mind that your primary concern should be related to mastering the six themes of the course. To job your memory, those are:
Global Challenges
Science and Technology
Contemporary Life
Personal and Public Identities
Families and Communities
Beauty and Aesthetics
Instruction and exposure to these themes will take place while working towards the learning objectives of the course. These objectives are concrete learning goals that are provided by the College Board, which include:
Engage in spoken interpersonal communication;
Engage in written interpersonal communication;
Synthesize information from a variety of authentic audio, visual, and audiovisual resources;
Synthesize information from a variety of authentic written and print resources;
Plan, produce, and presently spoke presentational communications; and
Plan and produce written presentational communications.
Do practice sets
Just like standardized test such as the SAT and ACT, AP courses are primarily about the subject matter on the exam but is also about the format of the questions. Some of the questions are worded in a very specific way and use "action terms" that will help you figure out what the right answer is. The best way to make sure that you are able to recognize and feel comfortable with every type of question that you may face is to do as many multiple-choice and free-response practice sets as possible.
Do full practice exams
The final step to preparing for the AP German Language and Culture Exam is to take as many practice exams as possible. What is crucial in this final step is that you make sure that you time yourself and give yourself the exact allotment of time that you will be given on the day of the actual exam. That makes sure that you will be prepared for the speed in which the exam goes.
One final thing to keep in mind is that as the exam approaches the point that it is a couple of days away, you will want to put your study material away and give your mind the rest and relaxation it needs to perform its best on the day of the actual exam.
Good luck!