Dartmouth Law School Acceptance Rate
What Are the Requirements For Dartmouth Law School?
Only five of the eight Ivy League universities—Yale, Harvard, Columbia, UPenn, and Cornell—have law schools. With this, neither the Dartmouth law school acceptance rate nor law degrees are available. In addition, unlike several other graduate schools, Dartmouth has no pre-law prerequisites or recommended majors.
Here's a quick review of what Dartmouth College can offer: There are 57 majors accessible to students at Dartmouth, which comprises 40 academic departments. Students may, however, create their own majors or minors. There are five academic institutions on the campus: the undergraduate college, the Geisel School of Medicine, the Thayer School of Engineering, the Tuck School of Business, and the School of Graduate and Advanced Studies.
The concept of a researcher serves as the foundation for many of the classes. The most popular majors include political science and government, computer science, engineering science, and biology/biological sciences. Other popular majors include econometrics and quantitative economics.
Though the American Bar Association does not offer any advice regarding undergraduate majors for those planning to attend law school. Students are advised to major in the subjects they find most fascinating. Law schools welcome students from a variety of academic backgrounds.
Now, what are the requirements for Dartmouth Law School? Though Dartmouth does not have a law school or Dartmouth law school acceptance rate, these are the usual application materials required. Before a law school can decide whether to allow the applicant to secure his/her spot in the acceptance rate, these requirements must be submitted:
Application
Credential Assembly Service (CAS) Report (or LSAT Law School Report if the school doesn't require CAS)
Letters of recommendation
Personal statement
Application fee
Any other requirements specific to that particular school
In addition, your undergraduate grade point average (UGPA) and LSAT score are crucial factors in determining whether you will be admitted to law school.
LSAT Score
For most law schools, your LSAT score is a crucial component of your application. Scores are determined by how many questions are correctly answered (the raw score). Raw scores are transformed into an LSAT score between 120 and 180, where 120 is the lowest possible score and 180 is the highest.
Transcripts
Most law schools carefully examine your college scores and course preferences. Your undergraduate GPA is frequently a good predictor of how well you will do in law school. Additionally, law schools encourage taking challenging or advanced undergraduate courses.
Letters of Recommendation
The best letters of recommendation come from instructors or bosses who know you well enough to describe honestly and objectively your academic, personal, or professional accomplishments. The most helpful letters are frequently those that compare you to your academic classmates. Most schools do not view generic, unqualified letters of commendation as useful.
English Proficiency Exam for International Students
Most law schools will need you to take a standardized test, such as the Test of English as a Foreign Language (TOEFL) or the International English Language Testing System, if English is not your first language (IELTS). Each school has its own requirements for the minimum passing marks. IELTS or TOEFL score reports are accepted by LSAC.
Personal Statement
Law schools aim to hire candidates who are qualified for reasons other than test results and grades. You can tell the committee what makes you unique in the essay or personal statement. The committee will respect an essay on real experiences and past successes more than one that makes predictions about potential future successes. Any notable accomplishment or personal experience may be a suitable topic, but make sure you go beyond simply stating it. Briefly but specifically describe your experience and explain why it was important to you.
Work Experience
Law schools prefer classes that are entertaining, diverse, and reflect a range of perspectives. A law school may view an applicant who applies to law school some years after completing their bachelor's degree and who has achieved success outside of the classroom as being more driven than someone who pursues their education continuously.
How Many Years Is A Dartmouth Law Degree?
A Juris Doctor (JD) is available in the US, Japan, Canada, Australia, and Hong Kong. In these nations, graduate-level legal studies are prioritized (after the completion of a bachelor's degree in a different field), and students must get their JD in order to practice.
You might wonder "How many years is a Dartmouth law degree?" Though Dartmouth does not offer law degrees, normally, it takes three years to complete a JD. After receiving a JD, one may choose to pursue a one-year Master of Laws (LLM) degree in a field of specialization (such as tax law). To practice law in nations where a JD is required, foreign lawyers can also pursue an LLM.
Undergraduate law students in the US are required to take and pass the Law School Admission Test in order to be eligible for a postgraduate degree in the subject (LSAT).
While the majority of LLM and JD programs focus on preparing students for legal employment, graduate-level law degrees are also available that place a stronger emphasis on intellectual research. A Ph.D. in Law, a Doctor of Laws, or a Doctor of Juridical Science may be used to refer to these degrees (JSD). Additionally, two years of rigorous legal study or shorter or longer vocational programs are options.
How Much Does It Cost To Go To Law School At Dartmouth?
How much does it cost to go to law school at Dartmouth? While Dartmouth law school acceptance rate should be the least of your worries, you might be concerned about the price of attending law school if you are thinking about a legal career. Numerous variables, such as the location, the university, and whether you choose a public or private school, will affect the cost.
The JD program takes 3 years to finish. In-state students pay an average of $84,558 in tuition for law school at public universities and $147,936 at private institutions. Keep in mind that those fees only cover tuition; other living costs, such as those for rent, food, and transportation, can easily bring your overall cost up to at least $20,000.
Average Student Loan Debt of Law Students
The cost of attending law school, including living expenses, might exceed $100,000. Few people can cover the costs out of their own savings or income; therefore, many students choose to borrow money from private or public sources instead.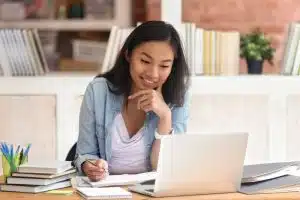 About 90% of law school graduates, according to the American Bar Association (ABA), used student loans to pay for their education. Even worse, graduates of law schools typically owe $130,000 in total education debt, including their undergraduate loans, and $108,000 for their J.D.
What Is the Acceptance Rate For Dartmouth Law School?
What is the acceptance rate for Dartmouth Law School? When applying to law school, you should consider the acceptance rates for the various schools. Yale admits just about 4.10% of applications, for example, while institutions at the bottom of the list take an astounding 80% or more of applicants.
Acceptance rates serve as a reasonable substitute for a school's reputation among prospective law students. The more applicants a school receives, the more selective it may be in choosing which students to enroll. Because of this, the admission rate is one of the variables considered in the reputable rankings of the top law schools published by US News and World Report.
Top 15 Law Schools' Acceptance Rates
Rank
School
Acceptance Rate

1

Yale Law School
4.10%

2

Stanford University Law School
6.30%

3

Harvard Law School
11.90%

4

Columbia University School of Law
11.40%

4

University of Chicago Law School
6.90%

6

New York University School of Law
9.40%

7

University of Pennsylvania Law School
14.50%

8

University of Virginia School of Law
9.70%

9

Northwestern Pritzker School of Law
13.70%

10

University of Michigan Law School
10.60%

11

University of California Berkeley School of Law
14.40%

12

Duke University School of Law
15.60%

13

Cornell Law School
13.90%

14

Georgetown University Law Center
12.90%

15

University of California at Los Angeles
(UCLA) School of Law
15.40%
Since the Dartmouth law school acceptance rate cannot be quantified, let's take a look at Dartmouth's undergraduate acceptance rate for the Class of 2026. According to a press release from the admissions office, the College admitted a total of 1,767 candidates from a pool of 28,336 applicants, yielding an acceptance percentage of 6.24%, which is somewhat higher than the record-low of 6.17% set the previous year.
How Can I Increase My Chances Of Getting Into Dartmouth Law School?
How can I increase my chances of getting into Dartmouth Law School? As mentioned earlier, the chance to become a part of the Dartmouth law school acceptance rate is out of the question. Even though Dartmouth could not provide requirements for law school, the entry requirements for law schools just differ slightly but there are some trends and general requirements that are shared by all of them. By examining these requirements, you could discern what to do to make your application stand out.
Pick An Undergraduate Major That Will Help You Succeed In Law School.
The best law schools seek applicants with training in a variety of critical academic skills. You must improve your abilities in critical thinking, argument development, and library research, among other areas. Additionally, you must be fluent in the spoken and written forms of the language you will be learning. This will be demonstrated by your academic performance, a stellar LSAT or similar exam result, and lastly a persuasive and insightful essay that is part of your application.
You will require a pertinent language qualification, such as the TOEFL or IELTS, if you are not a native speaker of the language of your university.
Demonstrate Your Readiness For A Top Law School With Excellent Grades.
Laying the groundwork for your application to a top law school begins once you've decided on your undergraduate degree or major. The top law schools in the world demand excellent grades from their candidates.
To be admitted to one of the top 10 law schools, you need to have a GPA of 3.59 and an LSAT score of at least 162, according to data from the Law School Admission Council (LSAC). Despite the possibility of some exceptions, it will be to your advantage to avoid taking any chances.
A 3.75 GPA and a 169 on the LSAT are required to be taken into consideration for admission to one of the top 3 universities, such as Harvard, Stanford, or Yale. Academic excellence is not sufficient in and of itself, but it might be the factor that moves the arrow on the acceptance meter from rejection to acceptance.
Show the Most Interesting Version of You.
Top law schools take pride in accepting a diverse range of applicants, so don't let your history in a challenging but odd sector or your unconventional path to studying law deter you. Such topics are fantastic for your motivation letter.
It might be worthwhile to carefully consider how this background might give you a distinct perspective on legal concerns if you have decided to pursue law after studying Theology or Physics, for example. This is especially true if this relates to a topic of expert legal interest. Because of how diverse the topic of law is, nearly every academic discipline has legal implications. You shouldn't just concentrate on your academic history either.
Leave out a description of all your professional accomplishments from your motivational letter for a top law school because your CV should include this information and instead concentrate on life lessons and significant experiences. Sports competition, considerable volunteer work, and leadership responsibilities are all fascinating conversation starters.
Be Discerning And Talk About Your Job Aspirations.
The international reputation of a top law school is undoubtedly a consideration when applying. It won't make your application stand out if you indicate that this is the case because that identical justification applies to all applications. Additional justification for why you and your preferred institutions are a good fit will be the foundation of the genuinely outstanding applications.
Talking about your career objectives in your personal statement is another thing to think about. Writing a concise and well-organized application demonstrates to the admissions committee your serious consideration of the legal school and how it can help you prepare for your future job. What do you envision for the future following your studies? Working backward and thinking about how a particular degree can help you achieve your career objectives can be helpful.
Get Prior Professional Experience.
Although it is not necessary, it will improve your application if you have performed legal internships or obtained other relevant experience before applying to graduate law school. You can benefit from it as well.
Being certain that a legal job is what you ultimately want to accomplish is crucial for both you and the admissions tutors at the schools to which you are going because obtaining a legal education is a costly and time-consuming endeavor. An internship can also make it much simpler to obtain letters of recommendation from reputable academics and legal professionals, which is crucial for some schools.
If you can show that you have professional experience via internships or other work placements, your CV will also stand out. These demonstrate to the admissions office that you are committed to professional growth even before you are admitted to a prestigious law school to finish your degree. You can also get letters of recommendation from your boss, who has seen you in action and is familiar enough with your work ethic to write a glowing appraisal of your performance.
Prepare For the Law School Interview.
Most law schools require applicants to go through an interviewing process, whether it be via online methods or in-person meetings with school representatives who travel to bigger cities. When you receive an interview invitation, be sure to be ready because a good interview will increase your chances of getting into a prestigious law school.
Use the interview as an opportunity to discuss your experiences and passions that make you the greatest candidate for a law degree rather than viewing it as a challenging next step. It's advised to steer clear of prepared responses, and it can be helpful to come up with a list of potential questions and consider your responses. Do not forget that interviews are a time for you to express your individuality.
Entry into a prestigious law school is extremely competitive. The Princeton, Brown, and Dartmouth law school acceptance rates might not be able to take part in the competition due to the lack of law degrees available in these institutions but their colleagues in the Ivy League can attest to that. However, others have already done it and are willing to help. Every year, hundreds of applications are examined by admissions professionals. They are aware of what functions and what does not. Although hiring an admissions consultant will greatly improve your chances, admittance is not guaranteed.
AdmissionSight has been in the admissions consulting business for more than 10 years now. Apart from graduate school admissions, AdmissionSight also guides students get into the college of their choice. Feel free to book an initial consultation to start your preparations now.