Leadership Programs for High School Students
What is a leadership program?
What is a leadership program? A leadership program is a systematic training or development program that is intended to assist people in improving their leadership capabilities. Read on to determine if the leadership programs for high school students are worth it.
The leadership program might be provided to staff members of an organization, students at a school or university, or members of a professional society.
It can include a wide range of activities, such as workshops, seminars, coaching, mentoring, and chances to learn by doing. These can be about a wide range of things, like emotional intelligence, teamwork, resolving conflicts, making decisions, and communicating.
The goal of a leadership program is to help people learn the knowledge, skills, and attitudes they need to be good leaders in their current or future jobs.
By taking part in a leadership program, people can improve their leadership style, learn more about themselves, and learn how to inspire and motivate others. In the next portion, we'll discuss its advantages, and summer leadership programs for high school students, and determine if they are worth it.
Advantages of leadership programs for high school students
What are the advantages of leadership programs for high school students? Leadership abilities are a crucial component of a successful college application. As a young adult, developing your leadership abilities is crucial.
While high school courses prepare you for the rigorous academic demands of college, high school leadership programs position you for success outside the classroom.
There are plenty of available options for leadership programs for high school students. You can benefit from both in-person and online options. You may anticipate programming throughout the summer as well as over the winter and spring breaks because programs are organized around the schedules of students.
Any high-achieving kid can take part in and add to their college applications by participating in any leadership programs for high school students.
AdmissionSight listed down how high school students can benefit from participating in a leadership program in a variety of ways, including the following:
Building leadership abilities: Leadership programs give students the chance to learn and put their communication, problem-solving, teamwork, and decision-making abilities to use. Both in their personal and professional lives, these skills might be useful.
Increasing self-esteem and confidence: By taking part in a leadership program, students can feel proud of themselves and more confident in their skills. This can help people get over shyness, fear of public speaking, and other problems that might limit their ability to lead.
Networking Chances: Leadership programs frequently bring together students from various schools and backgrounds, giving them the chance to interact with people from different backgrounds and form new friendships.
Getting to know new environments: Several leadership programs are offered in different cities or on college campuses, offering participants the chance to get to know new cultures. This may help them gain a more global mindset and a broader viewpoint.
Strengthening college applications: Enrolling in a leadership program may be a great addition to a student's college application, highlighting their dedication to leadership development, community involvement, and personal growth.
Investigating potential job pathways: By exposing students to a variety of industries and career paths, leadership programs can aid in the identification of their interests and passions.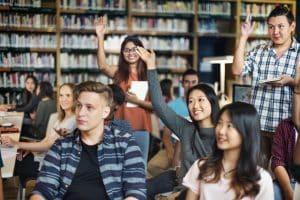 Overall, those who participate in leadership programs for high school students can gain knowledge and skills that will help them in both their personal and professional lives.
Summer leadership programs for high school students
What are the summer leadership programs for high school students? By taking part in a summer leadership program, high school students can improve their leadership skills, grow their potential, and get ready for future leadership roles in their communities, schools, or jobs.
Most of the time, universities, nonprofit organizations, private businesses, and similar companies provide these programs.
High school students can take part in different kinds of leadership programs over the summer, such as residential, day, and online programs. These often consist of team-building exercises, workshops, and seminars.
Also, there may be opportunities for students to work with seasoned leaders, take part in volunteer work, and go to guest lectures.
Certain leadership topics, such as entrepreneurship, social justice, environmental sustainability, or global leadership, are the focus of several summer leadership programs for high school students. Others might provide a more comprehensive leadership education that addresses subjects like teamwork, problem-solving, communication, and decision-making.
High school students who take part in leadership programs during the summer can gain important skills and experiences that will help them in their personal and professional lives.They can also grow their network of contacts, make new friends, and boost their confidence and sense of self-worth.
Some of the leadership programs for high school students include the following:
Leadership in the Business World (LBW) by the Wharton School of the University of Pennsylvania: The LBW program is an exclusive summer program for rising high school seniors interested in business and leadership. Participants take Wharton academics' seminars, engage in group projects, tour businesses, and network with executives.
National Student Leadership Conference (NSLC): NSLC offers a number of summer programs in a variety of academic fields, including leadership, engineering, law, and activism. Through workshops, simulations, and team-building exercises, the leadership program is intended to assist high school students in strengthening their leadership abilities.
Envision Leadership: Envision provides high school students with a range of leadership summer programs, such as the Junior National Young Leaders Conference, the National Youth Leadership Forum, and the Global Young Leaders Conference. These courses give students the chance to engage in practical activities and workshops that teach them about politics, leadership, and global challenges.
American Legion Boys State and Girls State: Boys State and Girls State, sponsored by the American Legion, are initiatives aimed at assisting high school juniors in the development of leadership abilities, education in politics and government, and participation in mock elections and parliamentary sessions.
Brown Leadership Institute: Aimed at rising seniors in high school who wish to hone their leadership abilities in a multicultural and collaborative setting, this summer program is provided by Brown University. In addition to working on group projects, participants attend classes, workshops, and leadership development events.
A few examples of summer leadership programs for high school students are shown here. It's vital to investigate several programs and choose one that fits your interests and objectives.
Are leadership programs worth it?
Are leadership programs worth it? Whatever you choose to do after high school or college, your leadership abilities will come in handy. Improving your ability to think critically, listen carefully, and act responsibly will help you become a better leader.
Many college students put their experience at the top of their resumes to show that they know about other cultures and can think critically when working on projects with others.
Many of our students go on to enroll in prestigious colleges like Harvard, Oxford, Dartmouth, Columbia, and more because colleges like to see that applicants have invested time both inside and outside of the classroom to advance their knowledge of the world and develop their leadership abilities.
Spending time and money to join leadership programs for high school students will help you become a more knowledgeable and useful member of society in the long run.
For students who are having trouble in participating leadership programs have a number of options, such as reaching out to their guidance counselors, and even companies like us, AdmissionSight, that help students get into their desired college.
In AdmissionSight, our college admission experts will provide the necessary guidance every step of the way. You can get assistance to make sure you get into the college of your choice.
In order to help you plan your entire college career and make sure you get accepted to the college of your choice, AdmissionSight will evaluate your academic and extracurricular profile and give you a roadmap. We will also be able to help you maintain your academic direction and competence so that you won't simply rely on athletic scholarships.
AdmissionSight is the world's leading ivy league and college admission consulting company. You may acquire all the necessary advice from the team by making an appointment. Book your consultation today!