Stanford Extracurriculars
Students at Stanford University have a choice of participating in a wide range of co-curricular and extracurricular activities. Stanford extracurriculars consist of a wide variety of clubs and groups with a variety of focuses, including academics, the arts, culture, politics, service, and more.
There are over 625 student organizations that were founded and are now being directed by students with the assistance of the University.
They cover the entire gamut, from politics and debate to music and dance, from community service and social activities to educational and cultural pursuits of interest.
The Stanford Pre-Business Association, the Stanford Solar Car Project, the Stanford Social Innovation Review, and the Stanford Women in Business are just a few of the most well-known and well-attended Stanford extracurriculars.
Students have the opportunity to take part in a variety of athletic competitions, including intramural sports, recreational sports, and club sports teams.
In addition, Stanford has a long and storied history of undergraduate research, and the university encourages its students to collaborate with faculty members on research initiatives.
What are the Best Extracurricular Activities at Stanford?
What are the Best Extracurricular Activities at Stanford? Stanford is widely acknowledged to possess one of the most prestigious reputations among educational institutions in the United States.
The academics at Stanford University are among the greatest in the world, but the university also has a thriving residential campus and is home to a community of creative and brilliant people from all over the world. These characteristics make Stanford one of the best universities in the world.
At Stanford, students have access to more than 650 different student organizations that they can join outside of the classroom as a part of the Stanford extracurriculars.
These student organizations range from academic and athletic clubs to artistic and religious organizations and include everything in between.
Undergraduate students, who account for around 25 percent of all students, have a high rate of participation in Greek life on campus.
The ideal Stanford extracurriculars will differ from person to person based on the interests and objectives of the student. On the other hand, the following are some extracurricular activities that are extremely well-respected and have a solid reputation at Stanford:
The Student Government Association is responsible for representing the undergrad student population and working to improve student life as well as the communities surrounding the university.
Stanford Student Enterprises offers businesses and organizations consulting services that are directed by current Stanford students.
Stanford Pre-Business Association: provides students with the opportunity to participate in events, workshops, and networking gatherings to better prepare them for careers in business.
The Stanford Solar Car Project is responsible for the design, construction, and competition of solar-powered automobiles.
The Stanford Social Innovation Review is a publication that shares ideas, research, and articles on social innovation.
Stanford Women in Business: provides chances for women in business to participate in events, receive mentoring, and build professional networks.
The Stanford African Student Association is a group that honors African ancestry and culture while also working to promote it.
The Stanford Asian American Activism Committee is a group that promotes the Asian American community and addresses concerns pertaining to social justice.
The Stanford Association of Mexican American Students is a student organization that educates students on Mexican American history and culture while also acting as a resource for those students.
The Stanford Cycling Club is a group that encourages cycling as a sport and a way of life, as well as gives its members the opportunity to compete in races and get training.
It is important to note that these are just a few examples of the many Stanford extracurriculars that are offered. Students should investigate the full variety of possibilities accessible to them in order to identify the activities that are the greatest fit for their interests and aspirations.
Does Stanford Care About Extracurriculars?
Does Stanford care about extracurriculars? As part of its holistic admissions process, Stanford University takes into consideration the extracurricular activities of prospective students. The institution acknowledges that participation in extracurricular activities can provide insight into a student's interests and passions, as well as their potential for leadership and dedication to the local community.
However, extracurricular activities are only one component of the entrance evaluation process. Other key considerations in the admission decision include academic achievement, test scores, and essays.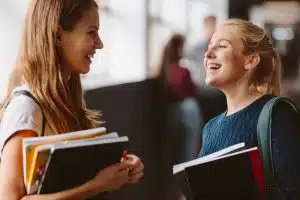 It is strongly advised that students select extracurricular activities for which they have a genuine interest and in which they will participate actively rather than selecting activities with the sole intention of impressing admissions committees.
More significant than the number of extracurricular activities a student lists on their application is the quality of their involvement, level of dedication, and overall impact.
What do Stanford Students Do for Fun?
What do Stanford students do for fun? Students at Stanford have access to a wide array of on-campus and off-campus opportunities for social gatherings and recreational pursuits. The following are some examples of popular choices:
Activities that take place outside, such as walking and biking through the hills and parks that are located all over the Bay Area.
Participating in athletics and other fitness-related activities, such as going to the university's gymnasium and other recreational facilities.
Attending cultural events and performances, such as going to the Anderson Collection and the Cantor Arts Center. Throughout the course of the year, Stanford plays host to a wide range of events and performances, some of which include concerts, theatrical shows, film screenings, and lecture series.
Clubs and organizations housed on the campus itself, such as musical ensembles and performing arts groups.
Opportunities for students to volunteer and serve their communities Stanford students are also encouraged to participate in a variety of volunteer and community service activities both on campus and in the surrounding area of the Bay Area.
Gatherings and parties of a social nature, such as those organized and hosted by student organizations. Students at Stanford also take pleasure in socializing and partying with their fellow classmates, whether it be at a party organized by a fraternity or sorority, or at one of the numerous other events that are hosted by student clubs.
Investigating the local restaurants and nightlife options in Palo Alto and the surrounding Bay Area.
Students have access to a number of services on campus, such as student centers and recreational facilities, which provide them with the opportunity to participate in leisure activities and mingle with their classmates. In addition, there are a variety of resources available on campus.
How Many Extracurriculars Should You Have?
How many extracurriculars should you have? There is no predetermined minimum or maximum amount of extracurricular activities that a student ought to participate in.
It is not the number of activities that a kid takes part in but rather the quality of commitment and dedication that they bring to those activities that are the most essential consideration.
Instead of trying to participate in a huge variety of extracurricular activities only for the purpose of impressing admissions committees, it is recommended that students choose a few things that they are actually enthusiastic about and can actively engage in. Instead of just providing a list of activities, the student will be able to demonstrate their level of commitment, the potential for leadership, and the effect in this way.
When trying to decide how many extracurricular activities to get involved in, here are some considerations to keep in mind:
To put quality before quantity
It is normally more useful to be profoundly involved in a few activities as opposed to having a broad list of activities that you are only peripherally involved in.
This is because being deeply involved in a few things can help you build stronger relationships. Students who have made a significant difference in their extracurricular activities, as opposed to simply having a big list of activities, are what admissions officers and potential employers are searching for in candidates.
Striking a balance between schoolwork and extracurricular activities
It is critical to strike a healthy balance between the academic duties you have and the extracurricular activities you participate in. Be sure that you can devote adequate time to your schoolwork while still finding time to participate in extracurricular activities.
Your interests and goals
Think about the things that interest you and the things that you want to get out of your extracurricular activities. Choose pursuits that are in line with your objectives and those you feel a genuine passion for; these are the kinds of endeavors in which you are likely to be the most engaged and have the greatest influence.
Leave room for flexibility
It is important to keep in mind that your interests and ambitions may shift over time. Because of this, you should leave some wiggle room in your calendar so that you can participate in new experiences or opportunities as they become available.
In the end, the number of extracurricular activities in which you should engage should be determined by your individual circumstances as well as the objectives you wish to achieve. However, it is essential to prioritize the quality of your activities over the amount of them, to strike a healthy balance between your academic responsibilities and your extracurricular commitments, and to pick pursuits that actually excite you.
Want to learn more about many of the Stanford extracurriculars? You've come to the right place. At AdmissionSight, we have over 10 years of experience guiding students through the competitive admissions process.
AdmissionSight can help you put your best foot forward when applying to college. Contact us today for more information on our services.