Everything You Need to Know About the Thespian Society
When it comes to choosing your extracurricular activities for high school, one of the most important things to focus on is finding activities that you are passionate about. When it comes to extracurricular activities in high school, one of the primary things the college admissions officers at the top universities in the United States are looking for is your active participation and dedication.
This means that being highly invested in one or two extracurriculars is far more beneficial to your college admissions goals than being slightly involved and twice as many. If you are like many high school students and are interested in the performing arts, one of the best programs that you can get involved in is the Thespian Society.
Known officially as the International Thespian Society, this group has been around for nearly 100 years, and helped Some of the most famous actors and actresses fall in love with theatre in the performing arts.
If you (if you're a high school student), or your student (if you're a parent) are interested and potentially pursuing an undergraduate degree in acting or some other program related to the performing arts, getting involved in the International Thespian Society is a great place to start.
However, first, you are going to want to know all that you can about this wonderful group before you decide to pursue membership. That is where we at AdmissionSight come in! Our goal is to help top students get into the schools of their dreams so that they may pursue their passions and interests at the college level.
So, if you are interested in learning about the International Thespian Society, you have come to the right place! Together, let's going over everything you should know about the Thespian Society so that you can make an informed decision about whether or not it is the right high school extracurricular for you.
What is the International Thespian Society?
Found it all the way back in the year 1929, the International Thespian Society is an honorary organization made for high school and middle school students who are passionate about and interested in theatre and the performing arts. In all, the Thespian Society is affiliated with more than 4,900 secondary schools across the United States and abroad.
Overall, the mission of the International Thespian Society is to honor students' achievements within theatre arts. Within the program, high school students are affectionately known as "Thespians" while junior high school or middle school students or known as "Junior Thespians." Overall, the International Thespian Society is a part of the Education Theatre Association (EdTA).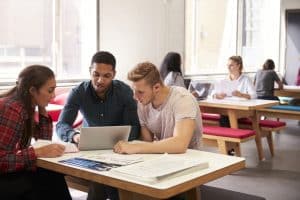 The Education Theatre Association Is a national nonprofit within the United States that is more than 135,000 members who are either students or professionals. The association's overall mission is to help shape and improve the lives of its members through theatre education. Their goal is to do this through:
honoring student achievement in theatre and enriching their theatre education experience
supporting teachers by providing professional development within the theatre arts
offering student and professional members with valuable networking opportunities, resources and recognition
influencing public opinion to help convince non-members that theatre education and the theatre arts offer essential life skills
In all, the International Thespian Society has inducted over 2.3 million theatre students since its original founding in 1929.
What the International Thespian Society Offers its Members
If you are curious about what being a member of the Thespian Society really brings to the table, there are a lot of great reasons to consider. The primary reasons are available on the group's own official website. Of course, to make your life easier, we at AdmissionSight have also included them here.
The first thing that the Thespian Society offers its members is stature. Being a member of this internationally recognized honor society lends a great amount of stature and pride to the students who are part of the program.
This looks great in the eyes of their fellow students, professional actors, and other important members of the entertainment industry, and looks great in the eyes of colleges and universities whose job it is to make decisions on whether or not they accept a young actor into their conservatory program.
The second thing that the Thespian Society offers its members is a great deal of support. The group offers its members the invaluable opportunity to showcase their great talents through things like:
induction ceremonies
honor rank advancement
invitations to perform at state and national venues
awards and scholarships
high assessments for individual events at the state and national levels
Another important thing that the Thespian Society offers its members is a major sense of motivation to continue pursuing their goals within the theatre arts world. They do this by providing clear, attainable goals through their own point system that offers high school students the chance to gain major recognition through a series of progressively harder to achieve honors.
This helps offer students a clear structure program that keeps them motivated and involved throughout their years at school. Additionally, the program offers students important opportunities to lead – and be led by – their fellow students.
In fact, elected troupe officers often work under the guidance of the troupe director to take care of the vast majority of the day-to-day troupe operations and responsibilities. On top of that, troupe officers will have a large role in training their successors to provide valuable continuity and culture from year to year.
Finally, the International Thespian Society offers its members the crucial opportunity to learn and grow. The group does this through:
offering training from state and international theatre arts educators and working professionals
collaborating with students from other schools around the country and world
offering assessment and recognition for members based on their skills and national standards
On top of that, troupe directors in the International Thespian Society become full members of the Educational Theatre Association (EdTA), which offers them incredible professional development opportunities in the form of networking events such as the EdTA National Conference.
How is all this different from just being a part of my school's theatre program?
Whenever you are learning about a new program or group that you may want to be a part of, it is crucial that you look at it with an objective eye. After all, if you are looking for a program or group that you can invest your time and energy in for the vast majority of your high school years, you want to be sure that it is not only something that you are going to be interested in for the long term but also something that is worth all that time and energy in the first place!
If you are worried about whether or not the International Thespian Society will offer you something very different from what your high school theatre program might offer you, good! That means that you are thinking objectively and are doing what is necessary to make the right decisions about your extracurriculars.
The simple answer about how the International Thespian Society differs from your school's theatre group or program is this: This group is essentially the theatre student's honor society, a separate student organization where membership is not given, but earned. While any student can be a member of their school's theatre program, only students who have been officially inducted and registered by the Educational Theatre Association national office can say that they are both members of their theatre program and the International Thespian Society.
How to activate your own International Thespian Society Troupe?
If a Thespian Society troupe is not already affiliated with her middle school or high school, you are going to have to go through the necessary steps to activate your very own troupe. while you may worry that activating your own troop may make your role seem less official, and therefore less impressive, in the eyes of college admissions officers, the opposite may actually be truer.
One thing that college admissions officers look for high school applicants no matter what extracurricular activities they are involved in high school are leadership. College admissions officers want to see that high school students were able to commit to a few extracurricular activities that they were highly passionate about and invest a lot of their time accordingly.
Gaming roles of leadership and impact in those groups is highly important. What could show that you are a leader more than taking the initiative to start your own Thespian Society troupe?
So, here is how you can start your own:
The first thing that you are going to want to do is confirmed that your school is eligible to activate a Thespian troupe. things that you will have to do is provide proof that you attend a traditional, brick and mortar public or private school that offers grades nine through 12, provides full academic coursework and has a theatre program of any kind.
Next, you're going to want to download and complete the application form. The same activation form can be used to start a new troupe or reactivate a lapsed one.
After that, you will have to prove that you have a total of 6 or more active student members within 12 months of activation of the troupe. This a combination of:
current students who are already inducted into your school's withdrawn troupe (if you are reinstating)
current students who transferred, or do transfer, to your school after being inducted into another troupe
students inducted into your troupe using the application form or during the next 12 months
In order to induct students using your application form, you simply have to collect their names, mailing addresses, email addresses, birthdays, and anticipated graduation years.
On the other hand, if you are just starting out, you are allowed to induct any students in grades nine through 12 who are already participating in your schools through the program, has worked on at least two productions, and has completed at least 100 hours of quality work in theatre and related disciplines. Once your troupe becomes more established, you will then be able to move to the more advanced induction criteria, such as the Thespian Induction Point System.
Finally, you will have to pay a small activation fee as well as your annual troupe dues and one-time inductions fees per student. Those costs are below:
Without a doubt, one of the coolest parts of joining the International Thespian Society for young and promising actors is that it allows you to become a part of an international network and community that includes some of the most celebrated and beloved performers of our time.
There are quite a few famous men and women who first were able to let their actor's wings spread thanks to the Thespian Society. Some of the most famous actors and actresses amongst that group include:
Kathy Bates
Meredith Baxter
Lorraine Bracco
Wayne Brady
Kelly Clarkson
Stephani D'Abruzzo
Fran Drescher
Adam Driver
Faye Dunaway
John Goodman
Tom Hanks
Goldie Hawn
Christina Hendricks
Don Johnson
Anthony Kiedis
Val Kilmer
Zoe Kravitz
Cloris Leachman
Julie Louis-Dreyfus
Madonna
Laurie Metcalf
Janelle Monae
Sally Struthers
Danny Strong
Miles Teller
Dick Van Dyke
Jerry Van Dyke
As you can see, truly some of the most celebrated actors and actresses are members of the International Thespian Society. There is no doubt that the college admissions officers at the country's top theatre programs and conservatory programs will put your application to the very top of the list if they see that one of the high school extracurricular activities you took part in was the Thespian Society.
Now, all you have to do is find out where your nearest troupe is and begin the application process. While gaining recognition within the Thespian Society can be tough, as it truly is home to many of the world's most talented youngsters, you will absolutely be rewarded in college and beyond if you make it a primary goal to gain that recognition.
Good luck!