UNC Chapel Hill Acceptance Rate: 19%
Shortcut to sections offered for UNC Chapel Hill prospective students:
Successful Applicant Profile
Demographics
Majors
SAT/ACT scores
 Entry Requirements
Tuition
Scholarships
Checklist of Application Requirements
Application Deadlines
 What Should You Expect?
Student Life
Academics Offered
Athletics Offered
Notable Alumni
Located in the wonderful Chapel Hill, North Carolina, the University of North Carolina is one of the most prestigious and iconic public universities in the United States.
UNC is one of the most popular places for high school students to apply to college and for the fourth consecutive year, the school broke its own record when it came to first-year applicants.
Last year, over 44,000 high school seniors sent in their applications to UNC with the hopes of becoming a Tar Heel. While the interest in attending UNC is without a doubt higher than ever, the UNC Chapel Hill acceptance rate is also quite a bit lower than it has been in the past. That means that while more and more students are applying, less and less of those students are actually getting in.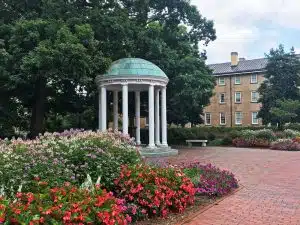 In fact, last year, the UNC Chapel Hill acceptance rate came out to approximately 19%. That means that for every 100 students that applied, only 21 actually got in. Still, you should not let the UNC Chapel Hill acceptance rate keep you from applying.
UNC is one of the most famous schools in the country both for its incredible academics and its fantastic athletics program. Of course, the UNC Tar Heels men's basketball team is one of the most celebrated programs in the history of the sport.
If you attend UNC, chances are good you will be brushing shoulders with some of the biggest future NBA stars (after all, Michael Jordan was a student at UNC back in the 1980s.
If it is your dream to attend UNC, you are going to need all the help that you can get getting in. Of course, you will want to make sure that you are earning top grades throughout high school as well as scoring very strong scores in either the SAT or ACT, but that is simply not enough to ensure your acceptance to schools as prestigious and competitive as UNC.
You are going to want to make sure that you also develop fantastic personal essays, earn great letters of recommendation from your high school faculty, and know exactly how to provide explain and discuss the extracurricular activities that you invested your time and energy in during your high school years.
The truth is that one of the best ways to make sure that you get into the school or schools of your dreams, you are going to need all the help and experience that is available to you.
That is where AdmissionSight comes in. Our college admissions experts are ready to help the top high school students get into the very best universities in the world. No matter how great your grades and scores are, you need to make sure that your application makes you look you're very best. AdmissionSight has the tools and resources necessary to do just that!
When it comes to major public universities, UNC ranks amongst the best. Last year, UNC was ranked as the 6th best public university in the world and there are many reasons for that incredibly high ranking. When it comes to getting into a great school like UNC, you of course are going to need great scores and GPA.
In fact, the average weighted GPA for students who get into UNC is an astounding 4.39! That's better than a straight-A average! UNC is also heavily competitive when it comes to SAT and ACT scores. The average SAT score of students who are granted admission to UNC is 1395, while the average ACT score of students who get in is 30.
Though these numbers alone are of course not the only things that you need to be worried about. Still, through these numbers, it is very clear that you will have to be at or near the very top of your high school class in order to beat the odds of the UNC Chapel Hill acceptance rate.
However, before we break down those numbers in greater detail, let's go over what a successful applicant at the University of North Carolina, Chapel Hill will look like.
Successful applicant profile
The University of North Carolina has an incredible academic profile and boasts an impressive 74 bachelor's degree options, 104 master's degree, 65 doctorate degree, and 7 professional degree programs. Beyond that, some of the programs that are offered at UNC rank amongst the very best in the United States.
As is the case with each and every top university – whether it is a private Ivy League or a public school like UNC – the admissions process is based on a combination of many different factors. UNC will consider your grades, standardized test scores, essays, extracurriculars, and more.
For that reason, it is important to remember that your application will be compared to the tens of thousands of other student applications that UNC receives.
You are going to want to make sure that you have what it takes to beat the UNC Chapel Hill acceptance rate odds. If you do manage to do that, here is a look at what kind of student body you can expect at UNC.
UNC Chapel Hill demographics
Overall, UNC is ranked quite highly when it comes to ethnic and geographic diversity. When it comes to gender diversity, UNC ranks below average, but that is not because men far outweigh women on campus. In fact, it is the exact other way around!
The undergraduate student body at UNC at Chapel Hill is 58.4% female to only 41.6% male. That is a strong indication of just how progressive this school truly is.
When it comes to ethnic diversity, UNC has a lot to be proud of as well. The majority of students at UNC Chapel Hill are white, with 62% of students identifying as such, but that does not mean there are no major pockets of students from ethnic minorities. 10.7% of students are Asian, 8.0% of students are Black or African American, 7.8% of students are Hispanic/Latino and 2.7% of students are Non-Resident Alien.
For international students, UNC Chapel Hill has been a major destination for years. In fact, in a poll that looked at a total of 1,268 schools in the United States, UNC ranked as the 117th best school for international students. At least 48 countries are represented on UNC's campus and 5.4% of the student body is made up of international students.
UNC is most popular for students who come from the following countries:
Australia
Brazil
Ecuador
France
Hong Kong
Italy
Netherlands
Singapore
Spain
Sweden
United Kingdom
Most popular majors at UNC
One important thing for students to keep in mind when they are deciding what schools they want to apply to are the popular majors that are offered.
Typically, a major or program being highly popular is indicative of its quality and you want to make sure that you are going to a school that can offer you a great education in the interests that you are most interested in pursuing for your major, whether you are most interested in STEM programs, political science, art, and everything in between.
At UNC, the most popular programs include the following:
Social Sciences; Biological and Biomedical Sciences; Communication, Journalism, and Related Programs; Psychology; and Business, Management, Marketing, and Related Support Services. Beyond that, one important thing to keep in mind is that the freshman retention rate is an incredible 97 percent.
SAT/ACT scores and GPA required to get into UNC
We briefly broke down what you can expect when it comes to the GPA and standardized test scores necessary to get into UNC, but it is important to break these things down to a higher degree so you know exactly what these scores mean as well as what scores will be working for, or working against you.
When it comes to your GPA, the average GPA of students who get into UNC is a weighted 4.39. That is better than Straight A's! So, how do you achieve such a GPA, you might ask? The best way to do this is to enroll in weighted courses such as honors or AP courses in order to get that above 4.0. Either way, the 4.39 average is a major sign that students who ultimately get into UNC are those who are at the very top of their class.
Not only is that UNC Chapel Hill acceptance rate competitive on its own, that 21 percent of students who get in are amongst the brightest and most advanced in the country.
For the SAT, the 25th percentile score is 1300 while the 75th percentile score is 1470. What that means is that if you score a 1300 or below, your score will be working against you as it is below average for students who get in. If you score a 1470 or above, your score will be a major asset as it is above the average score of students who get int.
For the ACT, UNC is a bit more competitive than it is for the SAT. the 25th percentile score is 27 and the 75th percentile score is a 33.
Entry Requirements
UNC is an elite public university whose campus sprawls over 729 acres of southern North Carolina charm. Its faculty and alumni include 9 Nobel Prize laureates, 23 Pulitzer Prize winners, and 49 Rhodes Scholars. There is little doubt why it is such a desirable school to attend. In order to attend, there is quite a lot of information that you are going to want to be aware of.
Some of those factors include things like what you need to fill out on your application in order to apply, what deadlines you need to meet in order to get your application in on time, as well as the price and financial aid options for the school.
Luckily, here at AdmissionSight, we've done the work necessary to break all the information down for you.
How much does it cost?
Just like other top public schools, UNC offers two different sets of prices. One price is for students who are residents of the great state of North Carolina, the other is for students who live in other states or other countries. Here is a breakdown of the price difference that is offered on the school's official site.
As you can see, the prices vary dramatically. The affordable nature of in-state tuition is a fairly obvious explanation for the fact that over 80 percent of students who attend UNC are from within the state of North Carolina.
Whether you are an in-state applicant or out-of-state applicant, chances are good you are interested in any financial aid options available to you in North Carolina.
North Carolina financial aid
The average amount of financial aid that is offered at UNC Chapel Hills is over $23,000 for incoming freshman. This number is highly competitive compared to the average number of financial aid packages at other top public schools. Beyond that, approximately 42% of incoming freshmen receive some kind of financial aid, typically through scholarships and grants.
Application requirements
For every school, application requirements are typically quite similar, but very rarely exactly the same. It is crucial to make sure that you are prepared to complete an application before its deadline in order to be considered by a school. Here are the requirements for UNC.
A Common Application or Coalition Application completed online
$85 nonrefundable application fee or a fee waiver
One personal essay and two short answer questions
Official high school transcript
Secondary school statement submitted by your school's counselor on your behalf
SAT or ACT scores
Letter of recommendation from a teacher in high school
Application Schedule
For students who are applying to UNC, there are two different application deadlines depending on your application status. Early Action applications must apply by Oct. 15 in order to get their decision by the end of January. Regular Decision students must apply by Jan. 15 to get their decision by the end of March.
What to Expect
For every student, figuring out which school is best for them is a personal journey. Big or small school? Public or private?
These are questions that you have to answer any questions we at AdmissionSight will have to know the answers to in order to help you get into the perfect school for you.
If you are zeroing in on several schools and want to make sure that they are a great place for you, one way to feel confident about your decision is to see what current students are saying about the school. Thanks to the site Niche, we have gathered a couple of quotes from current students who have great things to say about UNC Chapel Hill.
"Going to UNC Chapel Hill was one of the best decisions I have ever made," one said. "For the first time in years, I felt comfortable being myself because I did not feel judged by others. The students are extremely welcoming, and it did not take long for me to find friends. Although I did not know all of my suitemates upon moving in, we all quickly became best friends.
There are countless resources available to the students, whether you need tutoring for certain classes, finding a job, community service opportunities, etc.
Along with resources, there are many clubs for every hobby. In the fall, I joined a dance team called Kamikazi. I was ecstatic to have made the team because I had not had the chance to dance on a team for four years. Starting from the first practice, I felt right at home.
No matter your interests, there is always a place for you at UNC Chapel Hill. The tight-knit community is positive, motivational, and, most of all, uplifting!"
"I really really like this college, the school spirit and inclusiveness is important here," another said. "One thing that I disliked was that it being a big school, it is easy to be lost in the thousands of people that go there and so it can be hard to have an instructor or person focus on you specifically and help."
Academics offered
As you know, there are many program options when it comes to academics at UNC. Still, it is useful to know which are the highest-rated. At UNC, here are the programs that rank amongst the best compared to other schools in the country:
School of Medicine
Gillings School of Global Public Health
School of Social Work
School of Nursing
Kenan-Flagler Business School
School of Education
Public Affairs
Engineering
Athletics
Without a doubt, if UNC is a school at the top of your list, part of the reason is the great athletic culture at the school. Overall, the Tar Heels have 27 varsity teams that compete in Division I NCAA in the Atlantic Coast Conference.
North Carolina has won 45 team national championships in seven different sports. 6 of those championships have come from the men's basketball program, which is considered to be amongst the most dominant programs in the sport.
In all, UNC offers men's Baseball, basketball, cross-country, fencing, football, golf, lacrosse, soccer, swimming and diving, tennis, track and field, and wrestling. The school offers women's basketball, cross-country, fencing, field hockey, golf, gymnastics, lacrosse, rowing, soccer, softball, swimming and diving, tennis, track and field, and volleyball.
Famous UNC Alumni
There are many famous men and women who once studied at UNC. Here is a quick list of the most influential and celebrated UNC alumni:
Michael Jordan, basketball player
Lewis Black, comedian
Chris Matthews, tv show host
John Edwards, politician
Stuart Scott, sports analyst
Elizabeth Edwards, author
James K. Polk, POTUS
Andy Griffith, comedian
Lawrence Taylor, football player
If you would like to one day see your name on that list, the very first step that you will have to take is getting in UNC Chapel Hill. Don't let the UNC-Chapel Hill acceptance rate scare you! Here are AdmissionSight, we have the tools necessary to help you achieve your goal!