Yale Graduation Rate
What Is the Graduation Rate for Yale University?
When applying to colleges, students consider various factors such as the availability of their intended majors, the student body, the school's reputation, and its selective admission. Another factor that students must look into is the graduation rate. You might wonder, "What is the graduation rate for Yale University?" The Yale graduation rate is 96.92%, with 1,320 students out of 1,362 candidates completing their degree within 150% normal time.
Yale University, a private research university founded in 1701 in New Haven, is the third-oldest higher education institution in the United States. Yale University is a member of the Ivy League group, America's most prominent higher education institution.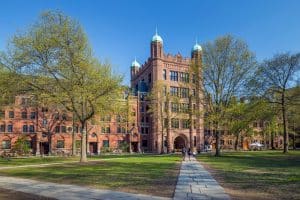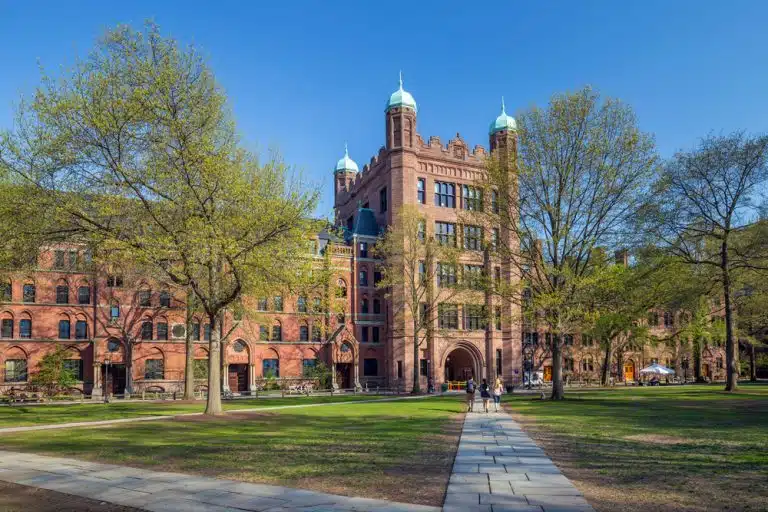 Yale University is one of the world's most elite universities. Its reputation as an educational powerhouse is mirrored in ranking 3rd out of 443 National Universities in the US News Best Colleges Ranking.
The following table describes the Yale graduation rate (150% normal time) by gender.
Yale Graduation Rates by Gender
| | | | |
| --- | --- | --- | --- |
| | Entering First-Year Students | Completers | Graduation Rates |
| Total Students | 1,362 | 1,320 | 96.92% |
| Male | 694 | 671 | 96.69% |
| Female | 668 | 649 | 97.16% |
The following data are utilized for NCAA and US Department of Education (IPEDS) surveys on the graduation rates of first-time, full-time students six years after entering Yale College (150% normal time).
Yale College Graduation Rates Over the Years
| | | | |
| --- | --- | --- | --- |
| Entering Year | Entering First-Year Students | Completers | 6-Year Yale Graduation Rate |
| 2015-16 | 1,362 | 1,320 | 96.90% |
| 2014-15 | 1,358 | 1,309 | 96.40% |
| 2013-14 | 1,357 | 1,319 | 97.20% |
| 2012-13 | 1,354 | 1,308 | 96.60% |
| 2011-12 | 1,347 | 1,312 | 97.40% |
When selecting a college, the graduation rate is a significant indicator of quality. This rate shows the number of students who enrolled as freshmen at that college and graduated from the same institution. Institutions usually reveal their four-year or six-year graduation rates.
Some students require additional time because they are switching majors, taking time off from school, working part-time jobs, or dealing with personal matters; graduating in four years will cost you fewer expenses. These may include your tuition, room and board, supplies, and other fees. In addition, graduating in four years means getting a head start on your career.
How Many Credits Do You Need to Graduate From Yale?
A student must successfully complete thirty-six term courses or their equivalent to qualify for the bachelor's degree, B.A. or B.S., at Yale College. A student must meet Yale College's distributional requirements and the major requirements of his/her chosen program. Credit at Yale College is measured not in terms of credit hours but rather by course credits; typically, one credit is awarded for each term course.
An undergraduate student at Yale carries a course load slightly greater than that of students attending other schools or universities, many of which require a total of only thirty-two-course credits for graduation.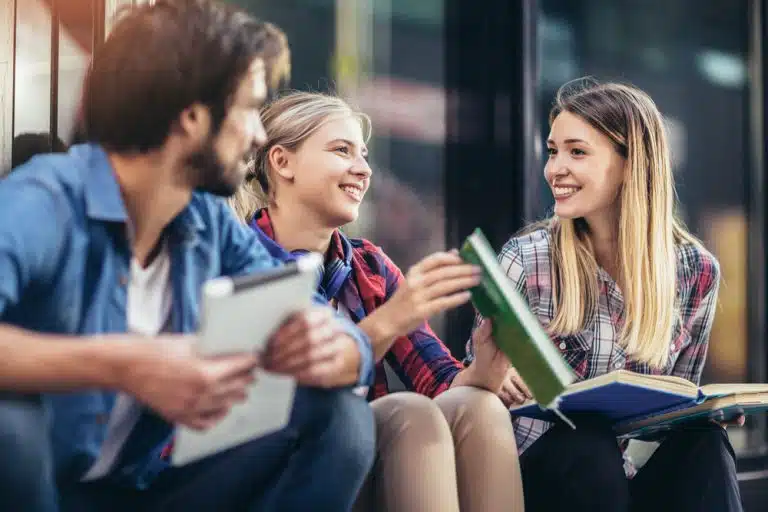 The requirement of thirty-six-course credits exhibits the educational policy of Yale College, which strongly advocates the principle of distribution in studies to the same degree that it endorses the principle of concentration.
To meet these criteria, a student should enroll within eight terms only.
Yale College requires all students to regularly attend classes. In terms when students are enrolled and the instruction is delivered in person, they should not be absent for more than two weeks (14 calendar days) without prior authorization from the Committee on Honors and Academic Standing. Students considering such a leave of absence should notify their residential college dean as soon as possible.
Enrolled students at Yale College are not permitted to be concurrently enrolled, either full-time or part-time, in any other school or college at any other institution. Yale University schools that allow currently enrolled undergraduates to be admitted to programs established within Yale College is permitted.
Examples include the simultaneous awarding of a bachelor's and master's degree and the five-year B.A.-B.S/M.P.H. degree program in Public Health. Exceptions will also be considered for Yale College students whose participation in the Reserve Officers Training Corps program requires enrollment in courses provided by institutions other than Yale.
Furthermore, students with a bachelor's degree from Yale or another university are not eligible for degree enrollment at Yale College.
Distributional Requirements
To be eligible for the bachelor's degree, all Yale College students must meet distributional requirements. The Undergraduate Curriculum provides an overview of the distributional requirements as well as a definition of the disciplinary areas and skill categories.
Major Requirements
For each department or program, several requirements that must be fulfilled. Every major program has a senior requirement, which could be a senior essay, a senior project, or a senior departmental examination.
Terms of Enrollment
The bachelor's degree requirements must be completed in no more than eight terms of attendance. Terms spent on a Year or Term Abroad, or in the Yale College program at the Paul Mellon Centre in London during the spring term are equivalent to terms of enrollment in Yale College. However, course credits acquired during a Year or Term Abroad may not be contributed to acceleration by the early accumulation of thirty-six-course credits earned at Yale.
Attendance at the Paul Mellon Centre in London or the Yale Summer Session does not count as a term of enrollment at Yale College.
What Do Most Yale Graduates Do?
What do most Yale graduates do? The Employment Outcomes indicator is an institution's capacity to assure a high degree of employability for their graduates while also cultivating future leaders who go on to make an impact in their respective sectors. It is one of the metrics Yale scores exceptionally highly on this criterion. Yale is impressively ranked fourth for this year's ranking by the QS World University Rankings 2023.
Meredith Mira, a Senior Associate Director in the Office of Career Strategy at Yale, shared that the office's director sends out a first destination report every year. This report compiles data on industries that Yale graduates work in, median income, top employers, and top locations in the US and internationally.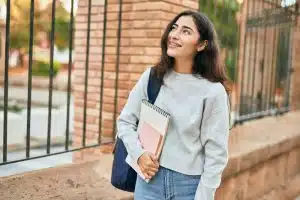 In the Class of 2021, about 23 percent of graduates work in finance, 17 percent work in academics and education, and 12 percent work in technology. The remaining 50% of students work in non-profits, government, journalism, or other arts-related fields.
Yale offers a strong humanities and arts program, which produces a considerable proportion of students who go on to work in "common good and creative careers" following graduation.
The Office of Career Strategy (OCS) monitors Yale College students' summer and post-graduation career choices. Students are encouraged to engage with their classmates and recent graduates by using the Class Lists and Peer Networking Lists available in the Career Library on the Yale Career Link.
About 96.9% of the Class was either working or attending graduate school within six months of graduation.
Approximately 34.5% of the Class opted to work for a small or mid-size company (fewer than 100 employees).
Around 32.3% of the Class selected a non-profit, NGO, government, or other public agency as their workplace.
About 72.7% of the Class with full-time work in the United States, reported a starting salary of over $50,000, and 53.5% has a starting salary of over $70,000.
As reported by 88.9% of the Class, the graduates' work is related to their field of study.
Lastly, 87.3% of the Class used the resources that were provided by the Office of Career Strategy for their employment.
The employers listed below are those who hired the most graduates in the specified year. This list is updated annually, and the Office of Career Strategy collaborates closely with businesses from many industries and functional areas.
Yale University
Goldman Sachs Group Inc.
Bain & Company
Meta Platforms, Inc.
Bank of America Merrill Lynch
Boston Consulting Group
JPMorgan Chase and Co.
McKinsey and Company
McMaster-Carr
Morgan Stanley
Aside from the impressive Yale graduation rate, this prestigious Ivy League institution is known for its superb programs, active student life, and most importantly, notable alumni.
Among the outstanding graduates are 61 Nobel laureates, 78 MacArthur Fellows, 247 Rhodes Scholars, 119 Marshall Scholars, 5 Fields Medalists, and 3 Turing Award winners. Yale University also produced five US Presidents (George W. Bush, Bill Clinton, George H.W. Bush, and Gerald Ford), as well as 19 US Supreme Court Justices and a plethora of billionaires.
Is a Degree From Yale Worth It?
Yale University in New Haven, Connecticut, is well-known for its exceptional theatre and music programs. Beyond the classroom student organizations are available such as the Yale Whiffenpoofs, a well-known a cappella group, and the Yale Dramatic Association. The Yale Bulldogs are Ivy League competitors best known for their rivalry with Harvard.
During their time at Yale, students are assigned to one of the campus' 14 residential colleges. Each college has a head and dean who reside on campus and eat in the dining halls with the students. In addition, cultural centers allow students to develop a feeling of cultural identity on campus.
If you wonder "Is a degree from Yale worth it?" Yale has a lot to offer, from excellent academic programs to extracurricular activities to its diverse and vibrant community.
Moreover, every single financial aid award given out by Yale College is guaranteed to cover 100% of a student's demonstrated financial need, which is determined by both the Estimated Cost of Attendance and the Expected Family Contribution. For the 2022-2023 academic year, Yale's undergraduate cost of attendance is more than $84,000 for one academic year.
While the United States remains the most popular location for domestic and international students, it is also one of the most expensive options. Students must verify all the details on fees and funding possibilities before deciding which school to attend.
Yale is committed to an admissions process that does not take a student's capacity to pay, as well as a financial assistance program that fulfills the full need of all students without the need for loans.
Yale has two guiding principles: Need-blind admissions and need-based financial aid make a Yale education accessible to all students, regardless of family background, citizenship, or immigration status.
As discussed earlier, around 96.9% of Yale graduates are employed or in graduate school within six months of graduation. Although graduates report accepting post-graduate work during their senior year, 50% of graduates typically get full-time employment in the spring of their senior year or later. The salaries shown below are self-reported by graduates working full-time in the United States and do not include bonuses or other types of earnings.
Mean: $77,945/Year
Median: $78,000/Year
Today, MBA graduates earn well over six-figure beginning salaries on average—and that does not even include some of the bonuses and benefits they receive as part of their pay packages. According to the Graduate Management Admission Council's 2021 Corporate Recruiters Survey, MBA graduates earned $115,000 as starting base wages in 2021.
Now that we have discussed the Yale graduation rate, you should contemplate choosing which college to attend for the next four years. You put a significant amount of time and money into getting your degree, and if you don't finish it, you won't get the same return on your investment as you would have otherwise.
When you see that a school has a high graduation rate, you may be sure that your chances of graduating from that school are strong, and you can feel assured and make the most out of your college experience.
If Yale is at the top of your college list, you'll want to learn what Yale looks for in applications. It is also a good idea to look into Yale admissions statistics from recent years to get a sense of how competitive the admissions process is.
While Yale is undeniably a very selective college, that does not imply you won't be able to enroll in an upcoming class. Learning about Yale University can help you understand what test scores and GPA you should aim for and will allow you to be more realistic about your admissions chances.
Although admission to this dream school is competitive for all students, you can improve your chances of acceptance by sending an application that best represents you.
To do so, you'll need to maintain strong grades, create meaningful and compelling essays and a personal statement, demonstrate your interest and knowledge about the institution, and have an accomplished extracurricular profile.
Furthermore, suppose you believe you will need an expert's helping hand; AdmissionSight is ready to guide you through the arduous admissions process. AdmissionSight is one of the leading college admissions consultants in the country today. Feel free to schedule an appointment for your initial consultation to know us more.