Brown Campus Size: A Comprehensive Guide for Aspiring College Students
What is the Brown campus size?
What is the size of the Brown campus? Brown University's campus size plays an essential role in shaping the student experience. Spanning approximately 143 acres on College Hill in Providence, Rhode Island, the campus offers an intimate setting while providing ample space for academic buildings, residence halls, and recreational facilities. This balance allows students to access the resources and opportunities of a larger institution while maintaining a close-knit community.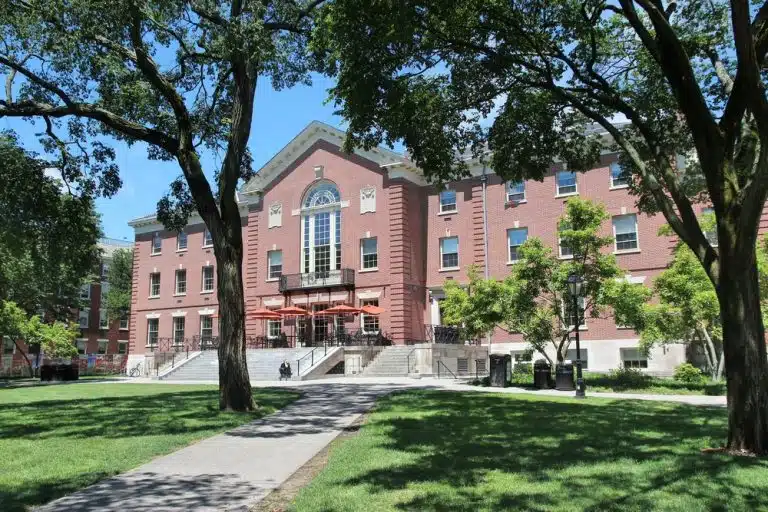 The campus layout is designed to be highly walkable, with most major facilities within a 10-minute walk. The layout is centered around the Main Green, which serves as the heart of the campus and a hub for student activities and events. It is surrounded by iconic buildings like University Hall and Manning Hall, as well as administrative offices, academic buildings, and libraries.
The campus layout can be divided into several key areas, including:
The Main Green
This central grassy area is a focal point for student life and houses many important buildings, such as the John Hay Library and Sayles Hall.
The Sciences and Engineering Complex
Located on the western edge of the campus, this area is home to state-of-the-art research and innovation facilities, including Barus & Holley, the Engineering Research Center, and the Sidney E. Frank Hall for Life Sciences.
The Pembroke Campus
Situated to the north of the Main Green, Pembroke Campus houses several residence halls, the Alumnae Hall, and the Stephen Robert '62 Campus Center. It serves as a gathering space and hosts various events for Brown students.
Residence Halls
Spread throughout the campus, Brown's 42 residence halls offer a range of housing options, from traditional dormitories to apartment-style living.
Athletic and Recreational Facilities
Brown's campus also features a variety of athletic and recreational facilities, including the Nelson Fitness Center, the Katherine Moran Coleman Aquatics Center, and the OMAC (Olney-Margolies Athletic Center).
The architecture on Brown's campus is a blend of historic and modern styles, creating a visually stunning environment that honors the university's rich history while embracing innovation and progress. The historic buildings, such as the iconic Van Wickle Gates, are complemented by contemporary structures like the Granoff Center for the Creative Arts.
In summary, the Brown campus size and layout contribute to the unique student experience offered at this prestigious Ivy League institution. With 143 acres of well-designed and easily navigable space, Brown's campus fosters a strong sense of community, collaboration, and engagement, providing an ideal environment for students to learn, grow, and thrive.
How to navigate the Brown campus?
How to get around the Brown campus? Navigating the Brown University campus is relatively straightforward, thanks to its compact size and well-planned layout. As a new student or visitor, you'll find it easy to locate major buildings, landmarks, and amenities on the campus.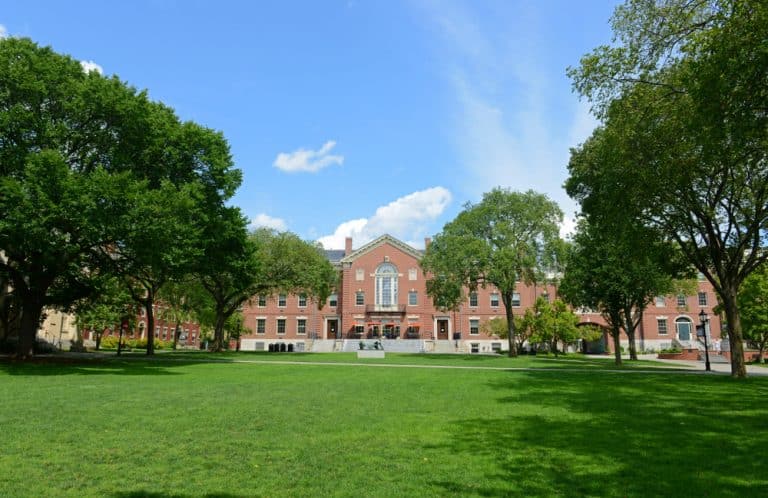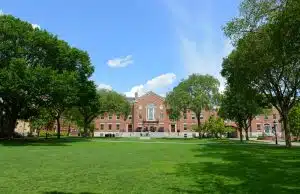 Here are some tips to help you navigate Brown's campus:
Use the campus map
Familiarize yourself with the campus map, which provides a detailed overview of the buildings and facilities on campus. You can access the interactive campus map on Brown's website, or pick up a printed copy from the visitor center or other campus locations.
Identify key landmarks
Get to know the main landmarks and hubs, such as the Main Green, the Sciences and Engineering Complex, and the Pembroke Campus. These areas serve as reference points and can help you orient yourself as you move around campus.
Explore on foot
The best way to navigate Brown's campus is by walking. Most academic buildings, residence halls, and amenities are within a 10-minute walk from each other, making it a highly walkable environment. Exploring on foot will also help you familiarize yourself with the layout and discover shortcuts between buildings.
Use the Brown Shuttle
The Brown Shuttle is a free transportation service that connects various points on campus and runs throughout the day and evening. Consult the shuttle schedule and route map to identify the stops nearest to your destination. Riding the shuttle can save time, especially during inclement weather or when navigating the campus at night.
Biking
If you prefer biking, Brown's campus is bike-friendly, with numerous bike racks and paths available for use. Biking is an efficient way to navigate the campus and can also help you reach off-campus destinations quickly.
Ask for directions
Feel free to ask fellow students, faculty, or staff members for directions if you need guidance on where to go. The Brown community is friendly and welcoming, and most people will be happy to help you find your way.
Use mobile apps
You can use navigation apps like Google Maps, which can provide detailed walking or biking directions to specific locations on campus. Some apps may also include information about Brown Shuttle stops and schedules.
Familiarize yourself with nearby streets
Learn the names and locations of the streets surrounding the campus, such as Thayer Street, Waterman Street, and Angell Street. Knowing these streets will help you situate yourself when moving between campus and the surrounding neighborhoods.
By familiarizing yourself with the campus map, landmarks, and transportation options, you'll quickly become adept at navigating Brown University's campus. The compact layout and walkability of the campus make it easy to move between academic buildings, residence halls, and amenities, ensuring a smooth and enjoyable experience for students and visitors alike.
What is the impact of Brown campus size on student life?
What effect does the size of the Brown campus have on student life? The Brown campus size significantly shapes student life and fosters a vibrant, close-knit community. Here are some ways in which the campus size impacts student life at Brown:
Accessibility
Brown's compact campus ensures that most major facilities are within a 10-minute walk from one another. This easy accessibility makes it convenient for students to attend classes, participate in extracurricular activities, and socialize with friends without wasting time on lengthy commutes.
Sense of community
The relatively modest campus size encourages students to form strong connections with one another. It's common for students to run into familiar faces while walking between classes or hanging out on the Main Green. This close-knit environment fosters friendships, collaboration, and a supportive atmosphere.
Campus events and activities
The centralized layout of Brown's campus makes it easy for students to participate in various events and activities. From attending guest lectures to joining clubs and organizations, the campus size and layout facilitate student engagement and involvement in campus life.
Personalized attention and resources
With a smaller campus size, Brown can provide students with personalized attention and support. The university offers comprehensive resources, such as academic advising, career services, and health and wellness services, which are easily accessible to students across campus.
Active lifestyle
The walkable nature of Brown's campus promotes an active lifestyle for students. In addition to walking and biking around campus, students can also take advantage of the numerous athletic and recreational facilities, such as the Nelson Fitness Center, Katherine Moran Coleman Aquatics Center, and the OMAC (Olney-Margolies Athletic Center).
In conclusion, the size of Brown University's campus significantly impacts student life by fostering a close-knit community, encouraging interdisciplinary collaboration, and promoting an active lifestyle. The compact, accessible campus ensures that students can make the most of their time at Brown, both academically and socially, while enjoying the resources and opportunities of a larger institution.
Is Brown's campus size right for you?
Is Brown's campus size appropriate for you? Determining whether the Brown campus size is right for you depends on your preferences and priorities when it comes to college life. To help you decide if Brown's campus size is a good fit for you, consider the following factors:
Access to resources
Despite its relatively modest size, Brown's campus offers students access to a wide array of resources and facilities typically found at larger institutions. These include state-of-the-art academic and research facilities, comprehensive support services, and diverse extracurricular opportunities. Brown may be the right choice if you're seeking a campus with vital resources and opportunities but still want the intimacy of a smaller campus.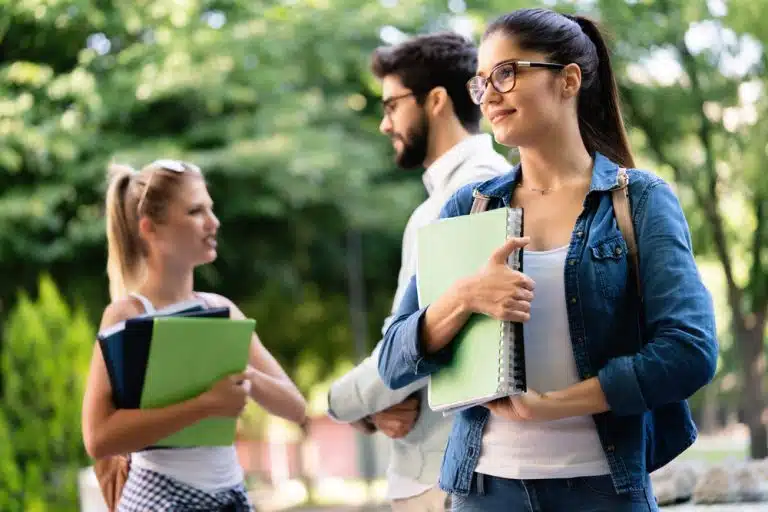 Interdisciplinary collaboration
Brown's campus layout encourages interdisciplinary collaboration by placing different academic departments and research facilities nearby. If you're interested in working with students and faculty from various fields, the Brown campus size and layout can facilitate these connections and opportunities.
A balance between urban and campus life
Brown's campus is nestled in the historic College Hill neighborhood of Providence, Rhode Island. The campus size strikes a balance between offering a distinct campus environment and allowing students to enjoy the benefits of living in a vibrant city. The proximity to downtown Providence ensures that students can access cultural events, dining, and shopping opportunities just a short walk or bike ride away.
Personal preference
Ultimately, your personal preferences play a significant role in determining whether Brown's campus size is right for you. Some students prefer sprawling campuses with numerous satellite locations, while others find smaller, more compact campuses appealing. It's essential to consider what kind of environment you feel most comfortable and productive in.
To determine if Brown's campus size is the right fit for you, consider visiting the campus, either through an in-person campus tour or a virtual tour. This will give you a firsthand experience of the campus layout, atmosphere, and facilities, allowing you to make a more informed decision about whether Brown University is the best choice for your college experience.
In conclusion, Brown University's campus size offers a unique blend of a close-knit community and access to the vast resources typically found at larger institutions. The campus's picturesque setting, walkability, and balance between urban and campus life make it an exceptional choice for students seeking an enriching college experience.
At AdmissionSight, we understand the importance of finding the right fit when it comes to choosing a college. Our expert guidance and personalized support can help you navigate the admissions process and determine whether the Brown campus size is the perfect fit for your academic and personal growth. Let us help you make the most of your college journey by finding a campus that truly feels like home. Contact us!