Careers for Liberal Arts Majors
It is not always necessary to attend college in order to prepare for a specific vocation. Although, students who earn certain college degrees, such as a degree in liberal arts, are better equipped to pursue a more diverse choice of career paths and develop skills that are essential for success in the workplace. Students who enroll in liberal arts degrees gain experience in areas such as project management, teamwork, problem-solving, and leadership, which enables them to become well-rounded job applicants who are prepared for a wide variety of professional paths. Thus, we will examine the components of a degree in the liberal arts, as well as provide a short list of potential careers for liberal arts majors.
What is a Liberal Arts Degree?
What is a liberal arts degree? The study of art, literature, language, history, and philosophy are all included in the curriculum of a liberal arts degree, which is classified under the umbrella term "humanities." Even though earning a degree in the liberal arts does not expressly teach or prepare you for a certain field of work, it does, nevertheless, provide you with the broad abilities necessary to be successful in a wide variety of various professions. The abilities gained through completing a degree program in the liberal arts can, in many instances, be beneficial to an organization. This is because it allows companies to fill unfilled employment vacancies with people who have a wide range of career abilities.
Students who pursue degrees in the liberal arts generally focus their studies on cultural awareness and ethics. This helps students develop the skills necessary to be culturally sensitive and positions them to be valuable contributors to any department. Students develop abilities that enable them to collaborate well with a diverse range of staff members, making them ideal candidates for leadership roles perfect for some of the careers for liberal arts majors.
Why Study Liberal Arts?
Since we have an idea of what is a liberal arts degree, students will have the urge to know why study liberal arts. To answer, as the labor market is undergoing radical transformations, the competencies that will be in the highest demand in the foreseeable future will all be strongly interconnected with one another and with the arts and humanities. In the workplace of the future, having talents such as critical thinking, problem-solving, networking, creative thinking, and a myriad of other skills will be extremely valuable.
Let's take a closer look at some of the most compelling arguments in favor of earning a degree in the Liberal Arts:
An interdisciplinary and diversified approach to learning
Education in the liberal arts is combined with a variety of other fields of study. Students are given the opportunity to obtain experience in a diverse array of subject areas, which prepares them to acquire a broader perspective in whatever line of work they ultimately decide to pursue. Employers may place a higher value on prospective employees who possess such qualities.
Highly interesting subjects to study
Students who enroll in an undergraduate program in the Liberal Arts will have the opportunity to study a wide variety of fascinating and thought-provoking topics, such as the development of societies, the mind and behavior, the foundations of natural sciences, philosophy, logic, legal studies, rhetoric, creative writing, environmental studies, and other subject areas, in order to acquire the appropriate frame of mind and perspective on the world.
Freedom to choose subjects
Education in the liberal arts provides you with the flexibility to develop your interests in fields in which you are already proficient. Students have the opportunity to choose one, two, or even three majors to obtain specific knowledge in addition to their minor studies. Students have the opportunity to select their majors and minors from a wide variety of multidisciplinary paths.
Immense scope for arts graduates
Students in liberal arts programs are exposed to a wide range of disciplines thanks to the inclusion of cutting-edge subject matter and comprehensive training in program content. Students have the opportunity to find jobs in a variety of industries, including marketing and advertising, human resources, information technology, and even healthcare. Graduates of liberal arts programs are also well-suited for careers as entrepreneurs, managers, designers, and educators. The scope of liberal arts is quite high, and it will continue to be so in the years to come.
It provides you with soft skills employers want
Students who pursue a degree in the liberal arts develop skills that are in high demand and highly valued in the business world. Careers for liberal arts majors may need skills that include effective communication, the ability to solve problems and think critically, the capacity for analysis and observation, and the capacity for effective oral and written communication. Careers for liberal arts majors may require students which are better prepared for their future careers if they have these abilities, which are becoming increasingly important in this age of rapidly advancing technology.
Liberal Arts school allows you to expand your creative and critical thinking
Before choosing their areas of concentration, students are given the opportunity to broaden their understanding of human civilization and develop a global perspective by studying a variety of disciplines, including the humanities, social sciences, natural sciences, and formal sciences. Because of this, they are able to improve their creative and critical thinking skills, which ultimately leads to them becoming more realistic and open-minded.
Students aren't limited to non-STEM fields
Students who have earned a degree in the liberal arts and later decide they want to pursue careers in STEM-related fields have the flexibility to switch to any academic program they like because the majority of STEM-related programs, including cyber security, information technology, data analytics, mathematics, physical therapy, nursing, and many others, allow students to earn a degree in any field they choose.
A degree in the liberal arts is an investment in your long-term professional success: A recent study conducted by the National Center for Higher Education Management Systems found that students who graduate with a bachelor's degree in liberal arts have a higher likelihood of earning a slightly higher salary after a few years of experience when compared to students who hold a professional degree in management or another field and who earn a high salary at the beginning of their careers.
A liberal arts degree prepares you for jobs that are yet to be created
According to the findings of research titled "The Future of Jobs" conducted by the World Economic Forum, over 65 percent of students who are currently enrolled in elementary schools will one day work in jobs that do not even already exist. This translates to the fact that students who end up pursuing a degree in liberal arts have a greater chance of acquiring the skills necessary for professions that have not yet been developed.
Students who earn a liberal arts degree are not just well-prepared for their first profession, but also for jobs of the future that have not even been invented yet! Therefore, what are some of the talents that they may develop that will help them thrive in careers for liberal arts majors? The fundamental capabilities and talents required to think, create, adapt and work together.
Makes you socially responsible and aware
In contrast to other graduate and undergraduate programs, which place a greater emphasis on the specific subject matter, graduates of liberal arts programs spend significant time volunteering and developing an emphasis on social responsibility. Students are also given the opportunity to engage socially, gain an understanding of a variety of cultures, and devise inventive solutions to problems and difficulties that face society as a whole.
Lead the examples of top leaders
Many of the most successful chief executive officers of well-known companies, such as Starbucks, Walt Disney, YouTube, and many others, have degrees in the liberal arts. The majority of careers for liberal arts majors like firm chiefs, CEOs, directors, and others in leadership roles had earned degrees in the liberal arts, which provided them with a global perspective on the topics and fields they want to understand. If you want to be a leader in your field of interest, and if you believe that you have what it takes to flourish in that profession, just like Michelle Obama, Sheryl Sandberg, Howard Schultz, and many more who have roots in liberal arts, then this degree is worth it for you.
Education in the liberal arts will not only teach you how to solve issues, but it will also teach you how to think critically and ask the appropriate questions, and it will prepare you for careers for liberal arts majors like leadership positions that will allow you to flourish in the field that interests you the most.
How to Start Your Career in Liberal Arts?
Exciting professional opportunities can be found in the liberal arts. As a result of the liberal arts program's emphasis on a diverse array of academic areas, it may lead you to wonder, how to start your career in liberal arts. There is a propensity to see the graduates' subsequent professional endeavors as being aimless. However, a number of studies have shown that despite the fact that graduates of liberal arts programs appear to start behind those of other professions when they enter the workforce, they quickly catch up to and even surpass graduates of other professional disciplines.
This is due to the fact that graduates have a greater tendency to move quickly into high-skill and high-wage careers for liberal arts majors. It's possible that graduates with degrees in STEM fields (science, technology, engineering, and mathematics) will earn more in their initial employment, but by the time they're 40, those with degrees in social sciences and history will have caught up.
The emphasis of the associate's degree program in liberal arts, which lasts for two years, is on the development of analytical and communication abilities, as well as cultural literacy. Students are taught to evaluate topics, come to conclusions that are supported by reason, and express the analysis in an effective manner through a variety of academic disciplines that vary from the humanities to the social sciences.
Students who enroll in a program leading to a bachelor's degree in liberal arts are guided through the process of developing a valued skill set with the goal of making themselves more marketable in a variety of professional settings. These abilities include critical thinking, communication, analytical, organizational, and time management skills as well as the ability to manage one's time effectively. Both the associate's degree program and the bachelor's degree program require applicants to submit a valid high school transcript or a GED. Here are some examples of careers for liberal arts majors.
Human Resource Specialist
The human resource (HR) expert is responsible for addressing employee complaints and contributing to the organization's operations in all departments. An HR Specialist's duties include, but are not limited to, assisting the recruitment process, encouraging employee engagement, guiding employees through the onboarding process, and providing responses to questions on employment policies and practices.
Legal Assistants
Legal assistants, often known as paralegals, work alongside attorneys to perform tasks such as keeping and organizing case files, performing legal research, and producing papers. In most cases, legal assistants are considered to fall under the category of office and administrative workers.
Social Media Specialist
If you enjoy developing material and distributing it across many platforms, such as the internet, then this position may be ideal for you. Maintaining an online presence and consistently engaging in conversation with members of the public across a variety of channels are among the primary responsibilities of a social media professional who works to enhance a company's good name.
Project Coordinator
Within an organization, the project coordinator collaborates with the various project teams to coordinate the activities and resources required for the various projects. The major responsibility of the project coordinator is to make certain that all of the projects listed on the manager's calendar are proceeding as planned and that all of the specifics associated with each project are kept up to date in the appropriate manner.
Management Analyst
An analysis of the complete organizational dynamics, culture, and processes is what the management analyst is responsible for performing. The management analyst is responsible for coming up with strategies with the intention of increasing the effectiveness of the organization.
Fundraiser
A fundraiser is someone who arranges a fundraising event with the purpose of raising money and other types of gifts for a charitable cause. The primary responsibility of a fundraiser, whether for a political campaign or a charitable organization, is to guarantee that the message being conveyed by the campaign is precise enough to be able to elicit the desired action from potential donors.
Market Research Analyst
The primary focus of the market research analyst is to advise businesses on how to determine the kinds of goods and services that will appeal most to particular subsets of the population, which is typically done on the basis of demographics. The market research analyst will produce sales predictions by taking into account the current market conditions.
Social Worker
Social workers are trained to assist individuals, families, and communities in overcoming a wide range of adversities, including natural disasters, the loss of employment, and the discovery of a terminal illness. They also take the lead in advocacy efforts to encourage particular behaviors within specific communities, whether those communities are local, state, or national.
How to Advance Your Career in Liberal Arts?
So, How to advance your career in liberal arts? A degree in the liberal arts provides a more well-rounded education than other types of higher education programs, such as those geared toward certain professions (like engineering or accounting, for example). If you follow the advice that is provided below, you will be able to improve your chances of getting a job while you are still pursuing your degree.
Intern
Find internships that will allow you to gain experience in at least one or two distinct sorts of jobs or industries while you are attending a liberal arts institution to make the most of the time you have available to you. Internships provide an excellent opportunity to make professional relationships, which might come in handy after graduation.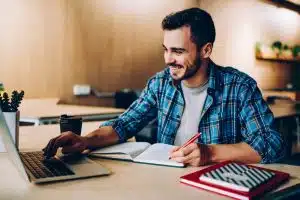 Build a portfolio
When you first start looking for work in specific fields, such as graphic design, social media, or technical writing, it is beneficial to have a few examples of your previous work. You should, if at all possible, look for work on a freelance or volunteer basis, and add the work you do for clients to your portfolio.
Network
You should start making contacts that can help you obtain a job once you graduate. These relationships can be made through your teachers, your classmates, or a professional group. Because an average job posting receives over one hundred and fifty applications, having a connection at the company (or knowing someone who knows someone who works there) can increase the likelihood that your application will be given more consideration.
Informational interview
Reach out to individuals whose work you find intriguing or who are employed in a field that you are enthusiastic about gaining additional knowledge about in a manner that is analogous to networking. You can learn a lot about what you need to do if you talk to them about their work and how they got started by asking them for an informational interview and spending around thirty minutes talking to them about it.
Search jobs listings
Take some time before you graduate to think about what kind of career you'd like to have and what kinds of talents are typical for people in that field. In the long term, you may be a more competitive applicant if you have the ability to devote some of your time to mastering particular applications or programs, as well as any significant job abilities.
Want to learn more about careers for liberal arts majors? You've come to the right place. At AdmissionSight, we have over 10 years of experience guiding students through the competitive admissions process.
AdmissionSight can help you put your best foot forward when applying to college this fall. Contact us today for more information on our services.