Community Service for High School Students
What is community service?
Community service is an admirable endeavor, and there is more than enough intrinsic value to make it worth your time if you are a high school student. Volunteering your time for a charitable organization can help you gain practical experience in a field that may be of academic or professional interest to you in the future.
Community service isn't required for college applications, but it should still be something you do because it's an important part of your personal development and can help you get into college by showing that you care about other people and are willing to take the initiative to do something to make the world a better place.
In order to do so, you need to find something that satisfies your interests, complements your passions, and contributes to your goals for a career. You should also think about the challenges you want to overcome and the locations that hold a special significance for you.
What are the community service for high school students?
Given the fact that there are so many organizations that need volunteers, it can be challenging to choose just one. You probably have your own unique interests and passions, so you should start there and look for opportunities that align with those interests and passions.
Here are some of the community service for high school students that you can choose from:
Healthcare Facilities – Hospitals and Nursing Homes
Aspiring physicians, nurses, and those interested in other medical professions can gain valuable experience by volunteering their time in hospitals and nursing homes. It is highly unlikely that you will be able to work directly with patients; however, some hospitals may allow you to volunteer in other capacities. It's possible that you'll be asked to help out around the office, deliver meals, enter data, or change sheets.
Schools
Volunteering at one's own school or at schools in the surrounding community is a rewarding experience for people who are interested in teaching or education in general. You could act as a mentor to a classmate or student who is younger than you and assist them with their homework. There is also the possibility that you will assist with activities in after-school programs.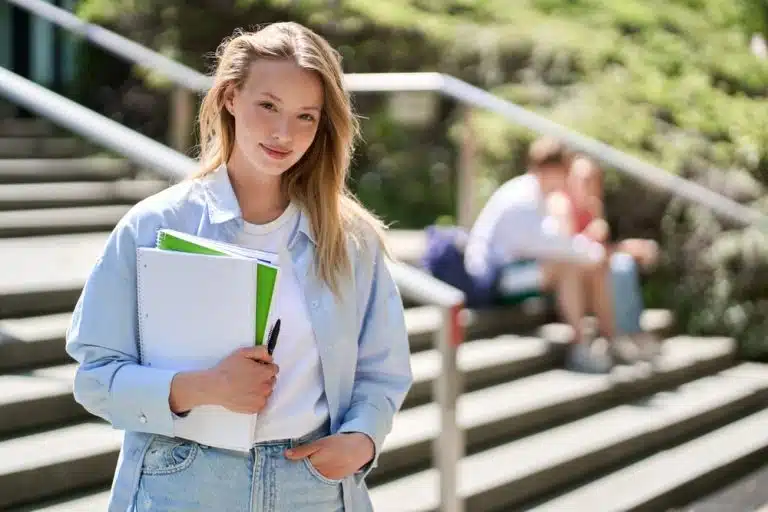 Animal Shelters
Students who have a passion for animals might be interested in volunteering at local animal shelters. Remember that there are frequently age limits, and if you are younger than 18, you should verify this information with the potential shelter first.
The job could involve any number of different things. You could take the dogs for a walk, pet the kittens, or play with the other animals. However, you should not expect it to be all glitz and glamour because you may also be expected to help with the cleaning.
If you have a soft spot in your heart for furry friends, you should take a look at extracurricular activities for high school students involving animals.
Food Banks or Soup Kitchens
Food banks, soup kitchens, and shelters for the homeless are frequently in need of volunteers to assist with the preparation and serving of meals. You may be able to work behind the scenes, organize a drive to collect canned goods, or prepare food.
Students who are interested in working with people, developing their culinary skills, or getting involved in the communities in which they live have a fantastic opportunity before them.
Houses of Worship and Temples
Participate actively in the activities of your place of worship. It's possible that students of religious studies will be especially interested in this opportunity. You could put together a group of member volunteers, organize a food drive, or lend a hand with events. You might also consider working as a teaching assistant at a Sunday school, which would provide you with valuable classroom experience.
Libraries
The idea of lending a hand at a library as a volunteer should appeal to people who have a passion for reading and writing. In this way, you will have more opportunities to interact with books. There are a variety of tasks that could be assigned, such as working with customers, shelving books, assisting librarians with a variety of tasks, and doing paperwork.
Museums
This activity may be of interest to artists, art historians, historians, and other individuals who are interested in the museum's collection, but this is dependent on the type of museum.
You can work in the office, assist with workshops and tours, or volunteer to work with the museum's curators. There are also high school internships available at some museums, such as the Metropolitan Museum of Art in New York. If you are interested in learning more about museums and what it's like to work at one, this is another option that you can investigate.
Public Green Spaces or Beaches
Volunteering at a nearby park or beach might appeal to people who enjoy the outdoors, those who are concerned about the state of the planet, or students who are considering majors or careers in environmental science or engineering, biology, or other fields that are closely related to these areas of study.
There is a possibility that certain beaches and parks have preexisting programs in which you could take part. You could also organize a cleanup of a park or beach, or you could collect trash.
Nonprofit Organizations
Gain valuable work experience by volunteering at a local nonprofit organization that supports a cause that is important to you. A housing project, a women's organization, and a sustainability project are a few examples of such endeavors.
You are able to contribute to the betterment of your community through this kind of volunteering, in addition to gaining valuable experience in the workplace. Any student should find employment in a nonprofit organization appealing, provided that the organization champions a cause that is meaningful to them personally.
Importance of Community Service for High School Students
There are many positive outcomes that can result from engaging in community service. Here are some of the most important things that community service for high school students can offer:
You have the opportunity to help others
Being able to lend a helping hand to those in need is frequently regarded as the single most important advantage of participating in community service for high school students. You will have the opportunity to know that you are making someone else's life and your community better, and you will also have the chance to see the direct impact that your work is having on others as a result of your participation in it.
Gain practical experience
Performing community service for high school students is a great way to pick up a wide variety of skills, including carpentry, painting, providing excellent customer service, and even medical skills. On your resume, you can also include the volunteer work you've done for the community.
Learn about a variety of career paths
There are times when you can focus your community service in a field that you may want to work in later on in your life. Volunteering and working in a hospital if you are considering a career in medicine is one of the examples of this type of experience.
In addition to providing you with the chance to determine whether or not you would take pleasure in a specific line of work, the experience you obtain through community service can make it easier for you to obtain an internship or job in the future.
Personal growth
Participating in volunteer work can result in personal development opportunities as a side benefit. Participants frequently report feeling more organized, responsible, and compassionate as a result of their involvement, all of which are admirable characteristics to possess and qualities that colleges and employers look for in potential hires.
Gain new friends
A final advantage of participating in volunteer work is the opportunity to broaden your social circle and make new connections with interesting people. It is easy to make friends with the people you are working with when you are performing community service because it is typically done in groups. It's possible that you'll strike up friendships with the people you're assisting, particularly if you volunteer in the same location on a regular basis.
There is probably a way for you to give back to the community, no matter what your interests are or how specialized they may be. Ask questions and engage in activities that are perhaps outside of your comfort zone to make the most of the opportunities that have been presented to you.
You should know that even though some of the tasks you perform as a volunteer, particularly if you are under the age of 18, may not be particularly exciting, you are still contributing to your community and gaining valuable skills for the future in the process.
Moreover, community service for high school students creates a big impac with your college application as well. If you want to explore more, AdmissionSight's extracurricular planning can be very helpful to you. The process of getting into college isn't easy, but these non-cognitive factors do play a role in the application and, ultimately, the acceptance rate. To help you stand out from the crowd, we provide tried-and-true advice and a detailed process for improving your extracurricular profile and application materials. Contact us to book your initial consultation today.