Interview Tips for College Students
College interview
What is a college interview? A prospective student's credentials, personality, and general suitability for admission to a college or university are assessed during a college interview. The interview gives the student a chance to showcase their personality, interests, and ambitions and is conducted by a college representative, like an admissions officer or an alumni interviewer. College interviews are frequently one of many criteria considered in the admissions decision-making process. Read on to learn some interview tips for college students.
Interview tips for college students
Are there interview tips for college students? You get the opportunity to speak with a representative of the college during an interview. It's an opportunity to show what you're all about, establish relationships with people there, and convey your interest in the college. Schools provide pertinent interview questions for colleges. They give colleges a chance to assess your potential as a student and your strengths.
Not all colleges include interviews in their selection process. However, if the schools you're considering use interviews, knowing what to anticipate and how to prepare can be very helpful.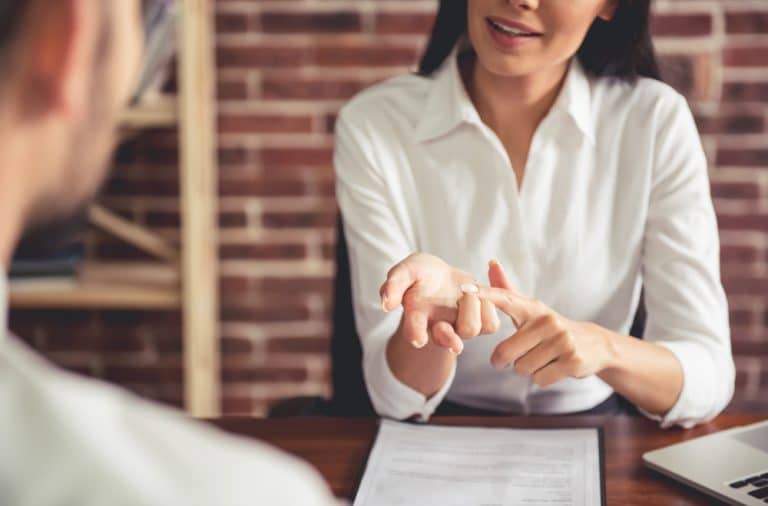 The lack of preparation for interviews among many candidates frequently surprises college interviewers. Don't join their ranks. As the time for your interview approaches, AdmissionSight has listed some interview tips for college students. Study the following:
1. Keep in mind the style of interview you can anticipate. Interviews for college admissions are often either instructive or evaluative. In order to be admitted to highly prominent universities, such as Oxford, evaluation interviews can be expected. In this case, the university admissions officers' decision to give you a spot would be based on how well you performed in the interview.
You can learn more about the university, and the university can learn more about you, by participating in an enlightening interview. Because they want you to choose their university, the university admissions staff may be just as eager to impress you as you are to impress them in this situation. Of course, both instructive and evaluative aspects may be included in your university interview.
2. Consider how to make a statement. The interviewers for university admissions will probably be meeting a lot of applicants, so you should consider how you may differentiate yourself and make a strong first impression. Try to come up with a memorable response when interviewers ask you about yourself (a question that will probably be asked in some form).
This is your chance to demonstrate your enthusiasm for the subject you have selected, your future goals, and the traits you have that will help you succeed academically.
3. Read your personal statement once more. The interviewers are also likely to bring up topics you've discussed in your personal statement or application essay, whether it's a claim about a particular pastime or an accomplishment. (This is only one of the many reasons it's crucial, to be honest.)
One of the best interview tips for college students is to reread their essays and think of any questions that might be asked in the interview that is linked to what they wrote, such as inquiries about specific books they mentioned or research interests.
4. Review the course materials. It's also a good idea to review the university's prospectus or official website for detailed information on the course's organization, admission requirements, and optional modules available, among other suggestions. There is typically a chance to do this, even in a performative interview, and it may help you demonstrate that you have done thorough research on the subject.
It may also help you come up with some insightful questions for the admissions officers. Check to see if the answers to the queries you haven't already been covered in the course materials.
5. Prepare some responses to typical questions from university interviews. You'll probably be asked "tell me about yourself" in addition to "why do you want to study this subject at this university?" Your interviewer could be curious to know why you want to study in that particular nation and what initially drew you to study abroad if you are doing so. Be as specific as you can in your response to demonstrate to your interviewer your enthusiasm for both their university and your subject.
While some advance planning is advised, avoid going overboard. Make sure your responses sound natural rather than overly prepared. Although it's obviously easier said than done, try to unwind and be yourself throughout the interview.
6. Understand your field. You should be well-prepared to discuss your reasons for enrolling in the course you have chosen, as well as why you are interested in the subject you have chosen, with your interviewer.
One of the best interview tips for college students is to read up on the most recent news, analysis, and advancements in the subject. This is another way to show that you are interested. Some of these topics might be expressly mentioned in the question, or you might just be able to use them as examples.
7. Practice with a friend. It could be helpful to sit down with a friend or family member and run through the most typical university interview questions if this is your first official interview or you're just feeling extremely anxious. This should bring to light any issues you need to revisit and consider more, as well as any instances where you tend to use the word "uh" excessively.
8. Dress appropriately. Even though university admissions interviews are frequently somewhat relaxed, it is always preferable to dress up rather than down! Make a solid first impression by dressing in business casual or smart casual, as you would for a formal job interview.
9. Show up early. Make sure you know exactly where you're going and how long it will take you to get there if you're attending an admissions interview in person (rather than, say, through Skype). Also, give yourself plenty of time. You should try to be at least 10 to 15 minutes early.
10. Inhale deeply and smile! Though it is undeniably simpler said than done, try not to stress out too much. Keep in mind that the university interview is typically not taken into account on its own when deciding whether to admit you as a student.
Also, keep in mind that the admissions committee is genuinely considering awarding you a spot because they have clearly been impressed enough with you to offer you an interview. Even if you're internally afraid, make an effort to smile; it will help you feel better and demonstrate to your interviewers that you're enthusiastic about the job.
What to wear to a college interview?
What to wear to a college interview? It is advised to dress professionally, as if you were going to a job interview, for a college interview. Typically, this entails donning a suit or a dress with a blouse and skirt. Aim for a tidy, professional appearance, and steer clear of anything too casual or exposing.
Avoid over-accessorizing with jewelry or cosmetics and opt for a suit in a neutral hue like black, navy, or gray. It's critical to come across as mature, responsible, and up for the challenges of college life. Making a good initial impression and conveying that you are serious about the interview are the ultimate goals.
We at AdmissionSight are excited for you to utilize the interview tips for college students. If you require any additional college advice, we can assist. AdmissionSight has more than ten years of experience helping students get through the challenging admissions process at the best colleges in the world. Our students often have a 75% acceptance rate at Ivy League schools like Stanford, MIT, UChicago, or Caltech. Book your consultation today!