What To Wear On A College Tour?
College tour
What is a college tour? A crucial step in the college selection process is taking a campus tour. Students can only get a brief overview of what a college or university has to offer from college catalogs and orientation materials. And even though a school might seem ideal on paper, it might not be a good fit once you're actually on campus. You will have a better understanding of the college or university and what campus life is really like if you visit it in person. You can speak with current students during a campus tour to get their opinions on the college you're considering. What to wear on a college tour? Let's continue reading to find out.
What to wear on a college campus tour
What to wear on a college campus tour? The first question that many prospective students ask themselves is, "What to wear on a college tour?" Should they dress formally or casually for their college visit? "It depends," is the terse response to this query.
Depending on how casual or dressy your college visit day will be, you should choose your clothing accordingly.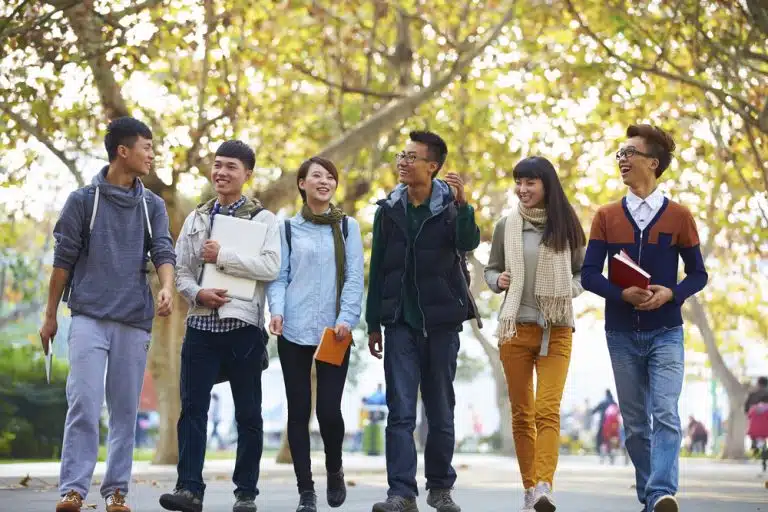 A typical college visit day entails a campus tour, attendance at certain informational seminars, networking with current students and learning more about the college. It is perfectly acceptable to wear casual clothing if this is the college visit day that the institution you are attending has advertised. As you walk around campus during the day, you want to ensure that you are comfortable.
On some college visit days, however, you may also have an admissions interview, a meeting with the department chair, or a faculty meeting. The best impression may not be made by dressing casually for these kinds of college visits. What to wear on a college tour? Choose somewhat more formal apparel if you are aware that any of these activities will be part of your campus visit. The most appropriate attire for these visits is often business casual.
The weather on the day of your college tour is another factor for which you should be prepared. The last thing you want while moving between buildings is to be chilly or to be perspiring excessively from the summer heat.
Choose lighter, more breathable apparel for hotter weather. Dress in layers if you anticipate chilly temperatures to give yourself flexibility during the day. Is there a chance of rain? Before you leave the house, grab an umbrella and a raincoat to keep you dry the entire day. Therefore, the best advice is to check the weather before leaving and dress appropriately.
Should you wear formal attire to visit a college?
What to wear on a college tour? Typically, you don't need to dress up to attend college. Most institutions will let you know if they prefer that you dress up and will also provide you with an itinerary so you can decide for yourself. In light of this, it is probably not a good idea to wear pajamas when visiting a college you might eventually enroll in.
Nevertheless, you want to leave a positive impression on everyone you encounter there, including other students, faculty, and staff. Additionally, keep in mind that the purpose of the college visit is to learn more about you, the student.
Because they want you to attend their institution, colleges want to showcase what they have to offer. It's crucial to wear comfortable, well-fitting clothing because you don't want anything to take your attention away from the information shared throughout the day.
When visiting a college, you should definitely dress more professionally if you plan to interview. Consider this interview to be just another one. What to wear on a college tour? You want to appear confident and look sharp. What you choose to wear to the interview will vary but can include dresses that cover your shoulders, modest skirts, khakis or corduroy pants, button-up shirts, and blouses. Consider bringing a change of clothes for after the interview so you are more comfortable for the rest of the day.
Speaking of college interviews, here are the questions that may be asked during a college campus tour.
Questions to ask during a college tour
You have the opportunity to interact with the study space during college tours. It's an opportunity to visit classrooms, athletic fields, gathering areas, and dining halls. The best way to gauge how you could fit in is to do this.
Additionally, it's the perfect opportunity to seek clarification. Looking at websites and discussion boards might not provide you all the answers. On campus, you can get immediate responses to your inquiries.
Don't be afraid to ask questions while touring a college campus. To ensure you receive answers to your pressing questions, you can even write them down on a checklist before your college tour. You can sort through the various colleges you'll probably visit by having questions ready. AdmissionSight prepared some questions to ask during a college campus tour. Check them out below:
1. Which aspect of your college do you like best?
When you visit a college campus, you will encounter many students. They are the best source of knowledge since they can express their emotions. Most college students are eager to share their experiences in conversation, and maybe they could give you suggestions on what to wear on a college tour. It's crucial for you to learn what about their college experience most appeals to them.
2. Which is your favorite class?
Obviously, academics play a significant role in the college experience. Whether the individual you speak with is enrolled in the same program as you don't matter. Whether they are in the same major is irrelevant. What really matters is what they express as being academically exciting. It's crucial to attend a campus that encourages students to explore their personal passions. College is a fantastic place to pursue a scholarly passion.
Don't be hesitant to ask questions concerning the academic experience of students when touring universities. Any faculty members you come across can likewise be questioned on this subject. You need instructors who are enthusiastic about what they are teaching if you want to learn. You want them to possess a contagious passion for knowledge, exploration, and curiosity.
3. Why did you choose this school?
Each student chooses the campus for a certain reason. Some of them are really intimate. Some people are drawn to a specific major or program. Others adore the campus's attractiveness. Ask students why they chose this institution over others to learn more. The solutions may be enlightening.
4. How does the school spirit feel?
There is frequently an ethereal "vibe" on college campuses. Are many students dressed in school attire? You can think of what to wear on a college tour. Are speakers, panels, and discussions engaging students with enthusiasm? Do students support the sports teams?
Even though it can be challenging to define school spirit, you should nevertheless question kids about it. Allow them to describe school spirit. They will be able to describe their school in their own terms if they love it. Lackluster responses are another warning indicator.
5. What is your main criticism of the school?
Although it could be awkward to ask, this is a crucial question. No university is perfect. It can be eye-opening to learn what college students find annoying about a school. Finding out what a student enjoys the most can be crucial, too.
6. In what ways are faculty and staff accessible?
You might need help with a homework assignment or have a burning question concerning a lecture. Maybe all you want to do is carry on an interesting discussion that was started in class.
Having access to teachers and staff is crucial for a number of reasons. Faculty members ought to be involved in university activities and accessible for casual discussions or office hours. They're there to aid in your education. Ask students about their interactions with instructors and their feelings towards those exchanges.
7. How is the food on campus?
Does dining on campus matter? Absolutely! If you're a picky eater or have dietary or religious constraints, this question is very crucial. For instance, if you have a nut, tree, or gluten allergy, you want to make sure.
Naturally, you'll want to inquire about the food's quality, variety, and flavor. There is another aspect of food to investigate. Consider how crucial it is to have conversations about the day and life around a table. In college, meals are a fantastic opportunity to catch up with friends, have fun, unwind, and share. These gatherings will last longer and strengthen relationships if the food is delicious.
8. What kind of social life is there?
You spend a lot of time in lectures and laboratories. To complete your reading assignments and homework, you will need to find a study area. However, there is still plenty of room to enjoy the campus.
Learn about campus recreation options for students. How do the parties go? Are those events being hosted by students? Do they happen off campus or in dorm rooms? Are there dress codes? Maybe you can make a follow-up question on what to wear on a college tour.
Inquire about outside artists and performances by student performance groups. Are there any student-run theater companies that put on plays and musicals? These aspects of campus life are woven into the fabric of collegiate life.
9. How do students spend their time outside of class?
While not studying, students frequently take part in clubs and other activities. Mock trials and Model UN are two clubs that are actively involved in academics. Organizations for students of a certain race, ethnicity, religion, or culture are examples of others that are identity-related. Another well-liked category is publications, such as student newspapers, periodicals, or radio stations. On a college campus, you can often find a cappella groups, improv comedy groups, theatrical companies, choirs, and orchestras.
10. What would a typical day look like?
Find out how often the students you encounter attend classes or labs, study, or just hang out with their pals. If they are athletes, inquire about how much time is spent on practices and traveling for competition with their buddies. If they are athletes, inquire about how much time is spent on practices and traveling for competitions. Gaining an understanding of an average day can help you visualize yourself in a similar circumstance.
You might be curious to learn how to enroll in the institution of your choice now that you have a better understanding of what to wear on a college tour. You will need assistance from experts in college admissions, like AdmissionSight.
AdmissionSight has more than 10 years of experience assisting them as they traverse the difficult admissions process. Book your consultation today.